I woke up this morning, looked out the window, saw the sun was shining and decided to go for a bike ride.
Good decision 🙂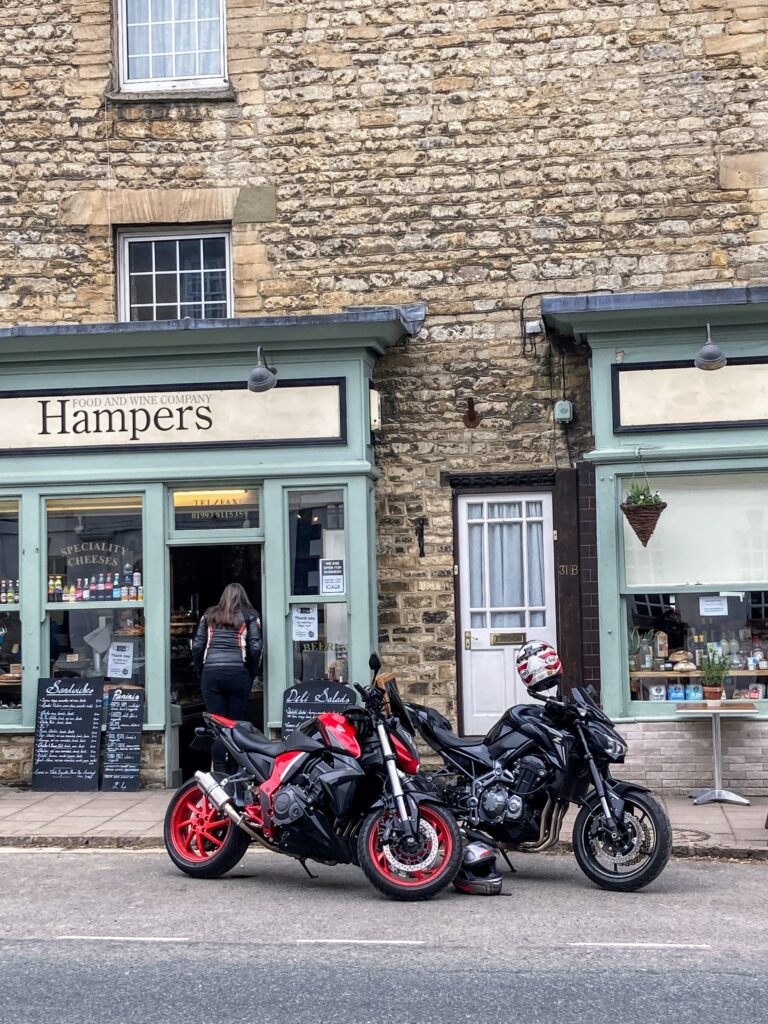 I set off with the o/h towards Aylesbury and then out through Waddesden to the outskirts of Bicester. We passed the shopping retail outlet centre and luckily for the o/h I was on my bike otherwise I may have scooted in there and had a look around 😉
We turned off towards Kirtlington picking up the B road through Chesterton. This is such a lovely long stretch of up and down road crossing a staggered cross road and into Kirtlington and then Enslow.
Both of these Oxford villages are very picturesque and I am sure they were delighted when we rode through with our loud exhausts! You know what it's like when you're trying to sneak a chocolate biscuit out the tin without being heard – yep, it doesn't happen, someone always hears you!
We didn't really know where we were heading when we set off, we just knew roughly the general direction we were going. Anyway, we saw a sign for Woodstock and I immediately thought of the 60's, flower power and music so we followed the signs to check it out.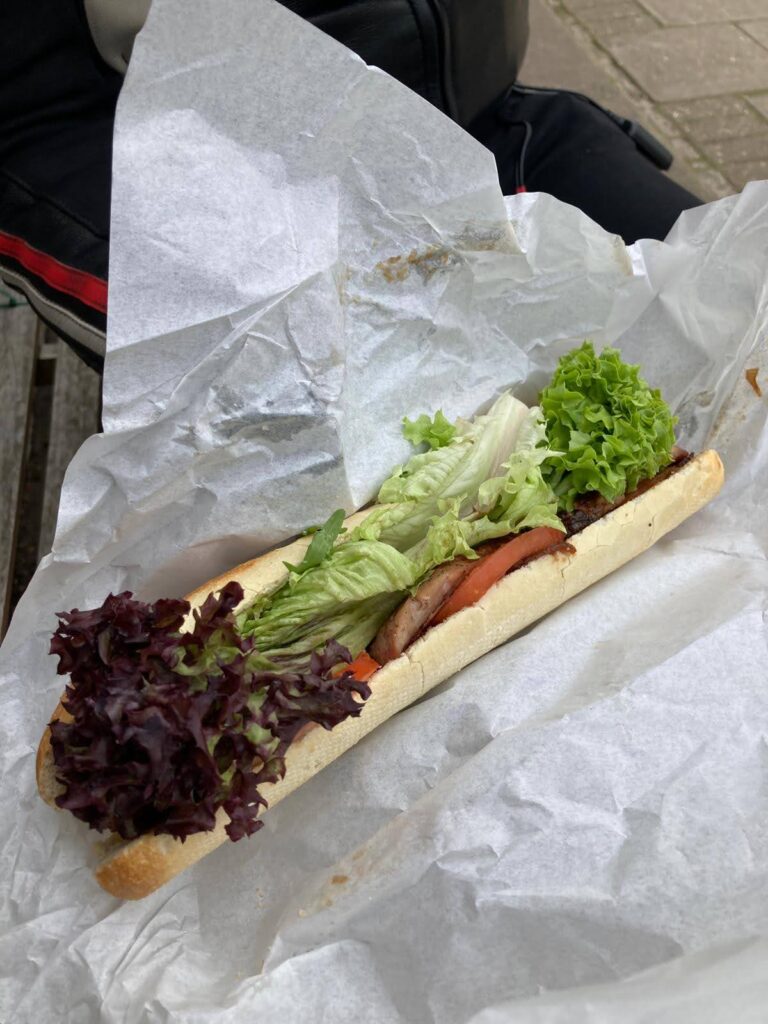 As we came into Woodstock there was Blenheim Palace on the left which I thought would be great to check out but unfortunately you were only allowed entry if you had pre-booked! I would have liked to have checked that out, next time I shall be more organised.
We carried on into the village and parked the bikes up to go in search of coffee.
We stumbled across this deli/bakers, Hampers Food & Wine, for which there was a bit of a queue which to me meant it was worth queuing for and boy was it worth queuing for! I hadn't had any breakfast so I ordered a sausage in a roll with red onion marmalade, tomato and lettuce.
Now, as you know I am a cake addict, (and if I could have, I would have taken some of the cakes home with me but space is definitely limited when you're wearing leathers!) but I have to say this sausage roll was amazing and really was up there with a cake. I know – I didn't think you'd ever hear me say that either! The coffee was pretty good too and I would have had another one but there were no toilets and it's not so easy for women to stop at the side of the road for a comfort break!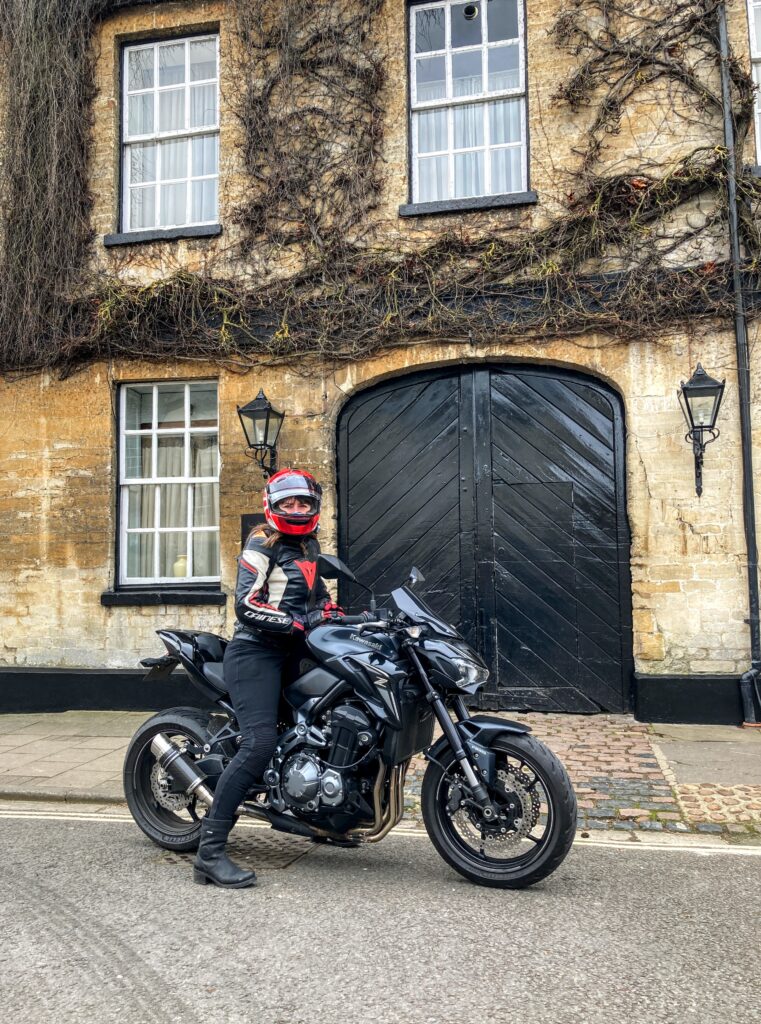 We had a wonder round (I was still looking for the music and the people in flares and platform shoes) and I have to say it was a beautiful village, I'm definitely going to come back here, I need to try out some of those cakes 🙂
Back on the bikes we headed back towards Kirtlington and Bicester. Although the sun was shining I have to say I was really glad of my heated grips and vest, it was a bit windy and much colder than it looked!
Once we got to Bicester, we headed back in the direction of home a different way and turned off towards Long Crendon and Thame and stopped at Wendover for a coffee (there is a toilet here so I knew I was okay to have another drink).
It was sooo good to be out and about making the most of it not raining.
Great ride, great coffee and food, can't wait for the next ride 🙂
BK
Thank you for reading my post, I hope you enjoyed it. Please subscribe by email, just enter your email on the right.
If you would like to share my blog that would be great – thank you 🙂