What a great restart to to the WorldSBK championship at Jerez this weekend (31 Jul-02 Aug) for Round 2 in Spain at the Circuito de Jerez – Angel Nieto, Andalusia after a five month break.
Superpole took place earlier in the day with the Championship leader Lowes (Kawasaki Racing Team WorldSBK) crashing at Turn 13 in the first phase of the session and was unable to set a lap time but was able to get back on the track with 15 minutes left of the session but will start the race down in 14th place.
Leandro 'Tati' Mercado (Motocorsa Racing) took a tumble at Turn 4. He will start the race in 20th place.
After a tense session rookie Scott Redding (ARUBA.IT Racing – Ducati) took pole position by just 0.034s over Rea closely followed by Sykes.
The starting grid looked like this:
Row 1 : Redding : Rea : Sykes Row 2: van der Mark : Razgatlioglu : Baz
Row 3 : Davies : Bautista : Haslam Row 4 : Rinaldi : Laverty : Cortese
Row 5 : Caricasulo : Lowes : Gerloff Row 6 : Fores : Scheib : Ponsson
Row 7 : Melandri : Mercado : Barrier Row 8 : Gabellini : Takahashi
Before the start of Race 1, a minute's silence was held in memory of those who lost their lives to the Covid 19 Pandemic.
With 20 laps of racing and the air temperature at 36 degrees, Race 1 gets underway but Redding does not have a good start at all but manages to cling onto 3rd place by the first corner, Rea goes up into first place whilst Razgatlioglu makes an incredible start and is up into 2nd place from starting 5th.
On Lap 3 Caricasulo crashes at Turn 4 and although he manages to get the bike going again, unfortunately this is only to the pits.
Lap 4 sees firth place man Tom Sykes slowing down and pulling over to the side of the track as he approached Turn 1. It looked like some kind of technical issue as he does manage to get the bike going again and back to the pit. He was able to rejoin the race on Lap 12.
By Lap 5 Rea is pulling out a lead and Razgatlioglu and Redding are squabbling for 3rd place with Razgatlioglu managing to hold off the rookie.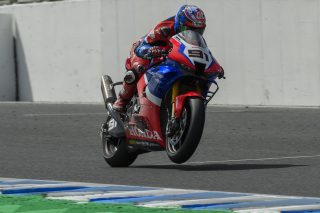 Lap 8 sees a very unhappy van der Mark suffer engine problems with lots of smoke coming from his bike. He manages to pull over and park the bike before getting a lift back to the pits on the back of a marshal's scooter.
By Lap 9 although Rea is still holding the lead, the gap between Rea and Razgatlioglu is getting smaller and Lap 10 sees Redding having a look to get past Razgatlioglu whilst Davies, who is in fourth place is lapping half a second quicker than race leader Rea.
On Lap 11 we see Redding pass Razgatlioglu in a very smooth overtake as he sets his sights on the leader.
Mercado suffered a crash at Turn 6 on Lap 12 ending his race and on Lap 14 we see Redding going down into Turn 6 getting alongside Rea before forcing him wide to claim the lead and although Rea nearly gets back past Redding on Lap 15, it wasn't to be and Redding starts to pull out a lead.
Rinaldi puts in a fastest lap on Lap 16 and Davies is now up to 5th place but he soon passes Baz on Lap 17 into 4th place and has his sights set on Razgatlioglu. A few times on the last two laps Davies nearly gets past Razgatlioglu but then on the last lap he runs wide effectively ending his hunt for third place.
Redding crosses the finish line 1st followed by Rea in 2nd and Razgatlioglu in 3rd.
A fantastic Race 1 and restart to the season.
Race victory in the Superpole race on Day 2 of the WorldSBK championship at Jerez at the Circuito de Jerez – Angel Nieto, Andalusia went to reigning Champion Jonathan Rea having taken the lead from polesitter Scott Redding at the start of the race to jump from third to first. Rea held the lead for the full 10 lap race.
Redding went down to third having also been been passed by Razgatlioglu at the start but whilst battling with Redding, Razgatlioglu suffered technical issues thus ending his race early enabling his teammate van der Mark to claim a podium place.
The top independent rider Loris Baz was up into fourth ahead of the Redding's teammate, Chaz Davies in fifth place and despite suffering issues in Race 1, Tom Sykes was able to claim 6th place even though he did drop three places from his start position.
Lowes finished in 7th place followed by the Yamaha of Gerloff and claiming the last points paying position was Haslam on the Honda.
The starting grid looked like this:
Row 1 : Rea : Redding : van der Mark Row 2: Baz : Davies : Sykes
Row 3 : Lowes : Gerloff : Haslam Row 4 : Razgatlioglu : Bautista : Rinaldi
Row 5 : Laverty : Cortese : Caricasulu Row 6 : Fores : Scheib :
Row 7 : Melandri : Mercado : Barrier Row 8 : Gabellini : Takahashi : Ponsson
After the warm up lap the riders line up on the start grid waiting for the lights to go green and when they do Rea gets a good start but Razgatlioglu gets an even better start moving from tenth on the grid to 3rd. Davies has a look around the outside of Razgatlioglu but couldn't quite make the pass and is in 4th.
On Lap 2 Redding goes alongside Rea at the right-hander of Turn 1 and passes on the inside going into the corner. The BMW of Laverty can be seen slowing down with what looks like a technical issue and is unable to finish the race.
Going into turn 3 on Lap 3 Davies goes up the inside of Razgatlioglu into 3rd place, Razgatlioglu is looking to get back past but can't manage it. On the following lap coming into Turn 9, Davies goes on the inside of Rea pushing him wide and sliding past in a very smooth pass up into 2nd. Ducati are now 1st and 2nd.
Lap 5 sees Razgatlioglu pass Rea but Rea manages to get back past and hang onto 3rd.
On Lap 6 Takahashi suffered a crash at Turn 5 thus ending his race and then coming into the corner at Turn 13, we see Baz lose it and slide into the gravel. He was able to get the bike back up and out of the gravel and rejoin the track but was now down in last place.
Razgatlioglu eventually passes Rea on Lap 7 and moves up into 3rd place whilst the battle for 5th is hotting up between van der Mark and Rinaldi but in the meantime the two leading Ducati's are pulling out a comfortable lead against the rest of the pack.
Lowes is looking to get past Rea whilst Rinaldi is looking to get past Lowes and on lap 12 Rinaldi keeps a tight line alongside Lowes going into the corner and manages to stay ahead moving up into 5th place. Lowes tries to respond but Rinaldi has firmly got his sights set on Rea and is edging closer until on the following lap he shoots up on the inside of Rea coming into a corner but then runs wide allowing Rea to move back past again and on Turn 13 Rinaldi pulls out of the corner onto the start/finish line and comes back past Rea on the inside in a very smooth overtake and up into 4th place.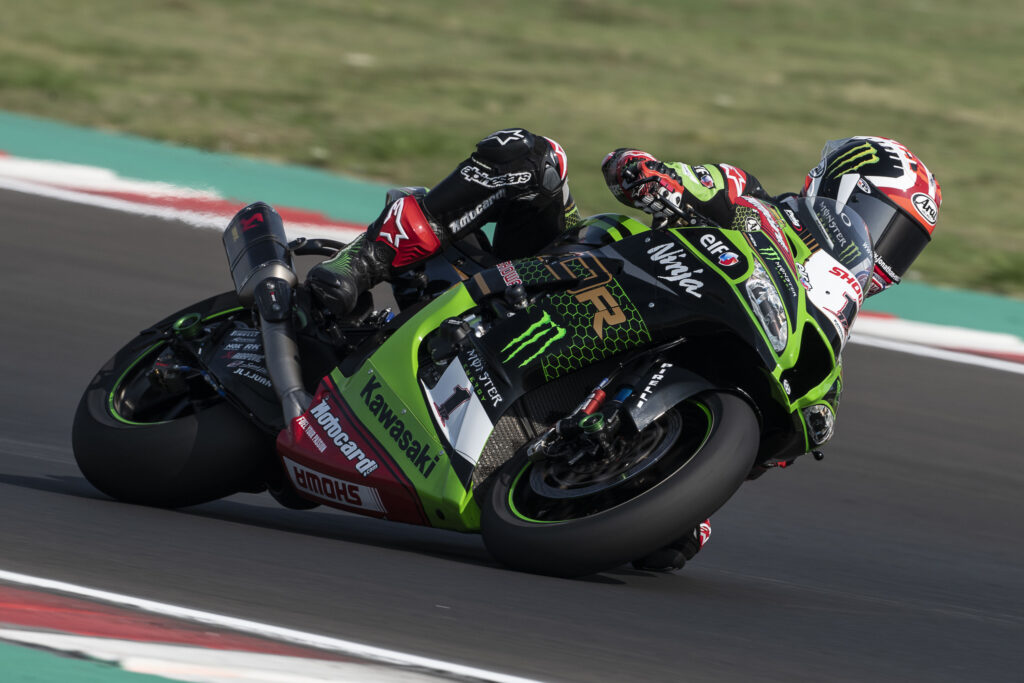 On Lap 16 Lowes passes Rea on the inside pushing Rea down into 5th and by the following lap we can see van der Mark chasing Rea down in the hopes of getting past too. Surely Rea must have an issue with his bike as he struggling to hold his position.
Sykes is now closing in on Gerloff and by the last lap you can see the riders are struglling with their tyres in the heat with many running wide.
Redding passes the chequered flag with a very comfortable lead over his teammate, Davis followed by Razgatlioglu and Rinaldi. Lowes finishes ahead of Rea who has managed to keep van der Mark behind him to finish 6th.
Another brilliant race win for Redding, his second win of this weekend and a double win for Ducati with 1st and 2nd place.
A brillant weekend of WorldSBK racing and luckily we haven't got long to wait until Round 3 which is next weekend, the 7th to 9th August at the Algarve International Circuit, Portimão, Portugal.
The Driver's / Team Standings so far at the end of Round 2 at Jerez on the 1st and 2nd August looked like this:
| | | | | | |
| --- | --- | --- | --- | --- | --- |
| Pos | Rider | Points | Pos | Team | Points |
| 1 | Scott Redding | 98 | 1 | Kawasaki | 100 |
| 2 | Jonathan Rea | 74 | 2 | Ducati | 98 |
| 3 | Alex Lowes | 72 | 3 | Yamaha | 86 |
| 4 | Toprak Razgatlioglu | 66 | 4 | Honda | 41 |
| 5 | Chaz Davies | 57 | 5 | BMW | 27 |
| 6 | Michael van der Mark | 47 | 6 | Aprilia | 4 |
| 7 | Loris Baz | 37 | | | |
| 8 | Alvaro Bautista | 37 | | | |
| 9 | Michael Ruben Rinaldi | 30 | | | |
| 10 | Leon Haslam | 28 | | | |
| 11 | Tom Sykes | 26 | | | |
| 12 | Marco Melandri | 15 | | | |
| 13 | Garrett Gerloff | 15 | | | |
| 14 | Sandro Cortese | 14 | | | |
| 15 | Xavi Forbes | 11 | | | |
| 16 | Maximillan Scheib | 10 | | | |
| 17 | Eugene Laverty | 6 | | | |
| 18 | Christophe Ponsson | 4 | | | |
| 19 | Federico Caricasulo | 4 | | | |
| 20 | Leandro Mercado | 1 | | | |
BK