Like many people, our holiday plans changed due to the pandemic and instead of touring Northern Spain and Portugal as planned, we found ourselves a house in Dolgellau, Wales to rent for the week. We set off early doors on the Saturday morning as we were meeting a friend in Welshpool for brekkie at 10 o'clock!
We decided not to go on the motorway and instead went up the A5 which took us pretty much to Shrewsbury stopping in Hinckley for fuel, coffee and a much needed pee! When we reached Shrewsbury we got onto the A458 to Welshpool and arrived at about twenty past ten having slightly underestimated the time it would take to get there!
Having found the little café down a side alley we found last time we were here which does fab food, The Tuck Shop, we sat down outside for a leisurely breakfast, copious amounts of coffee and a chill before heading off.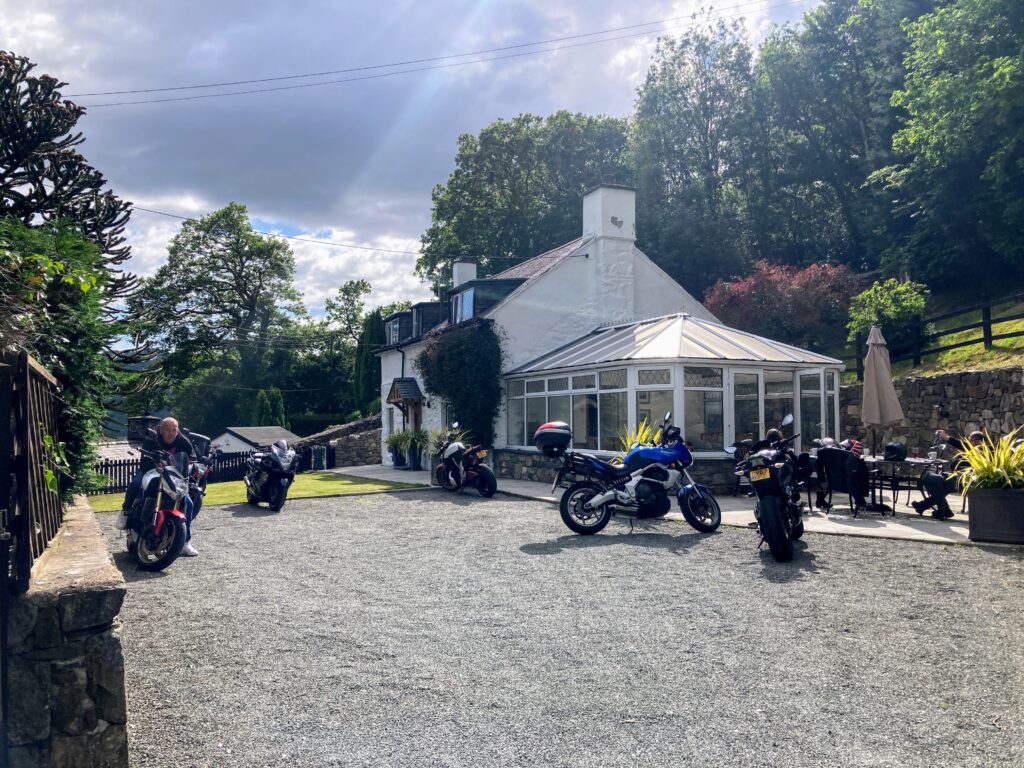 As we could not get into the accommodation until later in the afternoon, we decided to head to Aberdovey for an ice cream (as you do) although strictly speaking this is not en route but the A493 from Machynlleth to Aberdovey is such a great road and we were in no rush to get anywhere in particular. The road and the ice cream did not disappoint ?
We then carried on the A493 along the coast to Dolgellau and found our accommodation. Having unpacked and chilled for a couple of hours we then headed to a local steak house for dinner.
The sun was shining the following morning so we donned our bike gear and headed off to the Elan Valley visitor centre for brekkie (you will be able to see a pattern emerging here….) before riding through Elan Valley stopping at the dams to admire the views and chat to fellow bikers who had the same idea as us, stopping at the old mining village before eventually ending up at Devils Bridge for a coffee and cake (another part of the pattern).
We had intended to head to Aberystwyth from here as there is parking on the promenade for bikes and a lot of bikers meet there on a Sunday but chatting at Devils Bridge with a fellow biker who had just come from there, he said the place was rammed so we decided to leave that for another day and headed towards home a different way picking up the A487 through Corris to Dolgellau – this road I knew we were going to be doing a few times by the time our holiday was over ?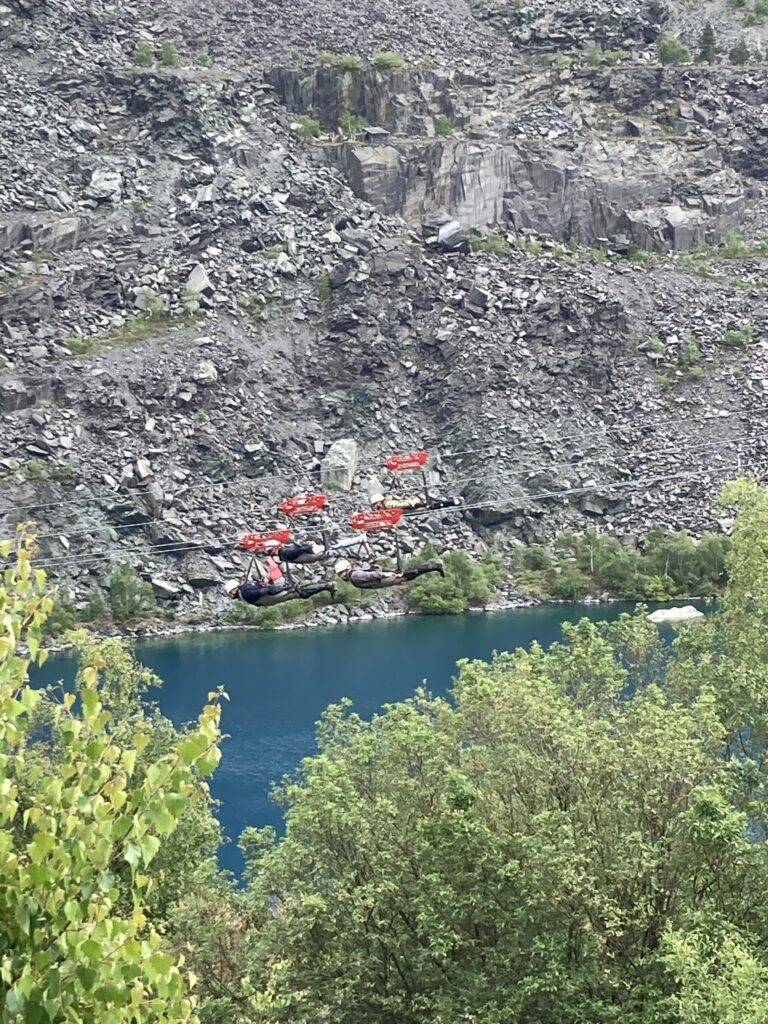 On the Monday we had booked to go on Velocity 2 which is a zip wire at Penryn Quarry which, according to ZipWorld's website, is the fastest zip line in the world and can reach speeds of up to and over 100 mph and is a mile long. After we had checked in and got kitted out in our gear, we walked to the 'little' zip line which you go down before going onto the 'big' one. The little one reaches speeds of up to 30 mph with the idea being if you don't like this one, then you're definitely not going to like the big one. I liked this very much and made my way to the old army like truck for the 15 minute ride up to the top of the quarry.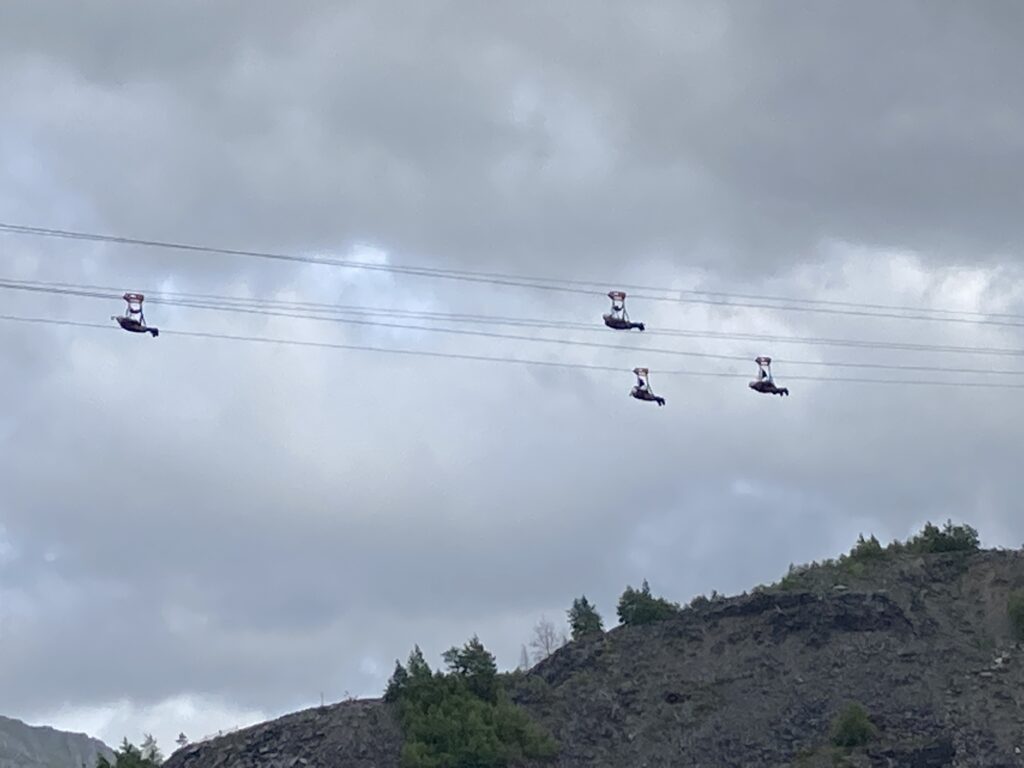 What stunning views there were from up there – apparently when you set off you are at a height higher than the Empire State Building. After I was strapped in, off I went. Wow!!! What a brilliant experience, loved it. If you're not afraid of heights then I'd definitely recommend going.
The weather was looking good for the following day so we decided to head to Barmouth to find breakfast (I bet that surprised you). When I say breakfast, it is more like brunch by the time we get out and ride to wherever we are heading, we tend not to take the direct route but the best scenic and fun road to ride if we can. Having picked up the A496 we arrived at Barmouth, parked up along the seafront and headed off to find food. We found a pub overlooking the harbour and enjoyed the sunshine.
After a walk around the town and beach we decided to head to Aberdovey to find cake (!) via the Penmaenpool Bridge for which you have to pay 50p per bike to go over. It's a wooden bridge so I was really pleased that it hadn't been raining otherwise that would probably have added to the day's excitement somewhat!! We then carried on through Fairbourne and Tywyn stopping in a layby, as you do, to take in the scenery. Definitely worth stopping for 🙂
After cake, we then headed out of Aberdovey and picked up the road to Corris which takes us back to Dolgellau, this was definitely becoming our favourite road. A few times when riding we'd have fighter jets flying through the valleys which is an amazing sight and sound – all that was missing was a GPZ900 and aviator sunglasses and then the vision would have been complete. We even saw a couple of Hercules flying over which is an awesome sight too.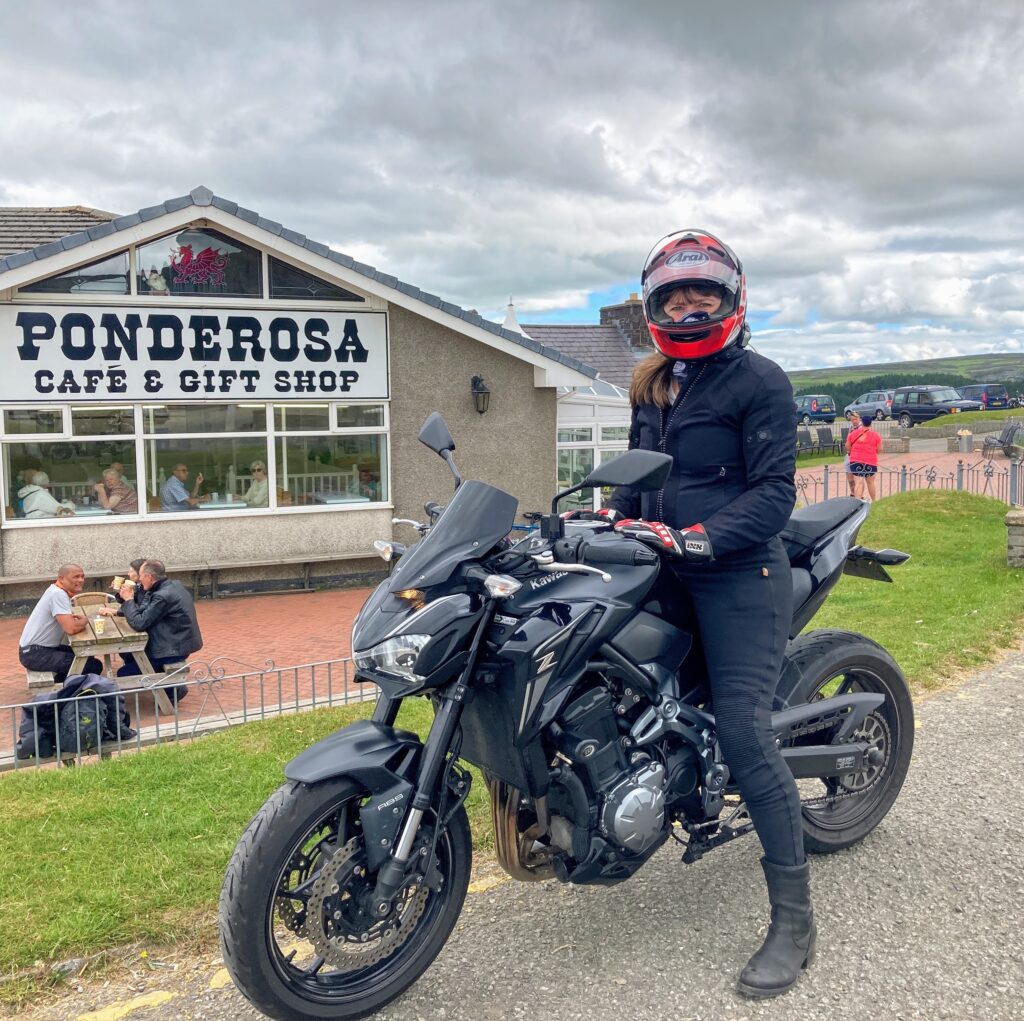 Last time we came to Wales we went to the Ponderosa café but the Horseshoe Pass was closed so we had to go via a diversion so today we decided we would ride the pass. Of course we didn't go straight there – no, we went for breakfast at The Old Stores café in Pontblyddyn which, if you've never been before, is a must. The café is basically an aladin's cave of motorbike memorabilia and we spent ages looking around before sitting outside to eat overlooking the stream. There are a few bikes to look at too and a few bikers to chat to.
We then headed to the Ponderosa café where we stopped for a coffee (surprisingly we didn't have cake here) and more chatting with the many bikers that were there and a drool over some of the bikes in the car park! Thankfully the Horseshoe Pass was open and we got to ride it – I can definitely see why it's a popular road, a great road with some stunning views and it takes you into Llangollen which is a beautiful town and has a fantastic homemade fudge shop 😉
Of course our afternoon wouldn't be complete without the obligatory cake stop and thus a suitable café was found along with a lovely piece of coffee and walnut cake (my favourite) 🙂
On Thursday we headed to the Llŷn Peninsula via Porthmadog for breakfast (you must think all I do is eat!) We jumped on the A470 and had a great ride in the sunshine riding through the Coed y Brenin Forest Park, up through Trawsfynydd and then parked up in Porthmadog where we found a café near the Ffestiniog railway where we could see the steam trains coming into/out of the station.
After a walk around the town we jumped on the bikes and headed out on the A497 which is the coastal road picking up the A499 taking us into Abersoch where we parked up and had a walk around. I really liked it here, such a beautiful place and the views were amazing and so was the lemon drizzle cake ……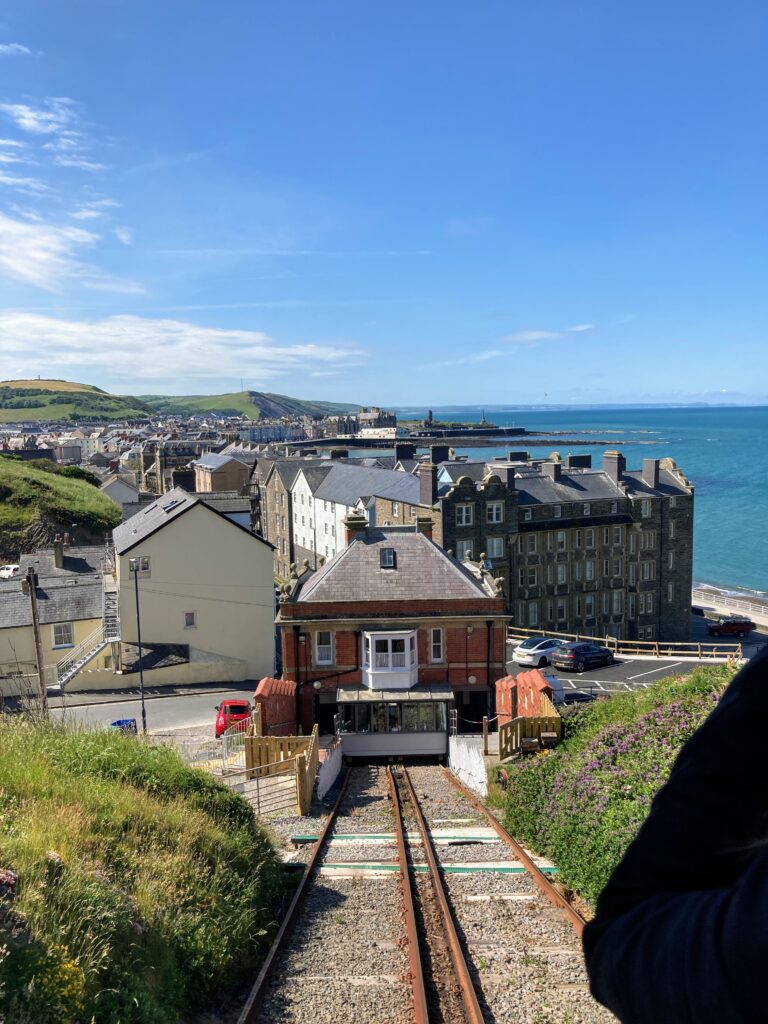 Friday had come all too soon, the last day of our holiday! There is a café in Aberystwyth which you can only get to via the cliff railway which we had heard about so we decided to check it out. We went via the A487 and parked in the allocated bike parking on the promenade which we then walked along to get to the cliff railway which, accordingly to their website, is the longest funicular electric cliff railway in Britain, which has been transporting visitors to the summit since opening in 1896. The café at the top, Y Consti Restaurant, did an amazing breakfast and this was eaten sitting outside looking at the stunning views. Definitely recommend a visit here.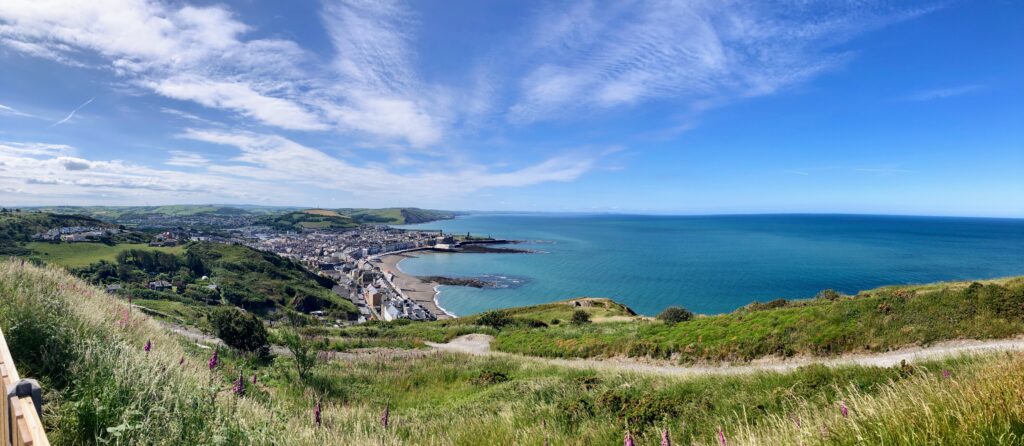 Walking back to the bikes we stumbled across a motorbike clothing shop, Electra Moto-Gear, along the promenade which of course I felt it was obligatory to have a look in 😉 A great shop over two floors with a good variety of men and women's clothing – I came away with a Kevlar denim jacket which I was really pleased about as I struggle finding places with nice stylish clothing for women.
For our last ride back to the house we were staying at, we went via Devil's Bridge (for coffee and our last piece of cake for the holiday) and onto Elan Valley (both of which you could not really class as 'on the way back'!) and then found our way back to Dolgellau for our last evening.
I had a brilliant week in Wales – great mates, fantastic roads and lots of eating which of course was made so good by being on my bike all week. Can't wait for our next biking holiday ………
BK
https://www.aberystwythcliffrailway.co.uk/
https://www.elanvalley.org.uk/
https://www.ponderosacafe.co.uk/