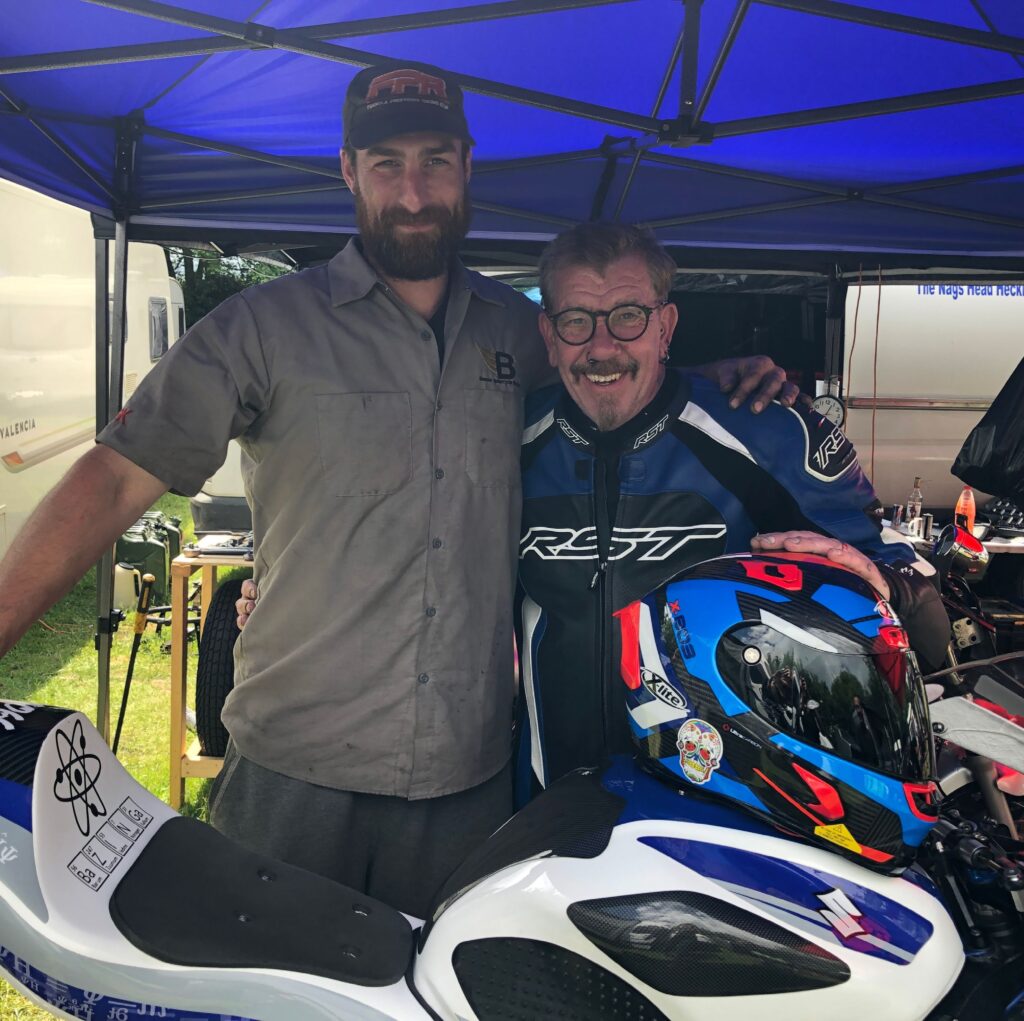 I had the pleasure of being able to shadow Chris Beeson of Beeson Motorcycles Ltd who, besides owning his own motorcycle repair and servicing company, is also a bike race mechanic for Doc Racer. I spent the weekend in the pits with these guys at Castle Combe race circuit to learn more about the role Chris plays as race mechanic.
I arrive early doors on the Saturday morning, the guys arrived Friday and had set up camp with some other riders, and was met with a very warm welcome by Chris and his girlfriend, Toni and Doc.
On the Saturday, Doc had a practice and qualifying session and a race. Doc has been racing for 4 years, he was 57 years young when he started and races for the pure fun of it. Doc used to be a motorcycle instructor and says that he was sick of owning a 180 mph bike and only be able to go 70 mph on it 😉 and so decided to go club racing instead where he could have some proper fun on the bike.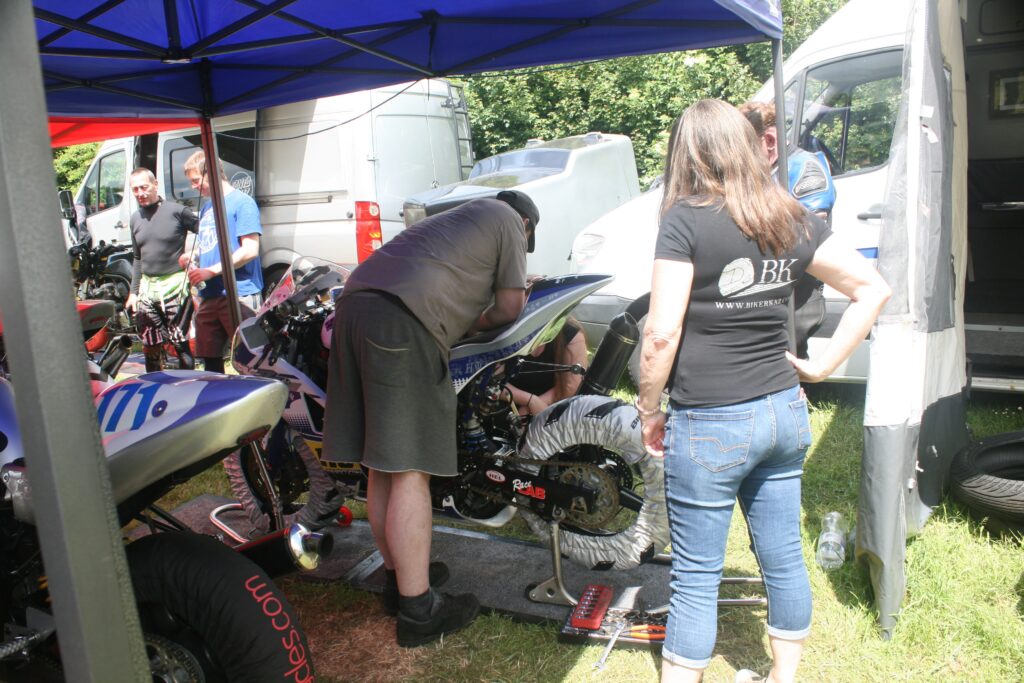 Doc loves the camaraderie in the pits, if something breaks on the bike and he doesn't have a spare, there is always someone willing to give whatever it is that is needed to get the bike back out on track. Doc says there is a great atmosphere in the pits between the riders but when on track, the competitive instinct comes out and it's all to play for.
Bike racing is an addiction says Doc, he spends every penny on racing and indeed he and Chris have both closed their respective businesses for 4 days to come racing. Doc is waiting to have an operation to have his ham string stapled back but clearly is not letting that stop him racing, apparently when he's on the bike racing, it's okay!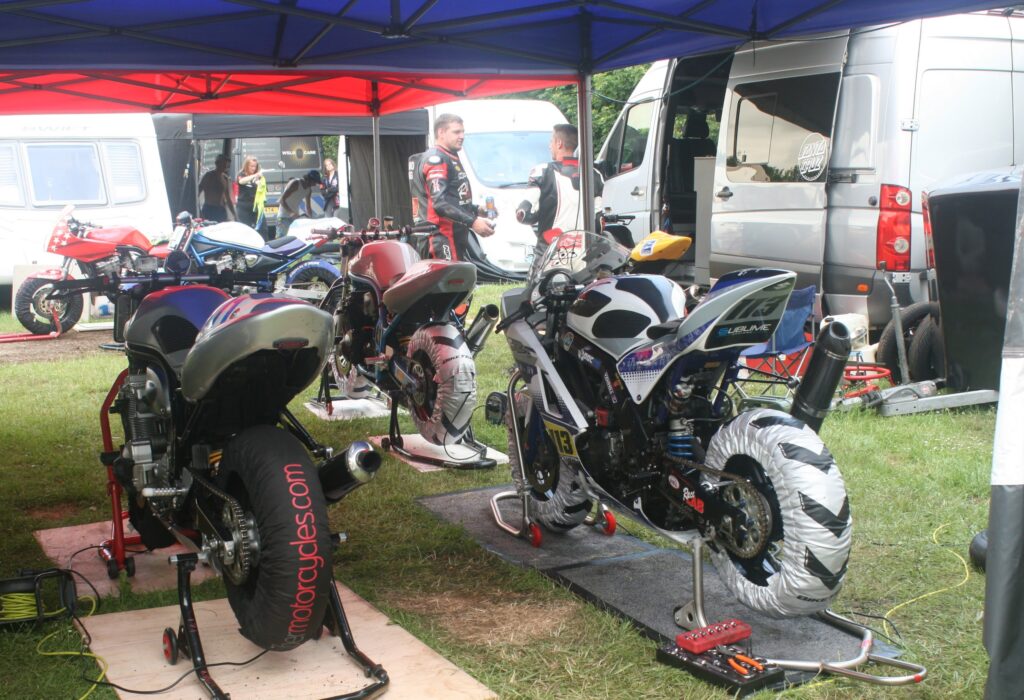 I asked Chris how he came to be Doc's race bike mechanic – Chris has his own business fixing and servicing motorbikes and he was doing a degree in motorsport but was finding it very boring as he already knew a lot of the mechanical side of things so when Doc offered him the chance to mechanic for him (Doc said he would learn more in one race weekend than a whole year doing the degree) Chris jumped at the chance and has deferred his uni place for a year. Doc was right, Chris has learnt so much.
Who sets up the bike for each race? Chris will get the bike race ready but Doc will have input into how the bike is set up and when he comes back in from either a practice or a race, he will tell Chris what he felt wasn't right with the bike and how it was performing, or not, and then Chris will make any necessary adjustments. A lot of setting up the bike is trial and error, tweaks and adjustments here and there and trying new or different parts to see if they make the difference.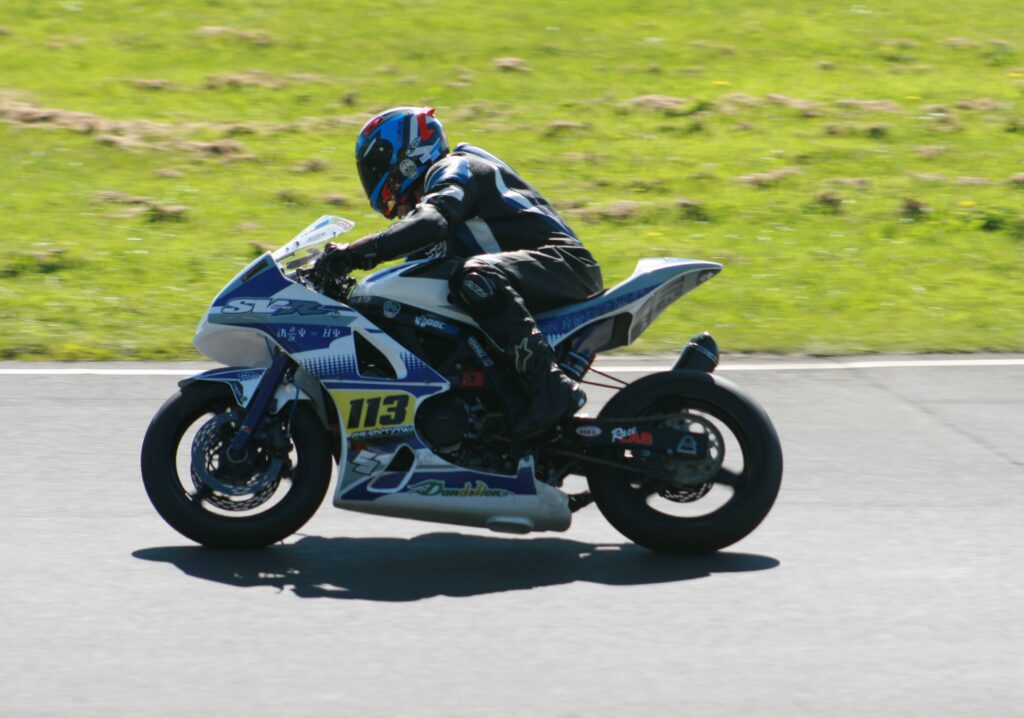 Doc gets ready to go out for his first practice session – Chris starts the bike to warm it up, the tyre warmers come off, Doc is on the bike and riding up to the paddock. Chris and Toni have a quick tidy up in the pits before heading off to watch Doc and record his lap times. Chris has said to me that riders never do as they say they will – Doc has said he will do two laps and come in….
Practice gets under way and I can feel myself grinning when I hear the sound of the bikes setting off. I have missed being able to watch bike racing at a circuit this last year and am so happy to be able to watch again.
Lap 1 sees Doc put in a time of 1.32; lap 2 1.31; lap 3 1.34 and lap 4 1.34. Chris says the fact that Doc is losing time means he should come in, he's either tiring; there is something wrong with the bike or someone has cut him up. In the end Doc did 4 laps – once a racer is out on the track, they can't help but stay out because they love it so much!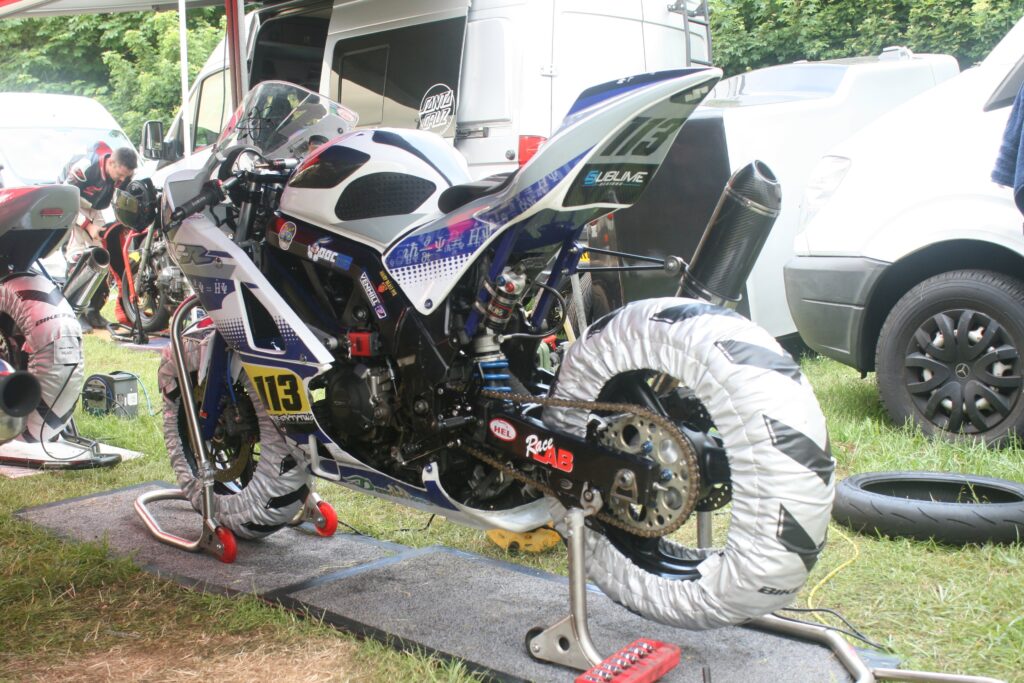 Doc gets back into the pits, the tyre warmers go back on and Chris starts looking over the bike making sure nothing has come off or is loose, checking tyre pressures and bolts are done up. Doc is telling Chris how the bike was, he is not happy with the suspension set up leaving Chris to decide whether to make it harder or softer but the dilemma then for Chris is that if he adjusts the suspension, Doc would not have ridden the bike on the new set up and next up is qualifying so should he leave it as is as Doc knows that set up?
In the end Chris says to Doc to keep the set up as it is and they will adjust the tyre pressures instead by 1 psi. Chris adjusts the quick action throttle as per Doc's request as he thinks this will suit his riding better.
Doc is due out, Chris warms up the bike, has another check over of the bike, the tyre warmers come off and Doc heads off to the paddock. Another quick tidy up and we go off to watch.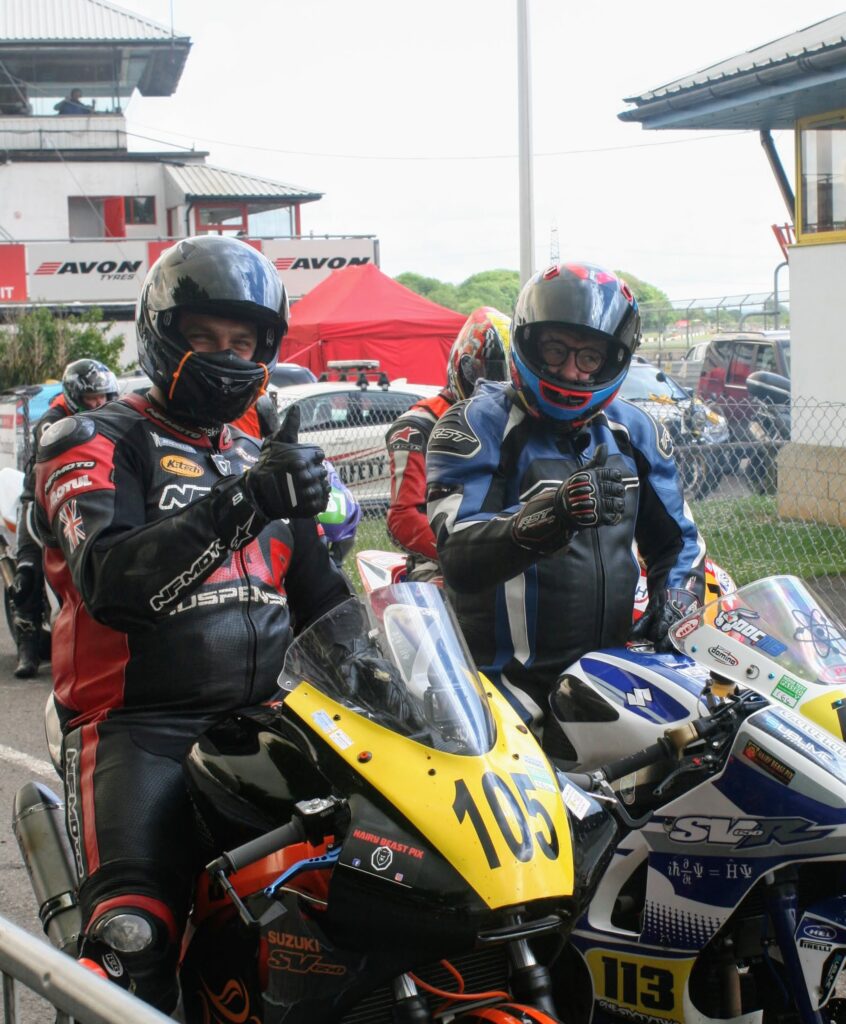 When Doc pulls in to the pits after qualifying, he says to Chris that it feels like the bike is down on power. Chris decides to see if he can open the throttle linkage some more to give it more power. Off comes the fairings, seat and tank! Whilst this is all off Chris decides to do a compression test – the rear cylinder is 235 psi and the front 215 psi so compression is not the problem.
The front and back injectors are next to be inspected and these are cleaned, it turns out these are okay and so unlikely to be the problem.
By this time the other guys in the pits have come over to lend a hand and between them they brain storm ideas and theories. This is what I love about club racing, everyone will pull together to make sure the rider can get back out on track whether it be lending a hand, giving a replacement part or making a cuppa. The guys in the pits with us are called for their respective races and we are joined by a couple of lads from MV Agusta Racing and after investigation they see that the thermostat is not working so they take this off. The system is flushed numerous times to clean it through, the bike is put back together and the bike started. Sweet. It appears that the thermostat could have been the culprit!!
Other racers ask Chris for advice or help or to borrow tools and Chris is always willing to help if he can. There is a great sense of friendship and respect in the pits and lovely to be able to experience it and indeed be a part of it, albeit for me, just for the weekend.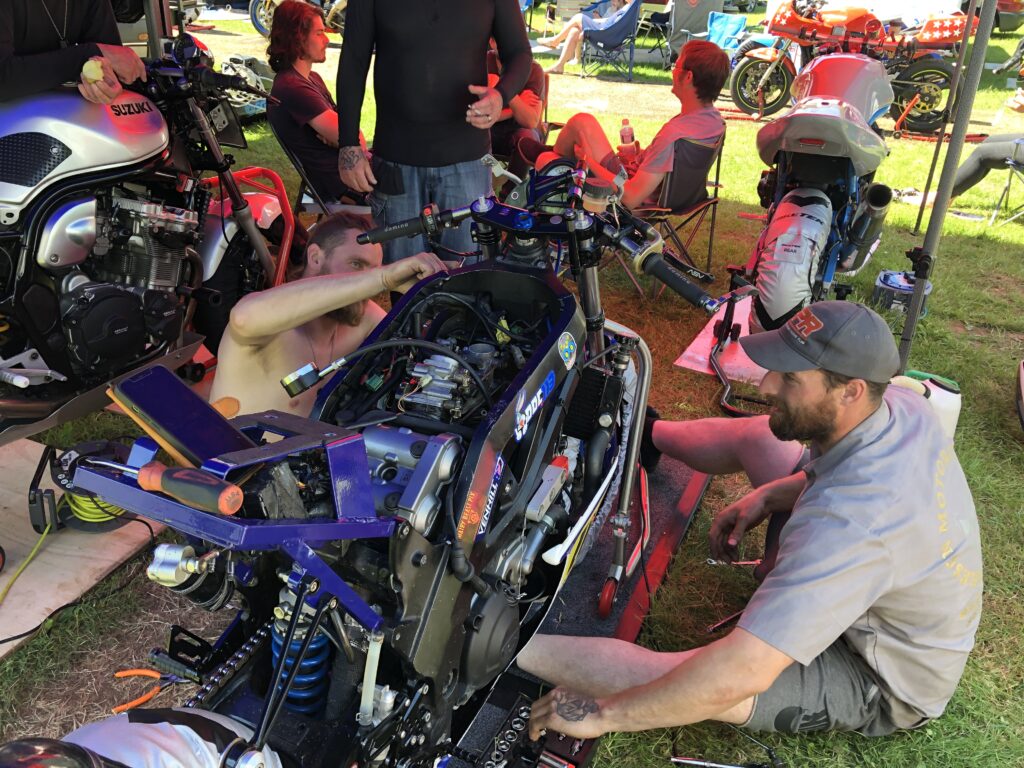 Doc's race is called with just twenty minutes to spare – phew! The bike is re-fuelled and started, Chris has a quick check over of the bike, the tyre warmers are off and doc heads off to the paddock. A bit more than a quick tidy up is needed this time in the pits but Chris and Toni still manage to get to see the start of the race.
Chatting to Chris, he says that as Doc's mechanic he feels responsible for ensuring that the bike is properly put together and it is a constant worry while Doc is on the track that the bike suffers no mechanical fault that could cause Doc to come off the bike, he feels a huge pressure to make sure everything is okay although I am sure if you ask Doc, he would say that if something did go wrong with the bike, that that was racing.
When Doc arrives back in the pits there is oil everywhere. Chris immediately starts looking over the bike to see where the oil is coming from and sees that a breather pipe has come off, the clip holding it on has disintegrated, this was not touched when the previous jobs were carried out so would appear to be just a coincidence.
Chris then starts to disassemble the bike again to not only repair the pipe but also clean the oil off. As there is no other racing today, a couple of the other riders come over to give a hand while another couple fire up the bbq and get some food cooking. It's time to chill for the evening, crack open a few beers and have a laugh. The atmosphere is relaxed and there is a lot of laughter and eating taking place and I was really happy to be a part of this, they certainly extended a warm welcome to me and I enjoyed spending the evening with them before heading off to find my hotel for the night.
I arrived early Sunday morning. Today, Doc has one practice session and a race. The forecast is showers and so they decide to get a set of wet tyres ready just in case and we walk down to see Den at AR Racing to get some wet tyres put onto a spare set of wheels. Doc and Chris decide to keep the inters in the tyre warmers in case they decide to run them and will make a decision on what tyres to run 30 minutes before the start of the race.
Doc has decided that he wants to change the rear sprocket to change the gearing to a 45 (currently on there is a 46). I ask Chris if it was normal for Doc to change his mind about the set up – yesterday Doc was running a 46, last night he decided he was going to run a 47 – Chris changed this and also had to change the chain to a longer one (which they did not have but were given one from another rider), this was done while the bbq was cooking! Now it has changed to a 45 and just before Chris is about to change it again, Doc decides on a 44.
Yes, is the answer. Doc will have a think about how the race went, chat to other riders and say to Chris what he thinks they should change on the bike. Doc and Chris will have a discussion about if/what/why they should/should not change what it is and discuss the options. Chris will often disagree with Doc on something but says that at the end of the day, it is Doc who is racing the bike and the ultimate decision is his unless of course there is a glaring mechanical issue and then Chris will say so. He sees his role as advising Doc if something will/will not work and to ensure that the bike is race ready and mechanically sound.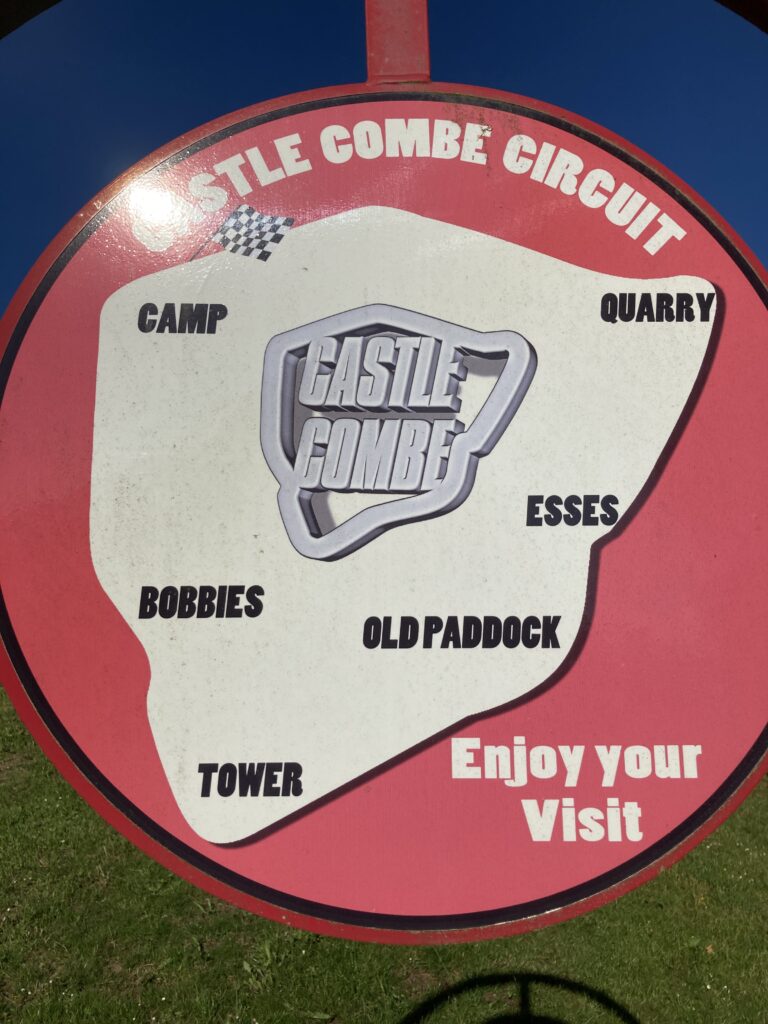 Thirty minutes before practice it looks as though it will be a dry race and so inters are put onto the bike. The bike is then warmed up, tyre warmers come off and Doc goes to the paddock ready for the start of practice.
When Doc comes back in, he says he nearly lost the front end so Chris is checking over the tyres to make sure they are okay and can see nothing untoward wrong with them. They look okay but between them they decide to take a bit of air out.
The bike is refuelled, checked over and tyre warmers are on ready for the race. As the next race will be their last for the weekend, the packing away process begins so there is not so much to do after the race. A well earned cuppa and a sit down is also had.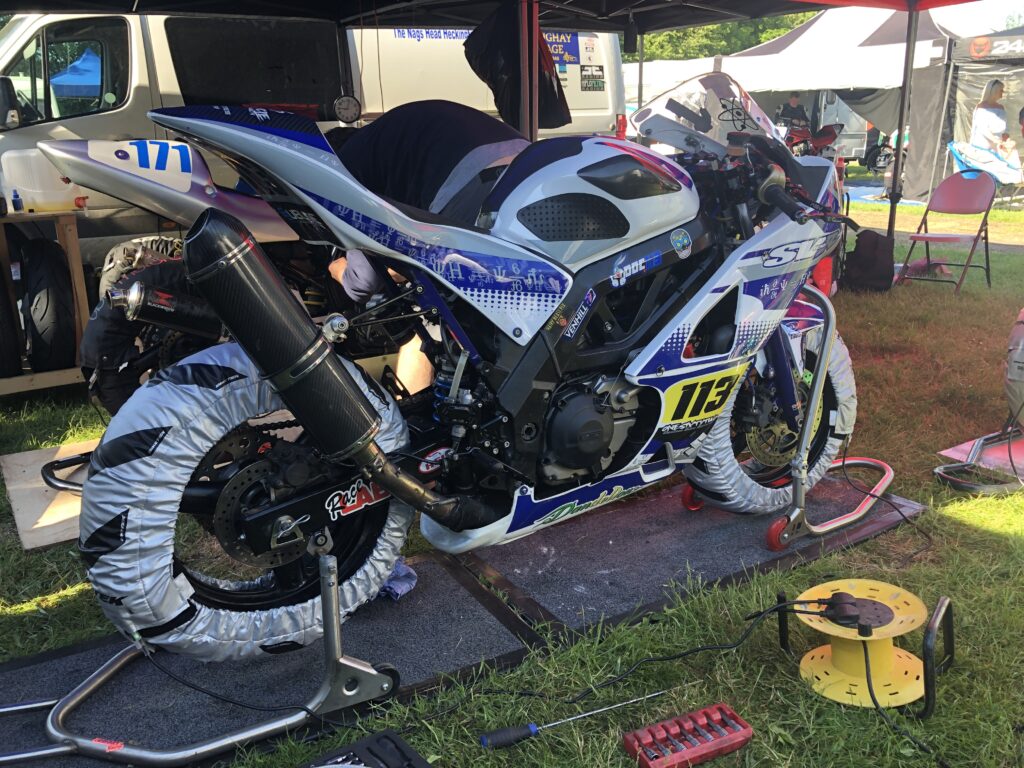 We all go off to watch Doc in his last race of the weekend. Although it's good when Doc comes in after the race and all is good, it's also a little bit sad that the weekend has come to an end, racing is done for the weekend and now all that is left is to finish off packing up and start the journey home.
What a brilliant weekend I had, thank you to Chris, Toni and Doc for being so welcoming and their hospitality, it really was a pleasure to spend the weekend with you guys – thank you 🙂
Thank you also to John Allsopp at MotoGusto magazine for making the introduction 🙂
BK
https://www.beesonmotorcycles.co.uk/
Thank you for reading my article, I hope you enjoyed it. Please subscribe by email, just enter your email on the left.
If you would like to share my website that would be great – thank you.