So after having the Speed Triple RS on loan from Triumph Motorcycles, I have just had the Street Triple R for 3 weeks and wow, what a lovely bike that is. The question is, would I go for the Speed or the Street……..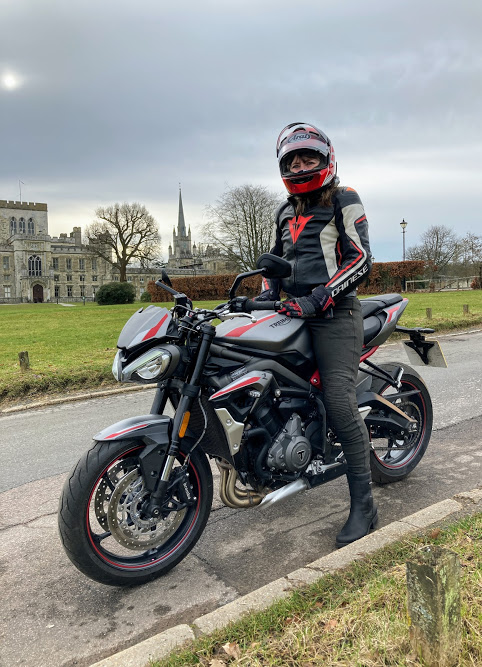 Let's get techy so we can know a bit more about the Street.
The Street is described as a Streetfighter and is a 765cc 12 valve liquid-cooled, DOHC, in-line 3-cylinder bike. It's power is 86.8 kW (118 PS) @ 12,000 rpm and torque is 77Nm @ 9,400 rpm. It has a multipoint sequential electronic fuel injection with SAI, electronic throttle control with a 6-speed Triumph shift assist gearbox.
The exhaust is a stainless steel 3 into 1 exhaust system with a low single sided stainless steel silencer with Brembo front and rear brakes. The front suspension is made up of Showa 41 mm upside down separate function big piston forks (SF-BPF) with Showa piggyback on the rear both of which have adjustable compression damping, rebound damping and preload adjustment.
It has a digital speedometer and analogue rev counter, fuel gauge, gear position indicator, programmable gear change lights and a clock. Three rider modes are available with this R model – Rain, Road and Sport.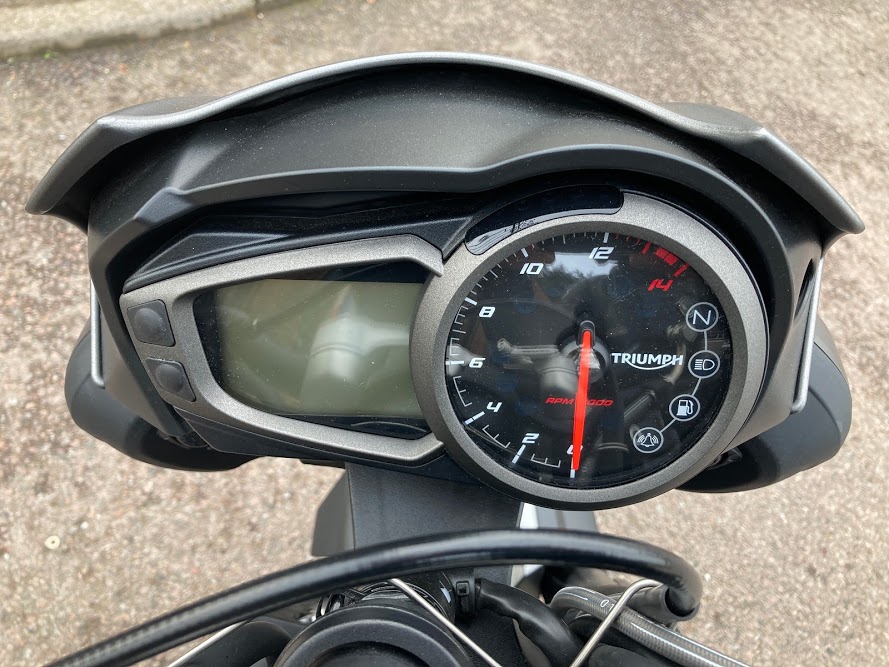 The model Street I had, had the 825mm seat height and there is a low seat version available which is 780 mm.
The bike itself looks very stylish with nice little touches to details that I thought added to the character of the bike – the brake reservoir is stylish and soooo much better than the usual plastic ones that can been seen on a lot of bikes and I really do like the LCD screen, it is really easy to read and navigate
Now you have to bear in mind that I had the Street end of January / February so we are talking mostly cold, damp, wet days and on my first ride out it had just stopped raining so the roads were very wet but I was eager to get out and see for myself what the Street was like. I put the bike into rain mode.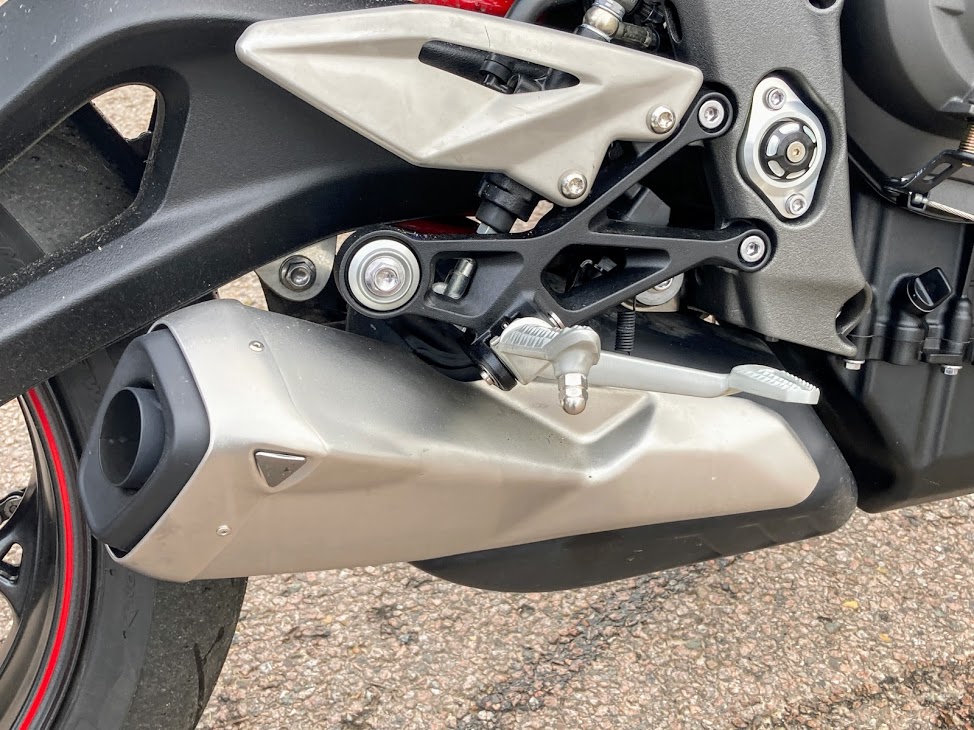 I was pleased to see that the tyres were Pirelli Diablo Rosso's rather than the Supercorsa's that came on the Speed (these are a track day competition tyre which Pirelli describe as street legal track tyres, they have really good feedback when road conditions are warm and dry but not so good in the cold and damp!)
Weight wise, the Street is very similar in weight, I would say, to my CB1000R and both bikes feel heavier than my Z900. I wheeled the bike backwards in the drive to get it out and I have to say I was struggling to move it. My feet were not flat on the floor but I was in no way on tiptoes, in the end I had to get off the bike and push it back but even then it was hard work.
Having got the bike out, I started it up. You just have to love the sound of a triple engine! The bike was really easy to ride and very comfortable and even though the roads were very wet, I felt really happy on the bike, it was sticking to the road well and I had no worries about the back end twitching on me.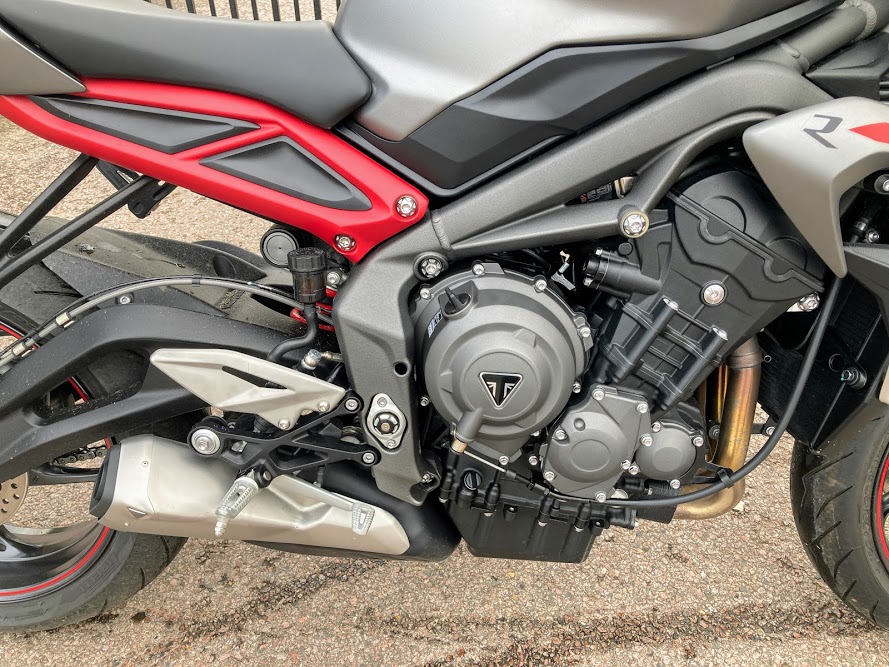 The Street has fantastic acceleration (which sounds awesome in the process) and was really good for nipping past cars and back in again, you just knew that you had the power to do a move like that and still have plenty in reserve.
The next couple of times I went out on the bike it was or had been raining so I kept it in rain mode. The first dry day I put the bike into road mode. The Street handles so well in the corners, I felt really stable on the bike and I was really liking the tyres, I certainly had confidence in them.
The Street has a quick shifter that works in both up and down the gears. My personal bike does not have this so to start with I kept forgetting to use it but once I remembered, I found I just took to using it without thinking.
So after a couple of rides in road mode, the next ride the sun was shining so into sport mode it went. Well, I have to say for me, this transformed the bike, it was like it came alive and I was absolutely loving the twisties, it just clung to the roads and was huge fun to ride. I was getting home from work and going out for a ride on the Street just to get another 'fix', I can honestly say it was such fun to ride.
From then onwards the Street stayed in sport mode (even in the wet). I wasn't worried at all about the handling of the bike in sport mode in the wet, it was so responsive and handled perfectly (obviously you ride to the conditions of the roads) but if it were my bike I don't think it would ever come out of sport mode.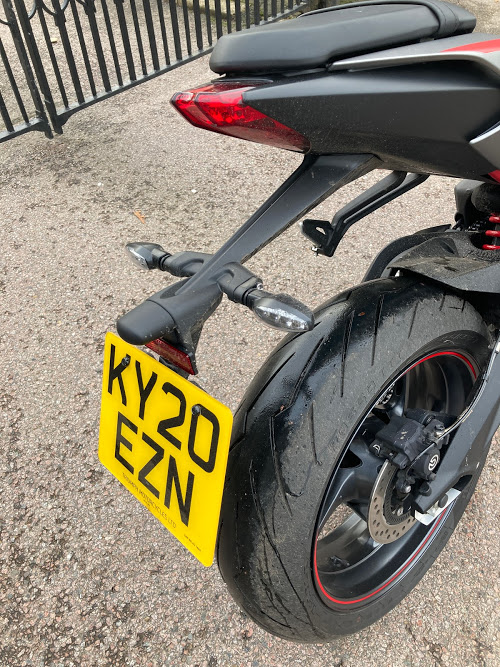 My personal bike does not have modes and I have ridden in sun, drizzle, rain, hailstones and even sleet and I have not been worried at all about not being able to put the bike into the mode suitable for the conditions. If modes were an optional extra, I wouldn't pay for them except possibly on a very high power bike as I found they just blunt the throttle response from what I am used to.
If I were buying the Street Triple R my first purchase would have to be a tail tidy. I know that it is a legal requirement that the number plate is the furthest part of the bike and some people might like the back end of the bike as it is, but personally I would have to change it.
My second purchase would be a new end can on the exhaust. I have to admit that I do love a noisy exhaust and, again, it is purely personal choice.
My third purchase would be a set of heated grips as I vowed when I was riding back from Lands End in the cold, rain and wind that from then on, every bike of mine would have heated grips!
Other than that I wouldn't change anything on the bike, they are purely personal choice things that I would change, I love the Street as it is and it was a sad day when I had to give the bike back 🙁
So to go back to the earlier question, would I choose the Street Triple or the Speed Triple???
I am going to go with the Speed Triple. For me, the Speed was easier to manouvre with its slightly lower seat and it made such a difference to me personally.  Both bikes were huge fun to ride, comfortable and I would be happy to own either.
Thank you Triumph Motorcycles for the loan of the Street Triple R, it was a privilege to ride 🙂
BK
https://www.triumphmotorcycles.co.uk/
Thank you for reading my post, I hope you enjoyed it. If you would like to subscribe by email, please enter your email on the right.
If you would like to share my blog that would be great – thank you.