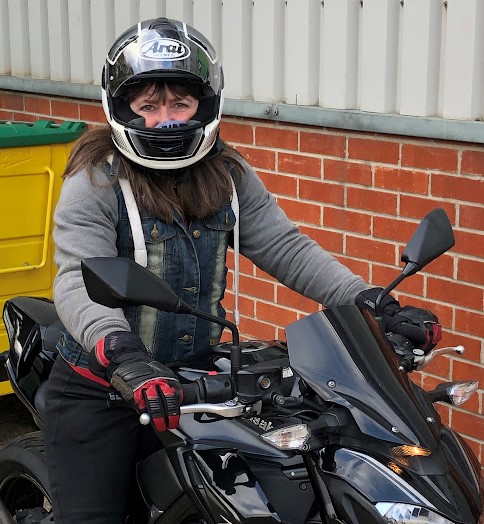 I had the pleasure of speaking with Martin Slowey, who is the CEO of the Helmet Inspection Company, about the company and what it is they do.
The Helmet Inspection Company are an independent motorcycle/motorsport helmet inspection specialist based near Donington Park Race Circuit in the East Midlands where they have a team consisting of leading academics and engineers in the field of non-destructive testing, specifically in composite materials.
Martin has been riding bikes since 1974 and used to compete in ACU events before progressing to motocross events in his early teens. When Martin was growing up his family had three bikes shops in the North East of Scotland and Martin currently rides a Ducati Panigale 1199s so he has a wealth of knowledge about the protective gear needed when riding a bike and the standards they should meet in order to offer the protection needed to a rider.
The Helmet Inspection Company started after Martin dropped his two week old Shoei helmet. After asking around and not being able to get a definitive answer as to whether his helmet was still okay to use after being dropped, he bought another helmet but thought there should be a way of being able to tell whether or not the dropped helmet was still fit for purpose.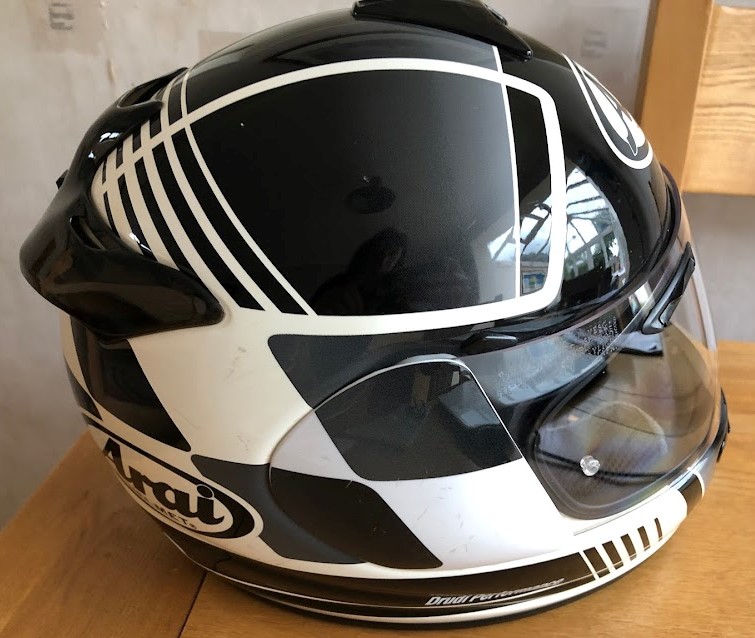 Martin was speaking to Professor John Tyrer, who is one of the early co-inventors of laser shearography – a television derivative of holography and has been developing and using this technology for glass fibre and carbon fibre composite structural analysis for over 30 years.
John also uses shearography to examine the structural integrity and performance of everything from the human cornea, human joints, submarines, lifeboats, motorcycles, motorcycle crash helmets, cars, aircraft and spacecraft!
John has been riding motorcycles since the age of 14 so knows the importance of having and knowing that your motorcycle riding gear is up to the standard that it should be and has been testing his motorcycle helmets using shearography periodically.
As you and I both know, the integrity of your helmet is affected by a number of variables for example natural ageing of the glues used to bind the composites; exposure to petrol fumes; extended exposure to sunlight; sweat (eww !) and hair products. Manufacturers generally say that a helmet has a lifespan of between 3 and 5 years due to the degradation process, the more your helmet is used, the quicker it will degrade. Makes sense to me.
The biggest factors for me of the integrity of my helmet being compromised is if I were to drop it or if I were involved in an accident and my head hit the ground. According to The Helmet Inspection Company's website the two key components created in the helmet manufacturing process are (a) an outer shell and (b) an inner liner.
The outer shell on non-budget helmets is typically manufactured from composite materials, such as Fibreglass, Kevlar and Carbon Fibre. The outer shell is designed, generally speaking, to absorb 30-35% of an initial impact and dissipate the shock forces over a wider area. It's your first line of defence.
The inner liner is designed to absorb the remaining force(s) passed from the outer shell, in the event of an impact. If the integrity of the outer shell is compromised, on impact, the inner liner is being asked to absorb more of the impact force. Something it's not designed to do.
Composite materials are excellent at absorbing and dissipating shock forces, but only once. The nature of composite materials means that once they have taken an impact, the integrity of the material may be compromised.
So does that mean that if a helmet has been dropped or involved in an accident that it has lost its integrity? Can you tell just by looking and feeling the crash helmet yourself? No, due to the nature of composite materials, and how their integrity may be compromised, a visual inspection with the naked eye is simply not effective nor is x-ray or ultrasound but lasers are which is where shearography comes in.
The Helmet Inspection Company apply a small amount of heat to your helmet, usually no more than +3degC. As your helmet starts to cool, the rate at which the composite material cools differs between "good" composites and "bad" composites. These differences become visible to the naked eye on the computer when the laser is aimed at the helmet.
So, what is the process for getting your helmet inspected? The Helmet Inspection Company offer an inspection from £40 with a 2-3 working day turn around.
Go to HICs website Helmet Inspection Company; click Book an Inspection and simply enter your details and upload 3 x photos of the helmet you are sending;
Package up your helmet and take it to the Post Office to be sent to The Helmet Inspection Company (you can pay a little extra and arrange for a doorstep collection from ParcelForce);
Helmet returned by ParcelForce.
It is as simple and easy as that.
I followed this process and sent my spare helmet off for inspection. I received email and text updates throughout the process from receipt of my helmet, at what point it was in the inspection process, the results of the inspection and my helmet being posted back to me.
I have to say here that my biggest concern with sending my crash helmet through the post to the company was how safe it would be in transit. If, like me, you have seen those video clips of a courier dropping or throwing parcels into the back of a van, then you are wary about sending anything of value and which can be damaged via post. My helmet is a considered purchase and one that I cannot afford to be damaged.
I discussed this with Martin and he understood my concerns and he has been working with a packaging company to come up with a solution and being able to offer for purchase a specific helmet packaging box. The idea is that you can either purchase one of these boxes or you can package your helmet yourself. Hopefully this should be available on the website soon …….
I asked Martin what the process is if the helmet were to go missing in transit – the Helmet Inspection Company have recently introduced an insurance policy that provides £5,000 cover for each leg of the journey, for no additional cost to the customer. Inbound shipping is included irrespective of the shipping method the customer chooses to use to get their helmet to them. I personally find that reassuring knowing that my helmet is covered in the event it is lost.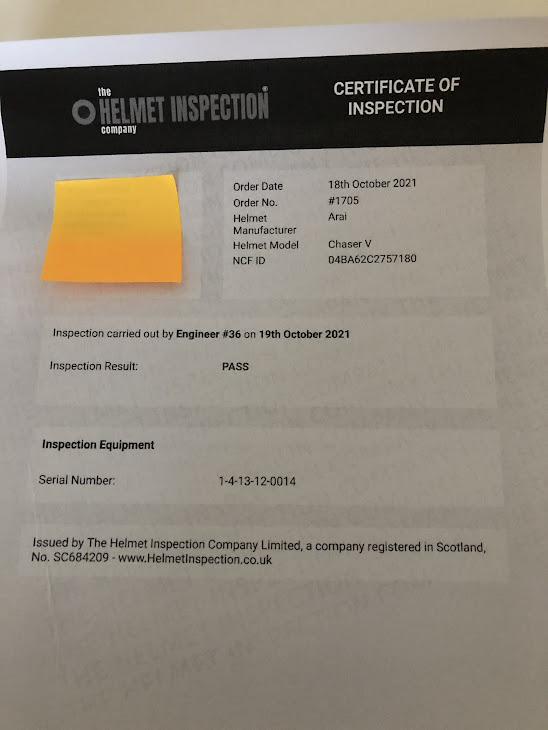 The Helmet Inspection Company are actively recruiting a nationwide network of motorcycle retailers to act as a drop off service – the first to come on board is Ducati Manchester Group with five of their UK outlets. Hopefully more will come on board.
They are hoping to attend some BSB races next year with the idea of not only offering a secure storage area for your helmet for a nominal fee but also being able to offer helmet inspection at the same time whilst you are off watching the racing. I really like that idea.
I am pleased to say that my helmet passed its inspection and I received a Certificate to say so. At the date my helmet was inspected, it is still okay to use.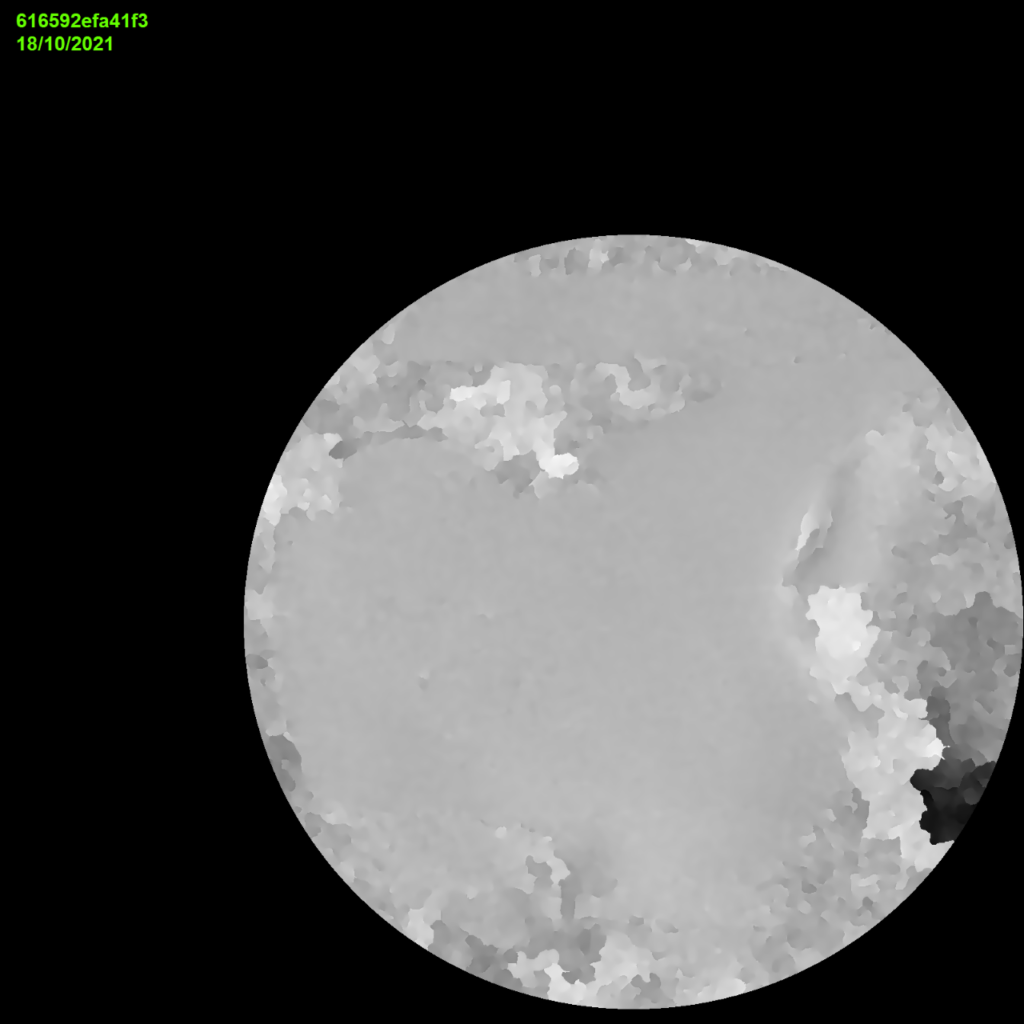 Here are a sample of the inspection images taken from my helmet. The Helmet Inspection Company do not currently provide these images to their customers because as yet they do not have an efficient way of annotating the inspection images with meaningful information – without meaningful annotation, they could just be showing you images of the moon but they are actively working on a solution for this.
Images 5 & 6 are a top down view of my helmet.
You will see on the pictures of my helmet that there is a 13-digit reference shown at the top of each image, this refers to the unique serial number of the small round NFC tag that's placed on the back of each customer's helmet as it arrives at the facility. The Helmet Inspection Company are developing an app that will allow race scrutineers and other event organisers, using any modern mobile device, to read the tag and display the "last inspected date" and whether the helmet was a "pass or a fail".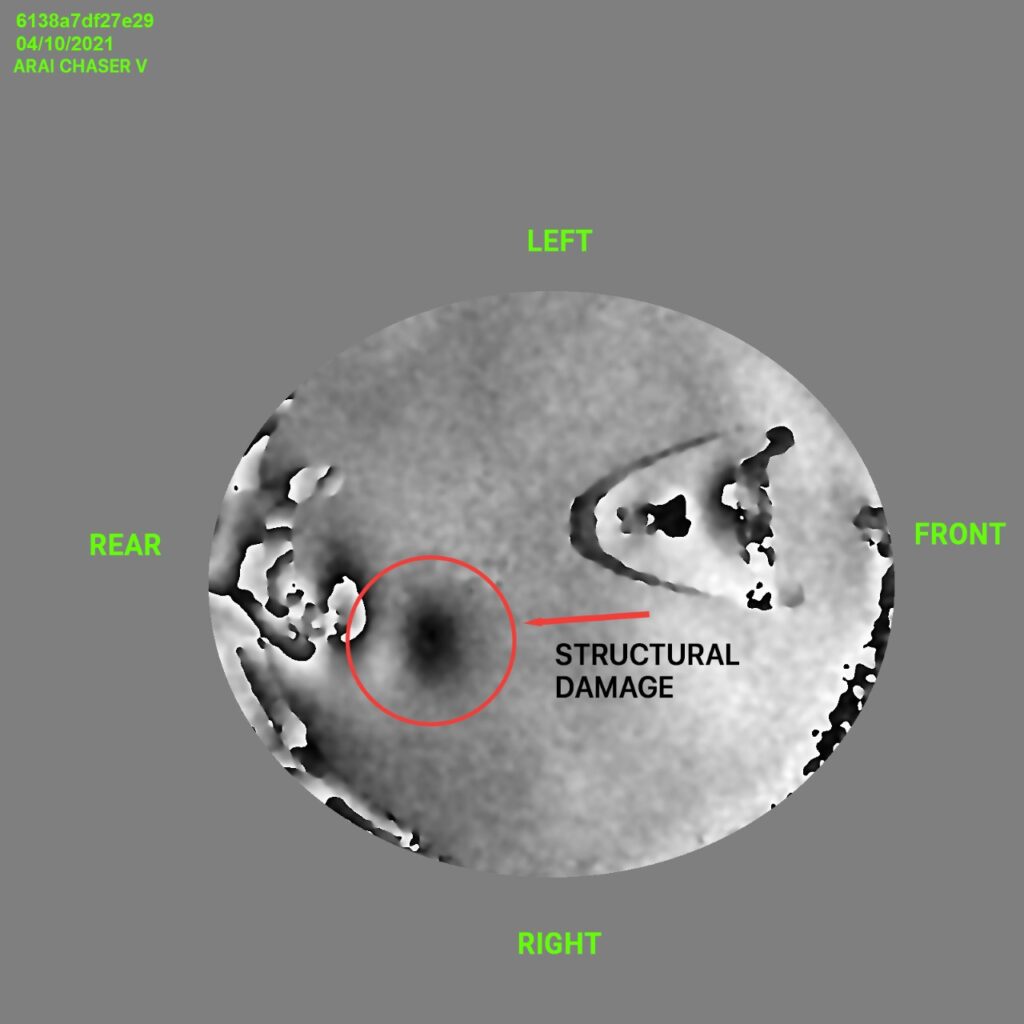 To give you an idea of what a damaged helmet image look likes, here is a pic of a helmet drop that was carried out at the lab showing the damage sustained.
I think this is a great service that would give you peace of mind if you dropped your helmet or it was involved in any sort of impact potentially saving you from unnecessarily buying a new helmet. There is also the option where you could look at having your helmet checked a bit like an annual MOT especially when it is coming to or starting to exceed its recommended lifespan. Obviously the Helmet Inspection Company can only certify it as being up to spec at the time of their inspection.
Thank you Martin for your time in speaking with me about The Helmet Inspection Company, I think your company and what you are offering is really interesting and a brilliant idea.
BK
Thank you for reading my article, I hope you enjoyed it. Please subscribe by email, just enter your email on the left.
If you would like to share my website that would be great – thank you.