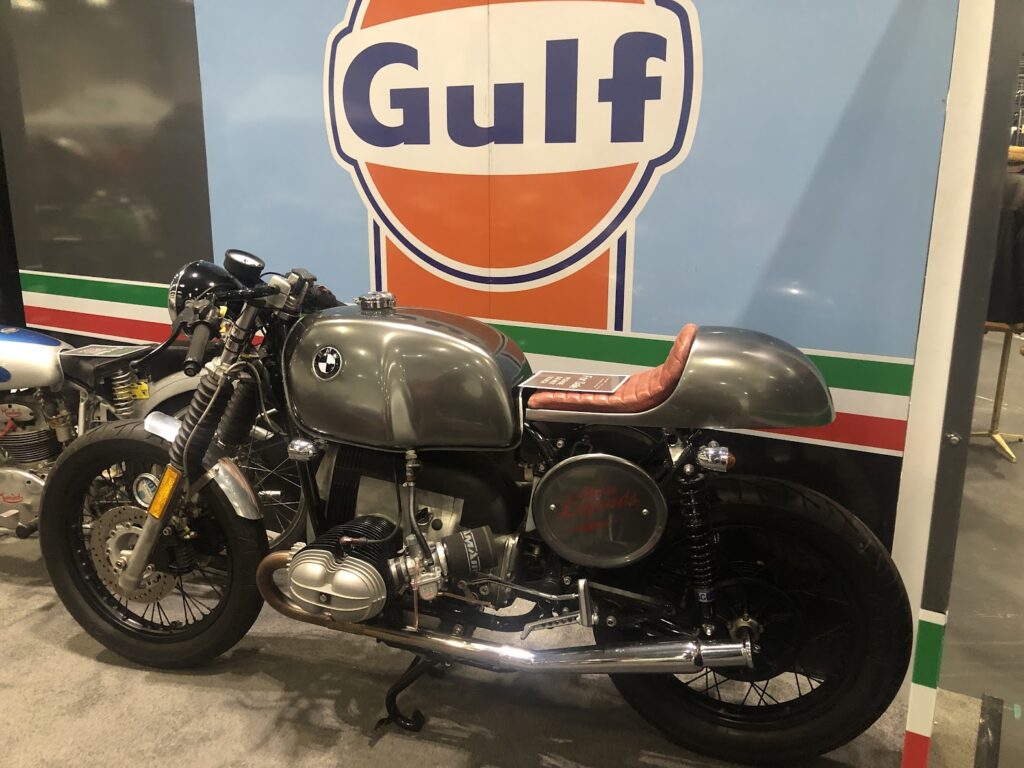 What a great day out! What's not to love – bikes. Classic bikes, new bikes, old British bikes, gorgeous shiny new bikes, a few 'Um… really … I'm not sure about that….' bikes; racing bikes and that's before we've even got on to the clothing, accessories; coffee stands and the new Super Sprint which is being held for the first time this year!
This year's London bike show was held at the ExCel in Docklands. You can get to the ExCel by train, car or bike and there is designated free bike parking.
I normally go by train to this event as I meet up with a few friends after the show and we go off to find a pub and then dinner somewhere and this year was no exception.
If you're like me, you walk into the Excel and you're like 'Whoa, bikes, lots of bikes 🤩🤩🤩' and I'm back to being a little kid in a sweet shop with my eyes going everywhere looking at all the lovely things on offer!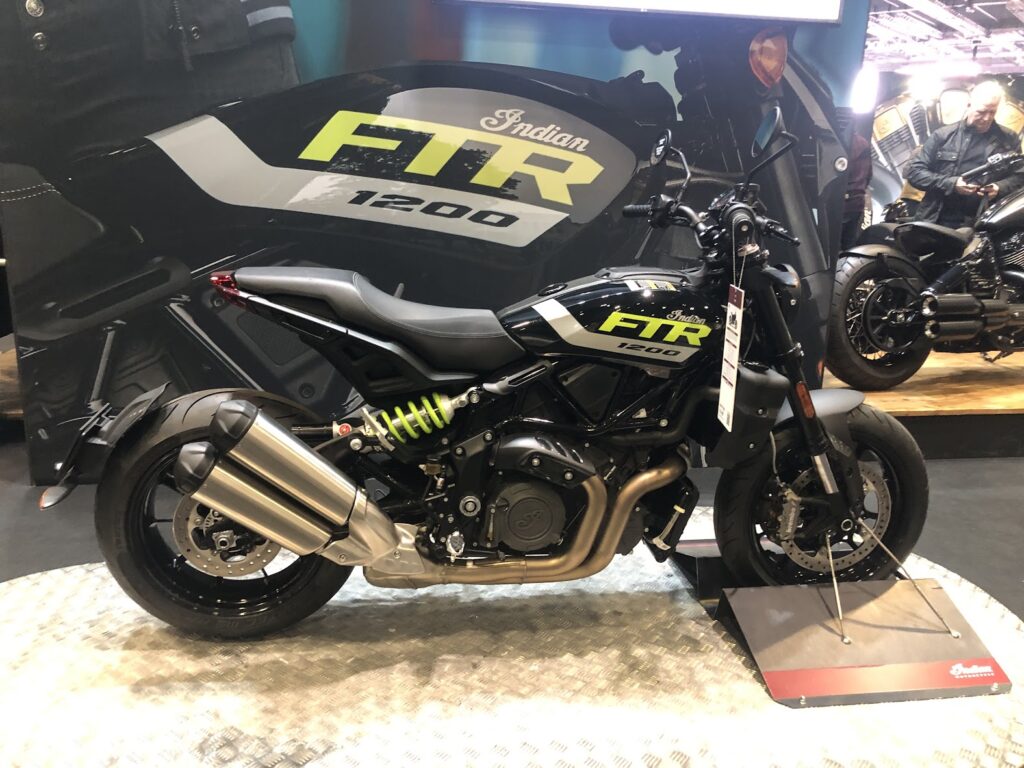 New for this year's show is the Super Sprint which is a drag strip that runs down the centre of the exhibition hall. MCN lined up some incredible machines to take part in this including both of Barry Sheene's 1976 and 1977 Championship winning bikes and TT legend Peter Hickman launched his 2023 BSB spec BMW M1000RR off the line.
There were many famous riders and some amazing bikes to watch taking part in this and it was interesting to see the times they were posting. You could tell they were racers as there was some great friendly competition going on.
The only downside to the drag strip was the noise. It was seriously noisy at some points but great to see something different happening.
Triumph Motorcycles brought along with them five machines in celebration of the 60th anniversary of the James Bond movie franchise where they had their own display stand. Two of the bikes were used in the film No Time to Die and were the Tiger 900 and Scrambler 1200XE.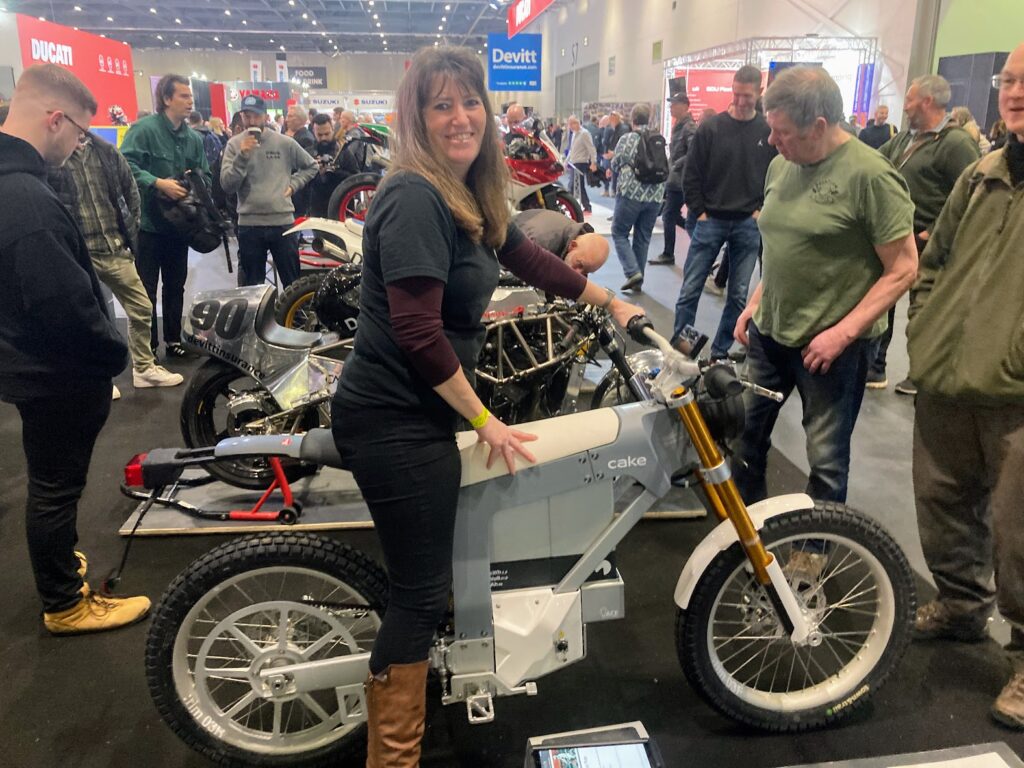 Making up the display were Triumph's three special edition bikes – the Tiger 900 Bond Edition, the Scrambler 1200 Bond Edition and the Speed Triple 1200 RR 60th Anniversary Bond Edition. Great to be able to see these bikes up close.
There was a designated Adventure and Travel Stage at this year's show where you could listen to people such as Sam Manicom, Tiffany Coates, The Sidecar Guys, Elspeth Beard and Vanessa Ruck to name but a few telling us stories of their amazing adventures and offering tips and advice for you to begin your own adventures.
It was great to be able to listen and chat to some of these intrepid explorers to get inspiration for my next adventure.
Silverstone Motorcycle Auctions were there with a display of bikes on show ready for the auction which took place in the afternoon on the Saturday.
There were an array of bikes – a 1959 Flandria Iris 49c; 1959 Norton Manx 30M 490cc; 1967 Honda CB450K0 D-Kit 444cc; 1973 Triumph X-75 Hurricane 741c; 1982 Kawasaki Z1000 J2 998cc; 2020 Brough Superior SS100 Mk1 997cc were just a few of the bikes up for auction. Now, where did I put my cheque book …..
Then of course you have the bike manufacturers proudly showing off their beautiful shiny bikes.
It was good to see such a great mix of manufacturers such as Kawasaki, Triumph, Yamaha, Suzuki, BMW and Ducati to CCM, Norton, Royal Enfield, Indian Motorcycles, Harley Davidson, KTM, Surron and Kymco. There really are a range of bikes to suit all types of riders, abilities and price ranges.
If you're in the market for a new bike it really is a great opportunity to be able to sit on so many different bikes in one place, see their specs and chat with knowledgeable people on each stand about their machines giving you an opportunity to find out which bikes suit you, your riding style and your budget to help with your decision making.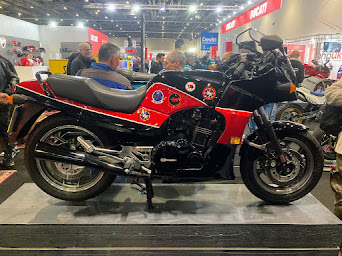 Even if you're not in the market for a new bike, it is food for thought for your next bike and a great opportunity to see so many different bikes in one place.
On the Suzuki stand I did spy former triple BSB Champion, John Reynolds with some racing bikes. It was nice to be able to chat to John about his bikes and his racing career which was really interesting.
On the Triumph stand I had a chat with intrepid explorer Rhys Lawrey aka 2moro Rider. I loved listening to his latest adventures and where he is off to next. I have a trip planned to Spain later in the year and Rhys showed me some photos of a road coming back through France that he has ridden and gave me the details so I can incorporate this into my trip. How great is that!
I came across Michael Rutter, aka The Blade, on the Bathams Racing Honda RCV stand who brought along with them four bikes including their BMW M1000RR and Tony Rutter's Ducati TT1 and his Offenstadt 350. I was able to sit on one of Michael's father's bikes, have my picture taken and a chat with Michael who then very kindly signed one of his books for me.
That's one of the things I love about this show, the guys on the stands make time to have a chat with you and usually a picture too.
Besides bikes, bikes and some more bikes, there were also clothing manufacturers at the show offering for purchase a selection of their goodies. You could fully kit yourself out to ride a bike by coming to the bike show from base layers, protective trousers and jackets to boots, gloves and helmets.
That of course is just the start, you can then go on to kit out your bike with accessories such as luggage systems, sat navs, go pros and then you can kit your garage out too with paddock stands and lifts, tools, cleaning products….. Honestly, the list is endless. Just make sure you bring plenty of pennies with you or your other half's credit card… 😜
All in all I had a fabulous day at the Bike Show, I saw lots of bikes, chatted to so many bikers and came away with lots of ideas and inspiration.
I have heard a few people saying that the London Bike Show is smaller than some of the major shows, but to me it's a day out in London with a few mates looking at bikes and then off to find beer and food. What a perfect start to the biking season 😎
A great day out, well worth a visit and I'll be back again next year.
BK