Finally, after first booking this trip in 2019 and it being delayed until now due to the pandemic, our trip to Spain was finally happening! Our group consists of myself, my other half and two friends. We had 16 days and covered what turned out to be some 2,300 miles.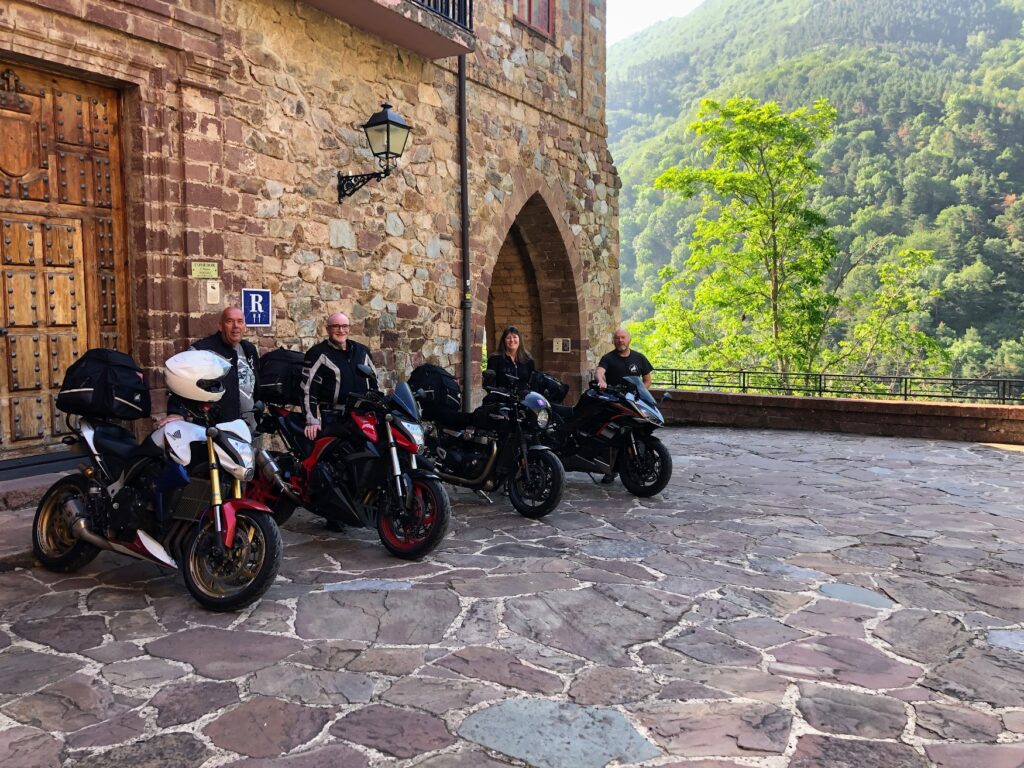 To say I was a tad excited is an understatement. The plan was to take the ferry to Santander, head to the Picos for a couple of days, then further along Northern Spain to Salas before heading to the Rioja region where we would be staying for a couple of days in a Monastery.
We would then be heading up the coast of France to Brittany where we were meeting up with a couple of friends and staying for three nights. After leaving Brittany we would head to the tunnel with another overnight before catching our train back to the UK.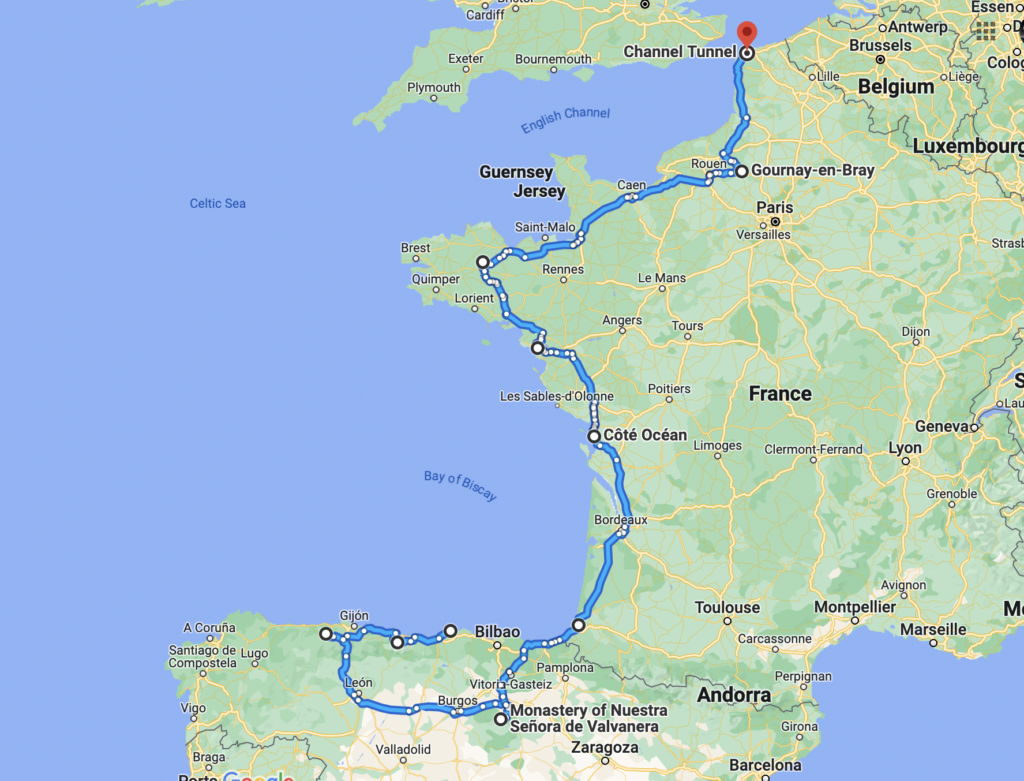 So there were 10 legs (yes, 10) to our trip, our itinerary was as follows:
Leg 1: Home to Portsmouth to catch the ferry to Santander, Spain.
Leg 2: Santander to Poo de Cabrales
Leg 3: Poo de Cabrales to Figares Salas
Leg 4: Figares Salas to Monasterio de Santa Maria de Valvanera, Anguiano
Leg 5: Monasterio de Santa Maria de Valvanera, Anguiano to St Martin de Seignanx
Leg 6: St Martin de Seignanx to Angoulins
Leg 7: Angoulins to Saint Brevin les Pins
Leg 8: Saint Brevin les Pins to Countryside Holidays in France, Lanrivain
Leg 9: Countryside Holidays in France, Lanrivain to Gourney-en-Bray, Normandie
Leg 10: Gourney-en-Bray, Normandie to home
Leg 1 Day 1
Now I have to say I was a bit apprehensive about the ferry part of the trip. The crossing was approximately 36 hours, it was to set sail at 9.30 on the Friday evening and arrive in Santander at 8 am on Sunday morning, so two nights on the ferry. What were we going to do for 36 hours on a ferry!
We headed down to Portsmouth earlier than we needed mainly because it was a Friday afternoon and we were allowing extra time for traffic and also because we wanted to find a pub and get something to eat before heading to the ferry as our sailing was not until 9.30 that evening.
We found a pub, the Ship & Castle, right by the dock. It turned out to be a heavy ride down, with lots of filtering on the M25 and slow moving traffic on the A3 so it was great to get to the pub, chill, and have something to eat before heading to the ferry terminal.
Once we had checked into the ferry and lined up, a group of us were then sent off for a security inspection before lining up to board the ferry. I always get a little worried before riding on the Eurotunnel or ferry as I am always worried that I will be the one to mess it up and drop my bike. Thankfully, I needn't have worried, I rode on and parked up with no hiccups. We watched our bikes being strapped down before going up on deck to find our cabin.
We dropped our bags in our cabin and headed for the bar! We had a couple of drinks and some supper and headed off to bed. That was night one done.
Day 2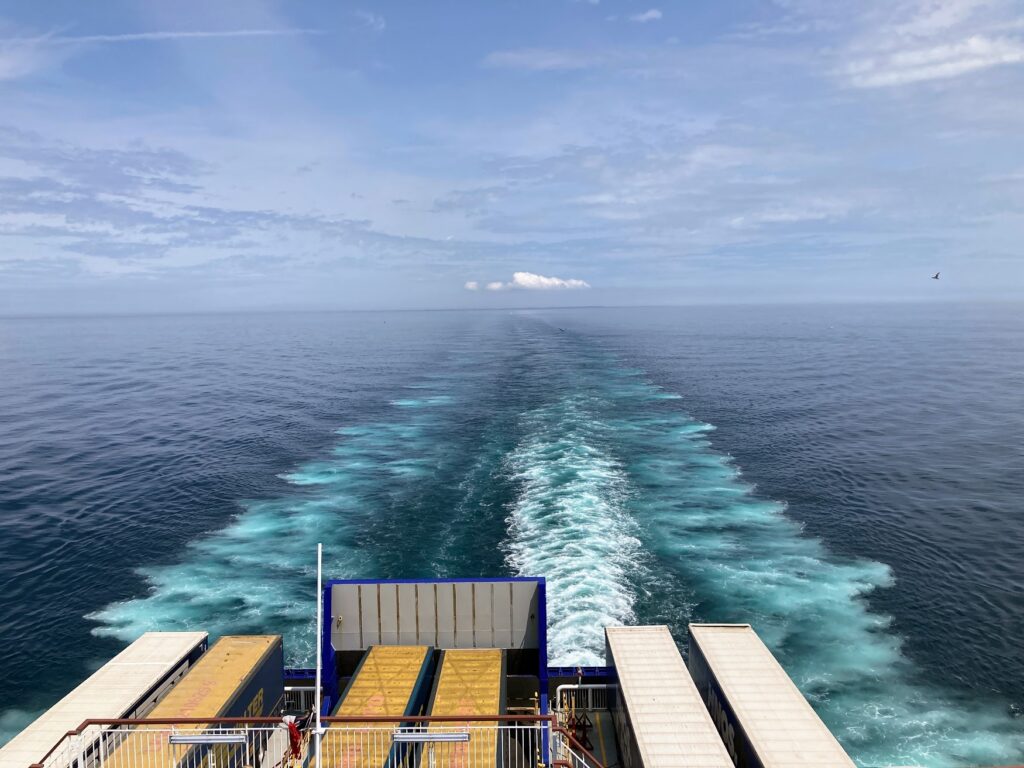 Saturday on the boat went way quicker than we thought it would. We had breakfast then moved to the bar for a coffee. Had a wander around on the outside deck and sat in the sunshine for a while watching the dolphins swimming alongside the boat before heading down to find a cuppa and lunch.
I checked out the shop, had a cuppa, another walk then dinner. Back to the bar and then bed! That was night two done.
Leg 2 Day 3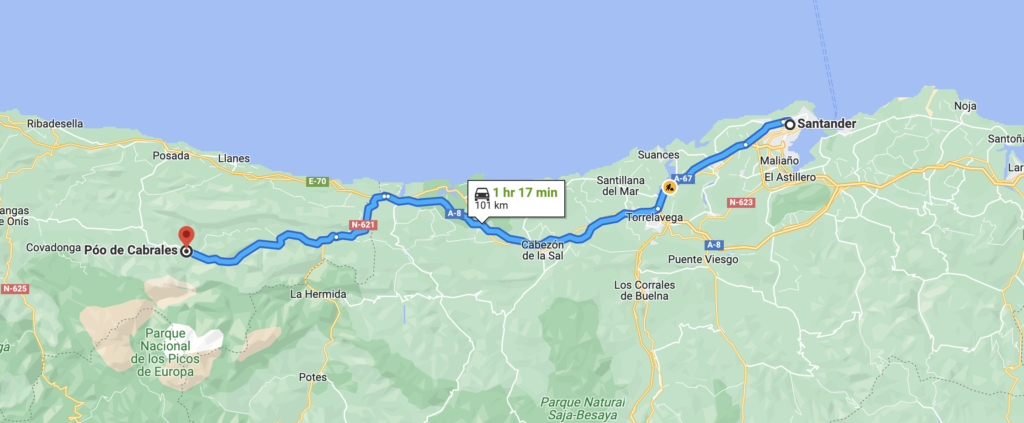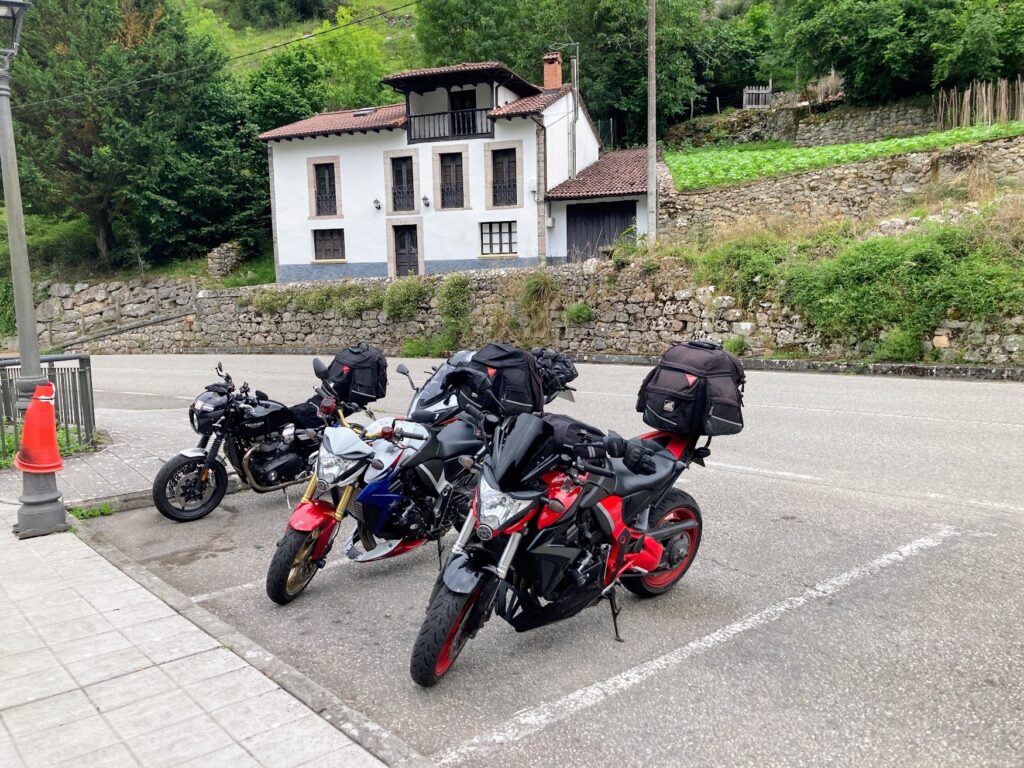 We were woken up early Sunday morning to strange music coming through the tannoy system in our cabin which we assume was a morning wake up call. We had to be out of our cabins by 7.30 as we were disembarking at 8. We headed to the bar with our luggage to get a coffee before we were called to head down to the car deck. We unstrapped our bikes, loaded our luggage and then we were off! The ferry was so much easier than I thought it would be and the time went so quickly. I would definitely do the ferry again.

As we got off the boat it was just spitting with rain. We headed out of Santander toward our first accommodation which was some 63 miles away. After riding for about an hour we stopped in a little café on the side of the road for coffee and breakfast. By the time we left the cafe it was raining properly so we donned our waterproofs before heading to Poo de la Cabrales, our first accommodation for the next two nights, which is just on the edge of the Picos.
Having found the property okay, there was confusion over where the key was but whilst this was sorted out we sat in the only bar in the village and dried out in the sun that had thankfully decided to come out. It turned out that the bar was also the shop, it had a great community feel to it, you could tell it was the heart of the village, so many people would come for a coffee/drink/chat and it was really interesting and nice to see. The bar owner was super helpful in helping us get the keys sorted and he wouldn't even accept a beer to say thank you.
Having finally got into our accommodation it was perfect and very typically Spanish. Having unpacked and sorted ourselves out we went for a walk to check out the village and then headed to the bar for dinner.
Day 4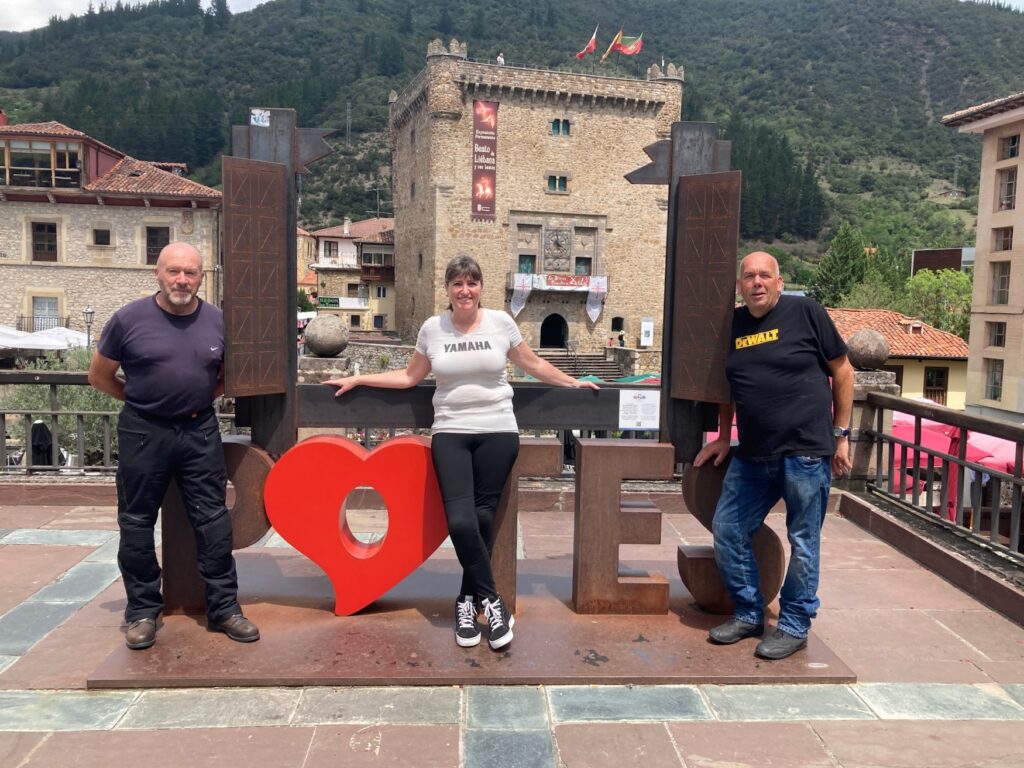 We headed to Potes in the Picos some thirty or so miles away but clicked 'adventurous route' on the Garmin. We absolutely loved the first part of the route, it was very winding and flowing, and had me grinning from ear to ear. The second part of the route contained lots of roadworks and vehicles, very frustrating!
Potes though was amazing, definitely worth the ride and somewhere I have to go back to. We sat and had a coffee before taking a walk around, we explored the little back streets and checked out the amazing views from high above.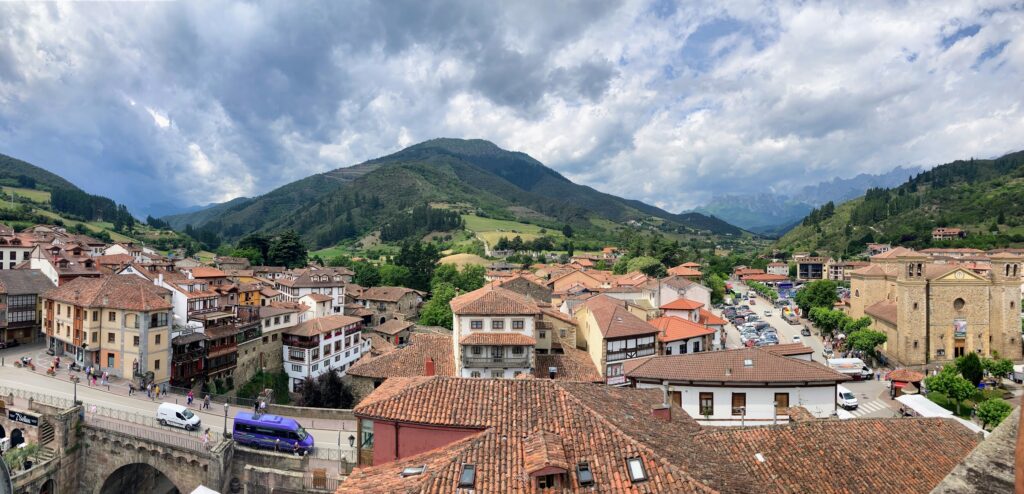 In the centre of Potes is a building called Torre del Infantado which is a medieval tower which, if you pay 3 euros, you can go to the top of this tower and check out the beautiful views of Potes. We spent a while here just looking and taking pictures. Definitely worth 3 euros!
We found another coffee spot before heading back to the bikes.
We headed out of Potes to Fuente De cable car which took us on a really lovely road and just when you were getting into the ride the road just ended, there was just the car park to the cable car at the end of it. Oh well, it just meant we had to ride back on that road again 😜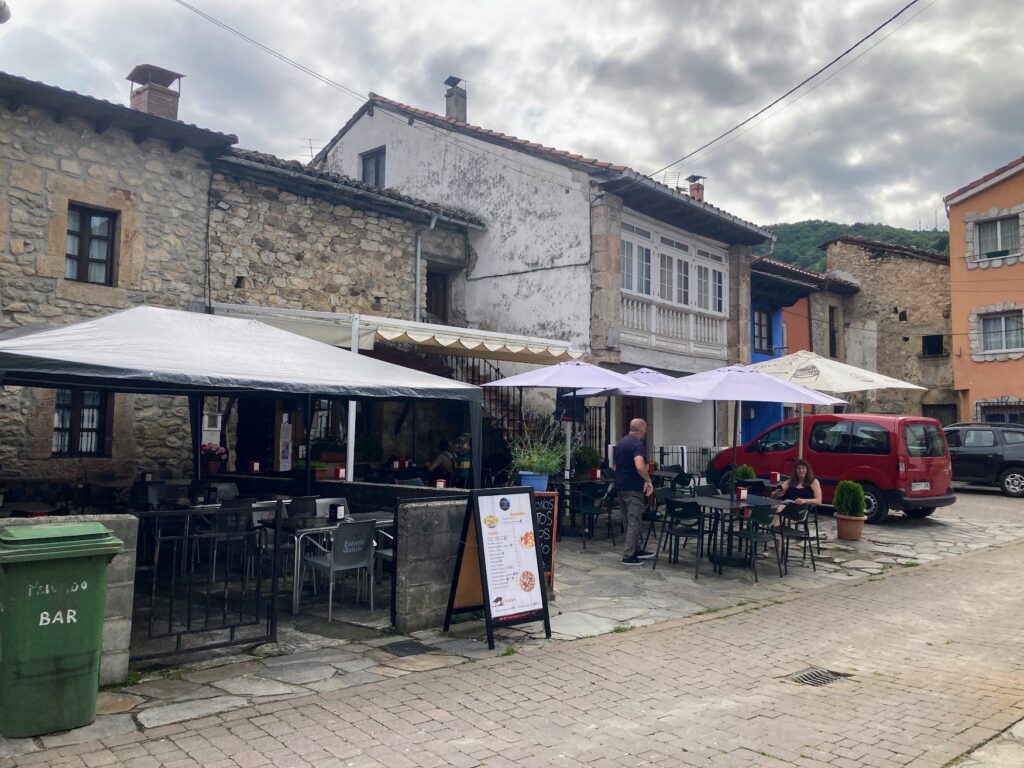 We rode through Potes and stopped at a café in a little village which turned out to be impeccable timing as we had just sat down as a thunderstorm started!
We waited for the thunderstorm to pass but the rain didn't look like it was easing anytime soon so we put our waterproofs on and headed back to our accommodation. Although it was a wet ride back, it was still a good ride.
We dried off and headed to the bar for dinner. Perfect.
Leg 3 Day 5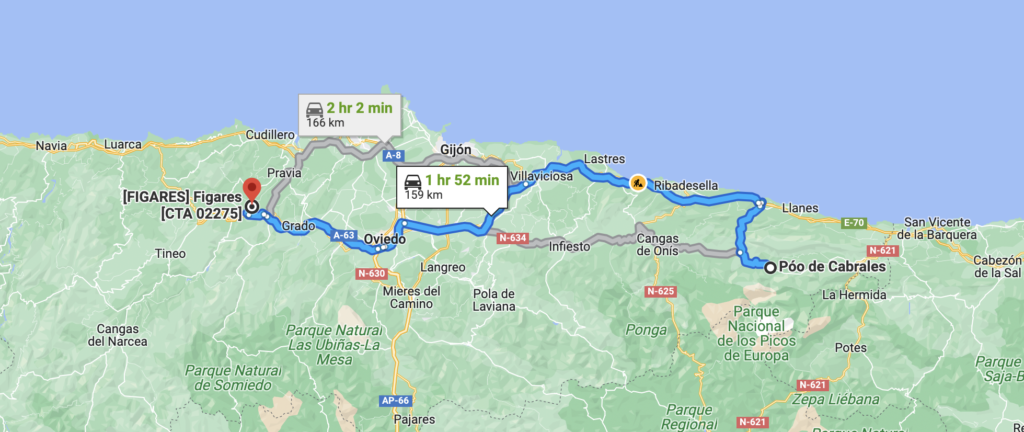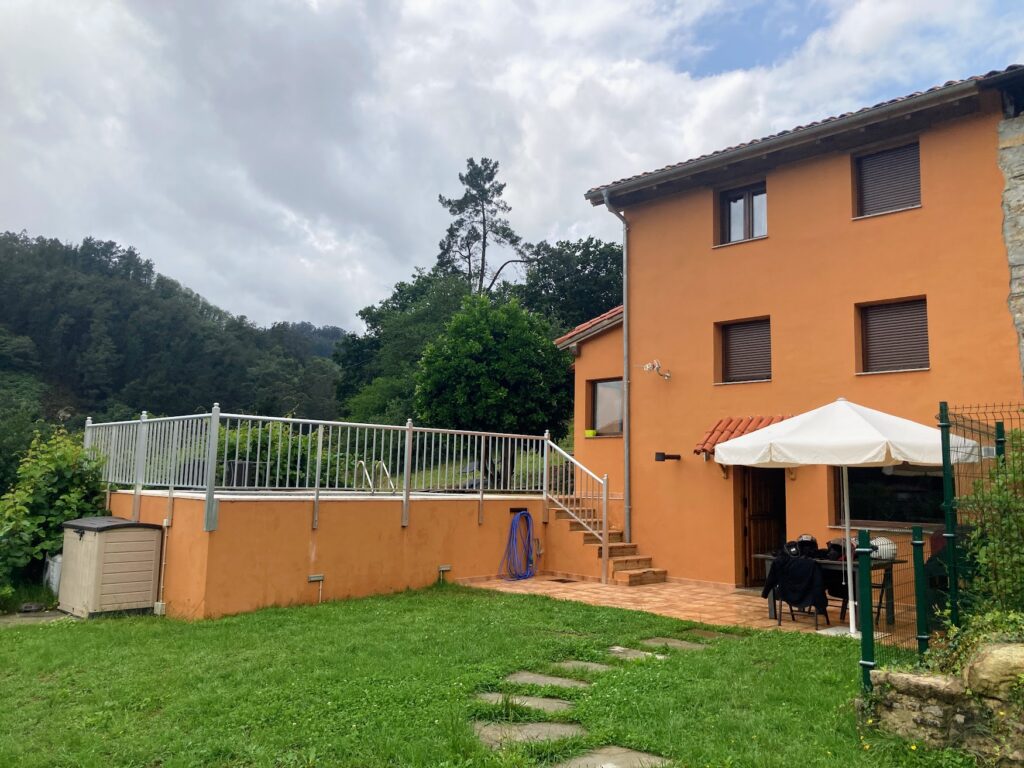 We packed up and set off on the next leg of our journey which took us to Figares, Salas which was some 100 miles. As it was raining the waterproofs went on again. First stop though was dropping the keys back in the next town, Arenas de la Cabrales, before heading back through Poo and into the mountains.
Even though it was raining, the scenery was absolutely fantastic as we made our way up through the mountains. It was hard to keep your eyes on the road as there was so much breathtaking scenery to look at.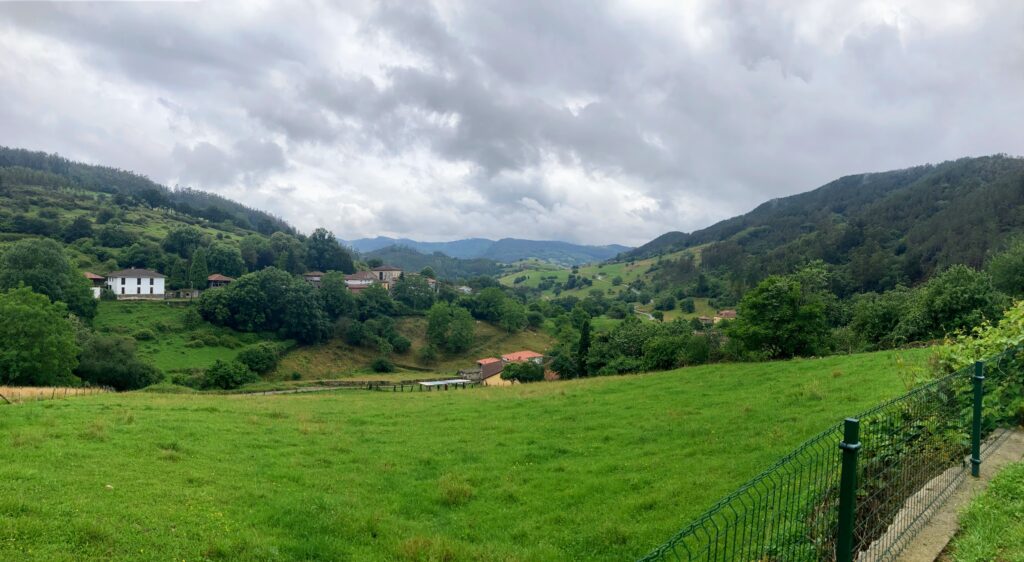 After riding for about an hour we stopped at a roadside cafe (it seems there are many of these) for coffee. After another hour or so of riding we stopped for some lunch. It was still raining, there had not been any let up so far. Finally we arrived at our accommodation and the sun came out.
The views from our accommodation were absolutely stunning, the property was just outside Figares Salas nestled in a hill in the middle of nowhere. All you could hear was the tingle of the cow bells from nearby fields and a donkey in the field below who had a lot to say!
A couple of the guys headed to the supermarket to find provisions for a bbq. We sat outside late into the evening eating and drinking. Absolutely perfect.
Day 6
A trip to the seaside was favoured today and we decided to head to Cudillero. We kind of knew the general direction we needed to go but didn't set the sat nav, we decided to head out on a little country road to see where it took us, we literally followed our noses. The roads were brilliant, we worked our way through the hills and little villages which then opened up to some amazing views.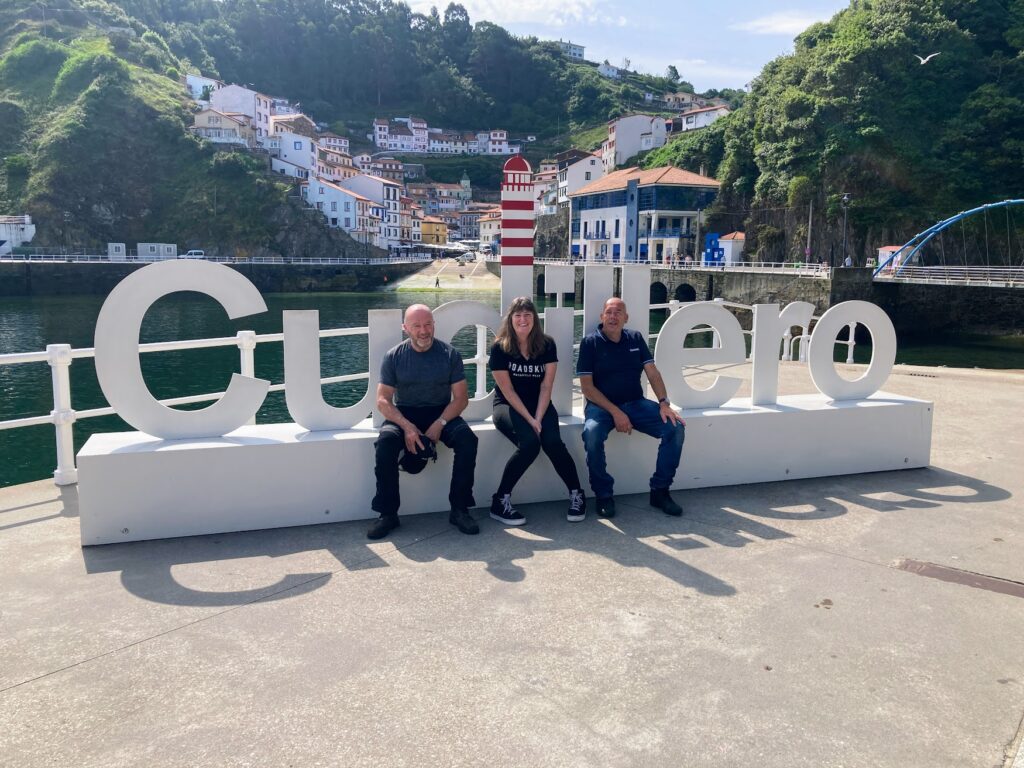 We worked our way down through tight twisty roads to the harbour and parked up. Cudillero did not disappoint, it is a beautiful town with lots to see. We found coffee – I bet this surprised you 😆
We had a wander around the harbour and up some narrow side streets. The guys decided to head further up to a lookout post. I found ice cream instead and sat watching the world go by. Perfect.
After getting back to the bikes, we headed out of the harbour via a fabulous winding, flowing road to Salas.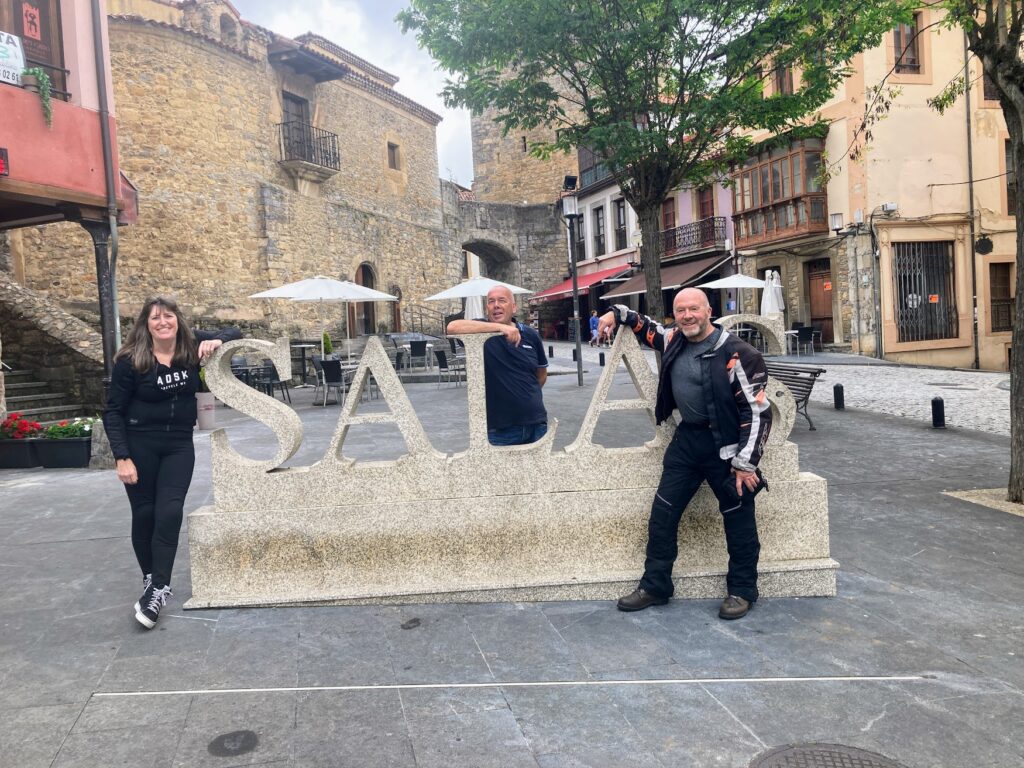 We really were being spoiled today, Salas was another lovely old town with some interesting buildings. We found a bar, had some lunch, more coffee, and took a walk.
As the weather was lovely, a bbq was decided for dinner. We popped into a supermarket to get bbq essentials and also some eggs for breakfast and headed back to our accommodation. We set the sat nav for 'adventurous route' and had a fabulous ride back.
Unfortunately, our adventurous route turned out to be a little too adventurous for the rucksack that was bungy strapped to the o/h's bike (not securely as it turned out) which contained the food. The rucksack took leave from the bike and the eggs were well and truly scrambled! There was egg over everything inside the bag!
As we got back, the rain started again but that did not dampen our bbq.
Leg 4 Day 7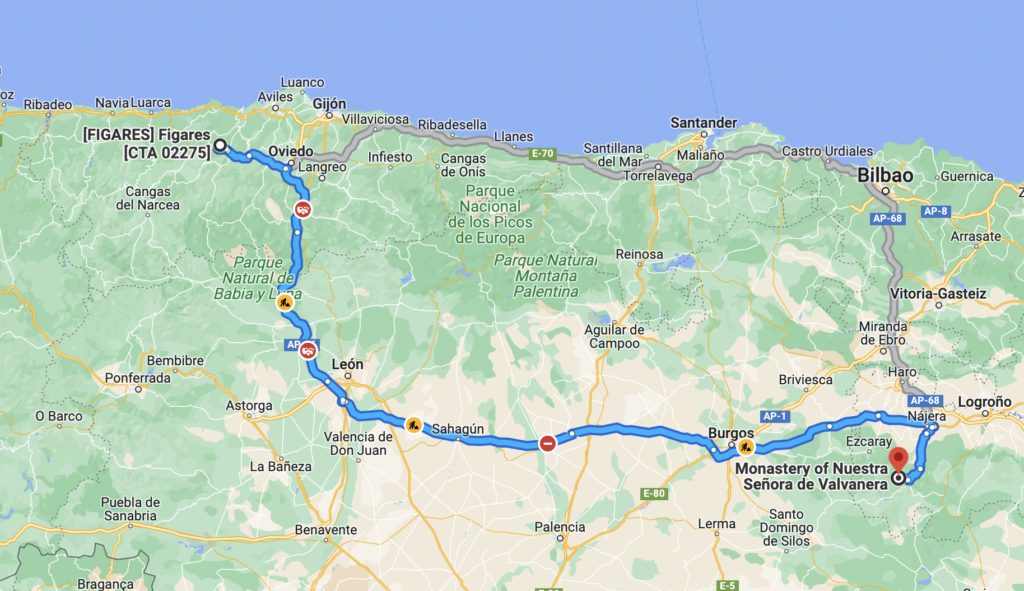 We left Figares today and headed on one of our longer legs, 280 miles, to our next destination, Anguiano where we would be staying in Monasterio de Santa Maria de Valvanera for a couple of nights.
As we had a fair few miles to cover, we decided to make some headway by going on the motorway for a chunk of the journey before coming off onto smaller roads. When we woke up it was raining quite heavily but by the time we had breakfast (no eggs), tidied up and loaded the bikes, the rain had stopped although the roads were still wet.
About halfway through the leg, my o/h started to feel ill so we decided to stay on the motorways and just get to the Monastery. This turned out to be a good decision as when we arrived at the monastery, my o/h started being sick. He was then being sick or sleeping for the next 14 hours!
The three of us checked out the Monastery, it has a cafe/bar, a church you can visit with history about the church and the pilgrimages to the Monastery at the back, a souvenir shop and some beautiful walks. 
Dinner was at 8.30 that evening in the restaurant. With dinner comes unlimited water and wine (not being a lover of wine, I had water), the food was lovely.
Day 8
Thankfully we had previously decided that we would have a day off the bikes today which gave my o/h chance to recover from the bug he had gone down with. He did feel a lot better today but did not do much, pretty much sat and recovered much of the day.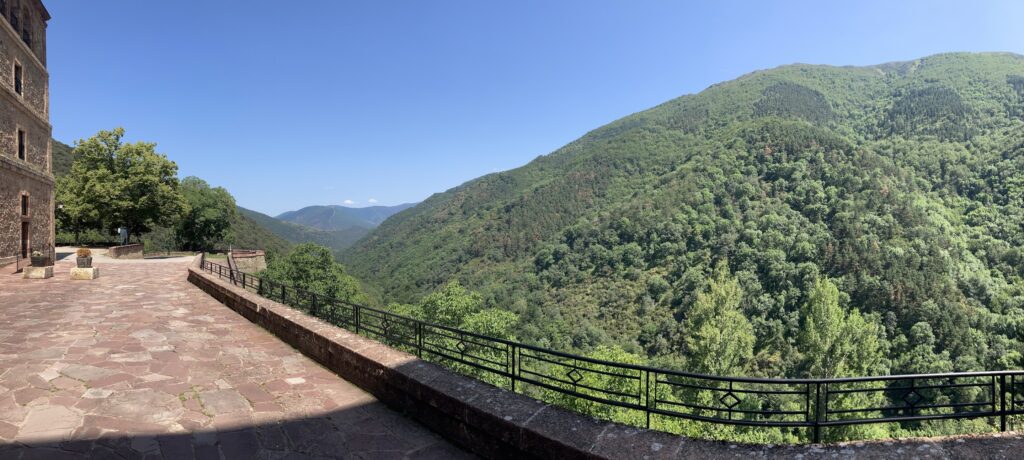 After a feast of a breakfast, we headed off for a walk up into the beautiful hills. It was hot today so we made sure we took water with us. In and around the Monastery is a great place to explore and it was a much needed rest day for all of us having been on the bikes every day so far.
Another lovely dinner was had that evening and we took a walk before packing up ready to set off the following morning.
Leg 5 Day 9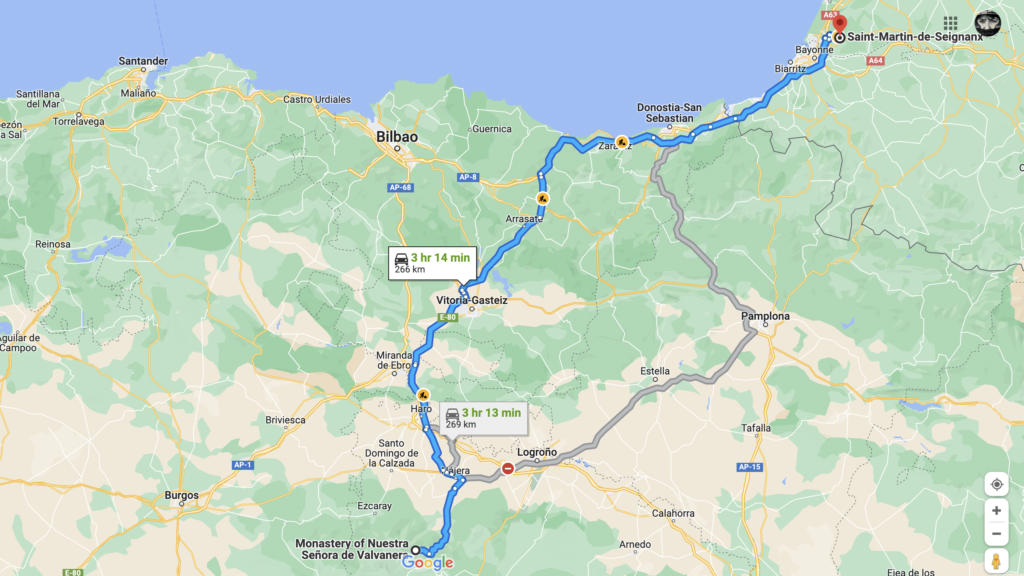 Another feast of a breakfast was had before we checked out of the Monastery and started on our next leg.
Today we would be leaving Spain and heading just into France to St Martin de Seignanx, some 158 miles, where we would be overnighting.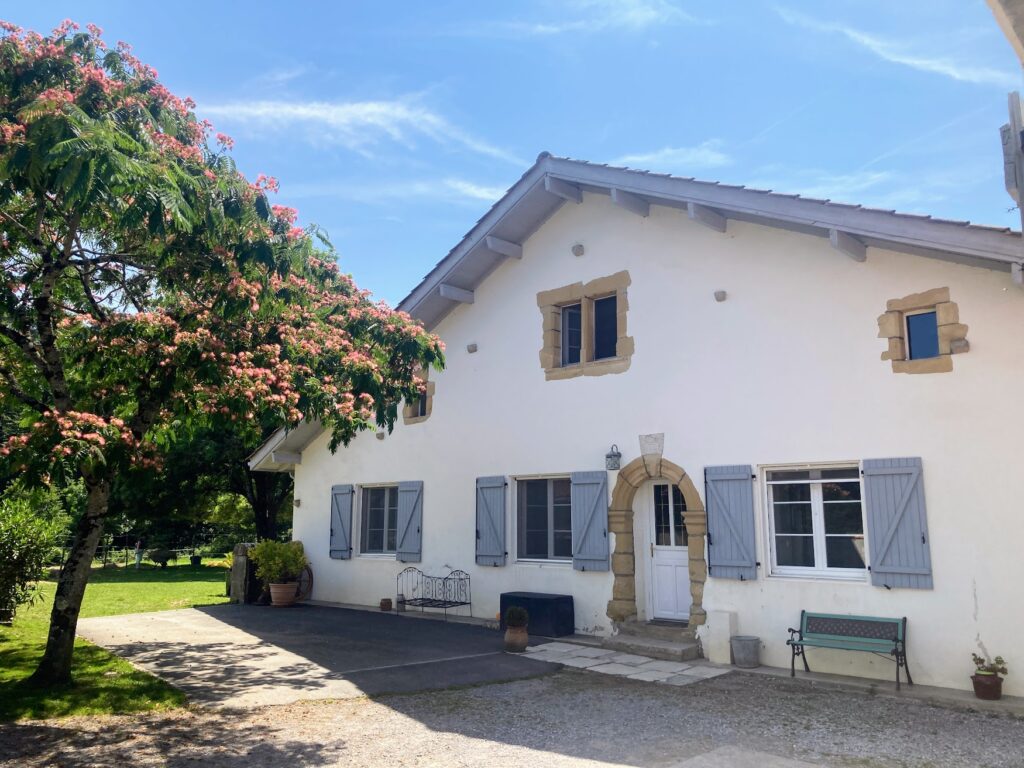 The route leaving the Monastery was absolutely beautiful, both the scenery and the roads themselves. We eventually got onto a motorway but it was like no other motorway I had been on before, this went through the mountains and had a stunning backdrop.
We thought it would be a great idea to stop in San Sebastian for a coffee. Sooooo not a great idea. I have never been here before so I hadn't really appreciated how big it was, it was like riding into London. Crazy busy!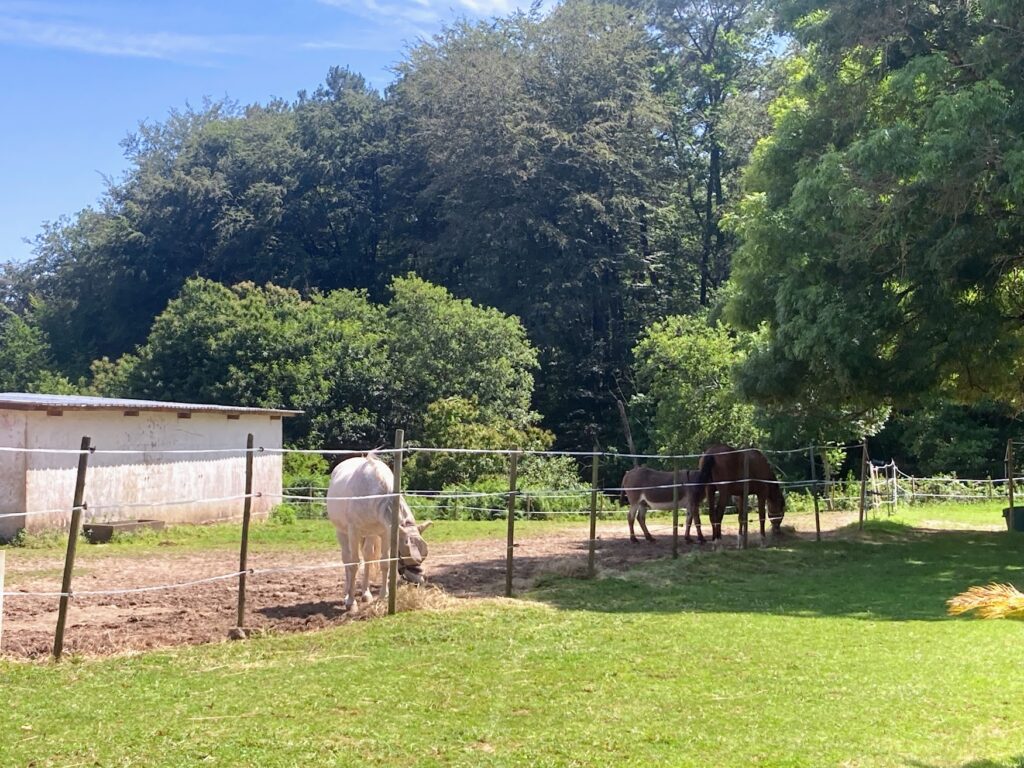 There was an incredible amount of traffic and people and we couldn't find anywhere to park the bikes. After riding around for a while with our frustration building up, after brief discussion (because that's all it took 😆) we decided to get the heck out of San Sebastian.
Easier said than done! We couldn't get out of the place and when we did it was such a relief! We rode until we came upon a little village and had a cuppa and a very much needed chill!
We found our accommodation which was well off the beaten track, in a quiet and secluded setting. It was a smallholding and we had the upstairs of the main house which had been converted into an apartment. Very nice except there was very little ventilation and no air con.
We showered and got back on the bikes and found a Buffalo Grill for dinner about 5 kms away. A perfect end to the day.
Leg 6 Day 10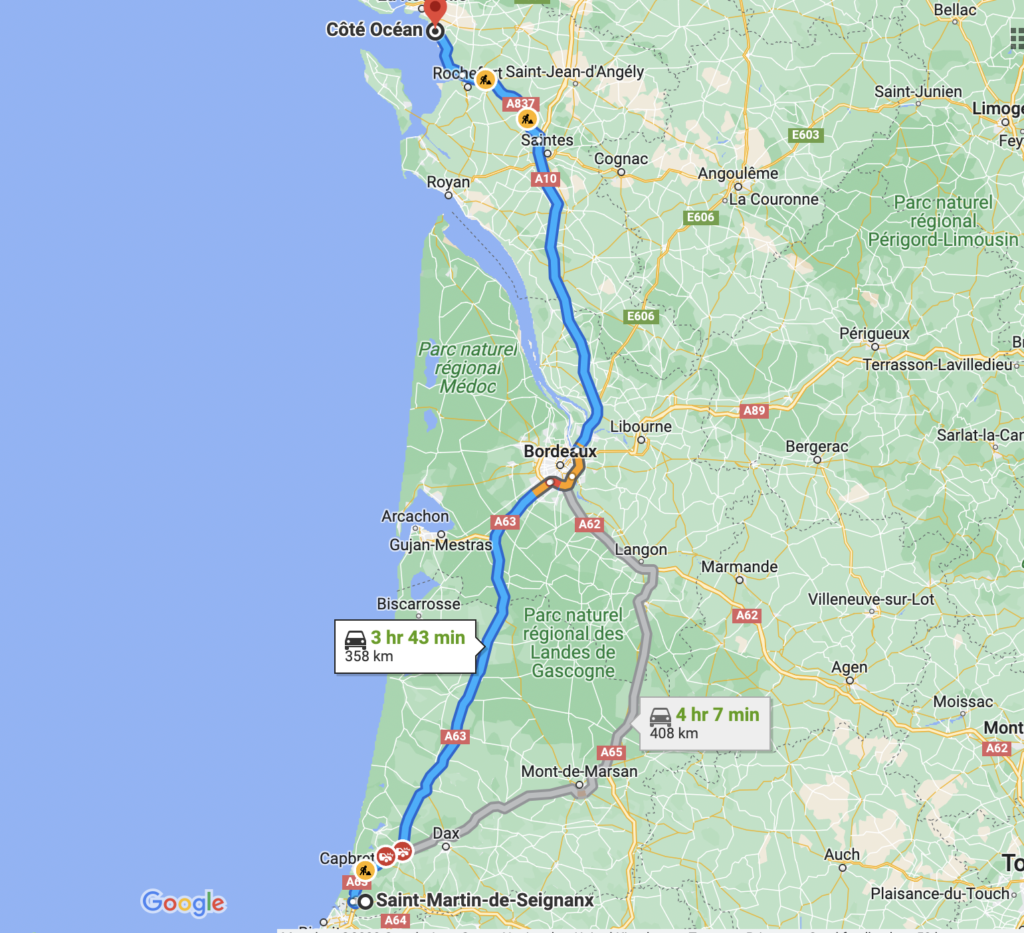 The next leg of our journey would be taking us to Angoulins where we were booked into a boutique resort for the night which had two swimming pools.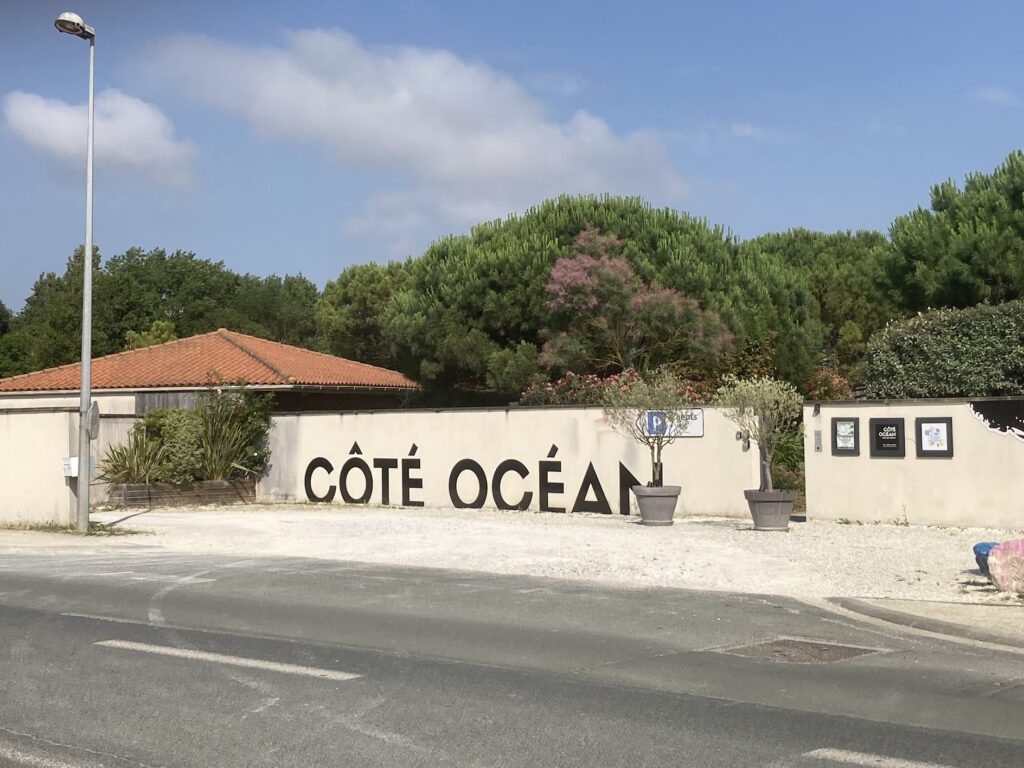 By the time we set off this morning, it was already hot so with jumping into a refreshing swimming pool on our minds, we decided to do a chunk of this journey on the motorways and it was actually quite nice to have the breeze from the motorway to keep us cool.
The accommodation did not disappoint. We had a two storey chalet which had its own enclosed courtyard garden.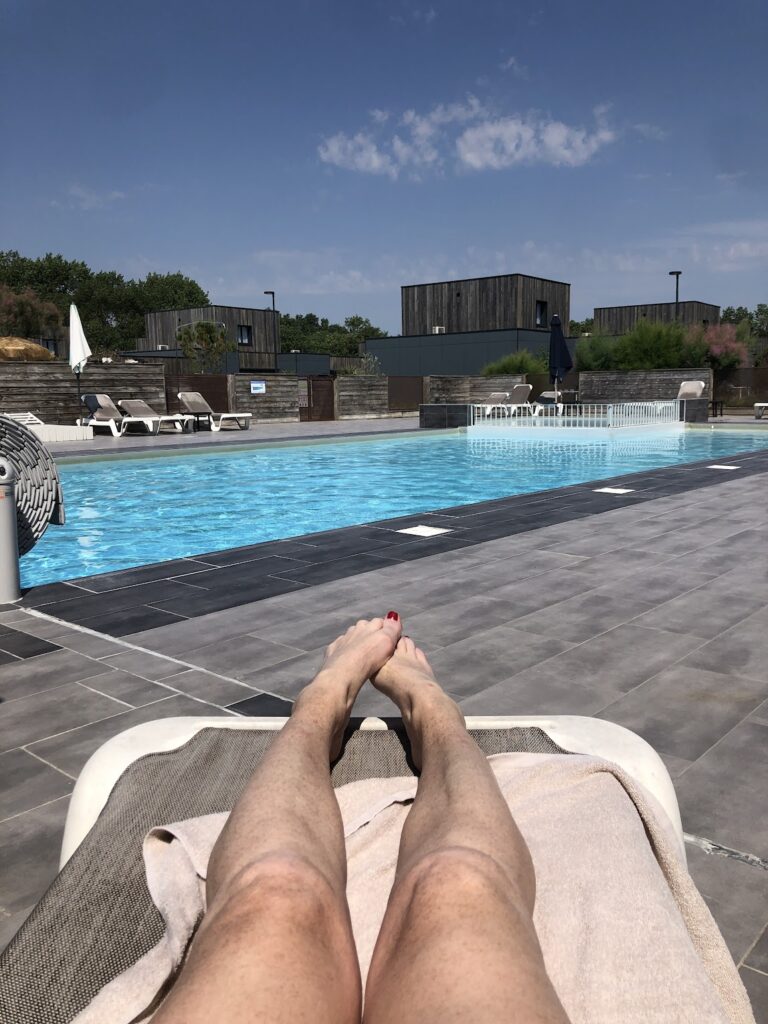 We unloaded the bikes, put on our swim gear and headed straight for the pool. It was sooooo nice and so welcoming after a hot day riding. We chilled by the pool for a couple of hours, it was just what we needed.
Unfortunately, as it was a Sunday, the resort's restaurant was closed. No matter, it was only a mile walk to a Buffalo Grill.
After dinner we went back to the resort and headed to the bar for a cocktail or two before going back to our chalet and chilling in our garden for a while before bed. Perfect end to the day.
Leg 7 Day 11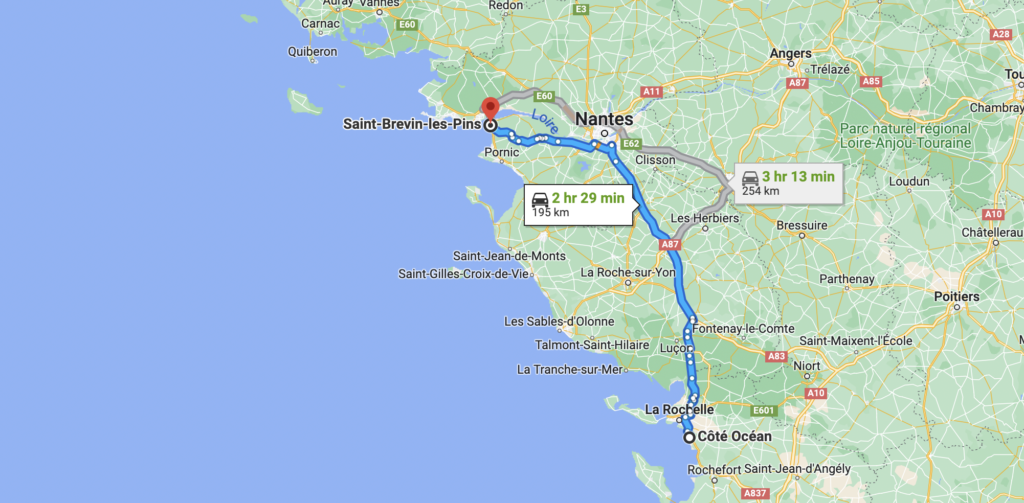 After breakfast the next morning, we set off for our third overnight stop which was at Saint Brevin les Pins, 121 miles.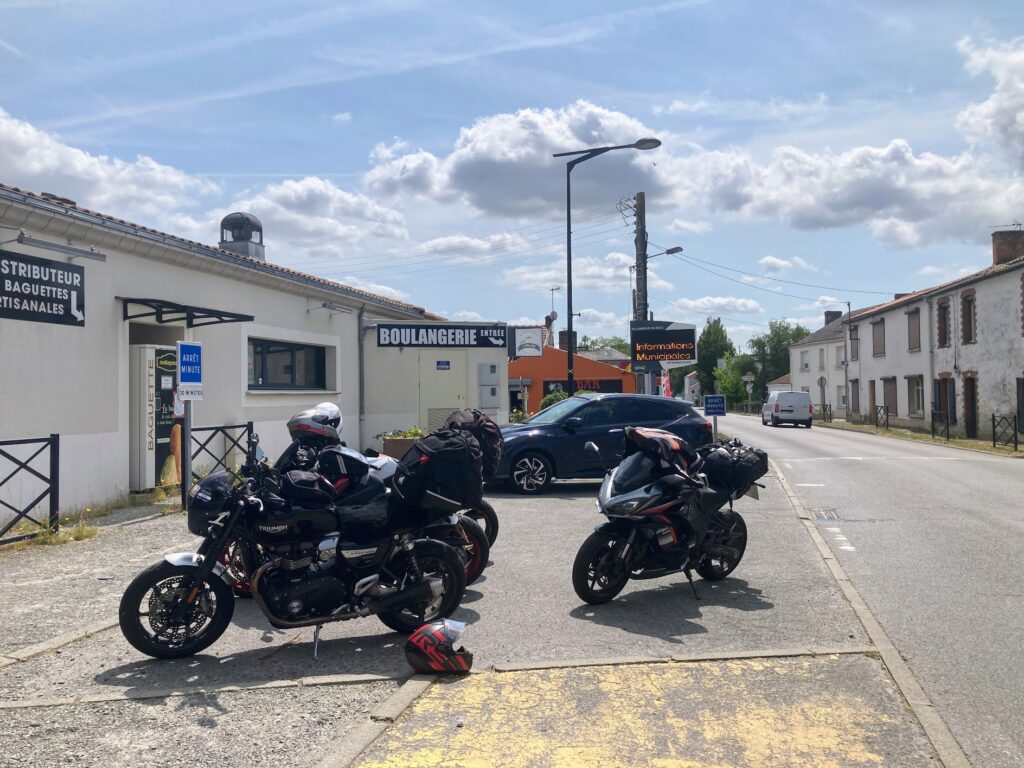 As we had done motorways the last couple of days, we set the Garmin to non motorways and followed winding roads and rode through little towns and villages stopping for coffee and then lunch along the way.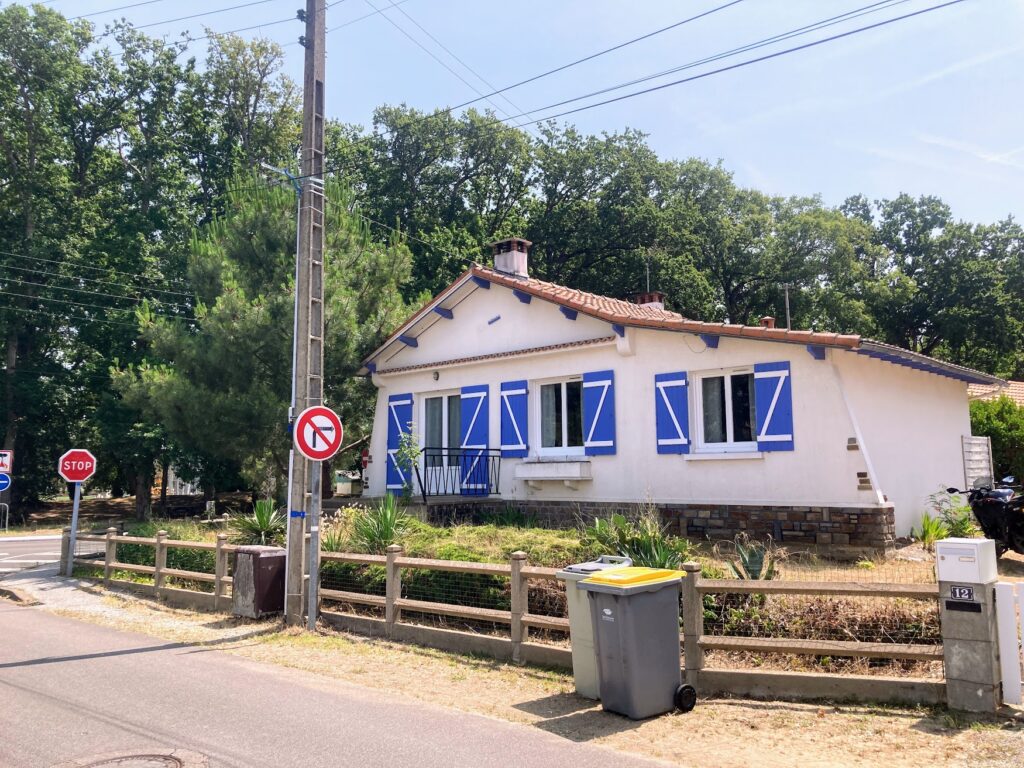 It was definitely a more relaxed day of riding and just what we needed. We arrived at our accommodation and the first thing we did was put some washing on. Really boring I know but it has to be done and it didn't take long for it to dry when it was hung out in the garden as it was still so warm.
We took a stroll into town which was about a ten minute walk and checked out the area and looked for somewhere for dinner. We came across a bar on the beach and checked out the menu. This looked perfect. It opened at 6 pm so we headed back for showers and to get ready for dinner.
We headed to the beach bar and found a seat overlooking the beach. It turned out there was no food that evening so we decided to have a couple of drinks and then head into town a little later to find food.
I honestly could have sat in that bar all evening, it was just lovely sitting in the early evening sunshine looking out to sea. Absolutely bliss.
We found a little Italian pizzeria later that evening and the food was delicious and the hosts were really friendly too. It was a lovely stroll back to our accommodation.
Leg 8 Day 12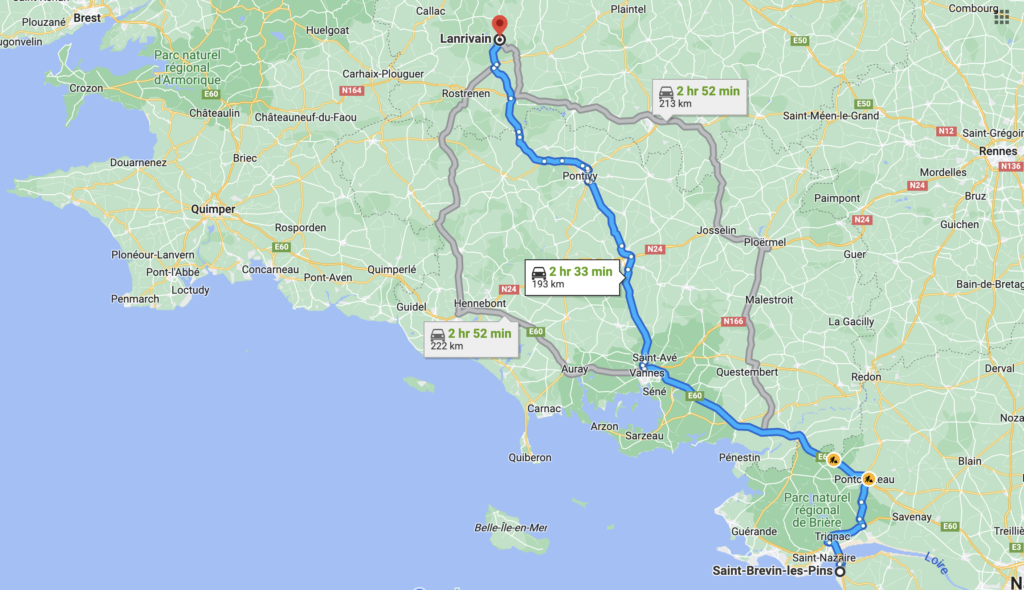 We loaded the bikes, left our accommodation and headed into town to find breakfast. After a couple of coffees and a pastry, we headed out of town. Our next stop would be Lanrivain in Brittany where we would be meeting up with a couple of friends at Countryside Holidays in France for three nights.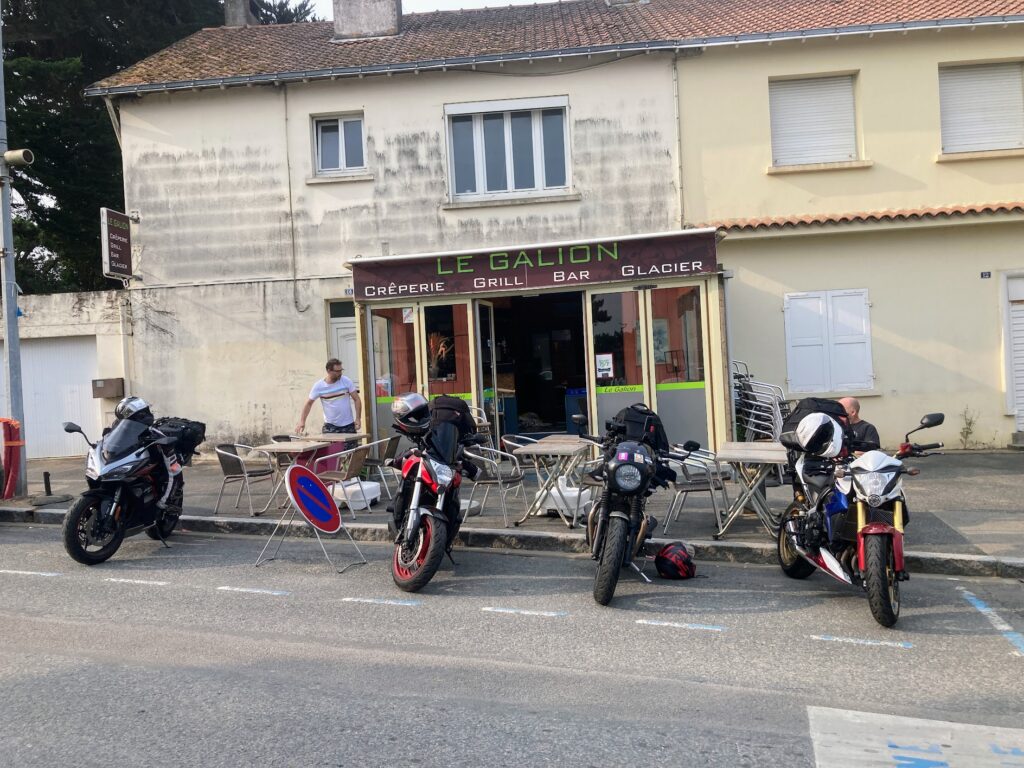 We had 120 miles to cover today so opted for non motorways. The Garmin set us on a really nice route, we rode through some beautiful villages, one of which we stopped at and found a boulangerie for a very welcoming lunch stop. The food and coffee were delicious.
Having made good time we arrived at our accommodation about 3 in the afternoon to a very warm welcome from Roger and his wife Linda and a much needed cuppa or three!
We stayed here a few years ago and had such a great time that we were eager to come back.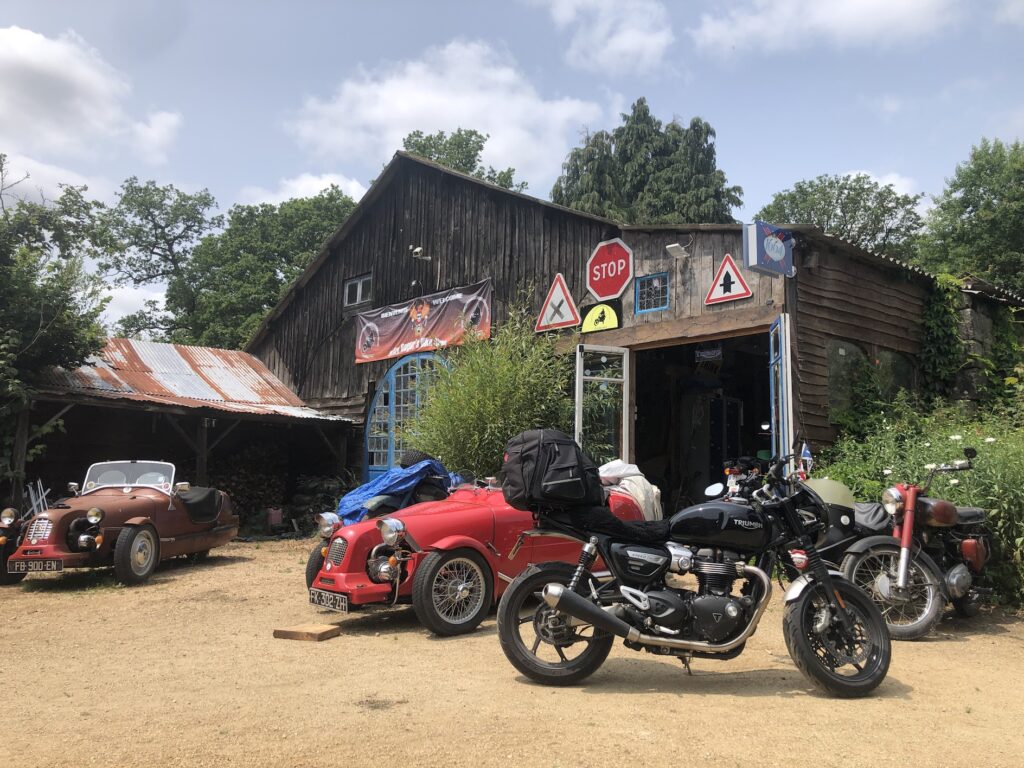 Roger and Linda used to live in the UK and they moved to France some 40 plus years ago. Roger built a few gites on the property a few years ago now and started letting them out. Roger is a fellow biker and it has now become a firm favourite for bikers.
There is a bike shed for evening get togethers, Roger will cook dinner for you if you like, be it bbq, crepes etc and a favourite for us is his local Bretange dish of potatoes, bacon and cheese. It was absolutely scrummy.
There is beer in the fridge in the bar and wine, you can help yourself to as much as you like.  Roger just asks you to replace what you have drunk. The place has a really laid back atmosphere to it. There are normally other groups of bikers here too so it's a great place to meet and chat with like minded people.
We had a great evening of eating, drinking and chatting into the evening. Just perfect.
Day 13
The following morning we decided to head to the seaside to find coffee (I bet that surprised you 😜) We set the Garmin to adventurous route and headed to Tresgastel.
After a walk around to check the place out we continued along the coast road to Parmanach where we found lunch, and then carried along the coast to St Quay Parnieux for ice cream. 
It had started raining between the last two stops and the rain seemed set in. By the time we got back we were soaked but it had been a perfect day of riding on some great roads and exploring some lovely places.
That evening we had a bbq hosted by Roger and Linda in the bike shed, another really good evening.
Day 14
Adventurous route was set on the Garmin and we headed to Les Greves where we found a creperie and scrummy pancakes.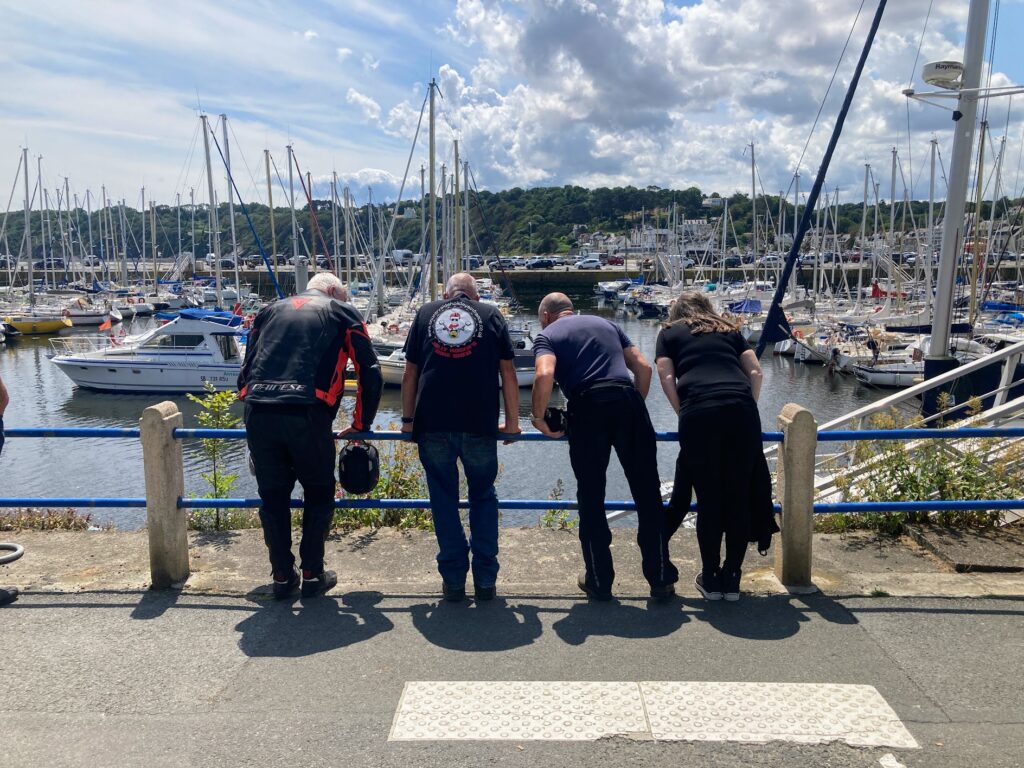 We followed the coast road again and stopped in Binic which is a lovely town. We explored the area before finding a cafe where more pancakes and ice cream were consumed. Oh and coffee but I guess I didn't need to tell you that, you would have guessed that by now!
The Garmin found us a fantastic route back, the roads were winding and flowing and it was just another perfect day of riding.
That evening we all jumped into Roger's minibus and headed to a local restaurant for dinner. The food was delicious and there was so much of it. The meal and the company made for another great evening.
Leg 9 Day 15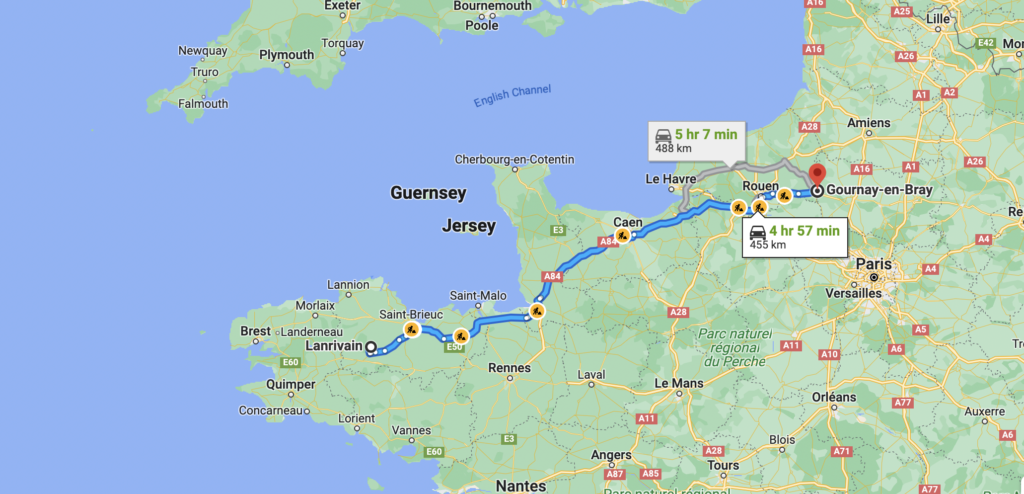 All too soon our stay at Roger's had come to an end. We had a long ride ahead of us today, 282 miles, to reach our overnight stop in Gourney-en-Bray, Normandie before catching the tunnel home.
We were up, bikes loaded and ready to leave by 8.30. We said our goodbyes to Roger and Linda, our few days with them went way too quickly as always.
As we had a fair few miles to cover, the Garmin was set to motorways. We stopped a few times for fuel but more importantly food, drink and a chill. We were in no hurry so it was a great relaxed pace and the ride was actually really good bearing in mind it was on motorways.
Part of our route took us through Rouen and two of the guys got separated from us in the abundance of traffic lights that there were.
We all arrived at our overnight accommodation at Gourney-en-Bray mid afternoon pretty much at the same time which was good, unpacked the bikes, showered and headed out to find a bar.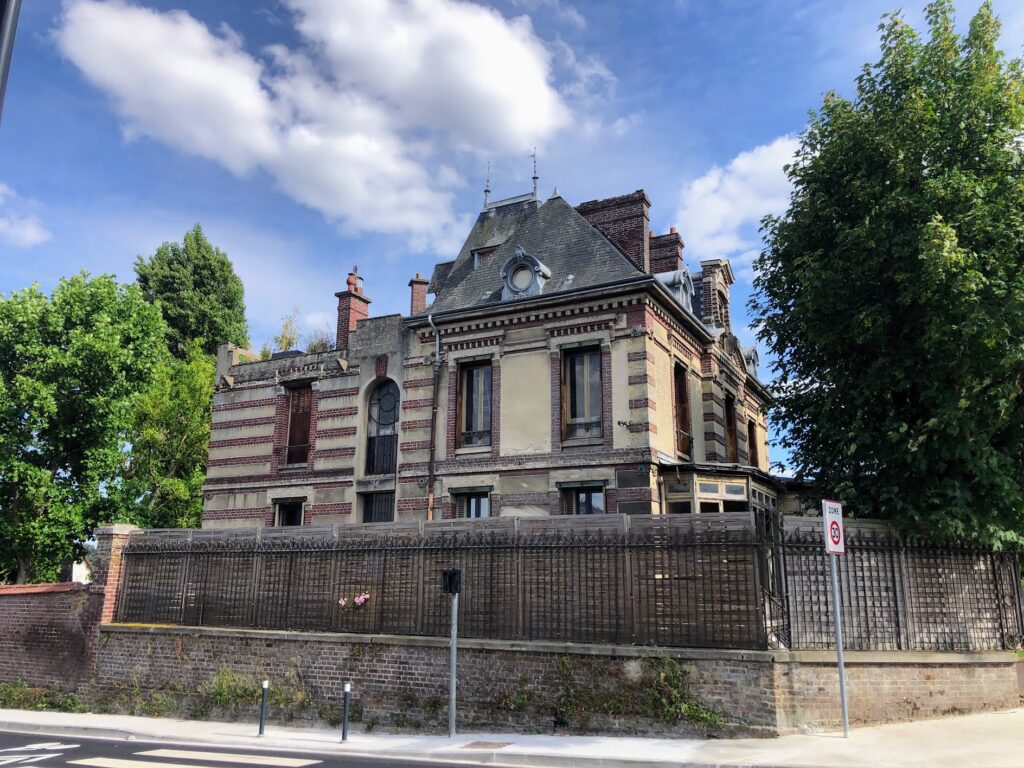 The hotel was in the centre of town but there was secluded parking around the back for the bikes which was perfect. It was really nice to be in the town, we found a great Chinese restaurant for dinner. The food was good as was the complimentary after dinner Mijiu which came in some very, shall we say, interesting glasses, definitely not suitable for the very young 🫣
After dinner we went for a walk, found a bar which had ice cream and settled here for a while before heading back to the hotel where we sat in the courtyard drinking and chatting for wayyyy too long before heading to bed.
Leg 10 Day 16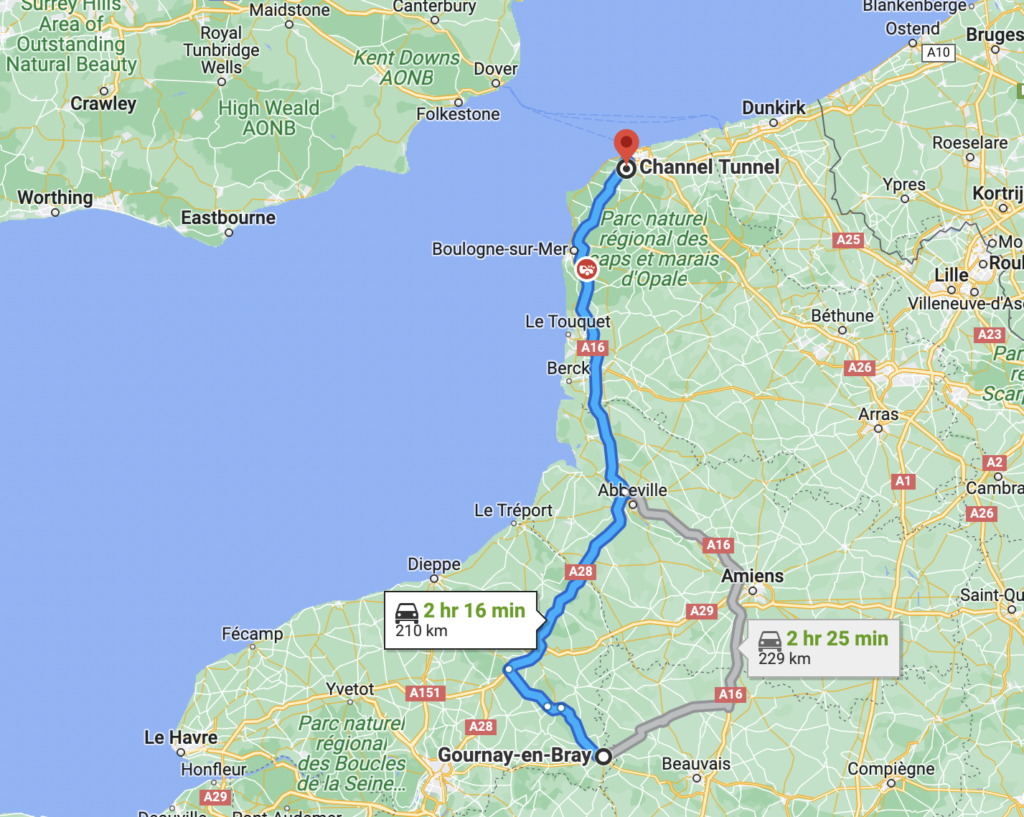 This was it. Our last day of our Spanish adventure, our final leg was upon us. How had that happened so quickly!
The bikes were loaded, we got coffee and pastries from the bakers up the road and sat in the hotel courtyard before setting off. We had a 130 mile ride to the tunnel. It was raining so out came the waterproofs.
We made good time and stopped at services on the motorway just before the tunnel, fuelled the bikes and ourselves before heading to the tunnel.
After checking in, we had time to stop for a pee and a drink in the terminal before making our way through security ready to board our train home.
What an incredible 16 days of adventures we had. We saw some beautiful scenery, rode on some fantastic roads and met some really lovely people.
I count myself very lucky to be able to have some truly great mates to go away with and share my riding experiences and I absolutely cannot wait for our next adventure.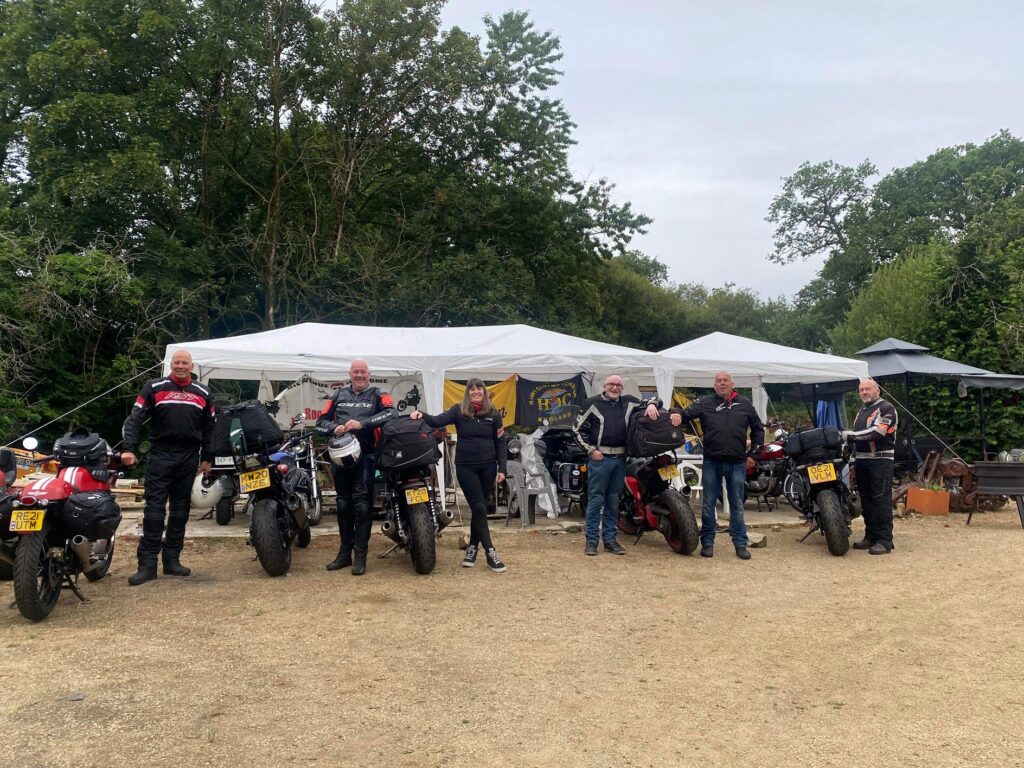 Planning our next adventure has already started …..
BK