I sold my Yamaha RD200 back in October, I really enjoyed owning the RD and riding it and to be honest, nothing will ever beat the smell of a two stroke engine but it just was not fast enough for me and I found myself taking the Z out more and more as I just could not keep up with my mates.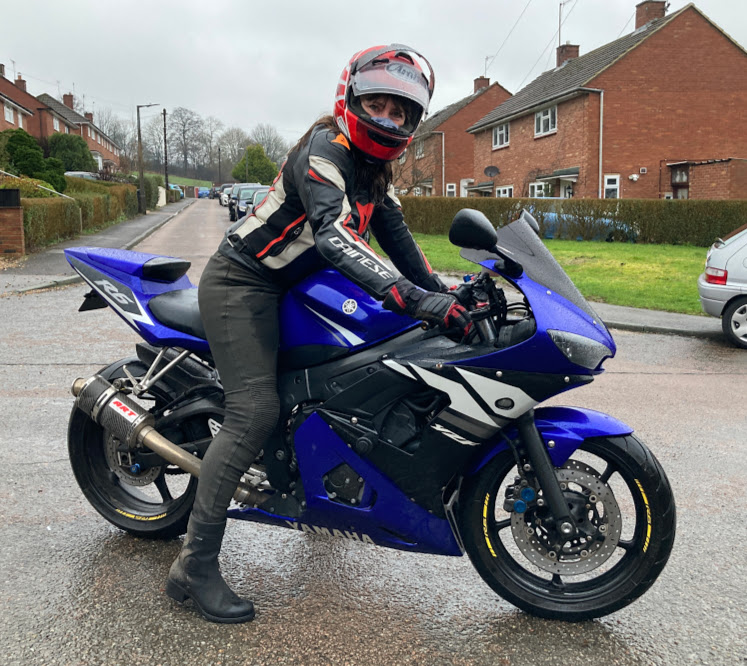 So with the RD gone there was a space in the garage that was just shouting out to be filled. I was honestly like a kid in a sweet shop, I was looking at so many bikes I just could not decide what I wanted so I stopped looking and decided the right bike would come along at some point.
And it did. I just happen to be looking on eBay and this R6 popped up in my feed, right price, right spec, gorgeous colour and only 10 miles away from me – it was like it was calling me.
I rang the guy and arranged to pop over and have a look. My only concern was that it was raining/sleeting and bloomin' cold! I took my bike gear in the car just in case 😉
My other half came with me as my idea as to whether I buy a bike is pretty much what it looks/sounds like so the other half was going to check it over for me before I got too excited.
The bike was in really good condition, it's a 2003 model and although there were three fairly smallish dents in the tank and a few age related marks, overall it was good, it had just had an MOT the day before, the fork seals seemed okay and the o/h gave me the nod that it was a good one. A price was agreed at, I handed over the money, sorted the insurance and taxed it online whilst there and now I just had to ride it home! It was sleeting by now, I nearly chickened out and got the o/h to ride it home but decided I would put by big girl pants on and ride it myself. Eeek!!!
As I started it up I could see the fuel light was on and not knowing how long it had been on and how many miles I had left in the tank (there is no fuel gauge), we asked the sat nav where the nearest petrol station was, thankfully it was only two point something miles away, and set off.
The R6 is completely different to ride from my Z both in the riding position and how it likes to be ridden and I quickly adjusted to both. I was taking it easy as to get to the petrol station we were going on side roads which were a bit slippery from the sleet but thankfully made it to the petrol station before running out of fuel!
I filled the tank, paid and set off now on a main road. After the worry about whether I would run out of fuel had gone, I settled into riding the bike and although taking it easy, after a mile or so I was starting to feel comfortable with the bike.
Other than being absolutely frozen, I was loving the bike, loving the sound of the exhaust and loving the feel of the bike. I so wished it was a warmer dry day so I could get to know the bike a little better but I was being sensible!
By the time I got home I was so thankful that the bike had only been ten miles away. I was very cold and very wet!
Into the garage the R6 went. I went to get my wet gear off and the o/h went into the garage to dry the bike off. I can honestly say the o/h loves it when we get a new bike, he loves to tinker, as I call it much to his annoyance, and he set about checking over the bike in great detail.
A while later I took a cuppa out to the o/h in the garage and was hit by the smell of petrol. It turned out that one of the dents had a small hole in it and petrol was leaking from it. The o/h had drained the tank and was putting some epoxy resin paste over the dent as it is only a tiny hairline crack in the hope that this would block the hole up.
We had already decided when we got it that long term we would look for a second hand tank but was hoping we would not have to get it straight away. You have to leave the resin stuff on for at least 24 hours to set before putting petrol back in so at this point we had to wait and see if it worked.
In the meantime the o/h set about polishing the bike. At least if I couldn't ride it, it would look beautiful sitting in the garage for me to look at it.
Twenty four hours later the resin had set and petrol was put in the tank. So far so good, the resin looked like it had worked. After a while we could smell petrol again but it wasn't coming from the repaired hole. Upon further investigation, it was found to be coming from one of the other dents, the tank was drained and another lot of epoxy resin was used to hopefully seal up this hole. Still no riding of the bike 🙁
Phew! After the resin had set, petrol was put into the tank and the resin had worked again. I am looking for a new tank but not had any luck yet in finding a good one, I just have to be patient!
Although the R6 came with heated grips, these were not working. A new set was ordered pretty much straight away along with oil and filter, some touch up paint to cover the epoxy on the tank and a lead thingy so I could plug my heated vest into the bike (I'm such a hardened biker with my heated grips and vest!).
I also managed source a second hand right side mirror as rust has appeared on the glass and did not look good.
So jobs to do on the bike are – changing the oil, filter and anti freeze and changing the brake fluid. The brake pads were replaced 100 miles ago by the previous owner so that is one less thing to do.
The only niggle now is the clock and trip meters lose their memory as there is something wrong with the back up fuse and circuit but I might have to just live with it or get an auto electrician to have a look at it …. I'll keep you posted on that one!
All that is left to do, is ride the bike …. I soooo cannot wait until I can, hopefully on a dry warmer day than when I picked it up!
BK