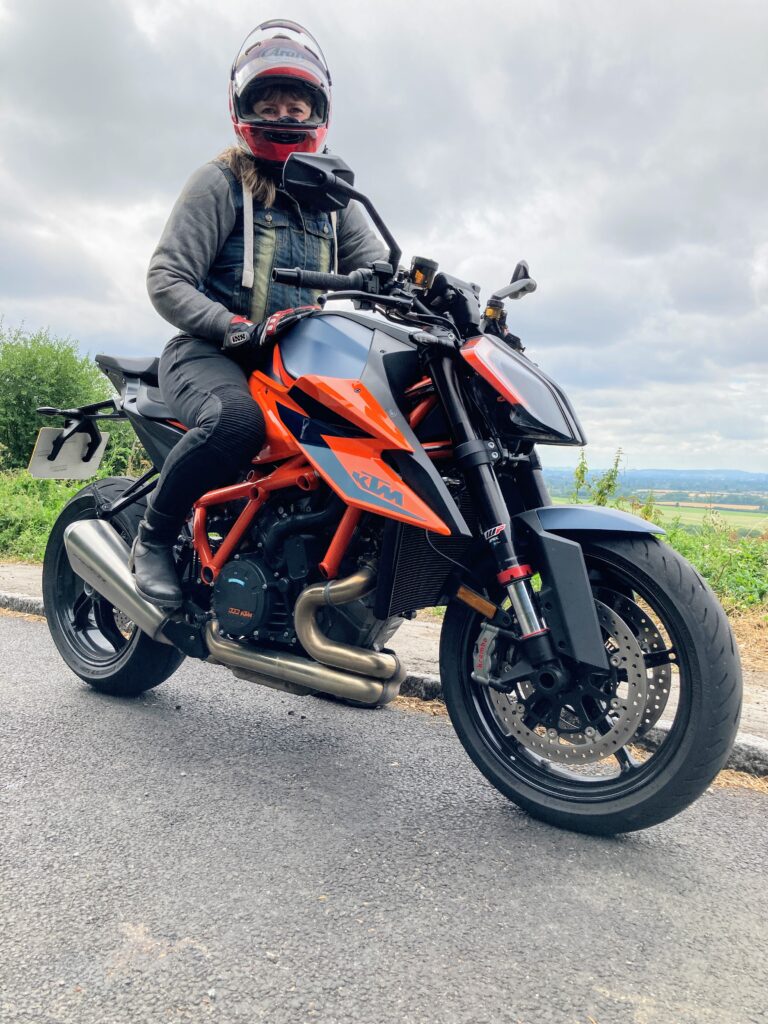 So after my test ride on the 890 Duke, which I absolutely loved, I lined up a ride on the 1290 Superduke R – eek! I'd heard it was a wheelie machine, I'm not a big fan of doing wheelies – I have done the odd one, sometimes accidentally!
Anyway, I told myself any bike is only as fast as you want it to be!!!
The Superduke has a 1301 cc v twin liquid cooled engine putting out 177 bhp but only weighing an incredible 189 kg. The new frame concept means that it is three times stiffer than its predecessor – the tubes are a thicker diameter than the previous model with thinner walls giving it a weight saving of 2 kg!
The 760 mm handlebars are adjustable with four positions available so you can get the position just right to suit your riding style. There are rider modes too and I had the bike in road street mode.
I got on the bike and could immediately tell that it was higher than the 890 Duke, it's 835 mm which is only 15 mm taller but for me it meant that I was more or less on tip toes, not a problem when riding but when in traffic or at junctions this can be a bit nervy holding the bike – dropping my bike is one thing but when it doesn't belong to me, I'm always that bit more mindful!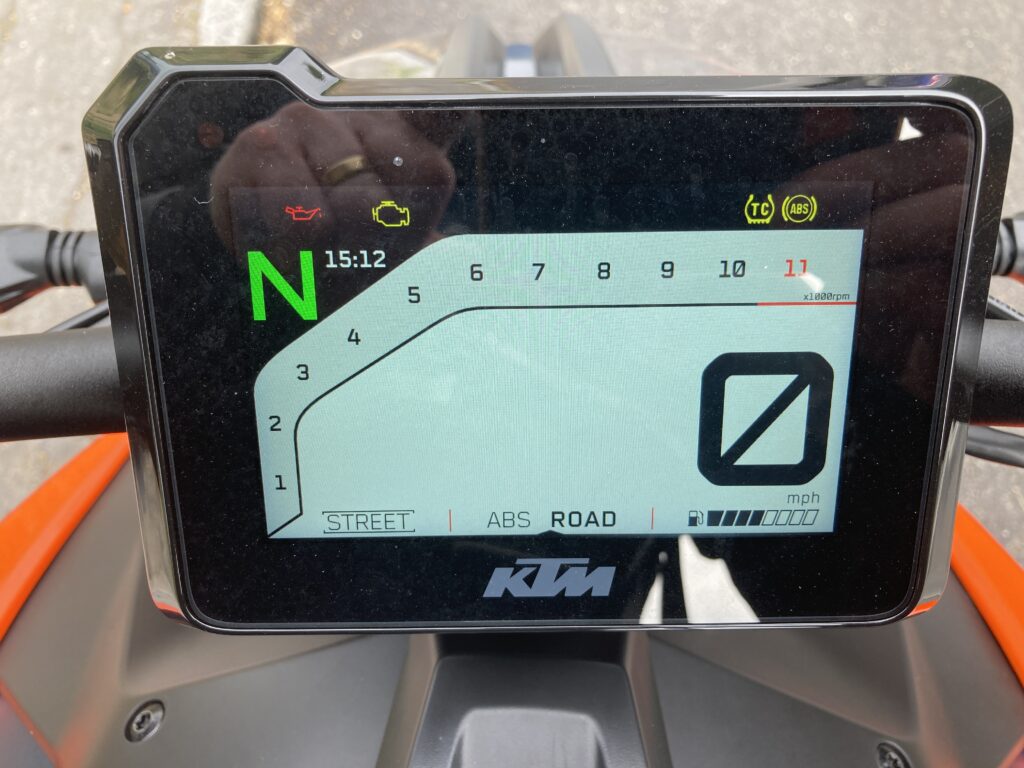 The Superduke has a keyless ignition so I made sure the fob was in my pocket and zipped up securely – I didn't want to park up somewhere and switch the bike off only to realise I had forgotten the key!!
I set off and fairly soon I was heading out of the town onto more open roads where I could open the Superduke up a bit more. I have to say the acceleration out of the corners was awesome, the bike just goes and it feels effortless as well. Going into and around the corners was very smooth, you could feel the bike was stable and it was giving me the confidence in the bike that it was okay and more than happy with the way I was riding it. I could feel that the bike was far more capable than my riding ability was doing it justice but I felt happy riding the bike and could see why people love it.
The cruise control was easy to use and set whilst riding along, very useful if you're on a motorway and are mindful of the speed cameras. The quick shifter is cool too, I kept forgetting I had it to start with (neither of my bikes have a quick shifter) but soon got used it.
I really like the brakes – they are Brembo front and rear and are really responsive even to a light touch and come with cornering ABS and Supermoto ABS – according to KTM's website supermoto mode 'enables the experienced rider to lock up the rear wheel for committed super moto riding and deliberately executed slides' – I shall be leaving that test for another day ……..!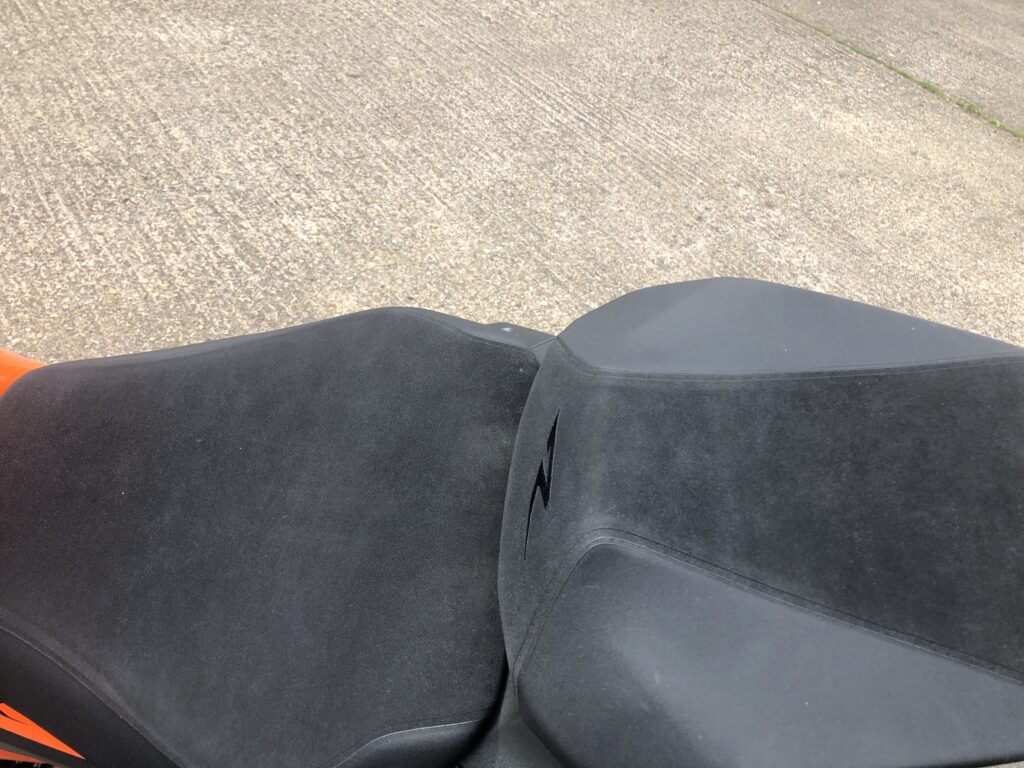 I did notice when putting the power on out of a corner or when overtaking that the mirrors would vibrate so much that everything was just a blur – a bit disconcerting when looking to make sure you're clear to pull back in. I had this problem with an MV Agusta I had and never got used to it or sorted the vibration.
I parked up to take some pics and do a walk round video and in the short time I was parked, I had a few people look at and comment how cool they thought the bike looked. I really love the colour combination of orange and blue, very unusual but looks really good together.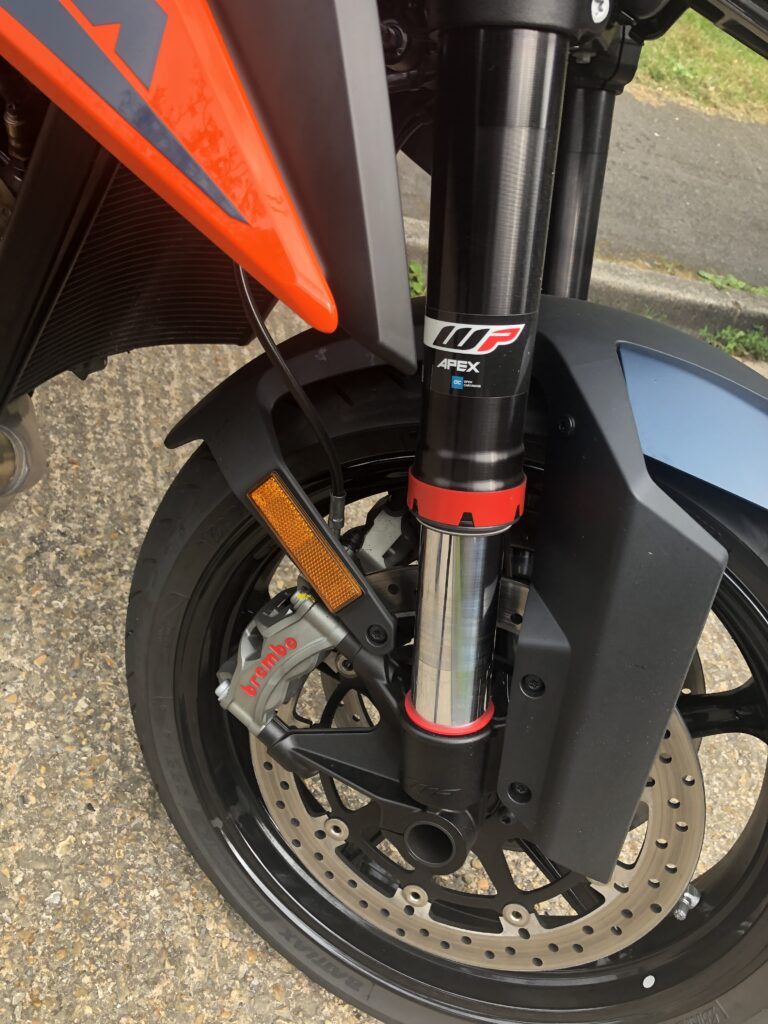 The LED headlight is a cool shape too, again unusual which I like because it's different and I could just imagine how menacing that headlight would look if you saw it coming up behind you in your mirror – cool 😉
I really like the TFT screens on the Superduke and the Duke showing you your revs, speed, fuel, temperature, time, gear and which mode you are in which, when glancing down to look at when riding along, is easy and clear to read.
The price of the Superduke starts from £15,749 and I believe there are various packages available so you can customize the bike to suit your riding style to its maximum ability.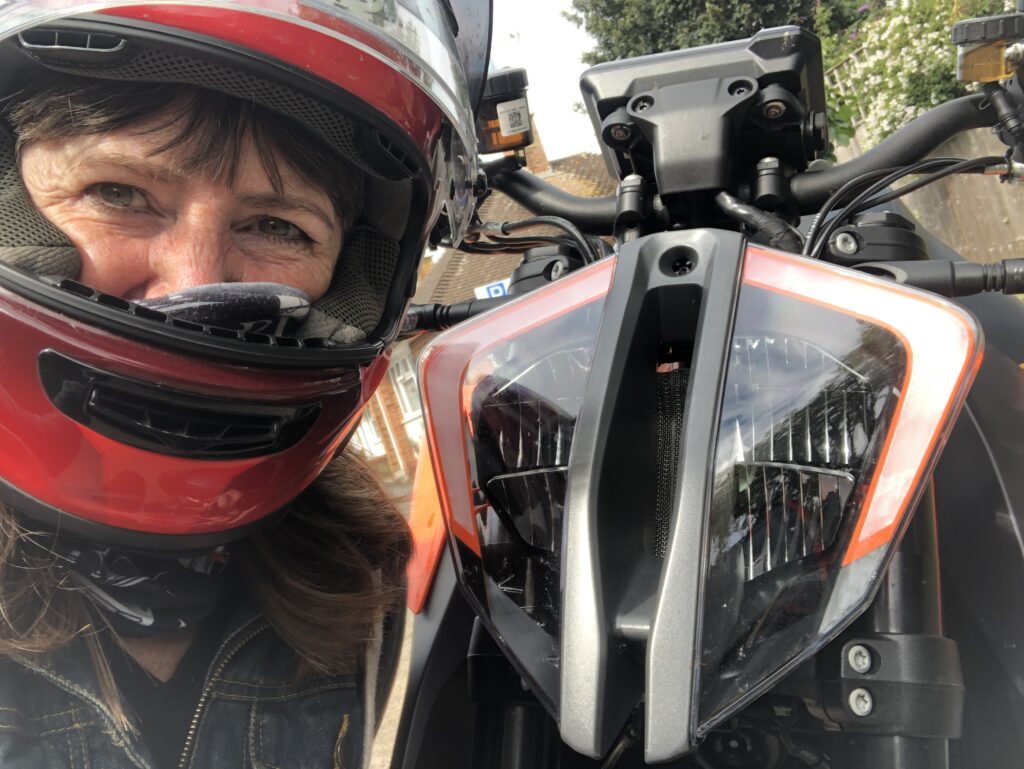 All too soon my afternoon of fun was coming to an end and I had to make my way back to The KTM Centre. I really enjoyed riding the Superduke, it was light, responsive and incredibly easy to ride, not at all an intimidating wheelie machine unless you want it to be.
Personally, I would go for the Duke 890 as it was that little bit lower for me and therefore suited me better but do yourself a favour and book an afternoon of fun with a KTM – I think you'll be pleasantly surprised 🙂
Thank you to the KTM Centre for the loan of the bikes, I am look forward to my next test ride ………….. 😉
BK
I did a walk around video of the Superduke which you can see on my YouTube channel here:
https://www.thektmcentre.co.uk/
https://www.ktm.com/en-gb.html
Thank you for reading my article, I hope you enjoyed it. Please subscribe by email, just enter your email on the left.
If you would like to share my website that would be great – thank you.