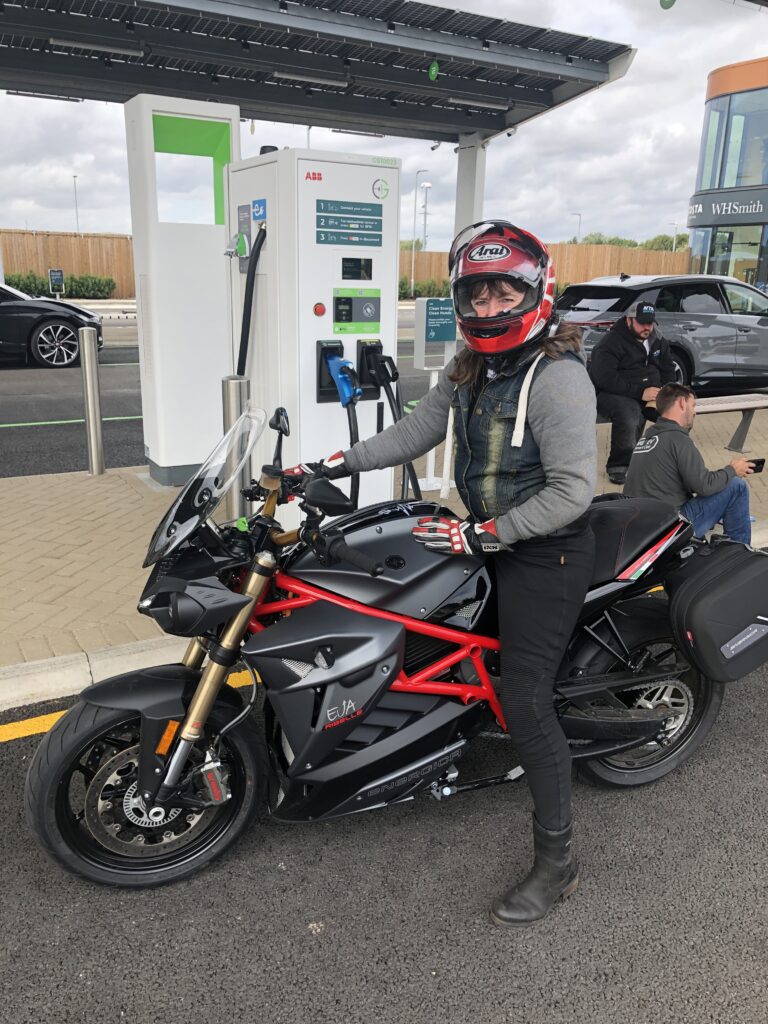 I was invited by the English Electric Motor Company (EEMC) to go along to their launch of the new electric bike by Energica called the Eva Rabelle which was being held at Gridserve HQ in Great Notley.
GridserveUK is basically an electric vehicle charging station a bit like a conventional petrol station.
As a complete and utter petrolhead for anything with an engine in it, I am very skeptical about the idea of electric replacing petrol and the thought that we will not be able to buy a petrol motorcycle from 2030 fills me with trepidation – what am I going to do without the sound of an engine or exhaust note???
By going along to see the Energica for myself and riding it, I felt it may answer a few of my questions and allay some of my fears.
EEMC are an electric motorcycle dealership and one of their brands is Energica, an Italian company. Interestingly Energica have been selected by Dorna to be the single manufacturer for the FIM Enel MotoE World Cup until 2022.
There are three models available – the Ego which has 215 Nm – 159 lb-ft of torque and was originally launched in 2013 and is described by Energica as the highest performing electric motorcycle in the world for road, race, or in between. Prices start from £21,190.
The EVA EsseEsse9 delivering 180 Nm – 133 lb-ft of torque and is described by Energica as the world's first "classic" retro-styled electric motorcycle and is designed for touring and two up riding. Prices start from £17,690.
The model which I rode was the EVA Ribelle which is the naked version of the EGO, with the same torque, power, acceleration and range with the main difference being the riding position. Side panniers, windshield and a tank bag are available for this model making it ideal for touring and is, according to Energica, the only electric naked bike with DC Fast Charge which means it could charge up in about 40 minutes! Prices start from £25,190.
When I first saw the Eva, it was not obvious that it was an electric bike. I could immediately tell from its styling that it was Italian, I thought the red exposed frame reminded me immediately of a Ducati and I was impressed by how much attention had gone into the styling of the bike.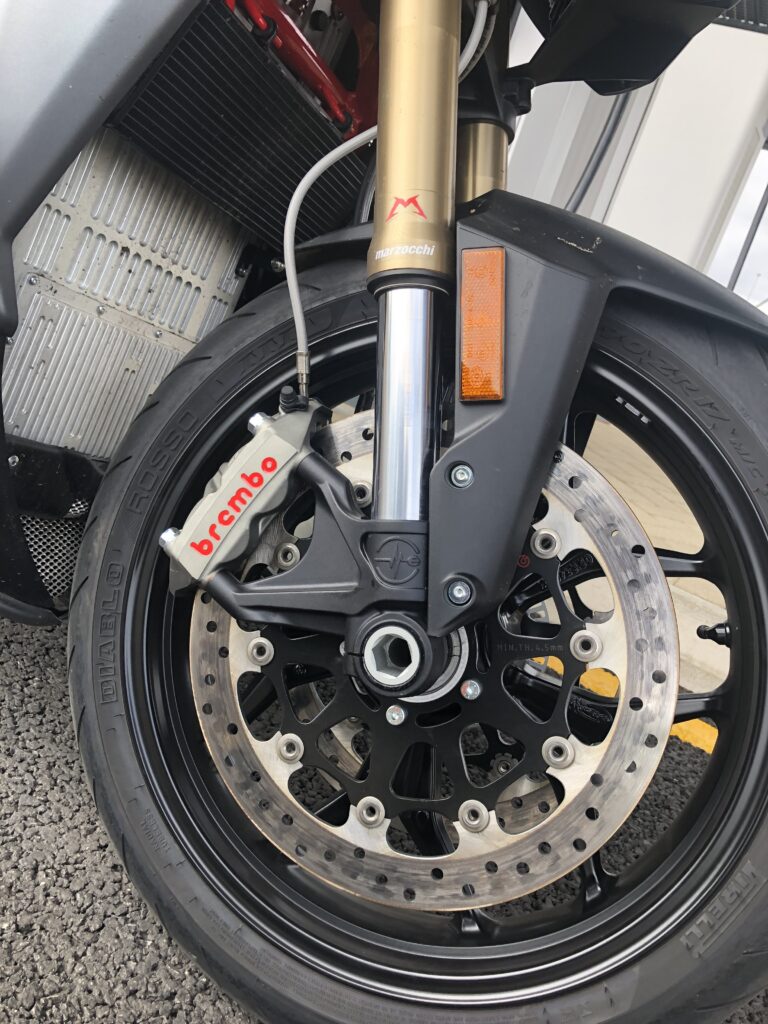 Before I went off for a ride, Alec, the chap from the EEMC, walked round the bike with me and gave me a run down of how the bike worked. I have never ridden or driven an electric vehicle before so I listened carefully!
The Eva weighs in at 260kg, 120kg of which is the weight of the battery! I got on the bike, switched it on and set off. It was that easy to get going. One of the weirdest things for me was realizing that I was moving along but with a lack of noise. I also had to get used to my left foot and hand not doing anything!
As I exited a roundabout on a dual carriageway I opened the bike up. WoW!!!!! The acceleration is phenomenal. I looked down and I was already doing 80mph!!! Eek. The Eva was so smooth to ride and the acceleration was seemless, I did not realise how quick I was going until I looked down at the speedo.
Other than it being an electric bike, it really is very much like riding a 'normal' bike with the obvious noticeable difference being the lack of noise. After riding for a while I parked up to take a couple of pics and do a walk around video of the bike. See my video below for more details on the bike.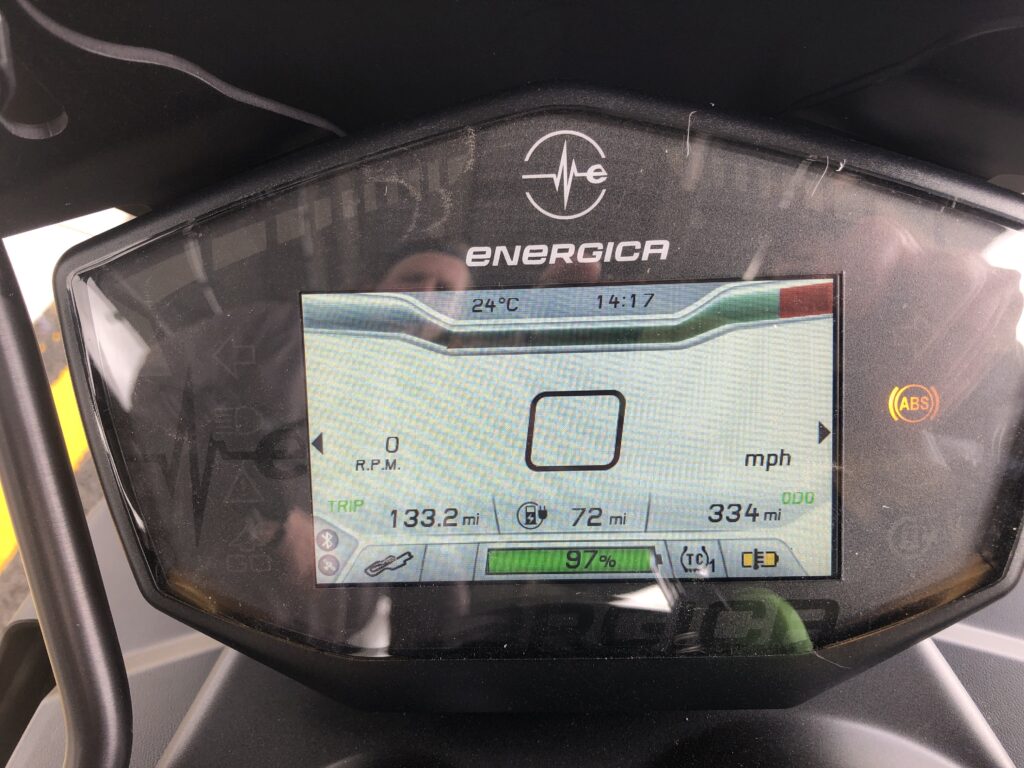 When turning the bike round, I did find this a bit of an effort due to the weight of the bike but once I got going again the weight did not matter. After a while I headed back to GridserveUK to grab a coffee.
I have to say I was pleasantly surprised by how easy to ride the Eva was and I was really taken with the styling. Performance is clearly on par with larger engine petrol bikes and the handling was great and once riding it didn't feel heavy. So at this point I felt perhaps the future doesn't look so bad.
However, I do have reservations however on the whole electric bike/vehicle concept.
Whilst talking to Alec about the Eva, he said that the average mileage you could expect to get from one full charge of the battery would be about 150 miles and, as long as you can find a DC fast charging point you can be going again in 40 minutes. However, if you can't find a DC fast charge then at an AC slow charging point you're looking at a wait time of 5-6hrs.
I said to Alec that when I ride my bike, I like overtaking and I suppose pressing on a bit. Don't get me wrong, I don't ride flat out and I consider myself to be a safe rider (except when I crash into the back of my mate at incredibly slow speed but then that's a story for another day ……!) Alec said the battery, riding like this, would probably last as little as 70 miles.
So the problem now is that in the real world at 40 to 50 miles I will now be looking for a charging point before it gets too low and I start panicking.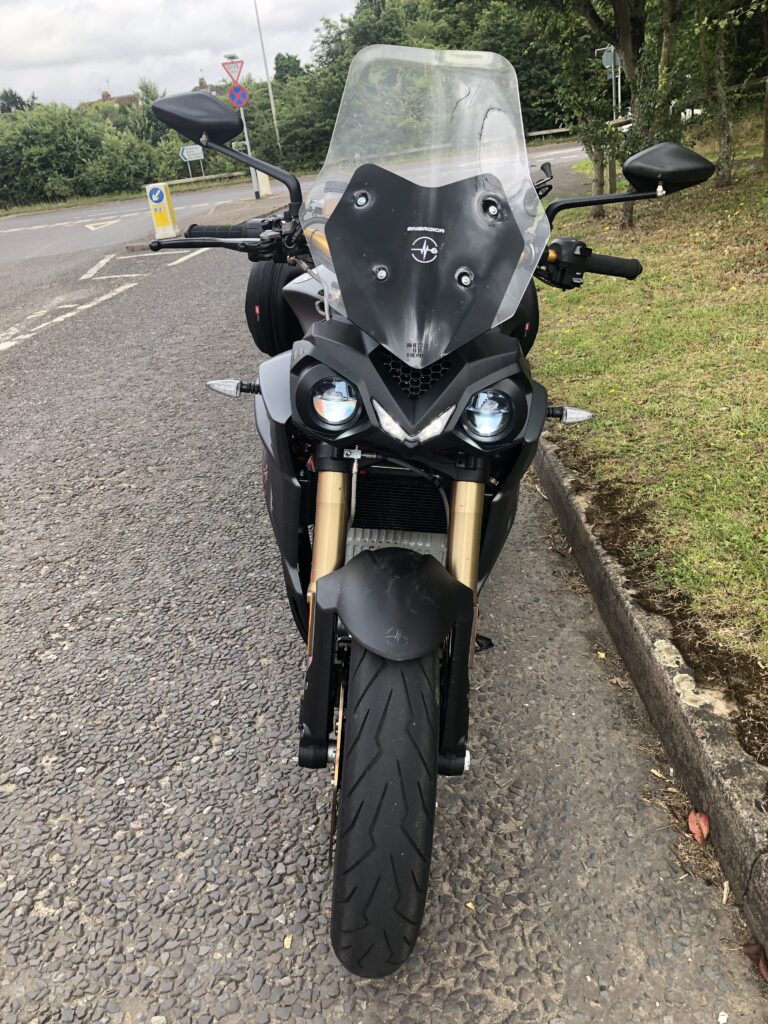 I also like to go for a ride out to find breakfast say, and then maybe a coffee and cake on the way back and on one of our ride outs we can cover about 120 miles, maybe more, maybe less but you see what I mean.
The places we generally go to for breakfast do not have a charging point for an electric vehicle so it would mean stopping at a fuel station or such like and waiting for the bike to recharge before setting off again. The problem is, will that charging point be free when I get there? If, say, there was a charging point at the biker café, they would need a large number of charging points on a Sunday morning. The other problem is that although places like Gridserve are opening up, these will tend to be on main arterial routes, not the sort of roads that most of us like to ride on.
If you're off on holiday, you would need to plan your route to take account of charging stations on the way and allow stopping time for recharging. You're going to get through a lot of coffee and cake whilst waiting!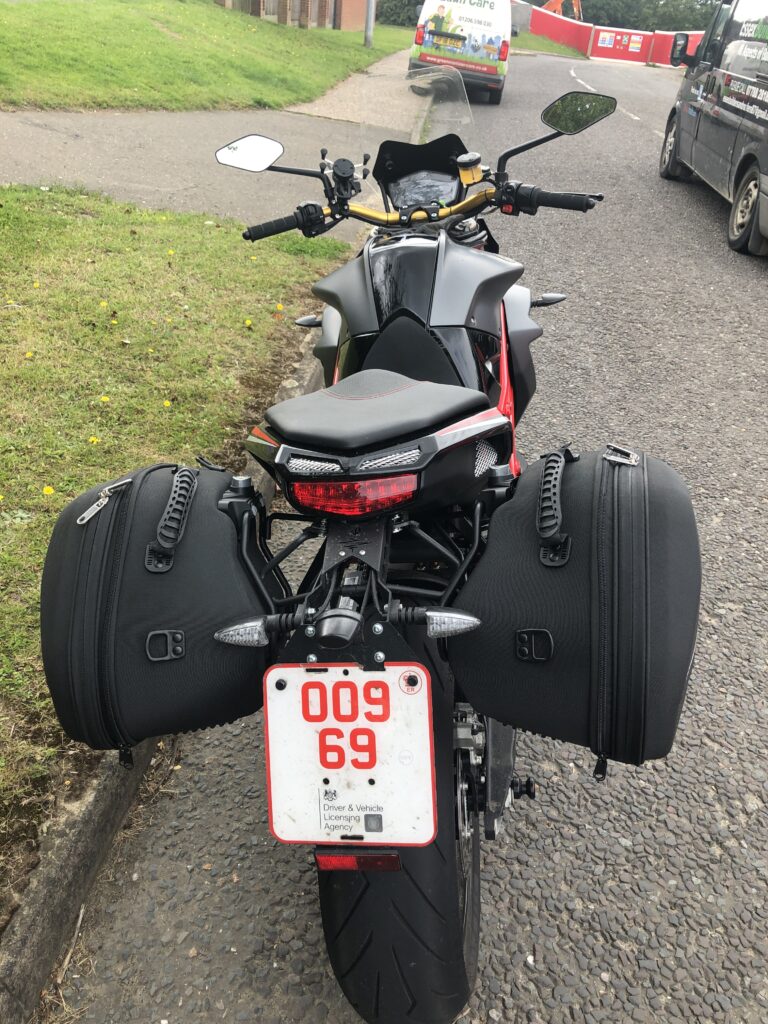 What I think would be a really great idea is if manufacturers made universal batteries to fit vehicles so you could pull into a charging station and swap your battery for a charged battery and carry on your way. Surely that would be a lot easier for people?
Whilst riding the Eva, I kept looking down to look at how much charge was left on the bike. I was really worried about running out of charge. What worries me as a female that often goes out on her own, is running out of charge and being stuck at the side of the road by myself. Also the thought of hanging around a charging station on my own waiting for a vehicle to charge is not appealing especially in the evening. You need to bear in mind that if I was in a car and the same happened, I could sit in the car with the doors locked.
Another point of concern is not only that I personally would miss the noise of a conventional bike, but also like electric cars, people will just not hear you coming including pedestrians and cyclists. This is something that definitely needs to be addressed.
I know electric vehicles are getting more and more popular but for me I am not ready to take the plunge until manufacturers can sort out the weight and in particular the range of the batteries and the availability of charging points but I do feel that these are matters that will be addressed in the future and so many of my fears have been allayed.
I would like to have an electric bike on test for two/three weeks to see what it is like to live with and how I find it with my riding style and the purposes for which I use my bike.
Thank you English Electric Motor Company for the invite and test ride of the Eva, it was a privilege to ride, very enlightening and I am definitely happier about the future of motorcycling 🙂
BK
I did a walk around video of the Eva which you can see on my YouTube channel here:
https://eemc.energicamotorcycles.co.uk/
https://www.energicamotor.com/
Thank you for reading my article, I hope you enjoyed it. Please subscribe by email, just enter your email on the left.
If you would like to share my website that would be great – thank you.