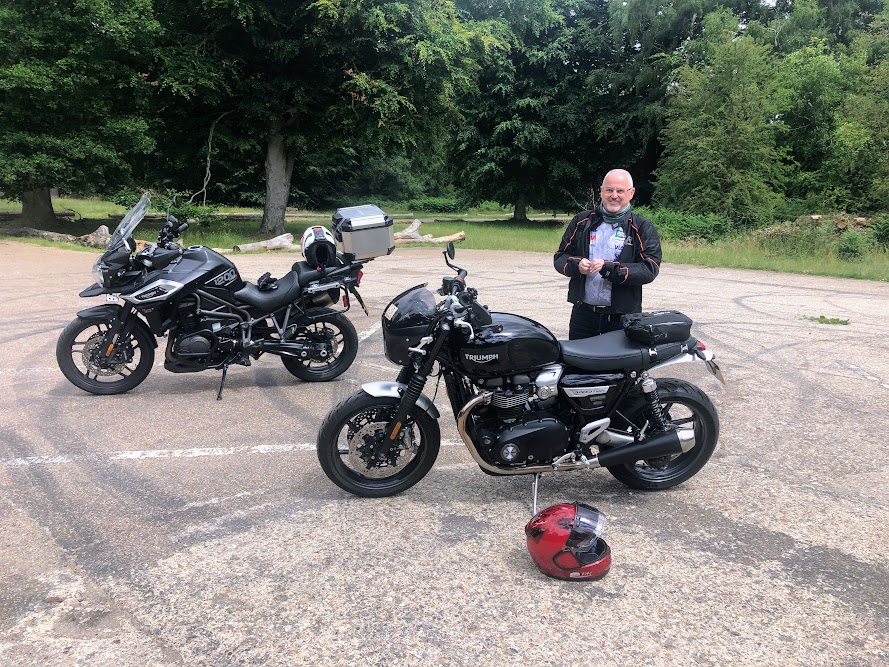 After my last observed ride, my IAM observer, Ian Souter, said the next session would be a mock test. Today was the next session! I've got to say I was a little nervous but Ian put me at my ease fairly quickly and the weather was on my side which was a good start.
I have a mock test with an examiner towards the end of the month and today Ian wanted to show me the format for the test to prepare me.
So, my examiner will ask me some questions, he may ask a question on IPSGA, TUG, POWDERY (I know I know them now, but I'd better go over these again just to make sure). I may also be asked some highway code questions (we all know how I did last time – definitely need to swat up on these)!
We will then go out for a ride for somewhere between 45 mins to 1 ¼ hours, depending on the route, traffic etc. but basically the ride will follow the same format that I have been doing with Ian these past few weeks.
Okay, I can do this. Off we set.
I always feel a bit apprehensive when setting off, after all nobody really likes to be judged on their riding/driving but I do feel I now very quickly settle into the ride and just enjoy the experience.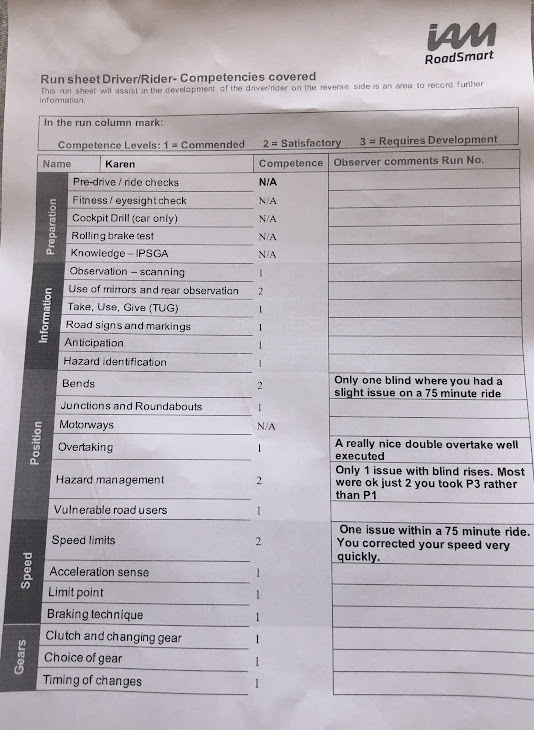 As the test would take me on a combination of roads, that was what we were doing today. Dual carriageways, A and B roads, country lanes, towns, villages etc. I think I can safely say we covered them all today.
I did miss a couple of indicates from Ian that he wanted me to turn but a quick honk of the horn before the junction and I realised and we made the turn safely.
After riding for an hour and a quarter, Ian came past me and we parked up. Ian asked how I thought it went. I said I thought okay but that was a lot of concentrating. I knew I missed the turning indicates so I was worried that would be a fail but it wasn't so that was good.
Well, it went very well. Ian said I would have passed had it been a test. It was all good to start with, I was aware of everything and I did a couple of good overtakes.
One issue was when I was coming out of a 30 limit into a de-restricted, I did start to accelerate before I reached the end of the 30 limit and by the time I reached the de-restricted sign I was probably doing mid to late 30's. I can't argue with that, I remember that!
Ian liked that when I was following a big lorry with no chance of an overtake, I kept a nice big four second gap. I had my bubble of safety in mind.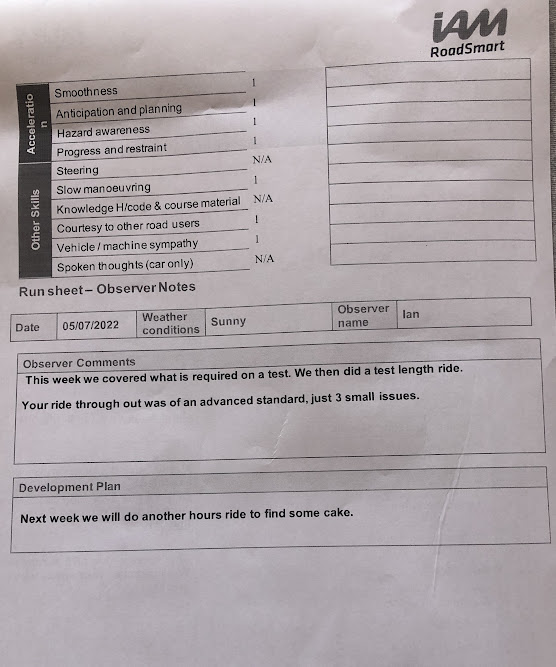 With blind rises, most were okay but I did take two in position 3 rather than position 1.
Ian said that my ride looked calm and smooth and on the whole it was a good ride with just a few small issues.
On the test the examiner would be looking out to see if I was:
Safe – today: yes, on the whole very safe;
Systematic – today: on the whole, okay;
Smooth – today: apparently I am always smooth 🙂
Sparkle – today: yes, I got on when I could, a couple of nice overtakes.
Phew! I can honestly say I was pleased with myself, it far was less terrifying than I thought it would be and it made me realise that I really should have more confidence in myself and what I have learnt over this course with Ian.
As my mock test with the examiner is not for a couple of weeks, my ride out with Ian next week with involve cake. I am so on board with that.
BK