I met my IAM observer, Ian Souter, for my sixth observed ride at Ashridge. We were lucky with the weather again as it had been raining pretty much all day the day before but today was okay.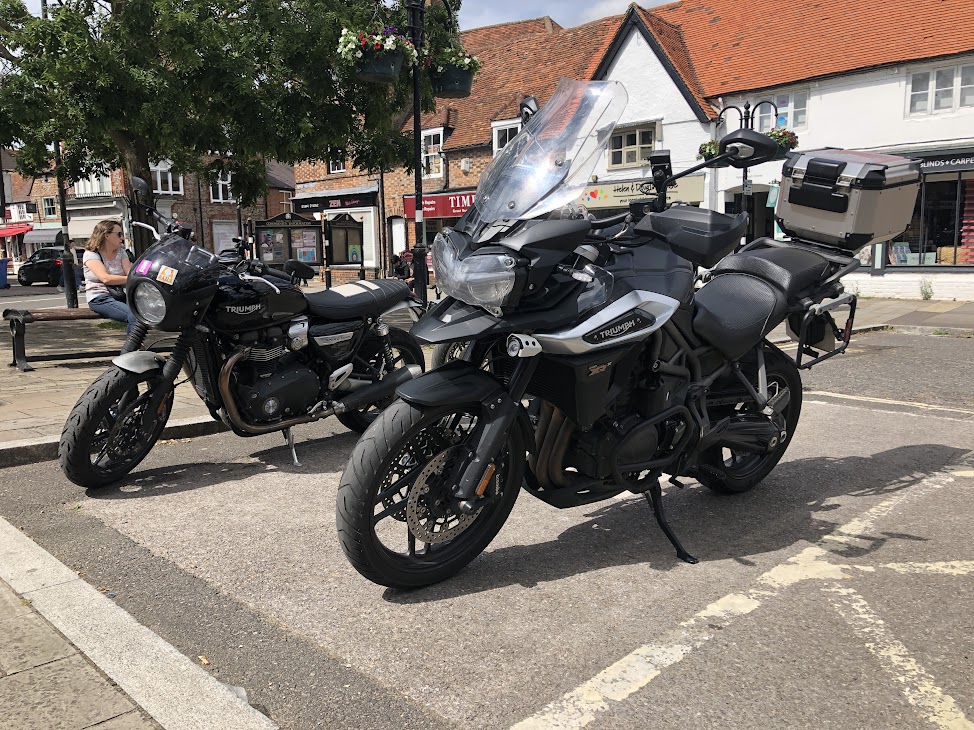 I have had a break from my observed riding for two weeks as I had been on a biking holiday in Europe so I was a bit worried that my riding would have slipped a little.
I know it sounds weird, but riding on the wrong side of the road in Europe and trying to put into practice all that I had learnt over the last few weeks but from right to left, seemed odd at first but I soon got the hang of it (or so I hoped) I would find out soon enough!
Prior to my holiday, Ian had said that hopefully after today's session, I would be at the stage where I can do a mock test. Hopefully that will still be the case.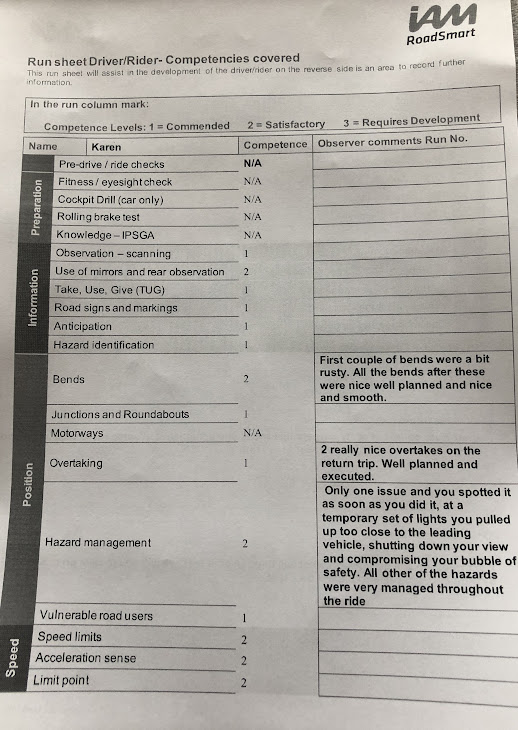 Today's ride would be me leading a ride to a coffee and cake destination of my choice with Ian observing. I was totally on board with this suggestion (I bet that surprised you!) A ride to Thame it would be where I knew of a lovely little cafe.
Off we went. I know I say it every time, but even though I know Ian is behind me, I soon forget that I am being observed and just get into the ride and enjoy the roads, after all I am on my bike doing what I love – riding 🙂
I have noticed myself that I am using more of the road, I am making use of the 1, 2, 3 road positions and thinking about my bubble of safety.
I certainly feel a lot more confident in my cornering and have found that by putting into practice what I have learnt from Ian, and using the system at the core of advanced riding known as IPSGA : Information, Position, Speed, Gear and Acceleration. I am setting myself up for corners properly and they feel smooth. I am actually starting to enjoy cornering now which is something I didn't think I'd be saying.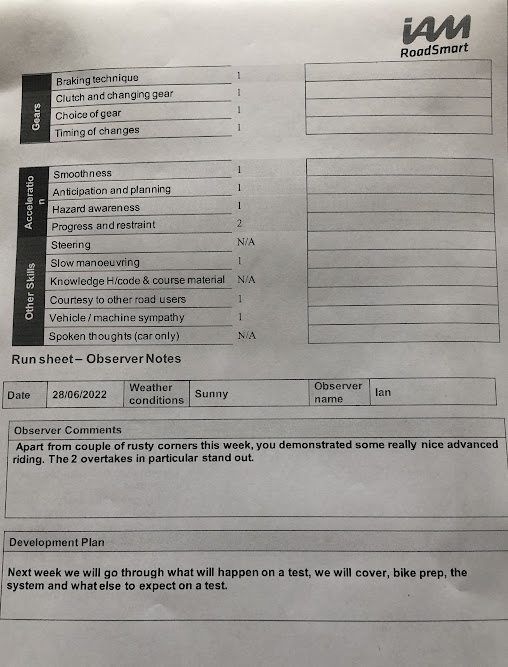 We pulled into Thame and parked the bikes. I was a little nervous as to what Ian would say about my riding after my two week break, but I was all smiles when Ian said it was a good ride. Other than the first couple of corners when we set off, I soon settled down and all was good.
Ian said I reacted well when somebody ran the lights at some road works and again when a lady pulled across a roundabout without looking. I think the coffee and cake was well earnt!
All too soon, it was time to head back to the bikes and make our way back. Ian would peel off when we got to Wendover.
I did get a message from Ian when I got home to say it was a really good ride back and he loved my two overtakes. The only bit of note was at the temporary traffic lights, I pulled up behind a van and shut my view down. Ian would have filtered to the front or held back to keep his view. I did realise what I had done but too late. Hopefully I should remember this now.
For my next observed session, Ian will be taking me on a mock test!!! Eeeeek!!!!!!
BK