Whenever I get a new bike, if it doesn't already have crash protectors and a tail tidy fitted then they are one of my first purchases.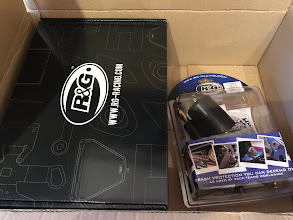 The crash protectors offer good motorcycle protection keeping the frame, engine, fairing and other critical components off the ground in the event of a crash, drop or slide. I don't think there's any one of us who haven't at least knocked a bike over in or whilst getting it out of the garage. I for one, think having crash protectors on a bike gives me peace of mind in that event.
As for a tail tidy, when a bike is new I know it is a legal requirement that the number plate is the rear most part of the bike and some people might like the back end of a bike as they come, but personally I always put a tail on any bike that does not have one as I think it transforms the rear end of the bike.
I have recently become the proud owner of a new to me Triumph Speed Twin and, you know what I'm going to say, the Speed did not come with either crash protectors or a tail tidy.
I normally go to R&G for such items as I like the quality of their products and know that they are going to fit on the bike and of course they look good too.
R&G is a British company in the design, marketing and distribution of motorcycle accessories and crash protection products. Previously known as R&G Racing, it was formed in 1999 and they are based near Alton in Hampshire. R&G stands for Richard & Gene, but only Richard Taylor remains with the company, as its chairman. When R&G first started out in the '90's, they were a precision engineering company making components for the aerospace industry and Formula One before moving into producing motorcycle crash protection in 1999, forming R&G Racing.
R&G is an official sponsor of the British Superbike Championship and its products have been used in British series, MotoAmerica and American Motorcyclist Association sanctioned events. R&G products have also been used in supermoto and enduro racing.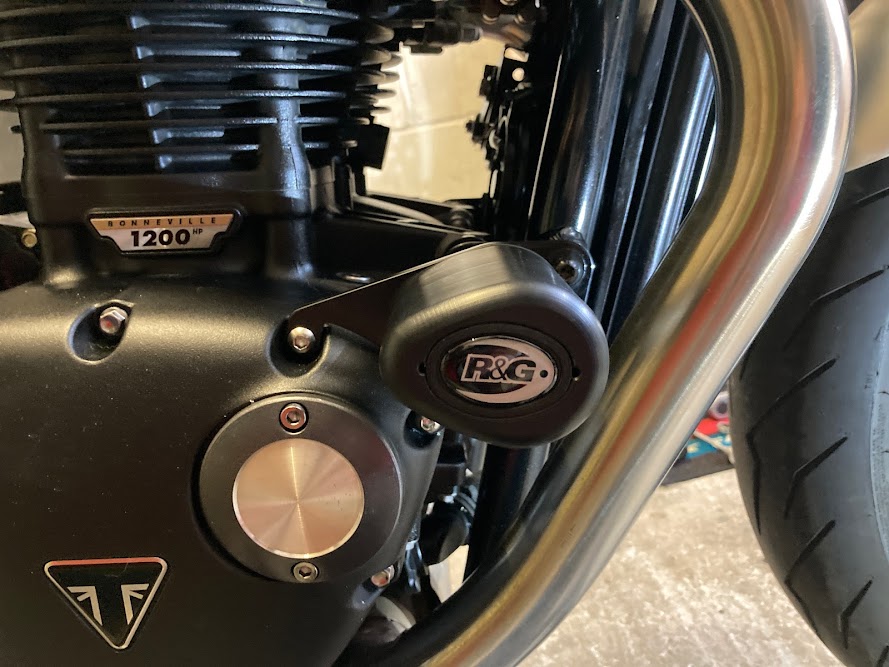 The first product created by R&G was for Suzuki's GSX-R750 when they developed a round-shaped protector constructed from high-density Polyethylene (HDPE) designed to wear and not shatter in the event of a crash.
Motorcycle racing is a key area of development and promotion for R&G. In 2009, R&G was title sponsor to the ACU R&G Suzuki GSX-R Trophy and co-title sponsor of the TriStar R&G Triple Challenge in 2014. In 2015 and 2016 they partnered with KTM to provide Engine Case Covers and Toe Chain Guards to all riders competing in the Santander Consumer Finance KTM British Junior Cup and in 2017, R&G became a partner for the Ducati TriOptions Cup series.
Having had R&G crash protectors and tail tidy's on previous bikes, I know that they are quality products and have a nice feel and finish to them.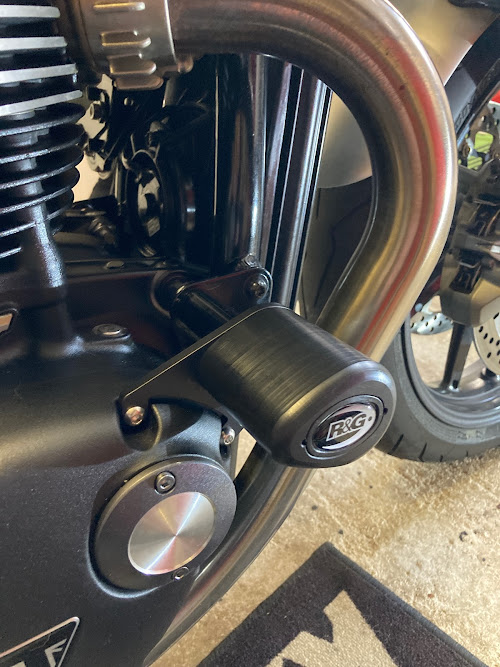 So when my R&G Aero crash protectors and tail tidy for the Speed turned up, I decided that I would actually try and fit them myself – my o/h usually does garage stuff but I set myself a challenge. Uh oh!! I mean, how hard can it be ?
I decided to start with the crash protectors. When you open the box, other than the parts themselves, there is also a qr code which you scan into your phone and download the instructions. You can read the instructions from your phone but I personally like to have instructions printed as I find them easier to work with.
The instructions tell you everything that should be in the box to enable you to fit the crash protectors, they also tell you which tools you will need and which endy bits to go on the end of the socket tool and also what torque setting you need for which bolts. Brilliant 🙂
I laid out on the floor on each side of the bike which bits were needed for which side and got the tools ready and set to work.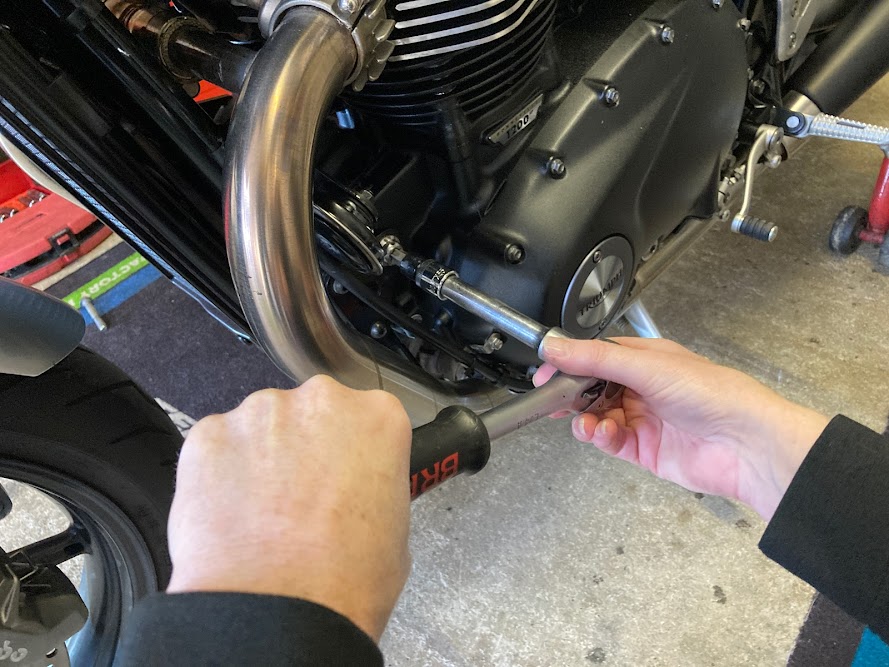 I found following the instructions really easy and actually fitting the protectors to be way easier than I thought they would be. When I finished fitting the second one, I stood back and looked at my handiwork and was really chuffed with myself. The protectors look really nice and blend in really well with the bike. Job well done 🙂
Onto the tail tidy. Again, in the box were not only the parts you needed but also the qr code. I downloaded and printed the instructions and had a read. I didn't think this job would be as easy as the protectors firstly because the instructions were a lot longer and secondly because there was wiring involved (I say wiring – unplugging the existing number plate light and brake light wires and connecting the new R&G wires and number plate light, but I call it wiring) but actually working through the instructions step by step, it all made sense and I could understand why I was doing each thing at each stage. Setting the tools and parts out at the beginning so I can see them does help.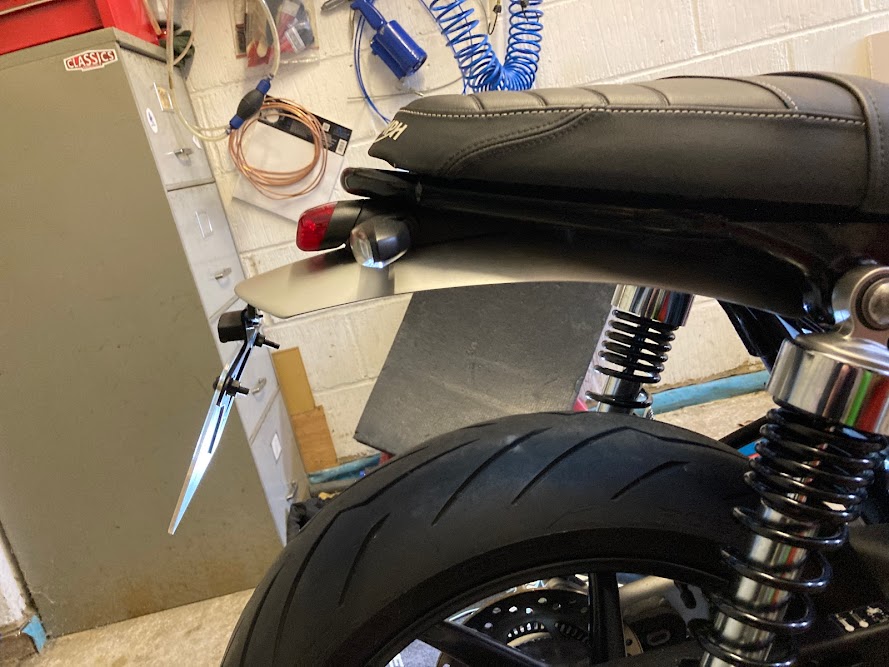 Probably if you do these things on a regular basis you don't need to be as simplistic as me but as a novice in the garage it helped me greatly.
When I'd finished fitting the tail tidy and I stood back to have a look, I've gotta say I was well impressed with myself.
The feel and finish of the R&G products are really nice and I personally think they blend in with the bike so well that you'd think they originally came on the bike.
You can check out my You Tube videos of me fitting both the crash protectors and tail tidy to see in more detail how I got on, links below.
So, do you reckon as I did garage stuff that means my other half has to do cooking stuff …..
BK