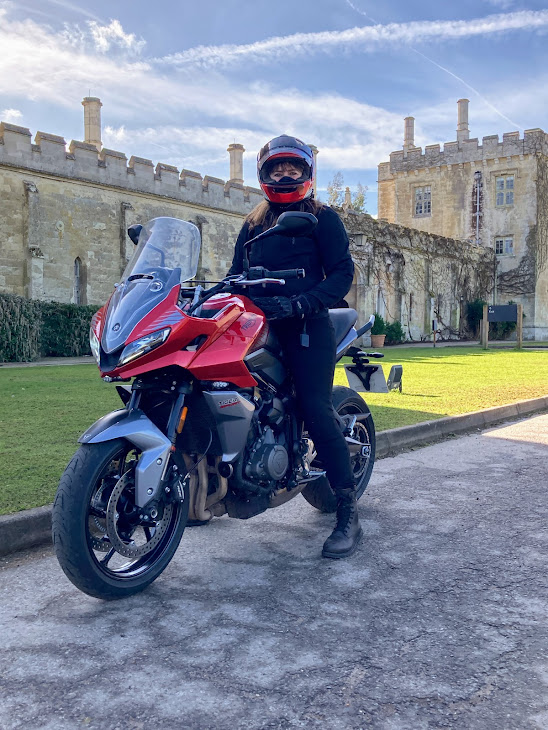 When Triumph Motorcycles released the Trident onto the market it seemed to take the motorcycle world by storm and having had one on loan from them I could absolutely see why. So when I was offered the new Tiger Sport 660 which has the Trident engine, I jumped at the chance.
The Tiger Sport is the first adventure type bike that I have ridden so I was interested to see how it would perform with all that additional body panelling that I am not used to as I usually ride naked bikes.
If like me, you are used to riding bigger engine bikes, you will be surprised at just how quick the Tiger Sport is. The Tiger Sport is a 660cc 80bhp bike with a liquid-cooled, 12 valve, DOHC, inline 3-cylinder engine which you may look at and think it is going to be low on power and speed. I can tell you it is not lacking either of those attributes. It has a lot of low down grunt and has a lot of torque.
I was really pleased to see that the Tiger Sport comes with Michelin Road 5 tyres as standard. I run Michelin Road tyres on all my bikes (my Speed Twin has just had Road 6's fitted) and for someone that rides all year round in most weather conditions (I avoid ice and snow) I personally find that they are brilliant tyres. I know tyre choice is a very personal decision but I was happy. Michelin describe the Road 5's as "Offering you the best wet grip versus its main competitors without compromise on dry roads" and I'm a real fan.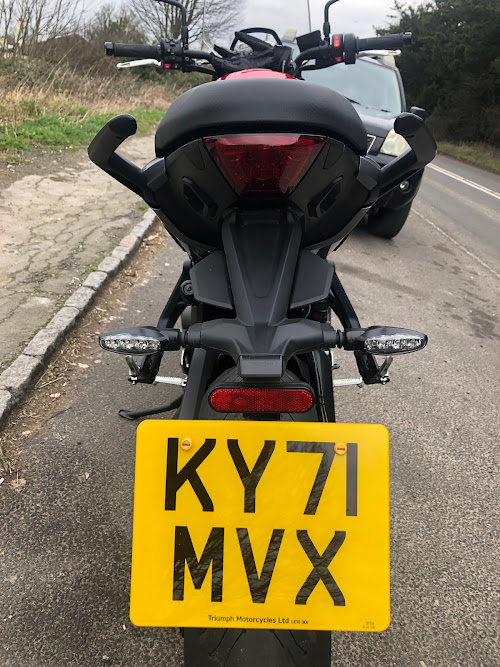 I had the Tiger Sport during February so the roads were cold although during the time I had the bike, I was lucky enough to only get a couple of days of rain which I think is pretty good for the time of year.
I really like the rear brake light under seat area which I think is a breath of fresh air and reminds me of the Trident but I would have to fit a tail tidy!
The Tiger Sport comes with Showa upside down forks and a remote preload adjuster on the rear monoshock and Nissin brakes both front and rear.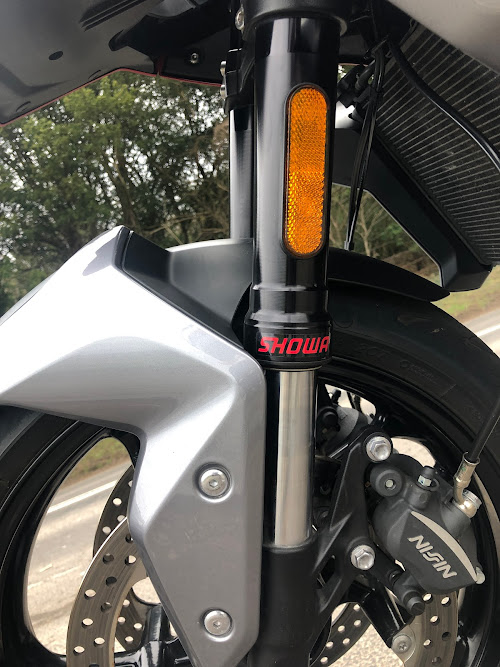 With a seat height of 835 mm this is slightly higher than my current bikes but was still okay. Although my feet were not flat on the floor, the balls of my feet were firmly on the ground giving me the stability I need when at, say, the traffic lights.
The Tiger Sport weighs 206 kg which is actually slightly lighter than my Z even with all the extra fairings etc. I found getting the bike in and out of the garage okay, it's quite easy to manoeuvre which is something you have to think about when considering a new bike.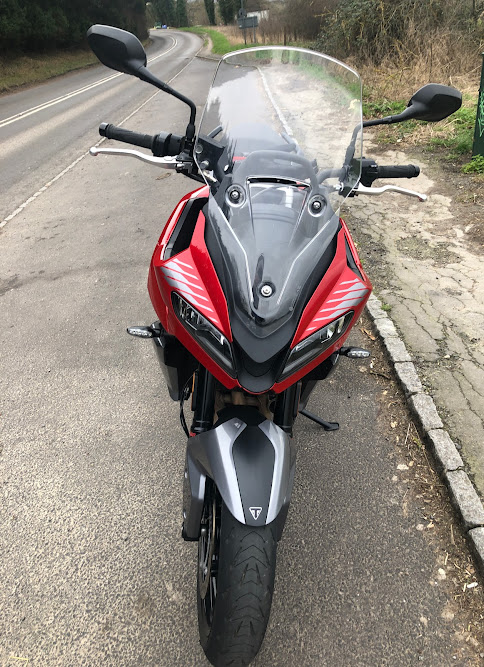 So having donned my gear, I went for a ride. I was immediately taken with how easy it is to ride and how comfortable it is too. It was raining the first time I went out on the bike so I didn't go out for long but the next day, the sun was shining and off I went.
I really like that the Tiger Sport came with factory fitted heated grips and that the on/off button is small and discreet on the inside edge of the left bar. These were pretty much on the whole time I had the bike as it was a chilly time of the year and they kept my hands warm and toasty – a real plus for point for me.
I found the Tiger Sport to be such fun to ride, it handles really nicely in the twisties giving me the confidence I crave in a bike but I really struggled with the wind noise from just below 30 mph upwards. There was really bad noise around my helmet, far worse than on a naked bike so it must be the way the air flows around the screen.
The screen on the bike is adjustable and I adjusted the position to various heights (you can do this whilst riding along which is brilliant) to see if this helped reduce the noise. Unfortunately, for me, I could not find a suitable position for the screen to stop the noise. I guess it depends on your height as to what screen works best for you. Having had limited experience with adventure type bikes and their screens, I assume you have to find a screen which suits you.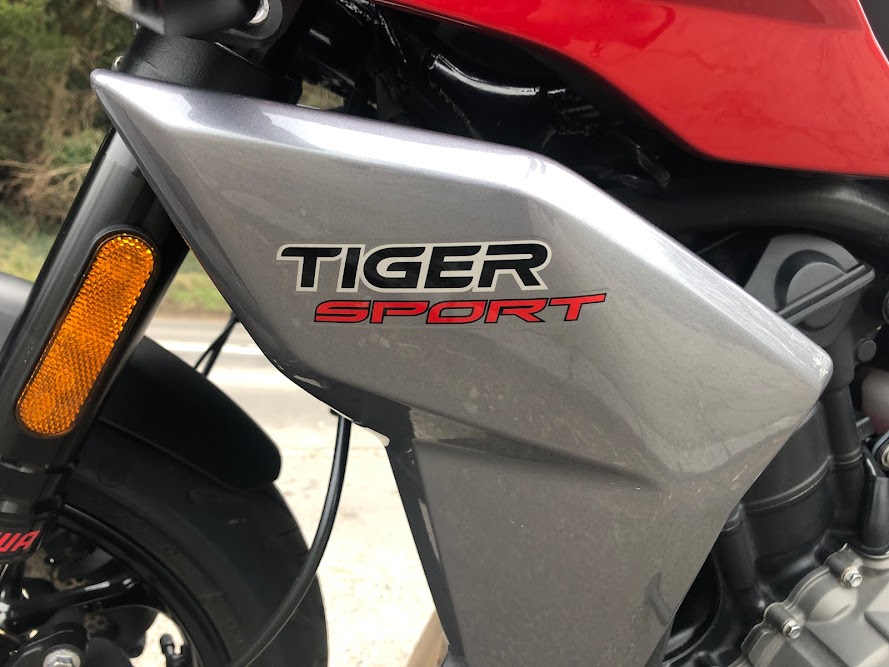 One other thing I thought needed to be changed (for me anyway) was the clutch lever – the standard one is not adjustable (it is on the brake lever) and for me it needed to be in slightly more but replacing the lever is an easy fix (well not for me obviously but for those that do garage stuff it is).
With a starting price of £8,450 I thought that the Tiger Sport 660 is a lot of bike for your money. There are numerous accessories available to tailor the bike to your own specific needs ie. luggage (integrated pannier mounts come as standard); colour coded belly pan; quickshifter; hand guards to name but a few and the bike comes in three great colours, red, blue and black.
The Tiger Sport is A2 licence compliant and can be fitted with an accessory A2 licence conversion kit, which is then easily de-restrictable giving back it's full power, making this a brilliant first big bike too.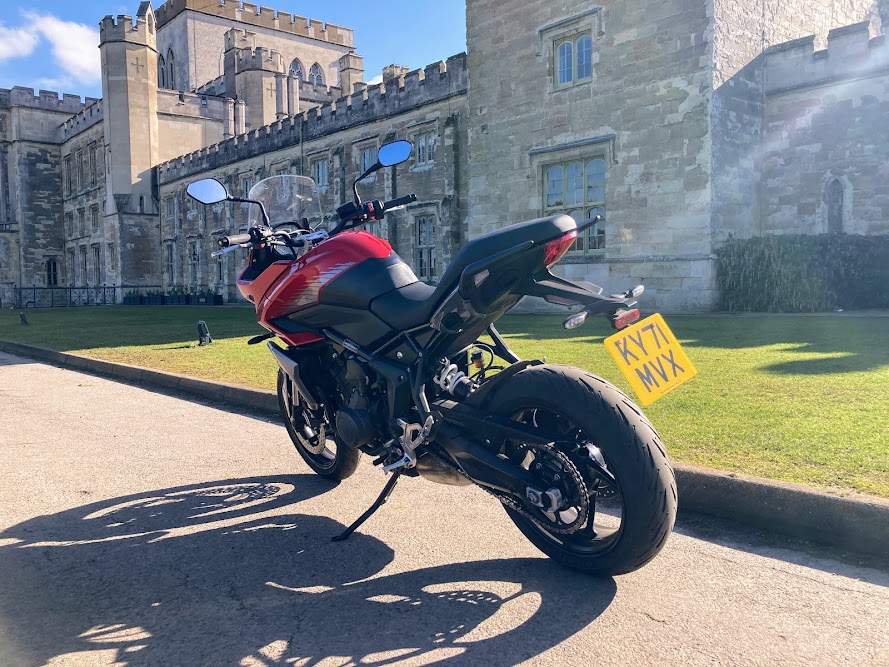 The Tiger Sport 660 is easy to ride, comfortable, easily fills you with confidence in the handling and agility and extremely fun in the twisties. I've got to say other than the wind noise I experienced with the screen (but this is something which I think could be addressed) I was sad when this bike went back.
Thank you to Triumph Motorcycles for the loan of the bike, it was a privilege to ride 🙂
BK
If you could subscribe to my website that would be great – thank you 🙂
https://www.triumphmotorcycles.co.uk/motorcycles/adventure/tiger-sport-660
Here's a video of me riding the Tiger Sport 660 and doing a walk around so you can see the bike in more detail.