The end is near for what has arguably been a fantastic, although highly unusual, 2020 Bennetts British Superbike Championship season which still has three rounds remaining to be held at Brands Hatch on 17/18 October.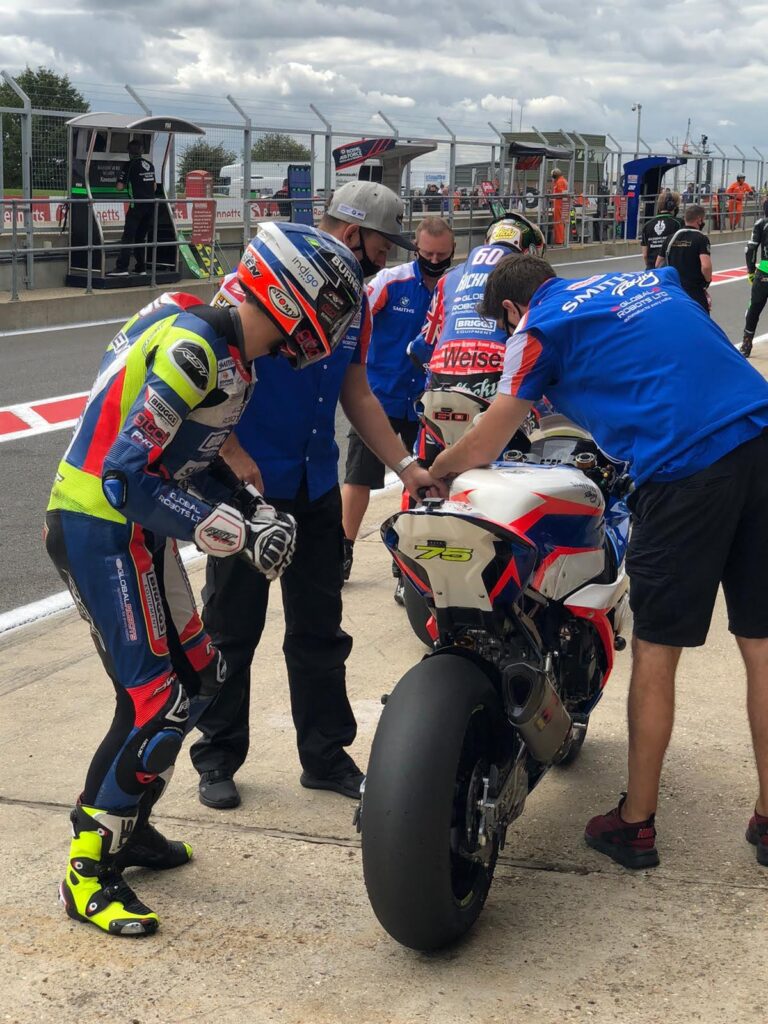 In what was a decidedly wet weekend at Donnington Park on the 3 /4 October, Saturday's racing turned out to be a washout. After the second aborted start racing was cancelled for the day with all three rounds of the BSB racing scheduled to take place on the Sunday.
Round 13 Andrew Irwin (Honda Racing) take victory after riding a near perfect race with both the VisionTrack Ducati's of Christian Iddon and Josh Brookes coming in behind in second and third place respectively.
Losing the lead in the championship standings for the first time this season, was Glenn Irwin after crashing out on the opening lap at Goddards, thankfully he was unhurt. Irwin is now on equal points with Jason O'Halloran (McAMS Yamaha) who did not fair well in this race, finishing in 14th place ahead of Tommy Bridewell (Oxford Products Racing Ducati).
Tarran Mackenzie (McAMS Yamaha) took fourth place in the closing stages of the race from Ryan Vickers (RAF Regular & Reserve Kawasaki) who had his best result of the season with 5th place. Teammate, Jack Kennedy, moved up to 7th position in the closing stages of the race and will start on pole position for Round 14.
Round 14 saw Josh Brookes on the top step of the podium having worked his way from 6th to the front of the grid by lap 5 thus taking the championship lead. Despite his best efforts to close in on Brookes, Jason O'Halloran finished a very respectable second place taking him up to 2nd in the championship standings. Teammate, Tarran Mackenzie, finished third putting both the McAMS Yamaha's on the podium.
The race ended early for Ryan Vickers and Andrew Irwin after crashing together at the Melbourne Loop swiftly followed by Peter Hickman and Danny Buchan.
Claiming his best result of the season for the Buildbase Suzuki team, Gino Rea finished in 4th place ahead of Tommy Bridewell and Christian Iddon. This race was not going well for Glenn Irwin either and we saw him drop down to 7th position ahead of Jack Kennedy and Luke Mossey. Finishing the top ten line up was Joe Francis for the (Lloyd & Bowker BMW Motorrad) team.
Round 15 saw a third different rider to top the championship charts with Tarran Mackenzie taking the race lead with four laps to to for the McAMS Yamaha team.
Josh Brookes had a great start taking the lead followed by Jason O'Halloran and Tommy Bridewell, with Bridewell quickly moving up to 2nd. Glenn Irwin was moving up the order and it was not long before he grabbed 2nd place from Bridewell. Unfortunately Lap 7 saw a technical problem put an early end to Bridewell's race.
Lap 9 saw O'Halloran collide with Iddon during a battle for fourth place causing O'Halloran's brake lever guard to jam ultimately dropping him down to 8th place by the end of the race.
Glenn Irwin was in the lead by lap 10 with Mackenzie behind him and Brookes in third. The McAMS rider made his move on Glenn Irwin at the Fogarty Esses and was able to hold onto the lead and claim victory. Christian Iddon came in fourth moving him into 2nd place going into the final round of the championship at Brands Hatch.
Gino Rea finished 5th place with his best result for the Buildbase Suzuki team followed by Lee Jackson for the Rapid Fulfillment FS-3 Kawasaki team.
Round 13 winner, Andrew Irwin, came in 7th place followed by O'Halloran with Luke Mossey and Joe Francis completing the top ten.
Make sure you don't miss any action that will be coming our way from Brands Hatch on the 17/18 October.