I was luckily enough to get along to the British Superbikes round at Donnington a few weeks ago and there I met Stuart at GBRacing. It was pouring with rain, the racing had been delayed and so Stuart made a cup of coffee and we had a chat.
Who are GBRacing?
Well GBRacing itself has been trading since 2007 and was founded in 2002 as Lewis Banks Ltd and they create and engineer motorcycle protection products.
GBRacing are FIM and MCRCB approved as well as by the governing bodies of some domestic racing championships overseas so they supply their products to BSB, MotoGP, Moto2 and WorldSBK.
I asked Stuart to tell me a little bit about the company. Graham Banks, the owner, came up with the designs to protect the vulnerable parts of motorbikes when racing but which are light, thus keeping the weight down but which are also durable. A 3D image is taken of the bike and then parts are designed based on that image.
In the early days of the company, GBRacing would attend events and set up in the pits and then literally walk around the pits with their products and offer them to race teams to see what they think. From that, they started getting orders and more products were designed and the business has been growing ever since. GB Racing work with teams themselves to develop and improve their products.3D CAD software and injection-moulding plant equipment is used make the products.
Their core product range are bolt-on secondary engine covers. For someone with very limited garage experience I needed more of an explanation as to what that actually means and definitely more coffee!
Stuart decided that a visual explanation would be good here. They are basically a moulded cover that bolts on over the existing covers, for example over the clutch and alternator to protect them in event of a crash. The previous day in practice Gino Rea (Buildbase Suzuki) crashed his bike and as a result his bike needed a new alternator cover.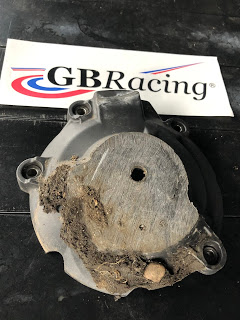 Gino's race mechanic came over to GBRacing with the damaged cover and collected a replacement and Stuart showed me the damaged one. If you look at the pictures of the covers you can what a nice new one looks like and one that has been Gino'd! If you look closely at the Gino'd one, you can just make out that there are holes beginning to show through the casing. There are holes on the inside of the cover and these are here for the benefit of the scrutineers so they can see how much of the cover has been worn away and when a new cover is needed.
That completely made sense to me, being able to see the product and how it works in practice.
I am always in awe when I think about how many companies and people are involved in getting one rider (or driver) onto the track ready to race when the lights go green. So many components, manufacturing processes and engineers all come together to make it possible.
GBRacing supply a number of teams on the grid. While I was sitting talking to Stuart, other race team members were popping in to collect replacement parts that GBRacing supply, be it a clutch or timing crank cover, bullet frame sliders, lower chainguards etc.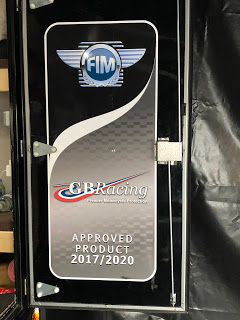 GBRacing also supply their products for road bikes as well as race bikes so I can now protect my Z (not that I have any intention of doing a Gino on my bike)!!!
Thank you to Stuart for your time (and coffee), I really enjoyed chatting with you and finding out about GBRacing.
BK