I had the pleasure of having a BMW F900R on loan from BMW Motorrad UK for a couple of weeks and I have to tell you, what an absolute pleasure that was 🙂
The standard F900R is not A2 licence compliant but they do make a version that is, with 95bhp making it an ideal first 'big bike'.
The BMW F900R at a Glance:
895cc twin engine
Rated output: 77 kW (105 hp) at 8,500 rpm
Rated output (A2): 70 kW (95 hp) at 8,000 rpm
EU 5 compliant
Upside down forks
Weight: 211kg
13L fuel tank
Seat height: 815 mm (OE suspension lowering kit: 770 mm, OE low seat: 790 mm, OA high seat: 835 mm, OA comfort seat: 840 mm, OE extra high seat: 865 mm)
TFT display including Connectivity
Rain and Road modes as standard, Dynamic and Dynamic Pro optional extra
BMW F900R Colour Options
There are three colour options available:
Black storm metallic – zero additional cost
Exclusive blue stone metallic – £100 additional cost
Sport Hockenheim silver metallic with and racing red – £285 additional cost
BMW F900R Pricing and Packs
The starting price for the F900R is £8,675 and there are various packs you can add:
Active – pro riding modes with abs pro, dynamic traction control (DTC), braking assistant (DBA) and shift assistant pro at an additional cost of £630
Comfort – M Endurance chain, keyless ride system, heated grips at an additional cost of £490
Dynamic – semi active dynamic ESA chassis and suspension control, headlight pro headlight extra with adaptive headlight at an additional cost of £630
Touring – centre stand, cruise control, case holders and preparation for the navigation system at an additional cost of £670
BMW Motorrad UK Connected App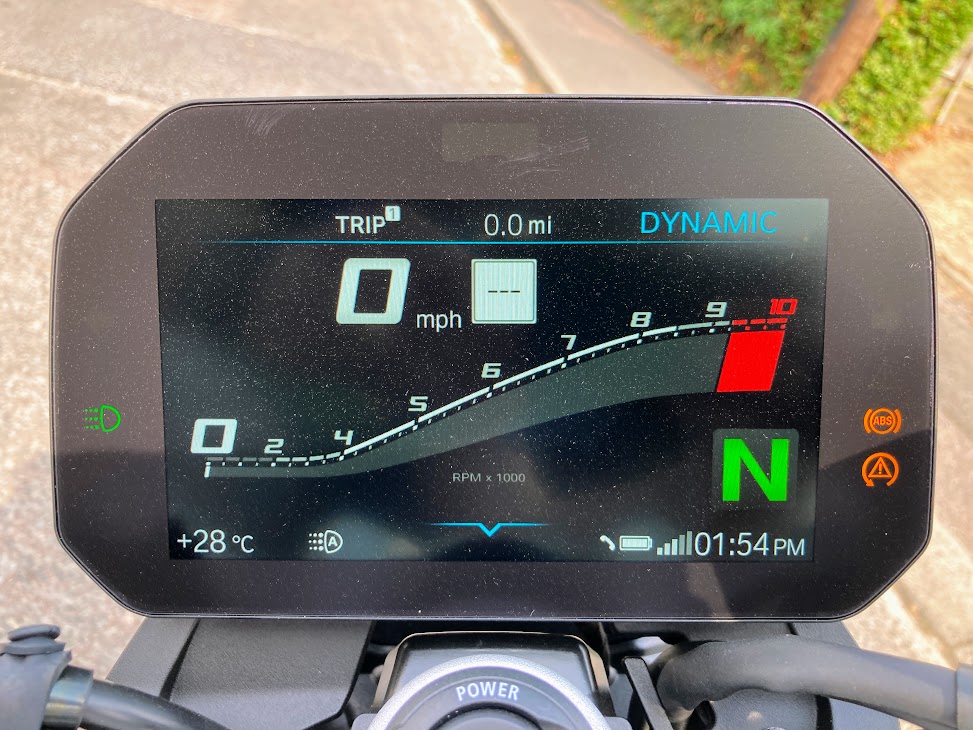 My first impression of the F900R when it arrived is just how stylish it is. I love the look of the bike. BMW describe the bike as a sporty middle-class Roadster. The bike I had came in the Sport colour (Hockenheim silver metallic with and racing red) which I think suits the bike with all of the extra packages as above.
I couldn't wait to get out for a ride. The first thing I did was download the BMW Motorrad UK Connected app onto my phone and then paired the bike with my phone. Bearing in mind I am not a techy person, this was easy and simple to do. Once paired, on the TFT screen on the bike it will tell you how much battery life you have left on your phone and also how much signal you have.
On the app, you can see information on the bike ie. how much fuel you have, mileage, trip, how many miles to your next service. The weather where you are is also on there. You can record rides and allow the app to save the information and you can supplement your rides with details. You can also import routes. You can access maps on the app, change navigation settings for example, fastest/shortest route, avoid motorways, toll roads, dirt roads. You can say if you would like to receive spoken instructions and the frequency.
That is just a brief glimpse of what the app will tell you, there is an array of additional information you can add into the app.
BMW F900R Engine
The engine is an 895 cc in-line twin giving out 105 ps and 92 Nm of torque. Being a twin, the bike oozes character and has that lovely twin sound, obviously a little bit muted with a standard Euro 5 compliant exhaust.
Personally I would change the end can on this bike as although thought has gone into the styling, I would prefer something smaller and louder but that is just my personal opinion.
The engine pulls nicely from low revs as being a twin you do get good torque, but is also very smooth with no excessive vibration and plenty of roll on power for that overtake.
BMW F900R TFT Screen & Modes
If you are techy, not only will you love the app but you will also love the 6.5" TFT colour screen. It is incredibly user friendly and I found it quite interesting just fiddling around seeing just what information you can see on there, the modes you can select and what you wish to see on the screen when riding.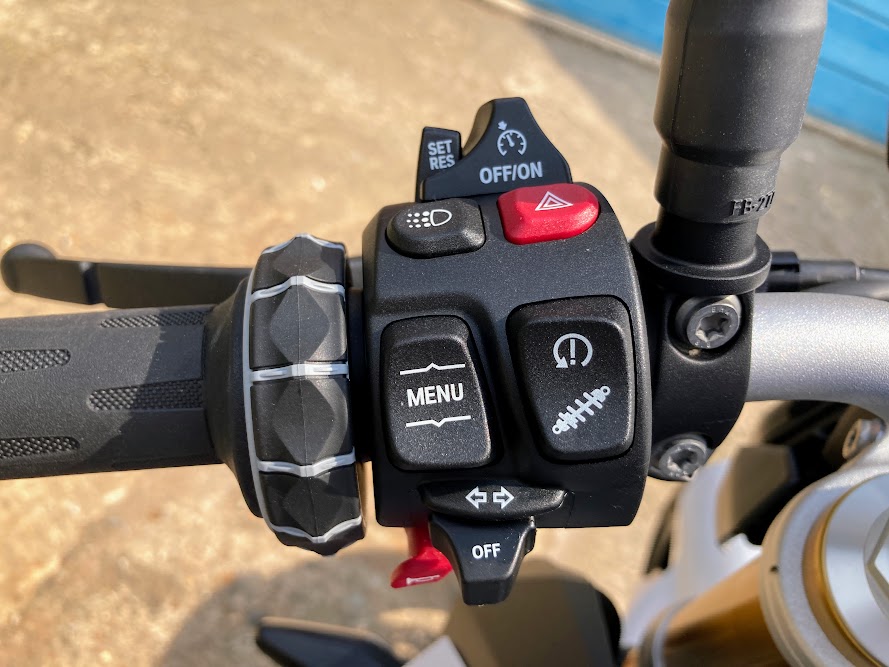 It is a nice size screen when using the navigation, clear and easy to read. I thought as there was no front screen then you would experience glare from the sun on the screen but I did not find this at all. I also didn't experience any wind buffeting with there being no screen either which was good.
I went for my first ride on the bike and I have to say a few hundred yards down the road, I knew I was going to like the F900R. I was struck by just how nice the bike felt, you can feel the quality of the bike and how solid it is.
My initial ride on the bike was only meant to be an hour but three hours later I got back home. Even though it was my first ride, I just loved the feel of the bike.
BMW F900R Quick shifter and Suspension
The F900R has gear shift control – up and down quick shifter. I don't have this on my personal bikes but many of my test bikes do these days. I can see the appeal of this on your bike as it does save a lot of effort for your left hand and gives a smooth gear change but I am not sure that I would pay extra to have this.
If you do a lot of track days then I can see it would be a must but for day to day riding, I'm not so sure. Nice to have though.
With the Dynamic bike, the suspension on the bike has electronic adjustable suspension on the rear, the front is conventional and un-adjustable. The rear damping is dynamic and will adjust itself to the driving /road conditions and you can select different shock absorber settings. You can also set the pre load whilst stationary.
The more I rode this bike, the more I liked it. The more I rode the bike, the more it wanted to be ridden. I would find myself going out for a ride and then just extending my ride as I enjoyed riding the bike so much.
One evening I went to bike night which is about a ten/fifteen minute ride for me but an hour and a half later I arrived. I kept saying to myself just one more road, just another road.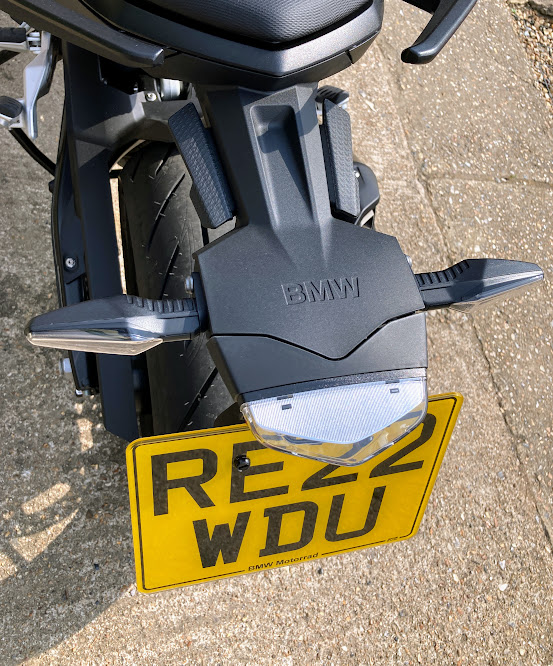 BMW F900R Feature Details
The F900R feels like a solid bike and oozes quality as you would expect from BMW. There are nice little features on the bike that make it just that little bit nicer – the levers are very nicely finished and both are adjustable too which is good if you have smaller hands like me.
The right angle tyre valves are a brilliant idea which make it easy to check and/or inflate the tyres. There is discreet BMW branding on the engine cover, petrol filler cap, seat and headlight. It also appears on the rear tail.
I would personally have to change the standard rear tail for a tail tidy. As you know, it is a legal requirement for all new bikes that the number plate is the rear most part of the bike, but the back end is just crying out for one.
I love the stylish headlight which has a clever cornering feature of automatically turning on additional elements to light the inside of the turn.
BMW F900R Brakes and Clutch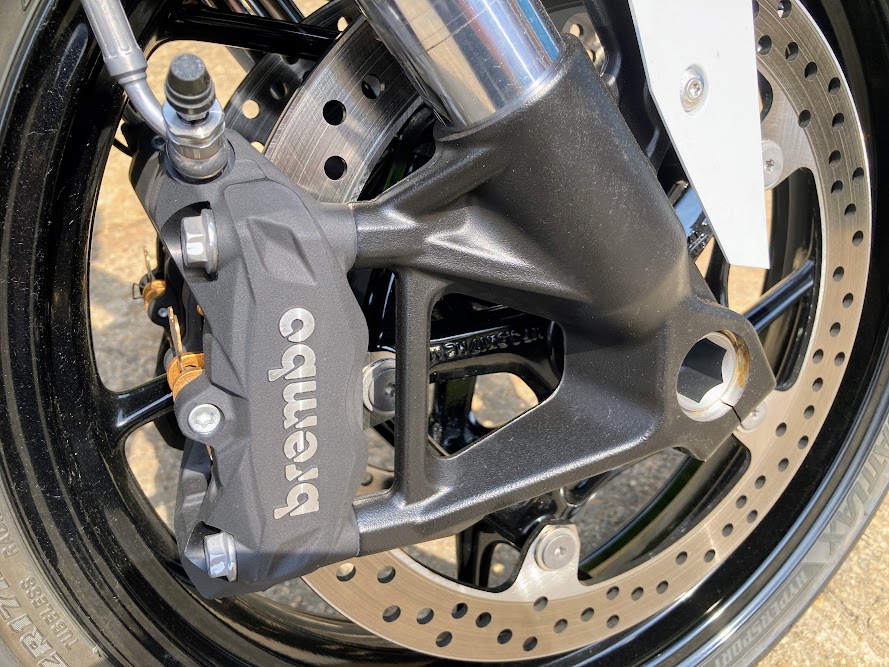 The front brakes are 320mm discs with radial four-piston Brembo calipers with the rear a 265mm disc with single-piston caliper.
Rather than a hydraulic clutch, you will find the F900R has a cable instead and is a slipper clutch. There is a Nissin brake master cylinder. The brakes are responsive to a gentle touch and work brilliantly when someone pulls out on you and you have to anchor up!
BMW F900R for touring?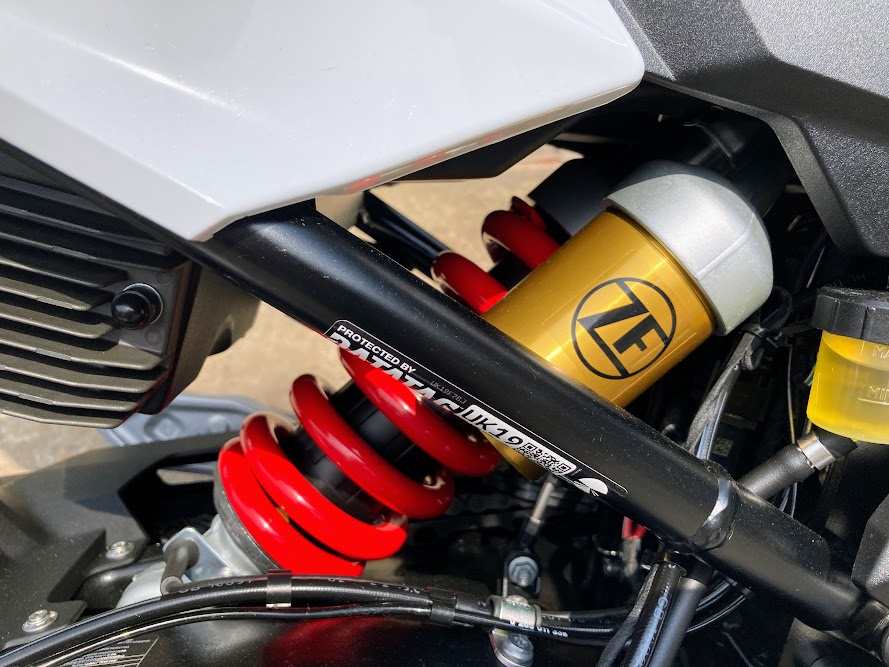 I did find myself saying that I would be quite happy to go touring on F900R. It is a comfortable bike to ride with a great seating position. The 13 L fuel tank is a little on the small side but personally I find when touring, after 90 to 100 miles, you're ready for a stop to stretch the legs and grab a cuppa so for me it would be okay.
An integrated soft luggage system is available too and you may also be able to add a top box. Personally I would use a tail pack and tank bag for touring. The more luggage capacity you have, the more you take with you which, honestly, you just don't need. That could just be me, I tend to travel light 🙂
You could also add a taller screen to the bike but I personally didn't experience any windblast. Besides I really like the styling of the bike as it is.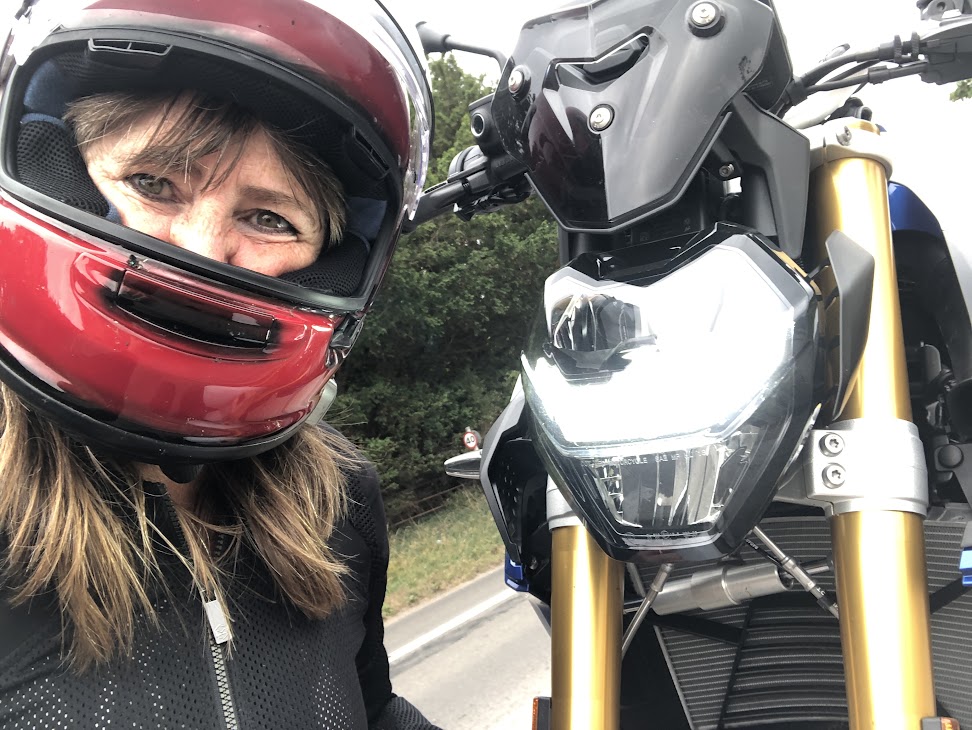 BMW F900R Conclusion
I had a lot of positive comments about the styling of the bike when parked up. It is a pretty bike to look at and when sitting on the bike, you can just feel the quality it has about it.
I have to say I was really impressed with this bike. I really loved the way the bike felt and how the bike made me feel when riding. A lovely, very easy to ride bike with great handling.
Definitely very worthy of consideration for a test ride if you are looking for a bike in this sector. You can add packs to suit your budget and requirements.
Thank you BMW Motorrad UK for the loan of the F900R, it was a real privilege to ride 🙂
BK
https://www.bmw-motorrad.co.uk/en/models/roadster/f900r.html
Here's the link to my YouTube video: