A few months ago I got a set of ACS Custom ear moulds and I thought I would give you an update of how I am getting on with them.
Who are ACS Custom I hear you ask.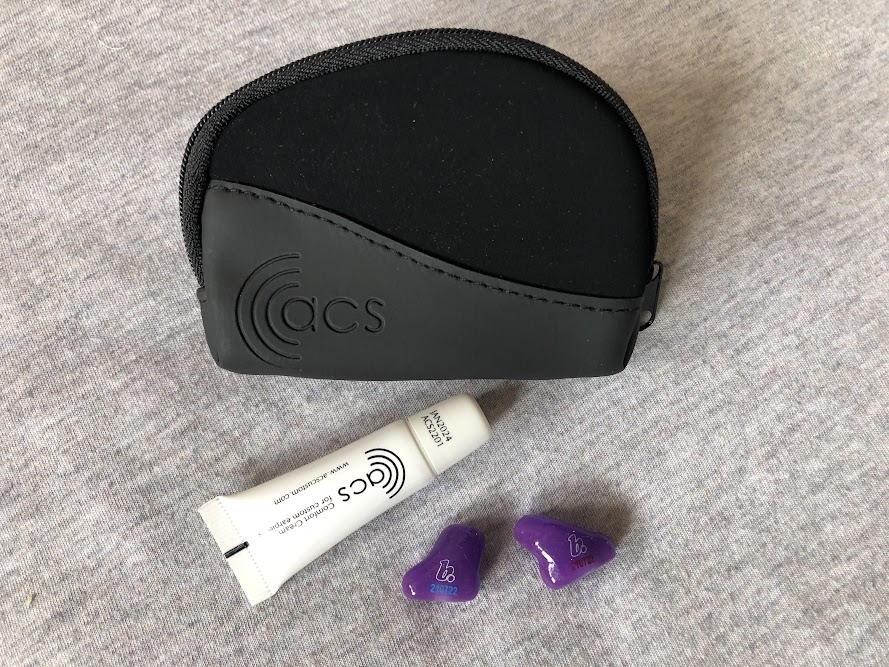 Andy Shiach founded the company. Andy used to be a professional musician but his ears were damaged in the studio when he was just 19 years old and as a result he now has tinnitus which has, unfortunately, stopped him playing music.
Andy needed another career path and trained as an audiologist. In the late 80's Andy found an American company had invented a custom ear mould for musicians which Andy looked into and started making his own custom ear plugs. In the early '90's ACS Custom was formed and the company has grown from there, with their largest customer being the MOD.
In the early '90's, a friend of Andy's, Gary Taylor, was team manager for Suzuki's MotoGP 500 team and ACS supplied ear plugs for the team. This was the start of ACS developing and supplying ear plugs in the motorsport industry.
One of the guys who worked for ACS used to race bikes and Andy ended up running the team for a while which gave Andy and ACS a great insight into what worked, didn't work, needed more development etc in the use of ear plugs in the world of motorsport.
Why do you need to wear ear plugs when riding a motorcycle?
Andy says the longer you ride a motorbike, the more damage you do to your ears. Wind damages hearing on a bike, the faster you ride into the wind, the more damage is done to your ears as the wind gets under the helmet.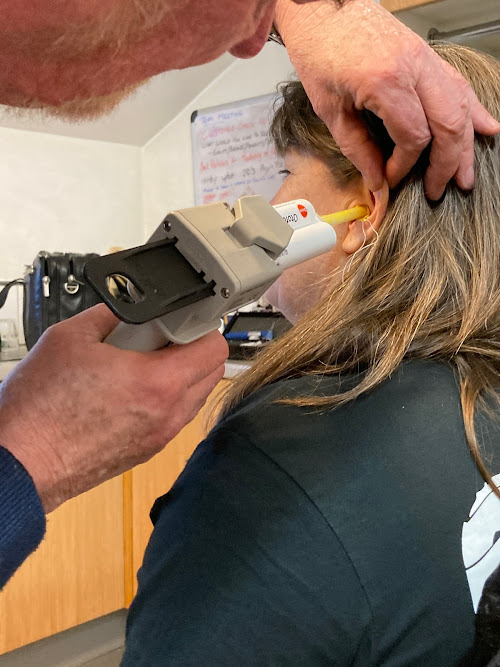 Sound pressure impacts on the nerve cells in your ears, the more sound you are exposed to, the worse your hearing gets. This is an avoidable problem with the use of properly fitting ear plugs.
Custom ear plugs protect your hearing and maintain your awareness when riding a bike and as they are moulded to the shape of your ears, they are really effective. Each ACS ear plug is a one-off item as each customer is completely unique.
How am I finding the ear moulds?
I had a two week European tour booked two weeks after I got my ear moulds so I was eager to get used to wearing the moulds before I went.
As the ear moulds are custom made to my ear shape, I found them very comfortable to wear right from when I picked them up and first put them in. For the first couple of rides with the ear moulds, I knew that I had the moulds in as obviously it did feel very different for me to have something in my ears but I can honestly say now I don't even know they're in my ears.
By the time my European trip came round, I was well used to wearing the moulds. I did a fifteen day tour through seven countries and 2,414 miles. Some of the mileage we did was on motorways and I was so pleased I had the moulds in as this cut down the noise significantly for me.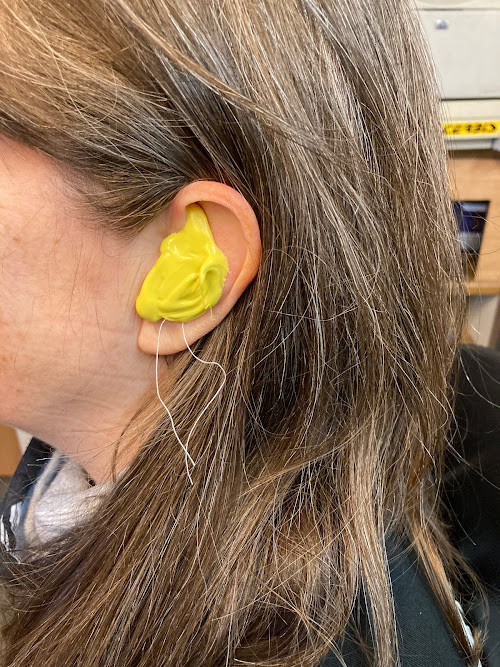 The difference between wearing them and not wearing them now is very noticeable for me in terms of wind noise, so much so that if I'm riding I very quickly realise if I have forgotten to put the moulds in and I will pull over and pop them in.
Putting in my ear moulds are now a part of putting on my motorcycle riding gear. I wear them every time I ride the bike now.
Riding a motorbike I do worry about the effect the wind noise and the noise of the bike itself has on my hearing but knowing that I am doing what I can to help alleviate as much noise as possible does allay some of my worries.
I have an intercom on my helmet that I connect with my o/h so we can communicate when riding. Wearing the moulds do not affect being able to hear my o/h, in fact it has made talking to each other through the intercom much clearer as I assume it takes away the background noise.
When I pop the plugs in, I use a tiny amount of the gel that came with the moulds as that makes them go in easier and stay in place.
How easy is it to get ACS Custom moulds made?
If you are contemplating whether or not to go for ear moulds, Andy will be at BikeStop on Saturday 17th September 2022. Make an appointment to see Andy and have a chat with him and make up your own mind if you think moulds are for you.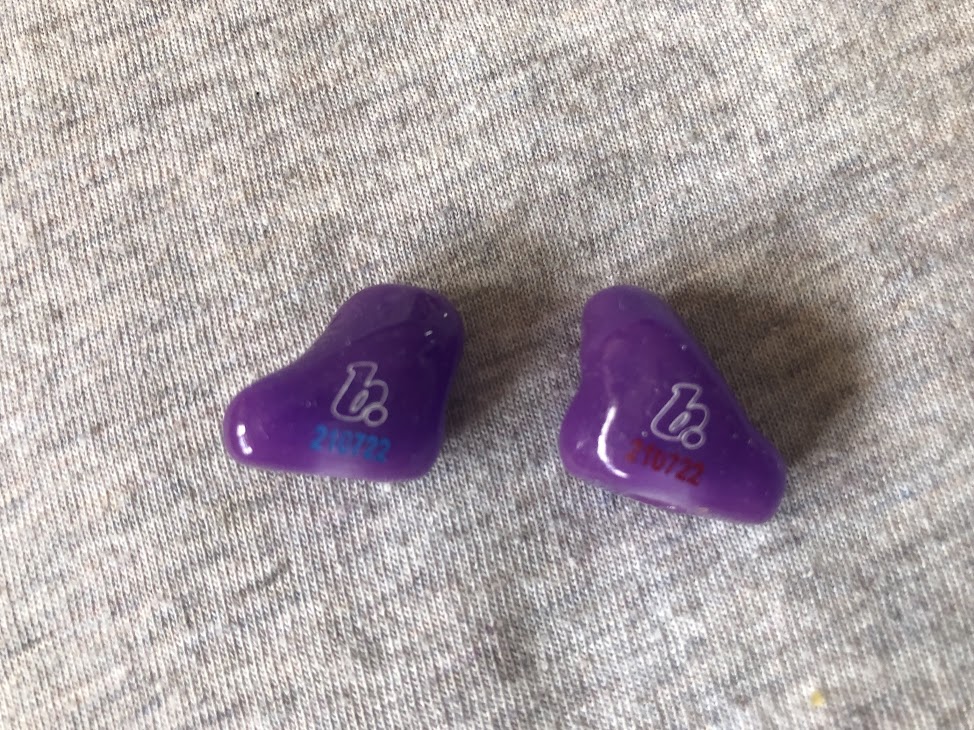 Having the moulds done is incredibly easy. The first thing Andy does is check your ears are okay. A small foam pad is inserted into each ear and then silicone is squirted in. You then sit there for three to four minutes to let the silicone set. The moulds are then removed followed by the foam pad and that's it. Ear plugs are then made using the moulds.
You can choose different colours and some luminous colours are available too – this is great as my o/h and I each have plugs so there is no chance of getting them mixed up. The plugs come in a handy little pouch to keep them safe when not in your ears too.
After a couple of weeks you will get a call to say the plugs are ready to collect. Simple.
If you haven't got ear plugs yet, they are definitely something you should be thinking about, you've only got one set of ears, you need to be looking after them.
BK