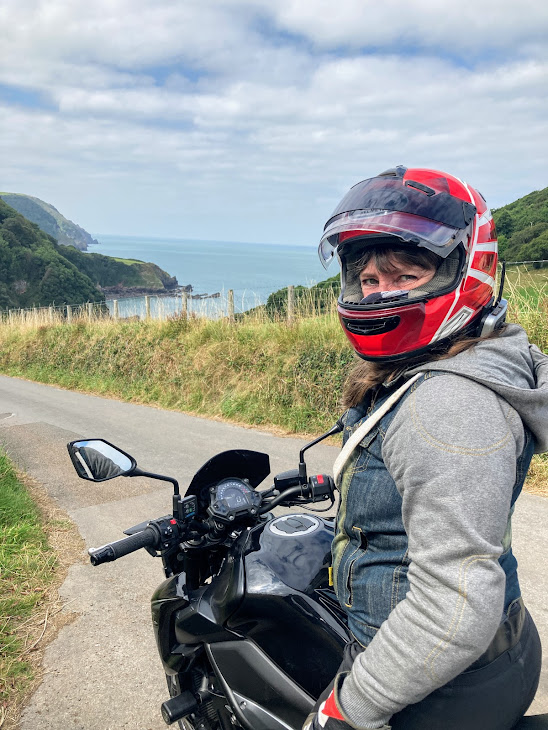 So, like many other people, our trip to Europe on the bike had to be postponed again so we were pondering where to go in the UK. We are very lucky living in the UK in that there are so many beautiful places to visit and having been to Wales earlier in the year, we decided to go down South and found a cottage in West Quantoxhead which is in Somerset.
Having loaded the bikes with our luggage we set off for our holibobs. We couldn't get into the accommodation before 4 in the afternoon so we decided to go a very scenic route and work our way to Somerset on A and B roads.
We headed out to Bicester and picked up the A4095 to Chesterton, through Kirtlington, Enslow and Bladen towards Witney. We were a few miles from Witney when I felt a stinging on my neck which, after twenty minutes or so, the pain and itchiness was really distracting me so we stopped in Witney to see what was happening with my neck.
I can only assume I was stung by something but whatever it was, the sting went through the neck warmer that I was wearing. A large white lump had formed and the surrounding area was all red and incredibly itchy. We decided to grab some breakfast and I took an antihistamine and a couple of paracetamol to try and relieve the sting.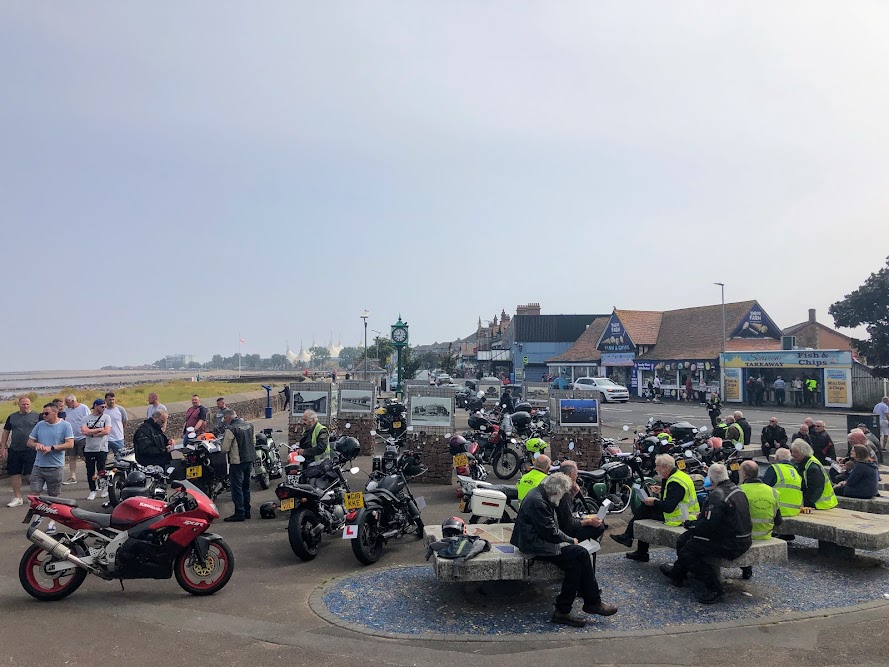 Once the bite had calmed down a little we got back on the bikes and headed out of Witney to pick up the A40 and then joined the A429 towards Cirencester picking up the A350 towards Chippenham, the A4 towards Bath, the A36 out of Bath and then jumped on the A39 which took us all the way to West Quantoxhead. A fuel stop and a couple of extended coffee stops were had on the way and we reached our accommodation just after 4 pm.
After unloading the bikes and settling in we wondered down to the pub which was literally at the end of the road, about a five minute walk away – fantastic planning on my part, I thought!
The following day we had a bit of a chill day and just went for a ride around and ended up in Watchet where we got a sandwich and coffee from the local deli and sat by the harbour savouring both the view and the food.
On the Wednesday we met up in Watchet with a friend who lives in North Devon and headed off to Porlock Weir to find coffee – we found a great little cafe overlooking the harbour and had a delicious Cornish pasty and coffee (no cake this time). After soaking up the view we hopped back on the bikes and rode up Porlock Hill into Lynmouth.
For those of you who have never ridden Porlock Hill, it has some really, really bendy bends! It is the steepest A-road in the UK approaching 1 in 4 (25%) in places and climbs 725 feet (221 m) in just under 1 mile (1.6 km). So really, really steep bendy bends!
The view as you go down into Lynmouth is stunning and we stopped in a layby to take in the view. We parked up in Lynmouth and went in search of a café, wondering in and out of shops along the way.
We'd heard about a place called the Valley of the Rocks which was out through Lynton and decided to check it out so on Friday we headed out through Lynmouth onto Lynton and then to the Valley of the Rocks, parked up and went for a wonder. WoW! The Valley of the Rocks is described as "a dramatic section of coastline on the northern edge of Exmoor". We went for a walk along the path taking in the spectacular views. It was so beautiful here and seemed so peaceful too (that is until we started our bikes!).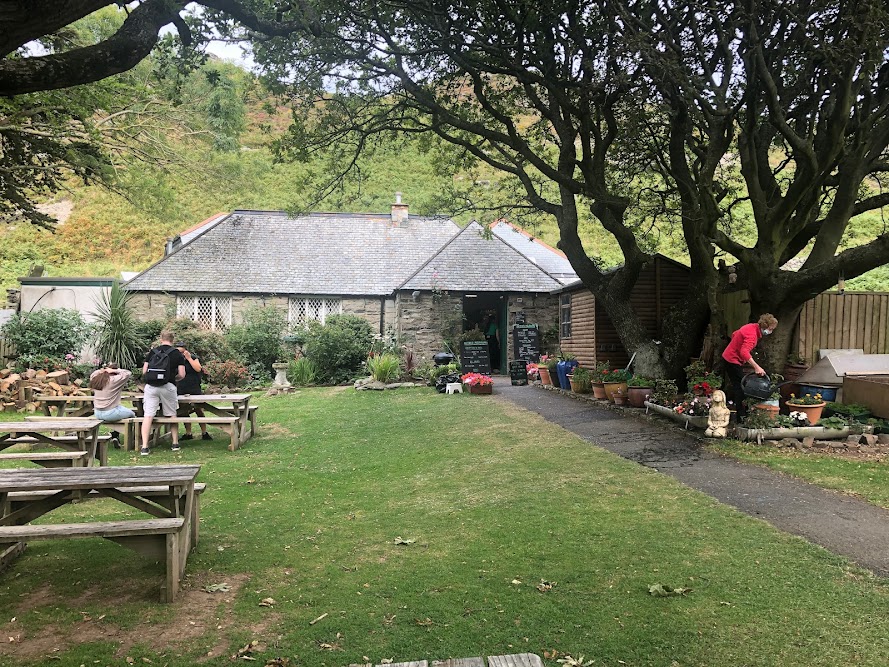 I got chatting (as I do) to a lady sitting on a bench and she mentioned a tea room just by the car park. My ears pricked up at this and so did my pace as I headed to find coffee. Mother Meldrum's Tea Room sat nestled in a courtyard garden and coffee was not all I found – I found pie. Yep, lots of pies! They all looked amazing and I settled for a piece of cherry pie with a dollop of clotted cream. We sat in the sunshine eating the most amazing pie and drinking coffee.
After a while we jumped back on the bikes and followed the coastal road all the way to Coombe Martin passing Lee Abbey on the way. This was a very pretty scenic route, I know it would have been quicker to jump back on the main road but we were in no hurry and it's nice to take in the scenery and explore new roads.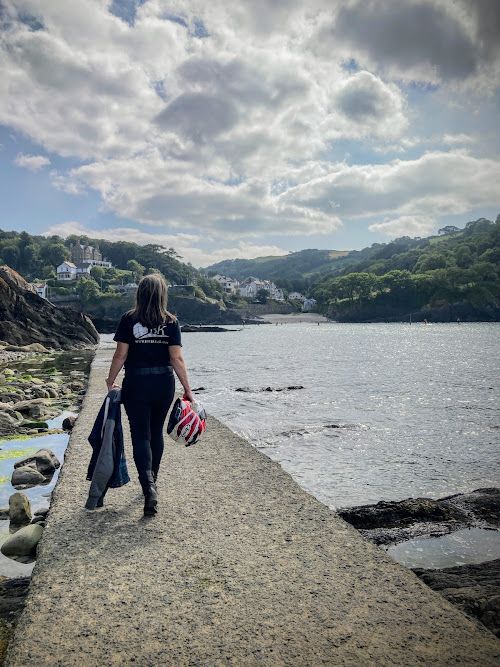 The sun came out when we arrived in Coombe Martin so we sat in the sunshine and had a cuppa (no cake :-() and took a walk along the causeway.
On the way back we stopped at the Lynton & Barnstaple Railway for another cuppa (still no cake :-() and then took the toll road out of Lynton. The toll road is a parallel road to Porlock Hill which travels the same route but at an easier gradient. There are some really, really bendy bends but just not as steep as Porlock Hill!!
The following day we met up with our friend again and rode to Crediton to the Union Road Moto Velo which is a bike shop with a café and workshop too. I met the lady who owns the shop with her father and had a look around the workshop – they have such an interesting selection of bikes, clothing and memorabilia to look at. We sat outside in the sunshine drinking coffee and eating cake 🙂 Perfect.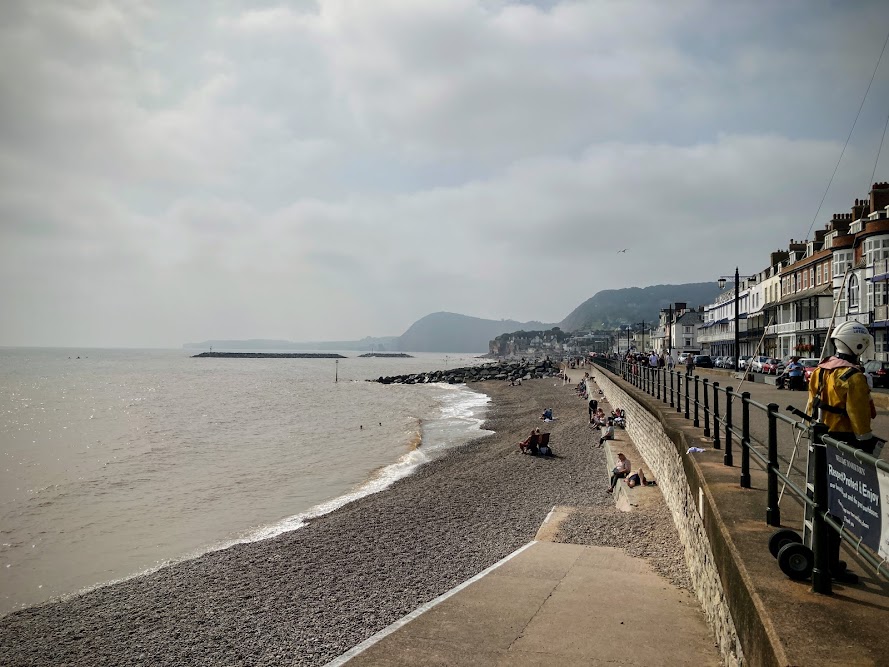 After drooling over the bikes and chatting to the bikers who were there we headed to Sidmouth. I've never been here before, it was a good ride and we parked up on the promenade and went for a wander. The sun was still shining and we found a café for a cuppa. What a great day. It seems I have lots of cuppa's!
We had a lazy day on the Sunday and headed to the local pub for a scrumptious Sunday lunch.
I got chatting again (I seem to do this a lot) to a local biker and she suggested we head out of Dunster, follow the signs for Luxborough and then follow the road all the way until we come to a T junction and turn left onto the B5224 which takes you all the way to Lynton.
So on the Monday we did just that. The roads to Luxborough were very narrow, tight and twisty but when we got on the B road, it was soooo worth it. It was a fantastic flowing road which takes you over the moors offering beautiful views – we stopped to take a pic and soak up the views.
The following day the sun was shining and we headed back to Porlock Weir and sat in the sunshine eating cake (I was craving cake – I hadn't had any cake for a couple of days – honest!) Although the beach there is stoney, we went for a walk and sat on the beach for a while. It's so beautiful there and the cake is so scrummy – definitely worth a visit guys 🙂
Wednesday was our last day. We headed into Watchet to get some breakfast and I was chatting to the lady in the bakers (as you do) and I asked her if she knew of a nice ride with cake at the end of it and she suggested riding to Kilve and heading down to the beach where we would find a café which does lovely cake.
So after breakfast we hopped on the bikes and headed for Kilve and followed the signs for the beach which took us down narrow roads and to a café called The Chantry. Not only was it a good ride there but the cake was so scrummy, I really wanted another piece but I was good! You see, it's good to talk to people, I wouldn't have known about this place otherwise. This café is definitely on my got to come back too list 🙂
So the end of my holibobs came all too soon but I had a great time, found some fantastic roads, chatted with some really interesting people and had lots of cake. Perfect.
BK
Thank you for reading my post, I hope you enjoyed it. Please subscribe by email, just enter your email on the right.
If you could please share my blog that would be great – thank you.