This weekend is Round 14 of the Moto2 Championship which is being held at Misano. Here's what Triumph Motorcycles have to say ahead of the weekend 🙂
Grand Prix of Aragon
Steve Sargent, Chief Product Officer, Triumph Motorcycles: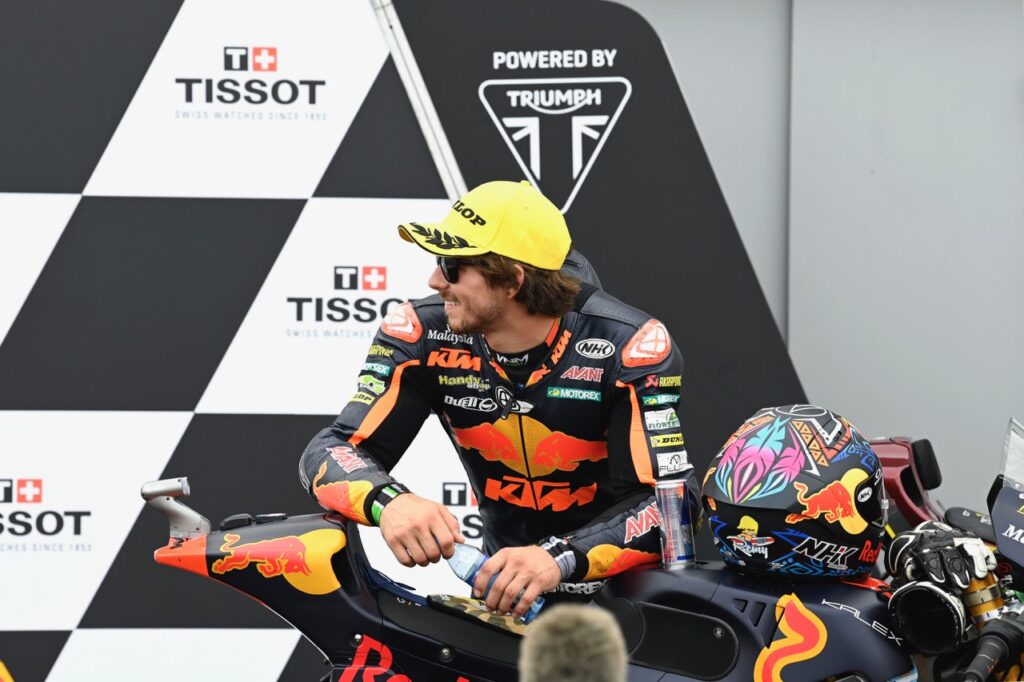 "Congratulations to Raul and Remy again for another 1-2 finish last weekend as it's very definitely becoming a two-horse race for the title, and also congratulations to the whole of Aki Ajo's team for sealing the Moto2 Teams' World Championship title with five rounds remaining. It was a real shame for Sam as he once again at Aragon looked dominant with pole and the early lead but crashed on lap 13 whilst chasing Raul. Augusto Fernandez delivered an impressive race to climb from 12th on the grid to finish 3rd for his fourth podium in the last five races."
It wasn't quite a lights-to-flag victory for Raul Fernandez as he started third on the grid, but by the first lap he was 2nd and he took the lead on lap 4, then rode to a comprehensive victory with a margin of 5.4sec, in part because of Sam Lowes' crash whilst chasing in second
Aragon was Sam's fifth pole position of the season. Raul has 4 poles, and Remy three from 2021. These three share 12 of the 13 poles of this season, with the other pole-sitter being Marco Bezzecchi at the British GP
Upcoming race
Last year Misano hosted a back-to-back pair of races, the second of which was interrupted by a red flag after a significant downpour six laps into the race with the field all on slicks. The restart was further delayed by 15minutes as the rain intensified
Enea Bastianini held his nerve to finish at the front of both race parts, taking the victory ahead of Bezzecchi and Lowes
Of the current field, Bastianini, Marini, Bezzecchi, Lowes, A Fernandez, Di Giannantonio, Schrotter, Luthi and Syahrin have all stood on the podium in Moto2 in recent years
Triumph Triple Trophy #PoweredbyTriumph With five races remaining, Sam Lowes has closed to just six points away from current Triumph Triple Trophy leader Raul Fernandez, so that custom Street Triple RS is very much to play for.
About the Triumph Triple Trophy #PoweredbyTriumph
The Triumph Triple Trophy #PoweredbyTriumph runs alongside the Moto2 World Championship in 2021, recognising that there are more stories of success from a GP than simply the race win, and will award one rider with a Street Triple RS at the end of the season
Points will be awarded to the rider (or multiple riders in the case of a tie):
Fastest top speed: 7 points for the fastest rider / riders in case of a tie
Pole position: 6 points for the rider starting from pole
Fastest race lap: 5 points for the fastest rider / riders in case of a tie
The Triumph Moto2™ 765cc race engine is a development of the class-leading Street Triple RS 765cc road motorcycle and produces more than 140PS and the same visceral soundtrack.
2021 Moto2 World Championship top ten:
| | | | | | | |
| --- | --- | --- | --- | --- | --- | --- |
| Pos | Race # | Rider | Chassis | Engine | Nation | Points |
| 1 | 87 | R. Gardner | Kalex | Triumph 765cc | AUS | 251 |
| 2 | 25 | R. Fernandez | Kalex | Triumph 765cc | SPA | 212 |
| 3 | 72 | M. Bezzecchi | Kalex | Triumph 765cc | ITA | 179 |
| 4 | 22 | S. Lowes | Kalex | Triumph 765cc | GBR | 127 |
| 6 | 37 | A. Fernandez | Kalex | Triumph 765cc | SPA | 108 |
| 5 | 44 | A. Canet | Boscoscuro | Triumph 765cc | SPA | 103 |
| 7 | 21 | F. Di Giannantonio | Kalex | Triumph 765cc | ITA | 101 |
| 8 | 79 | A. Ogura | Kalex | Triumph 765cc | JPN | 95 |
| 9 | 23 | M. Schrotter | Kalex | Triumph 765cc | GER | 80 |
| 10 | 9 | J. Navarro | Boscoscuro | Triumph 765cc | SPA | 71 |
2021 top ten standings – Triumph Triple Trophy #PoweredbyTriumph:
| | | | | | |
| --- | --- | --- | --- | --- | --- |
| Pos | Race # | Rider | Nation | Points | Team |
| 1 | 25 | R. Fernandez | SPA | 51 | Red Bull KTM Ajo |
| 2 | 22 | S. Lowes | GBR | 45 | Elf Marc VDS Racing Team |
| 3 | 87 | R. Gardner | AUS | 33 | Red Bull KTM Ajo |
| 4 | 42 | M. Ramirez | SPA | 28 | American Racing |
| – | 40 | H. Garzo | SPA | 28 | Flexbox HP40 |
| 6 | 72 | M. Bezzecchi | ITA | 20 | SKY Racing Team VR46 |
| 7 | 19 | L. Dalla Porta | ITA | 14 | Italtrans Racing Team |
| – | 13 | C. Vietti | ITA | 14 | SKY Racing Team VR46 |
| 9 | 35 | S. Chantra | THA | 12 | IDEMITSU Honda Team Asia |
| 10 | 6 | C. Beaubier | USA | 7 | American Racing |
2021 Moto2 calendar:
| | | | | | |
| --- | --- | --- | --- | --- | --- |
| | Date | Race | | Date | Race |
| 1 | 28 Mar | GP of Qatar, Losail | 10 | 8 Aug | GP of Styria, Red Bull Ring |
| 2 | 4 Apr | GP of Doha, Losail | 11 | 15 Aug | GP of Austria, Red Bull Ring |
| 3 | 18 Apr | GP of Portugal, Algarve | 12 | 29 Aug | GP of Britain, Silverstone |
| 4 | 2 May | GP of Spain, Jerez | 13 | 12 Sept | GP of Aragon, Aragon |
| 5 | 16 May | GP of France, Le Mans | 14 | 19 Sept | GP of San Marino, Misano |
| 6 | 30 May | GP of Italy, Mugello | 15 | 3 Oct | GP of Americas, COTA |
| 7 | 6 Jun | GP of Catalunya, Barcelona | 16 | 24 Oct | GP of Misano, Misano |
| 8 | 20 Jun | GP of Germany, Sachsenring | 17 | 7 Nov | GP of Algarve |
| 9 | 27 Jun | TT Assen, Assen | 18 | 14 Nov | GP of Valencia, Valencia |