I had the privilege of having a Speed Triple RS on loan from Triumph Motorcycles for 3 weeks and wow, what a privilege that was.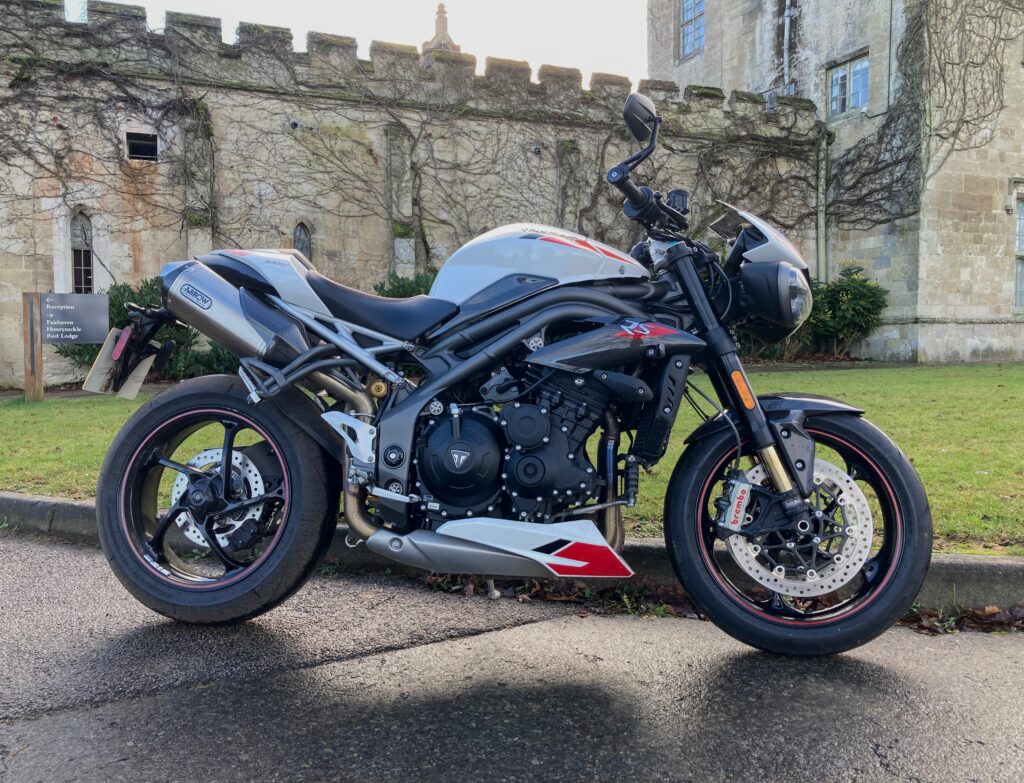 I'm going to get techy with you early on here – the RS is a 1050cc liquid-cooled, 12 valve, DOHC, in-line 3-cylinder bike. It has twin Arrow titanium sports silencers with carbon fibre heat shields and end caps (which, by the way, look awesome), adjustable Ohlins and Brembo brakes, a colour coded belly pan and pillion seat cowl, a carbon fibre front mudguard and radiator cowls.
The bike itself looks stylish and I immediately had a smile on my face just looking at the bike – it seemed every time I looked at it, I would see something else that caught my eye. The single sided swing arm styling looks fantastic as always.
Now you have to bear in mind that I had the Speed over Christmas so we are talking cold, damp, wet days and on my first ride out it had just stopped raining so the roads were very wet but I was eager to get out and see for myself what the Speed was like.
Weight wise, the Speed is very similar in weight, I would say, to my CB1000R and both bikes are heavier than my Z900. I started the bike and could feel myself grinning at the sweet sound of the triple engine and the Arrow cans. Handling wise I would say it is very similar to my CB which is smooth, easy to ride and responsive.
I was impressed by the 5" tft screen, it is really easy to read with six screen settings to choose from. I also like the fact that all the controls are illuminated at night. This bike has five riding modes – road, rain, sport, rider and track (which has a timer) and as the roads were wet and there was the possibility of more rain, I put the bike into rain mode. Navigating the modes was easy (I know, I surprised myself that I didn't have to get my teenage son to do it for me!)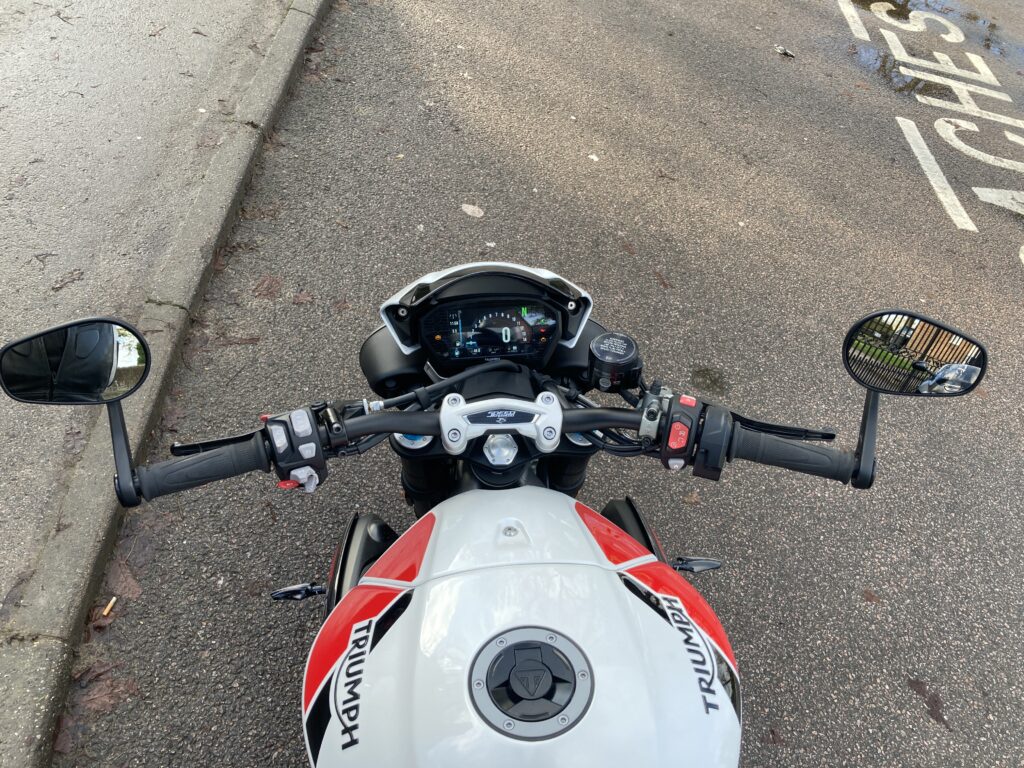 There is also cruise control, switchable ABS and traction control available at my fingertips and, something which I thought was a brilliant idea, a USB charging point.
So once I had finished setting the bike up, off I went. I've got to say, the bike does sound glorious, something which I don't think I would get tired of hearing especially when pulling away and you give it that little bit of extra throttle!
So having progressed out of the town and onto more open roads, I started to open the bike up a little. Coming with Ohlins suspension I did wonder if the ride would be a little harsh but was very pleasantly surprised to find how comfortable the ride was. Whilst I am sure you can stiffen it up, it was set up perfectly for me and our normal bumpy roads.
The tyres were not liking the road conditions and I could feel the back wheel twitching. The RS comes with Pirelli Diablo Supercorsa tyres which, having done some research, are a track day competition tyre which Pirelli describe as street legal racing tyres. They have really good feedback when road conditions are warm and dry but not so good in the cold and damp!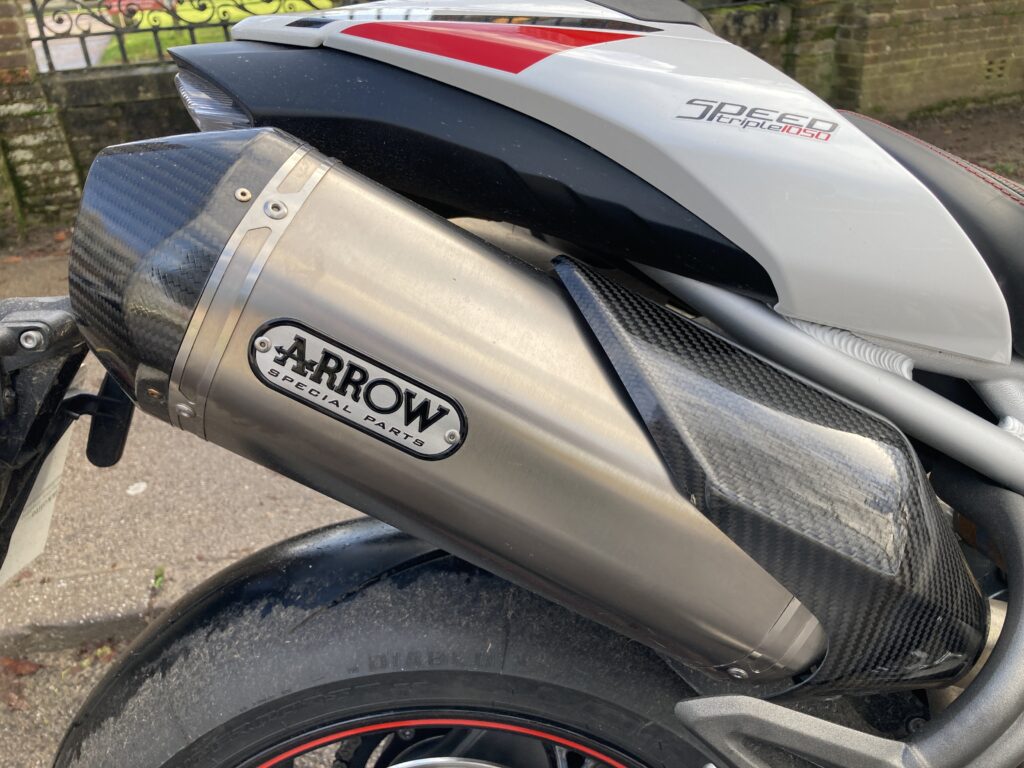 Once I had adjusted to riding on these tyres and worked out how I could ride the bike safely whilst getting the most out of the bike, I was starting to relax and settle myself into the bike.
The next day although it was still cold the roads were dry, so I went for a much longer ride. Oh boy, I was really liking the bike now. The Speed is so easy to ride and extremely comfortable, you sit in the bike rather than on it and I really liked the position of the bars. I am 5'6" and I found the height of the bike good, my feet were not flat on the floor by any stretch but I was not on tip toes either.
The RS has bar end mirrors which were excellent for visibility and I really loved the combination of the sound of the engine and the exhausts when you opened it up, I could feel myself grinning from ear to ear under my crash helmet!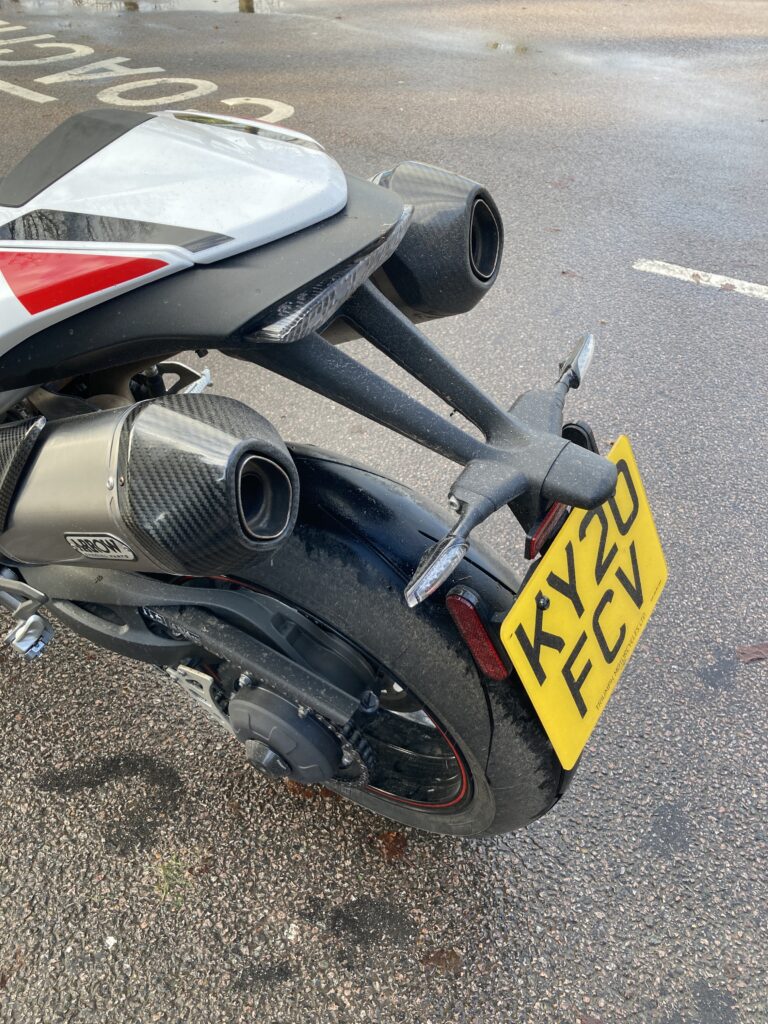 I really like the brake reservoir too, thought that was really stylish and soooo much better than the usual plastic ones that can been seen on a lot of bikes. The RS also has Triumph crash bungs which look neat and form part of the styling of the bike, a great idea as I like to fit crash bungs to all my bikes. Whilst these may not do a great deal if you come off at speed, they can certainly make a difference if the bike falls over, say, in the garage.
Over the next three weeks I went out on the Speed at every opportunity and I was really taken with it, the RS is such a pleasure to ride and I was beginning the dread the day the bike was going back to Triumph as I knew I was going to miss it.
If I were buying the Speed Triple RS my first purchase would have to be a set of more all round tyres. I ride all year round and on my Z and CB I have Michelin Road 5 tyres which I find suit my riding style and are suitable for year round riding. I know tyres are very personal and once you find a tyre that suits your riding and budget, you do tend to stick with it.
If I had the money and space I wouldn't mind a set of the Pirelli Supercorsas to fit on the bike in the summer as I think it would be really interesting to see what they are like to ride on in the conditions for which they are intended.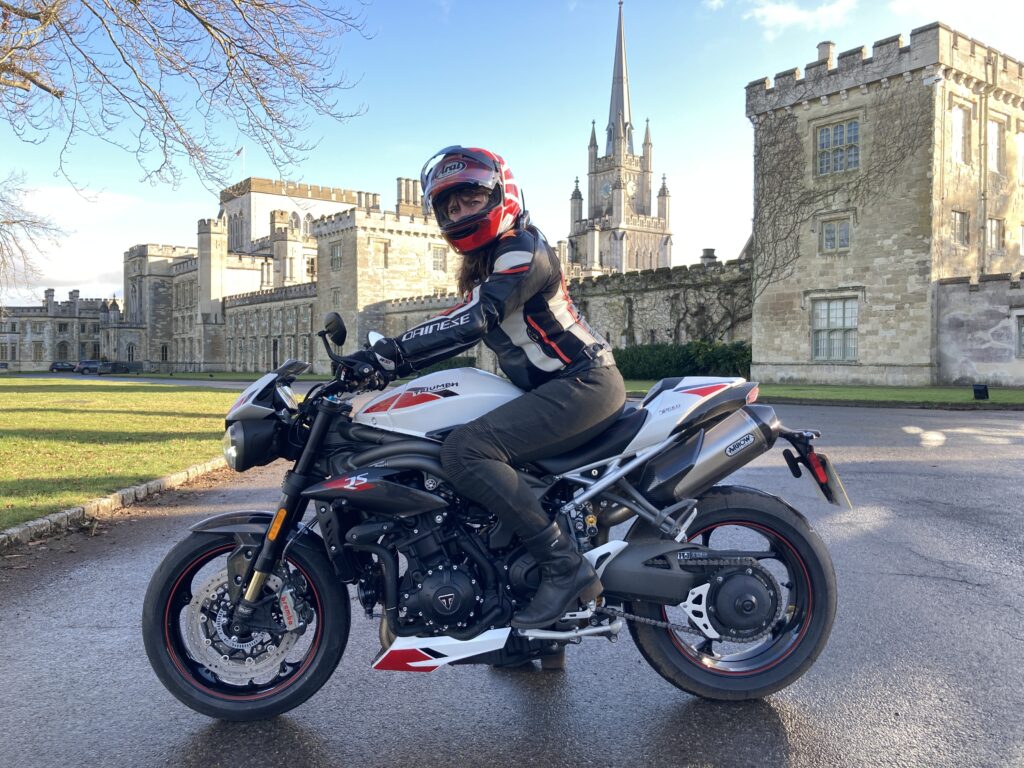 My second purchase would be a tail tidy but again, that is personal choice, some people might like the back end of the bike as it is. I understand it is a legal requirement for the number plate to be the rear most part when the bike is sold but I think a tail tidy would be a great addition.
Other than that I wouldn't change anything on the bike, I love it as it is and it was a sad day when I had to give the Speed Triple back 🙁
Thank you Triumph for the loan of the Speed Triple RS, it was a privilege to ride 🙂
BK