Specs
Manufacturer: Roadskin
Price: (When Tested) £180
Made In: UK
Colors: Blue
Sizes: 8, 10, 12, 14, 16, 18 in three lengths:
Petite: 27"/68 cms; Regular: 29"/73cms; Long: 31"/78cms
Level 2 knee and hip armour (supplied)
AAA rated
Single layer
Mesh lining
Roadskin Elite ladies motorcycle jeans are a single layer AAA rated (tested by SATRA Technology Centre in the UK) triple stitched motorcycle jean which come with both hip and knee protectors as standard.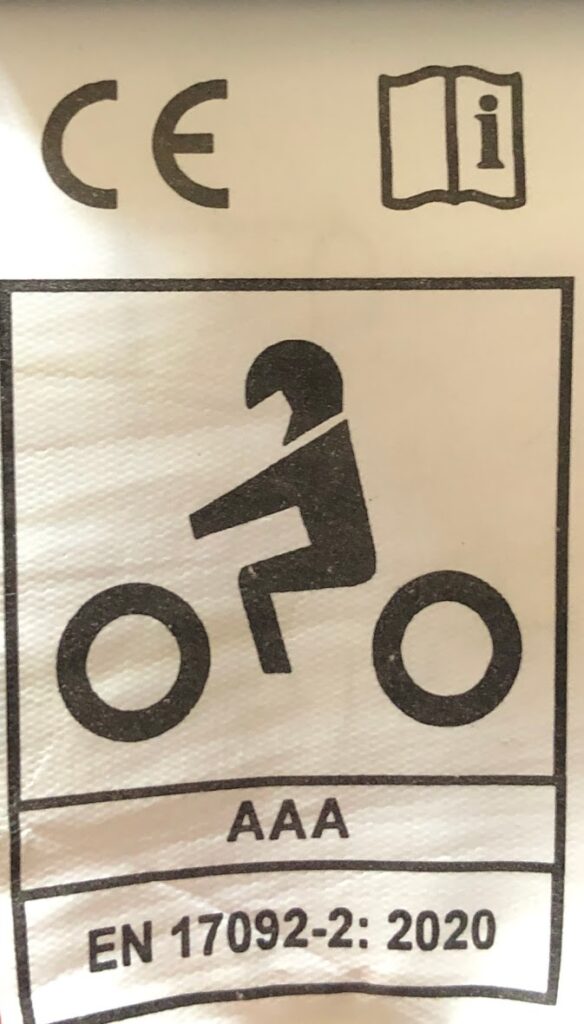 The jeans are made up of a combination of materials (48% Cotton, 26.8% Kevlar®, 19.4% PE, 3.2% Cordura, 2.6% Lycra) which makes them comfortable to wear with the perfect amount of stretch to them.
So who are Roadskin?
Roadskin are a small family run business owned by Ian and Nicky who both have an extensive history with motorbike riding and offer a wealth of experience which goes into the design and manufacturing of their clothing.
The inspiration for Roadskin came about when they realised they could make premium, high-quality clothing that is fit for function, safety, style and comfort that were tougher than the rest on the market that could be delivered directly to customers at low prices.
I first met Ian and Nicky at the NEC bike show a couple of years ago and found them to be very approachable, friendly and extremely knowledgeable of their product.
First Impressions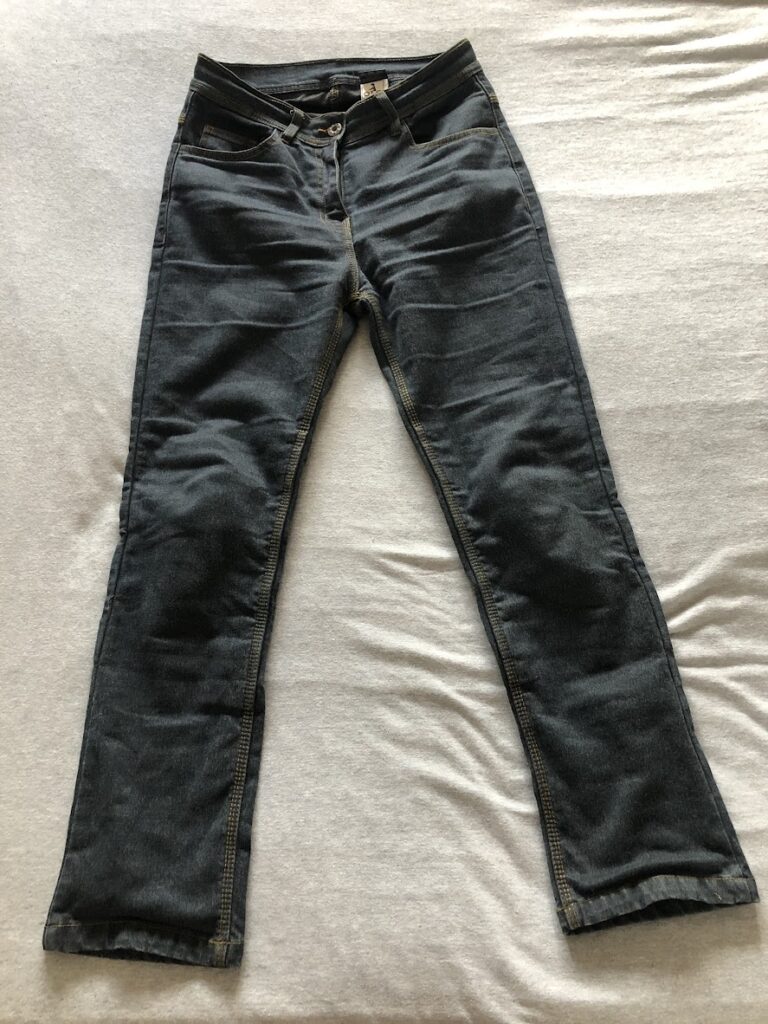 When the jeans arrived, they came in a Roadskin branded handy canvas bag which I thought was a nice touch.
The jeans have a really nice quality feel to them and come in dark blue. They look just like an ordinary pair of jeans although they do feel slightly thicker. It is hard to believe they are kevlar motorcycle jeans.
The Kevlar fibres are weaved into premium denim thus meaning you do not need a separate layer of kevlar inside the jean. The lining in the jeans is made from a special soft mesh that not only helps keep you cool in summer, but also protects your skin during the initial impact if you are involved in an accident.
When I first tried the jeans on, I could feel they had stretch and loved how they molded to the shape of my body. Very comfortable indeed.
Styling
I like the styling of the legs which are described by Roadskin as a slim to straight leg cut. I think the jeans sit just nicely on my legs, not too tight or loose!
A nice little touch is the way the jeans have a slightly outward tapered cut at the bottom of the leg which has been designed this way so that they will fit comfortably over your motorcycle boots. It is the little attention to details that really make these jeans so nice to wear.
What is really great about these jeans is the waistband which is slighter higher at the back meaning that when you are riding, you shouldn't get that draft up your back as with some of the jeans on the market!
Riding in the jeans
So what are these jeans like when riding a bike? Because of the stretch material in the jeans, they are incredibly comfortable to wear riding and also when parked up for walking around in. They really are just like wearing a normal pair of jeans. They do not feel heavy as you would expect for a pair of kevlar jeans and you really don't notice the armour.
As well as on the bike, these jeans can be worn off the bike as they are smart looking. Normally if I ride into work I take a change of clothes, but with these jeans they double up nicely as a smart pair of trousers.
These jeans are also great for touring as you do not need to take a separate pair of jeans for going to the pub in the evening thus cutting down on your luggage leaving more space for those unexpected purchases, in my case it was a pair of boots 😆
Pockets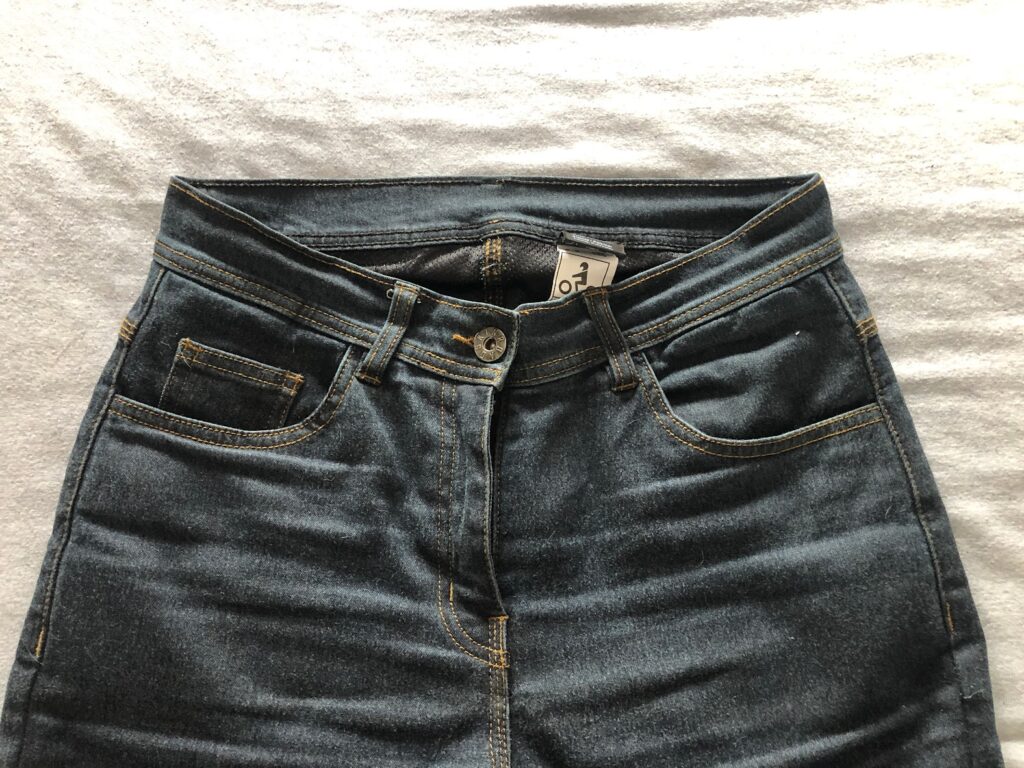 There are five pockets in total as is standard with a pair of jeans. The two pockets on the rear have the Roadskin angel wing motif detailing.
The four main pockets are nice and deep. I don't know what the fifth very much smaller pocket is on the inside of one of the front pockets. They appear on most jeans and even after all these years, I still don't know what it's for 😂
Branding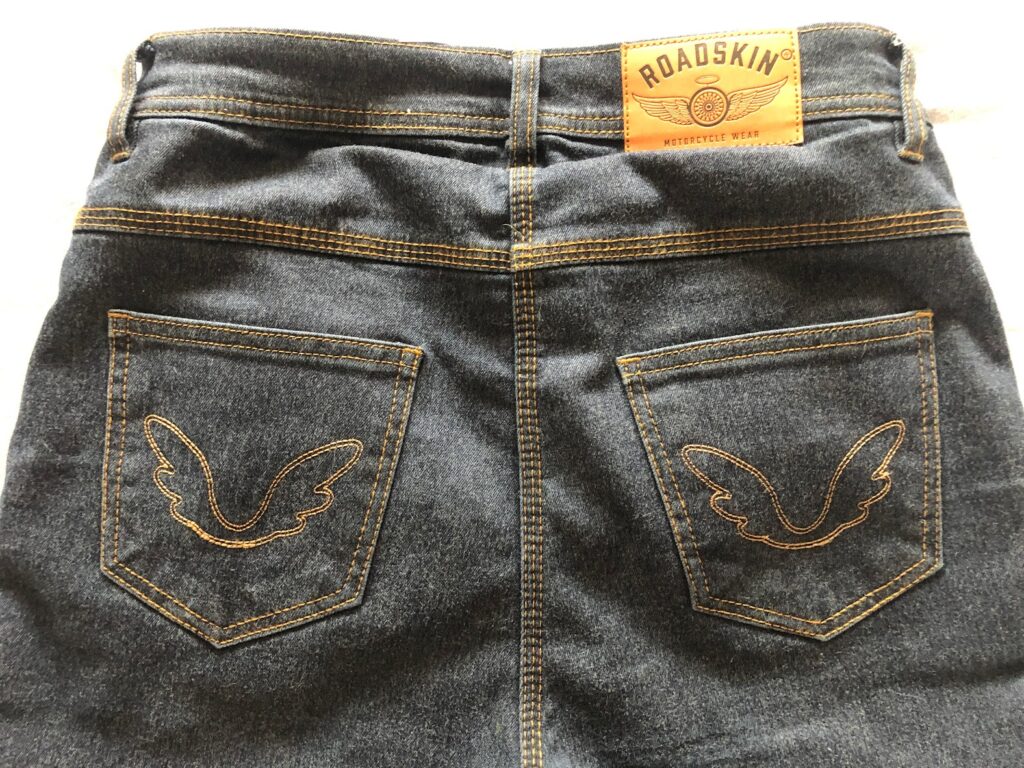 There is Roadskin branding on the back of the waistband. On the two back pockets is the Roadskin angel wing motif detailing.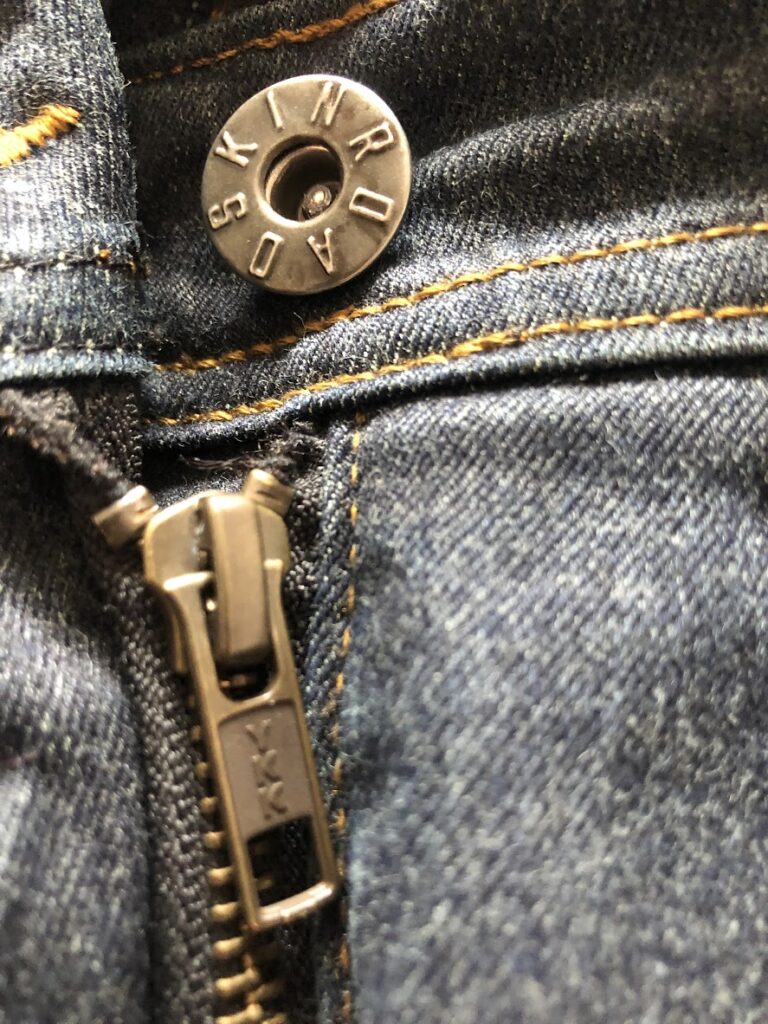 The fly button is Roadskin branded and the fly zip is YKK.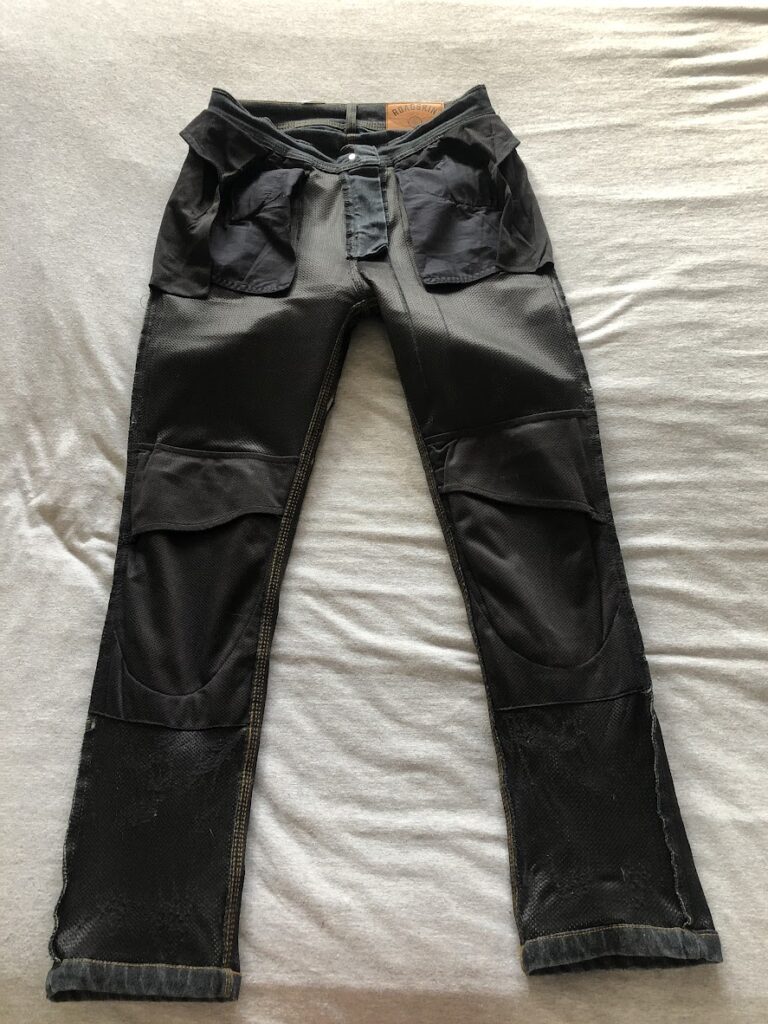 Comfort
The mesh fabric on the inside of the jeans allows flexibility whilst being worn which in turn gives you maximum comfort and air flow to keep you cool.
The stretch element makes them comfortable to wear and the higher back prevents the jeans from riding down when sat on the bike.
Sizing
The jeans come in 6 sizes: 8, 10, 12, 14, 16, 18 and in three lengths: Petite: 27"/68 cms; Regular: 29"/73cms; Long: 31"/78cms.
I would suggest using the chart function on the website to help determine sizing.
I had to go the next size up in these jeans.
Loops
The jeans have belt loops around the waist so you can wear a connector belt to enable you to attach a jacket to the jeans.
The Roadskin Armoured Hoodie can also be attached to the belt loops with its attached belt loops to keep the hoodie in place.
Protection and CE Rating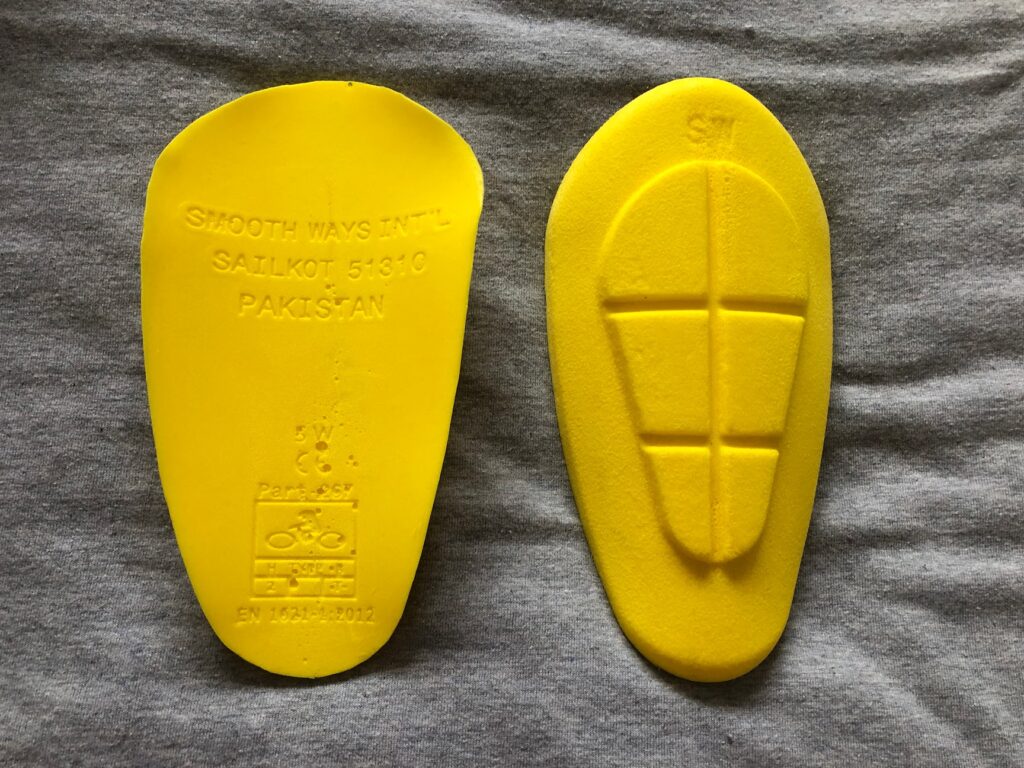 The armour in both the knees and hips are removable which us great for when you want to wash the jeans.
The label clearly states that the armour should be removed before washing to prevent damage to the protectors' structure and consequent loss of protection.
Care Instructions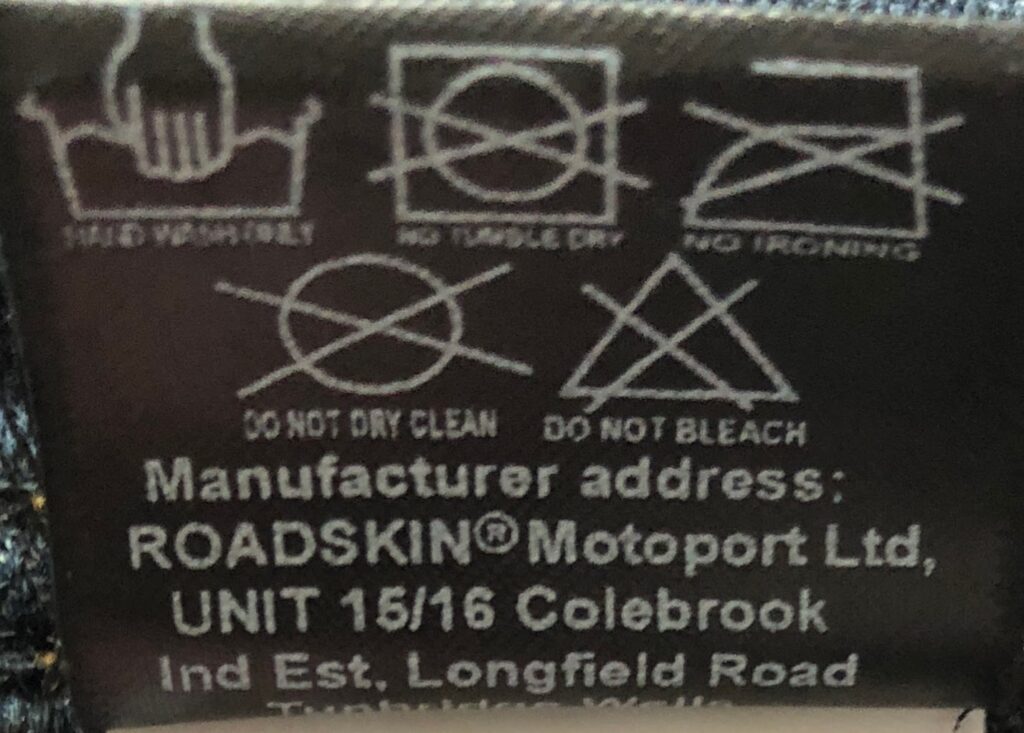 What is great about these jeans is you can take the armour out and hand wash them to keep them clean and smelling nice.
The label says not to put the jeans into a tumble dryer. Personally, I always dry all of my bike trousers on the back of a chair, I never put them in a tumble dryer even if the label says you can.
Conclusion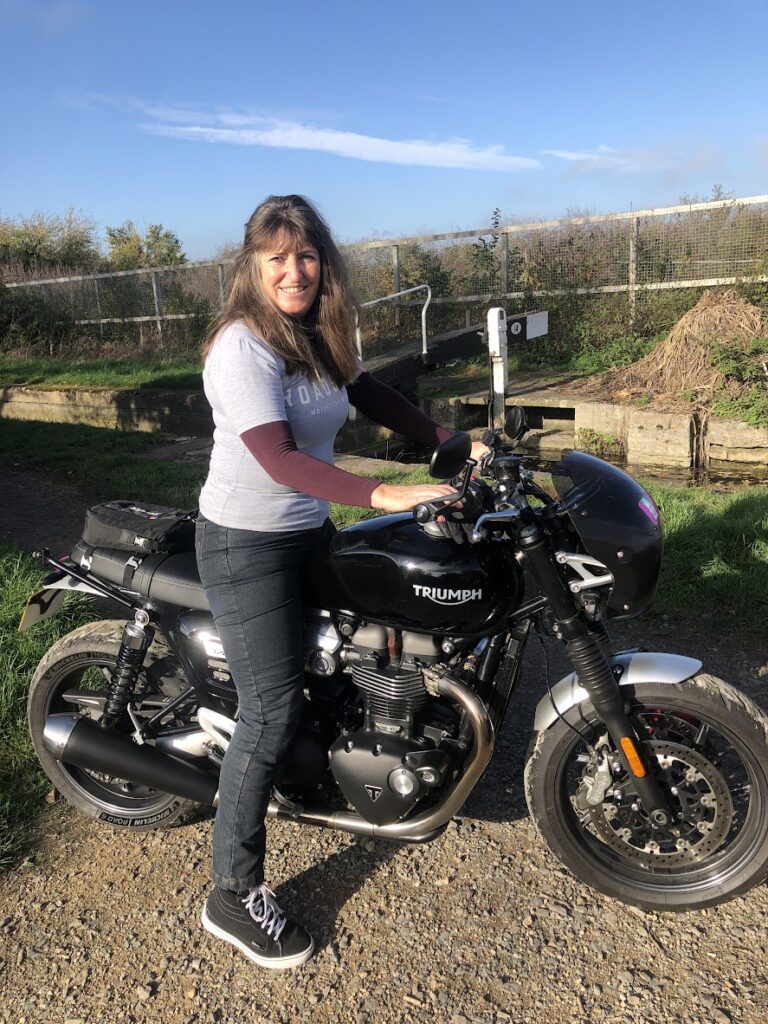 I am really impressed with these jeans. I love how they feel and the fact that they pretty much feel like a normal pair of jeans but the level of protection they offer when riding my bike is brilliant.
They are perfect for riding to work or touring, doubling up as a smart pair of jeans.
You can see that Ian and Nicky have used their years of biking knowledge and experience to design a pair of motorcycle jeans that offer you safety when riding but that are also stylish and comfortable.
I think at £180 these jeans are great value for money and a brilliant addition to your motorbike wardrobe.
BK