Whoo hoo 🤩 Holibobs time 🤩🤩🤩
So, thirteen of us, yes, 13, descended on Llanberis in North Wales for six days. We had a mix of ages ranging from 19 to 72 years and a great selection of bikes to go with it.
The Plan
We had decided to avoid motorways on our journey to Wales and as there was a big group of us, we had two stops along the way to allow for us to re-group if we got separated. 
One of the guys was coming from Cumbria so he would meet us at Llanberis. 
The total estimated mileage was 223 miles; 6 hours.
Our first stop would be the Long Itch Diner at Southam for breakfast, approx 1.5 hours.
Second stop was the Ponderosa Cafe on the Horseshoe Pass in Llangollen for a late lunch, approx 3 hours.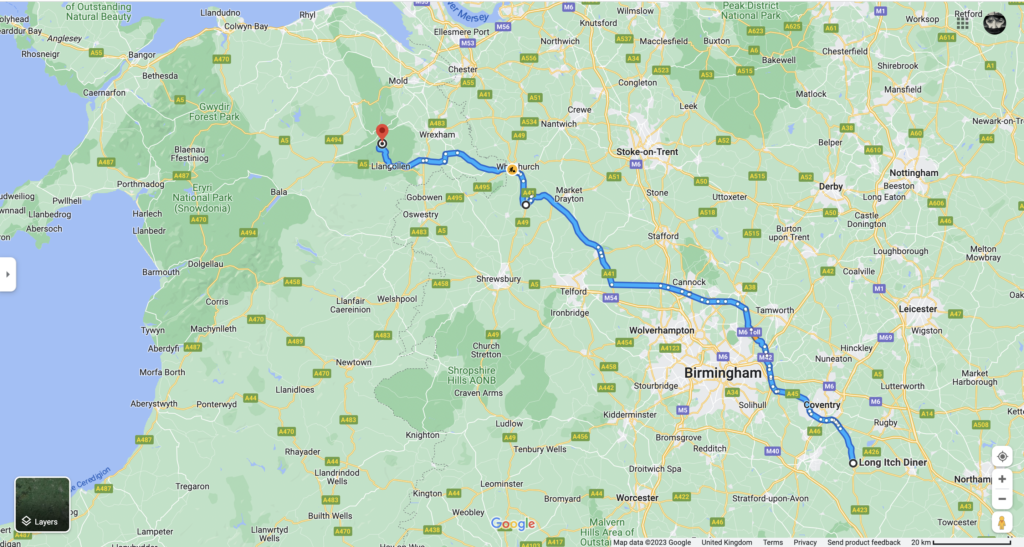 Then onto our accommodation in Llanberis, approx 1.5 hours.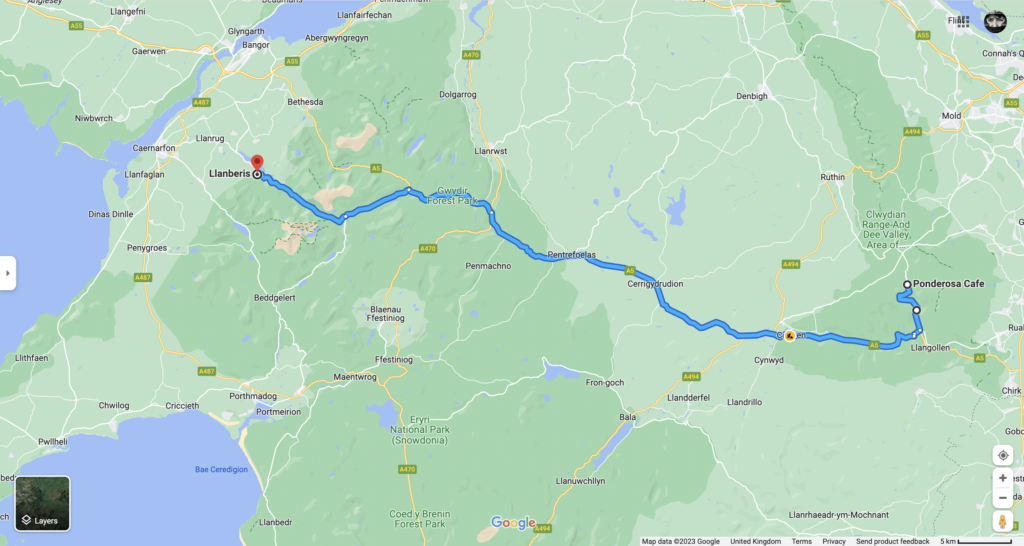 Day 1
Eight of us met at our local fuel station at 7.45 in the morning, fuelled up, and set off at 8 o'clock.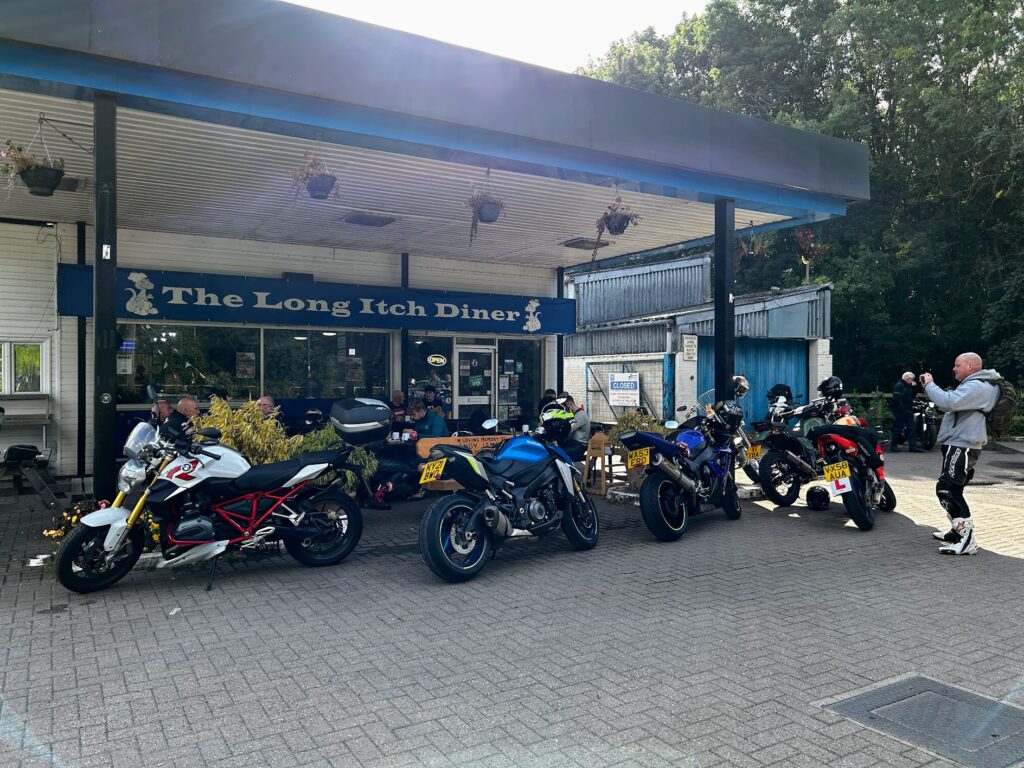 The young lads had a bit of trouble getting up in time and would meet us at the Long Itch cafe except for one of them who had been working on his bike all night and needed to get some sleep before riding, he would meet us at the Ponderosa cafe.
We had a good ride to the Long Itch, I had never been here before, great food and quite a few bikes to look at and bikers to chat too. Just perfect for me.
We then headed on to our next stop, the Ponderosa cafe. This was about a 3 hour ride so a fuel stop would definitely be needed.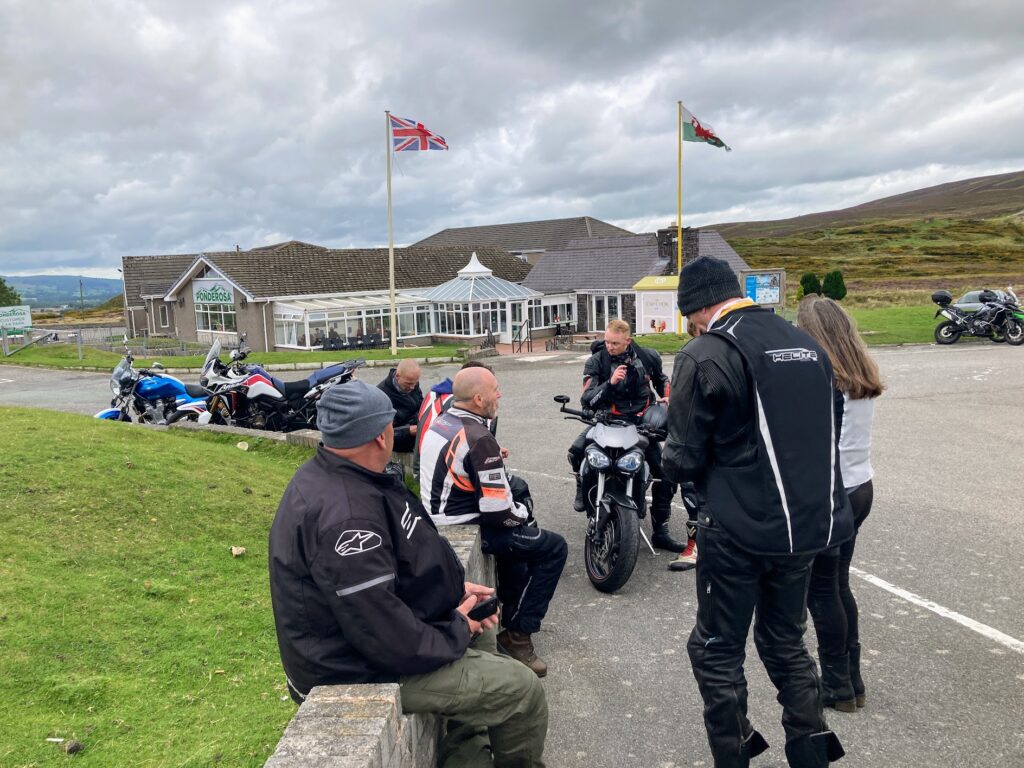 A few of the guys got separated in traffic etc, but finally we all gathered at the Ponderosa where we refuelled ourselves and chatted about our ride here.
The last jaunt of the day to our accommodation started by riding down the Horseshoe Pass into Llangollen and onto Llanberis.
Amazingly (I say this as I was leading) we got to Llanberis and we found our accommodation (well I didn't find it but thankfully Graham did).
Our accommodation had seven bedrooms over four floors with plenty of parking for all of our bikes which was neatly hidden behind the property just a very short walk into the high street.
Chris, the chap who was coming from Cumbria, had already arrived and had the kettle on. Perfect.
After unpacking, we headed to the pub and then went to an Indian restaurant for dinner.
Day 2
After a fabulous home cooked breakfast from Chris, we donned our bike gear and headed to the seaside. Barmouth was our destination.
We headed down the Llanberis pass (I was going to see if I could do this road every day at some point, it was soooo good 😎) We found a great route to Barmouth there with the traffic getting heavy the nearer we got to the town.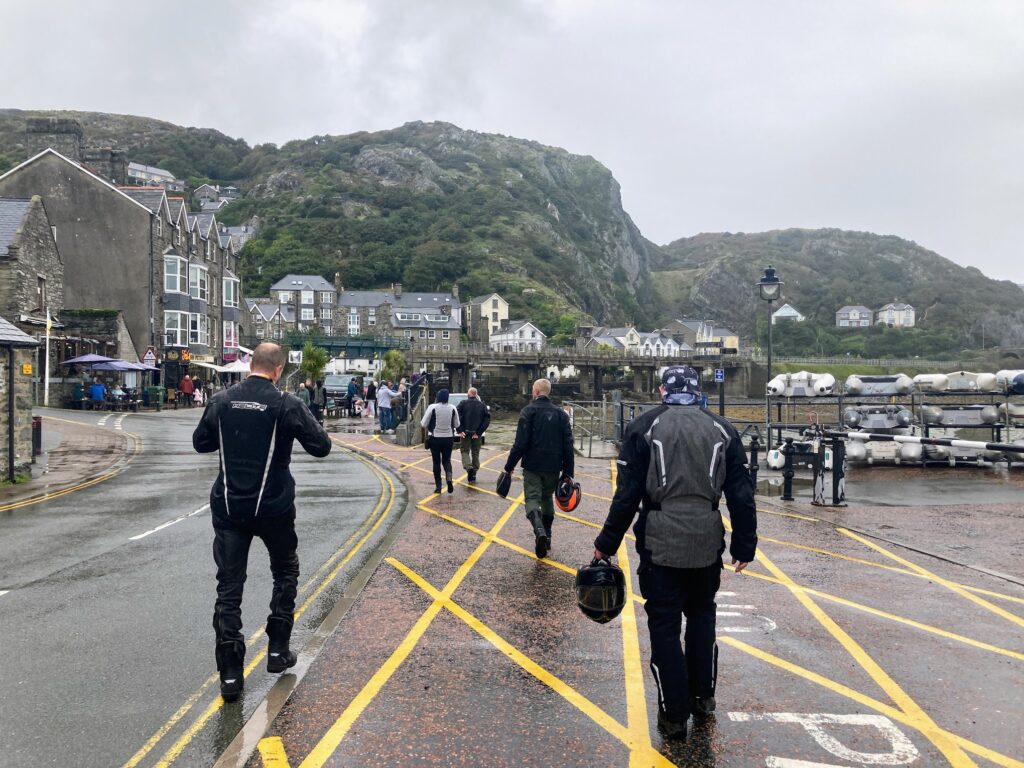 We realised by this time that it was a bank holiday which would account for the mass of people and traffic. So glad we were on bikes and could filter!
Eventually we managed to park and found a pub for a coffee. Somehow a cake appeared with the coffee and so it would have been rude not to have eaten it 😬
After a wander we headed back to the bikes and were heading to Llandecwyn to meet up with some of the other guys to regroup and then find lunch.
Well the sat nav took us up a very steep and questionable road. Luckily a farmer had pulled over to let us pass and asked where we were heading. He said he would not recommend going further as the road became a track.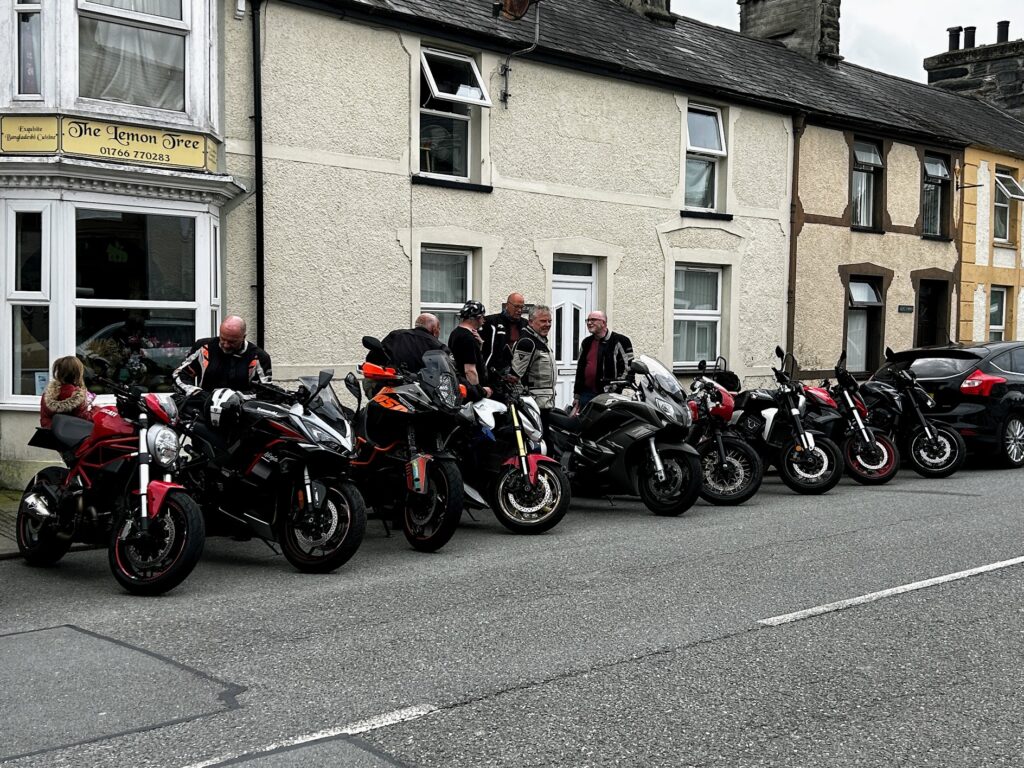 So after a 6 point turn (for me anyway) on a very narrow steep lane, we headed back down to the main road and went up the next road indicated by the sat nav.
Well, although this road was actually tarmac albeit with grass growing down the middle, it turned out this was a very narrow, winding lane which had us heading to a dead end!
Back to the main road (eventually) we finally ended up at a cafe and met up with the other guys. The guys we met up with had come the way we had planned to head back but they passed an accident en route and so we went back another way.
We headed to the pub for a few drinks before getting a chinese takeaway and eating back at our accommodation.
Day 3
Aberdovey was our destination today which was a good two hour ride but ohhhh so worth it. We headed out along the Llanberis pass (yessssss, it is still sooo good) towards Dolgellau and then did the Mach Loop.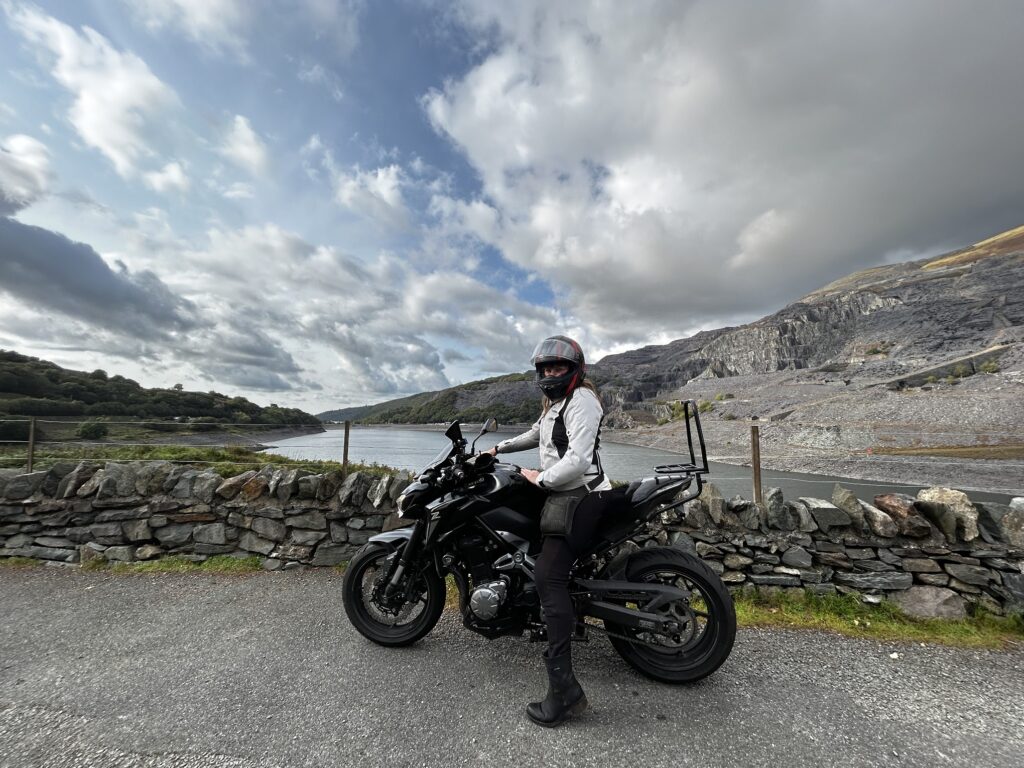 The Mach Loop is a set of valleys between Dolgellau and Machynlleth which are regularly used for low level flight training by the military.
We have done this several times during previous trips and it is an absolutely awesome experience if an aircraft is flying in the valleys whilst you are riding along. As it was raining today, we really didn't hold out much hope of this happening,
Once we got to Machynlleth we then turned right towards Aberdovey following the estuary.
It was raining. Well it wasn't raining when we left our accommodation but about half an hour into the ride it started raining. I had waterproofs with me. Well, I bought waterproofs away with me but they were back at the accommodation nice and dry whilst I was on the bike in the rain getting really rather wet.
By the time we got to Aberdovey we were very wet and headed into the nearest pub to drink lots of coffee and eat whilst we warmed up and dried out.
After we had eaten the sun came out so we went for a walk around the village to dry out a bit more before heading back to the bikes.
We headed out of Aberdovey towards Tywyn following the coast road which was brilliant – both the roads and the scenery.
Having stopped for petrol, we stopped for ice cream in a beautiful little village we stumbled across called Beddgelert. The ice cream and the village were lovely and we knew that we would be back here again before our holibobs were over.
We went via the Llanberis pass (whoo hoo twice in one day) stopping a few times on the way to take some pictures.
Back at the accommodation, we walked into town to the local bistro for dinner.
Day 4
A visit to Portmeirion was planned for today. Portmeirion Village is situated on a private peninsula overlooking the coast built by Sir Clough Williams-Ellis in two stages – 1926 to 1939 and 1954 to 1976. The village was designed around a Mediterranean piazza with endangered buildings and unwanted artefacts from all over the world transported, rebuilt and painted in an array of bright colours.
Portmeirion Village is probably most well known for the location of the 1960's TV series, The Prisoner starring Patrick McGoohan.
There are two hotels here, a spa and an array of eating places so plenty to see and do.
We found a great route through some stunning scenery to Beddgelert and then carried onto Porthmadog where we stopped at Spooners Cafe at the Ffestiniog & Welsh Highland Railway for breakfast.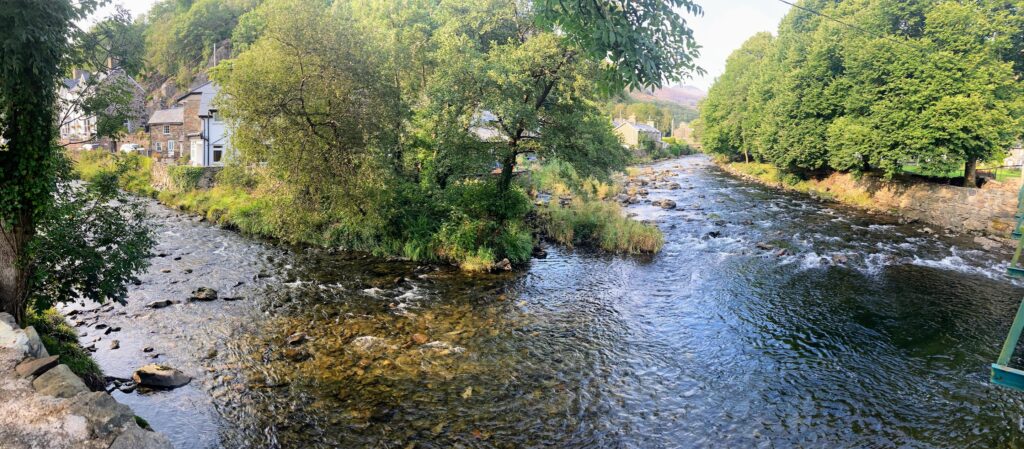 Portmeirion was only a couple of miles away, we parked up, paid our money and went inside. It is an interesting place (unless of course you are a young lad who has absolutely no idea about the place 😆) Despite it being a little busy, it was still good and I may have encountered another ice cream!!
Cuppa and cake was now needed so we headed another route back to Beddgelert where we found the perfect tea shop serving a well needed cuppa along with a scone, jam and cream #JamFirst 😋
We headed back to our accommodation via the Llanberis pass (I could ride this every day) and headed out for dinner.
Day 5
Our last day!! How had that happened so quickly!! It was raining heavily to start with so a few of us headed into town to find breakfast and then walked over to the National Slate Museum which was just across the road. 
The National Slate Museum is located at Gilfach Ddu, the 19th-century workshops of the now disused Dinorwic quarry and is dedicated to the preservation and display of relics of the Welsh slate industry.
The workshops were built in 1870 and you can look inside Victoria era slate workers' cottages that once stood at Tanygrisiau near Blaenau Ffestiniog. These were taken down stone by stone and re-erected on the site.
After an hour or so the rain had stopped and the sun was trying to appear so we headed out on the bikes to Conwy. I've never been here before, it is on the North coast and is a walled market town. Very nice place to wander around.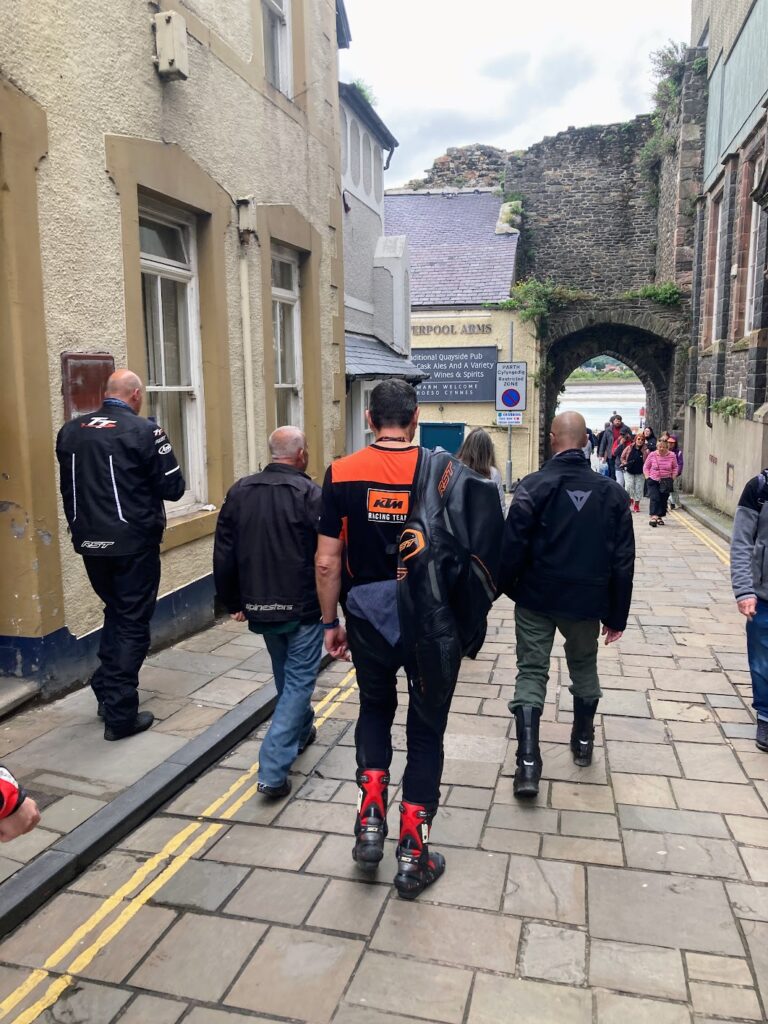 We found some scrumptious coffee and walnut cake in a little cafe. By now the clouds were starting to get a bit dark so we headed back to the bikes. By the time we got back to the bikes they were very dark and it started to rain.
David found us a great route going back (which would have been fantastic if the roads had been dry even incorporating the Llanberis pass 😎) By the time we got back, we were absolutely soaked. I still had not learned my lesson from the other day and again went out without my waterproofs! Doh!!!
We hung our wet gear around the place to try and get it dried and after showering, we headed into town to find dinner.
Day 6
Heading home! Urgh my bike gear was still damp from yesterday's ride. It really was not pleasant putting on damp trousers! I put my heated grips on straightaway to try and dry my gloves a little.
We were a bit disjointed leaving our accommodation. Six of us left at 8 and headed down the Llanberis pass for one last time this holibobs. I definitely will miss this road!
We wanted to avoid motorways and so headed along the A5 stopping at the Aqueduct Diner for breakfast about an hour and half into our ride. The A5 disappears (where to, I have no idea!) around Telford so we hopped onto the A41 and picked it up again at the other side of Telford.
Thankfully the weather was being kind to us on our journey back. After stopping for petrol and riding for about 3 hours we stopped at the Super Sausage Cafe at Potterspury for a very much needed cuppa.
After leaving Super Sausage, three of us went one way home and 3 another way.
Eventually our WhatsApp group started pinging to say when we got home. Thankfully, we all got back safe and sound.
An absolutely fantastic time was had. Good accommodation, great company, beautiful scenery, fantastic roads and lots of laughter. What a perfect holibobs 😎
BK