So I have a birthday coming up and the o/h asked me what I would like. Now, this might surprise you (but probably not) I'm not one for jewellery and stuff like that, I like practical presents, things that I will get use out of or develop my learning with. To give you an idea, one year I had a set of door trims for my MGB GT, and a couple of years ago I had a BikeSafe course!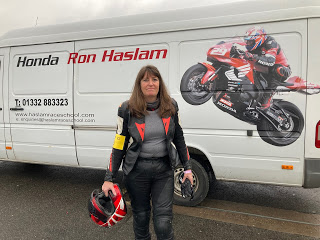 I had been thinking for a while that I would like to do a track day. I have never really enjoyed corners and it is something I felt would benefit from guidance in a safe environment ie. not on the public road but I was really worried about taking my bike on track and binning it.
I had been looking at the Ron Haslam Race School at Donington Park as not only do they provide the bike but they can also supply the leathers, boots, helmet and gloves too if you want to use them (I opted to use my own gear). So the o/h booked me on a Premier Experience which is a morning's course with three 20 minute track sessions and one instructor to two pupils.
So on the morning of my track day, to say it was raining is somewhat of an understatement. It was pouring down. I was nervous about doing a track day to start with and now that it was raining and knowing the track was going to be wet was not helping in the nerve situation.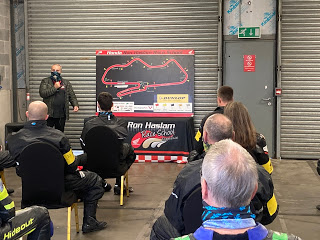 I arrived about 8.30 in the morning to sign on and headed over to the briefing garage where we were met by a chap who told us what the Ron Haslam school was about and what the plan for the morning was.
There is a big board with a map of the track for everyone to see and on there are red, yellow and green arrows at every corner. The red arrows indicate the braking zone, the yellow the turning point and the green is the apex of the corner. Likewise we were told that on the track we would see red, yellow and green cones. We were talked through how to make use of these markers when on track and how to (or not to) go into corners and the best way of achieving the maximum we could from the session and from our instructor.
We were told about track discipline and what is and what is not acceptable behaviour whilst on track and above all we were told to relax and enjoy the day. Easier said than done, I was really nervous by now and was asking myself if a pair of earrings would have been a better present to ask for!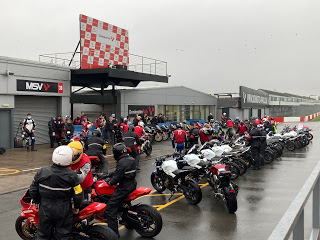 After the briefing we then headed to the next garage where we would meet our instructor and find out who we had been paired with and which bike we had been allocated for the morning. My instructor was a chap called Rob Mawbey, I was paired up with a very nice chap whose name I apologise, but I have forgotten but for the purposes of this blog I will call him Trevor, and I was allocated bike number 17!
Rob explained that we would get on our bikes and then follow him round the track keeping a safe distance and we should follow the lines he takes into and out of the corners. If there were faster people coming alongside on track he would put his left arm in the air and we should keep to the left of the track until he lowered his arm whereupon we could use the track as normal. Rob would also be indicating for me and Trevor to switch places at times.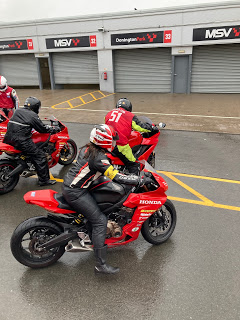 We walked to our bikes and Rob talked about the bikes and then he told us to get on the bikes and wait for him to pull up alongside and then follow him out. OMG perhaps a bracelet would have been less nervy to receive for my birthday than I am right now. I have driven cars around race tracks (not Donington) but never a bike so this was a whole new experience for me. I was hoping the rain would have eased by now, but unfortunately it was still raining heavily!
Rob lined up followed by Trevor and then myself at the end of the pit lane. We were given the signal to go and off we went. By the time we were half way round, I thought to myself, okay, this wasn't as bad as I thought it would be, it's just like riding on the road but with no cars to worry about. By the end of the first lap I could feel myself grinning, I was loving it.
After a couple of laps Trevor and I changed positions and I was behind Rob. I could tell that Trevor was a lot faster rider than I was and I was concerned that I was holding him up but just tried to concentrate on what I was doing. The chequered flag came out and that was then end of the first session I couldn't believe we had been out there twenty minutes. I was loving it. Into the pits we came and parked up the bikes.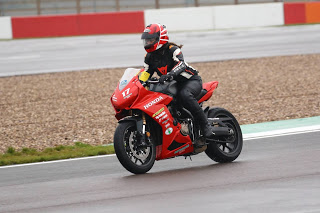 Trevor and I went into the garage with Rob to have a chat about our session. It turned out that Trevor used to race bikes a few years ago and this was my first track day! Rob spoke to the garage manager and he went off to find another instructor for me as we are supposed to be in similarly matched pairs.
Whilst waiting to go back out on track for our next session, in the garage there were two bikes on paddock stands. Each of us had to sit on the bike and Rob gave Trevor and I instructions on how we should be positioning our bodies, arms, feet etc. when going into corners and he would lean the bike over for us. I found that really useful and now just had to take that information back out onto the track.
It was time for our next session and Michael Waring, introduced himself to me as my new instructor. Michael said to stay behind him and follow him making sure to follow his lines into and out of the corners. I was far more relaxed on this session I felt a lot happier going into the corners. I had learnt where to start braking, where to turn for the corners and the lines to take. I was loving it. Again, all too soon that chequered flag was waving again!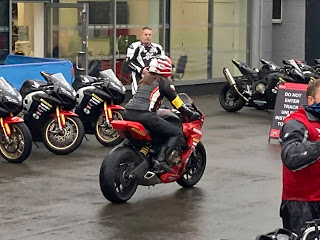 After we had come into the pits and parked up, we then went into another garage where the chap from the morning's briefing was going to talk to us about how we were finding the track and if we had any questions.
My final session was here and I jumped back onto the bike and followed Michael out onto the track once again.
I was absolutely loving it. I really got into the flow of riding the bike on the track and I felt that I had improved significantly from my first session. I was relaxed and enjoying myself.
I really didn't want this session to end, I just wanted to keep riding round and round. Yes, you guessed it, that damn chequered flag appeared again and that it was it, into the pits we rode. I can honestly say when I pulled up, I had the biggest grin.
I absolutely loved every minute. I know I wasn't the fastest on track by a long stretch but sometimes it's not all about speed, it's about learning and improving your riding and most importantly, enjoying yourself.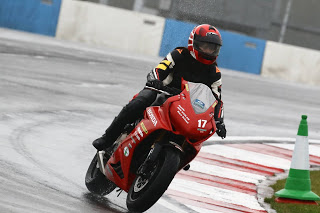 When I got off the bike in the pit lane, Michael said to me that I was a really confident rider and it's all in my mind, I need to believe in myself. My riding is very smooth and consistent and I could be as fast as anyone else out on the track, I just need to work on my confidence.
Walking back to the garage I saw Ron Haslam so I went up and introduced myself to him and thanked him for a great day. I was really nervous about doing a track day before coming here and now I really, really wanted to do another one.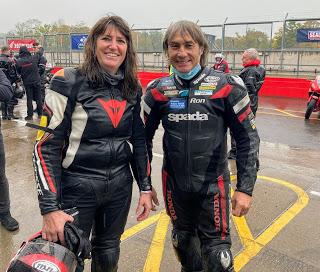 We then met inside the cafe for a debrief and were each given as assessment certificate for our riding. We were graded A to E (A being top, E being bottom) on track awareness; entry to corners; corner exiting; throttle control; braking; confidence; consistency and style – I was graded A's & B's on all and scored 90%.
Michael's comments on my riding were: Very well done in really tricky conditions. Great lines through the corners, turning in apexing and use of track on the exits. Just need to work on your confidence because you can ride a bike well. 
Praise indeed for which I am really proud of myself. 

Definitely, by a long stretch, a track day is waaaaaaay better than a pair of earrings 🙂 

BK
 
Ron Haslam Race School