Spanish Grand Prix recap
Steve Sargent, Chief Product Officer, Triumph Motorcycles: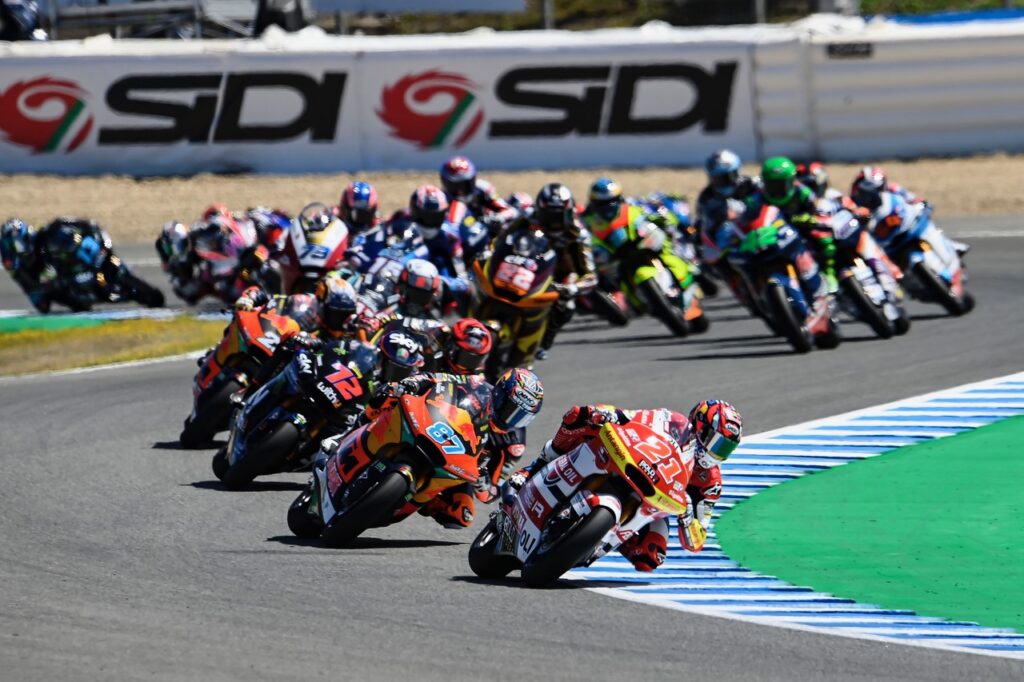 "The Gresini team have had an emotional start to the season and after taking a podium in Qatar to start the season, it was wonderful to see Fabio Di Giannantonio take his first Moto2 victory in Spain with an excellent ride. It was a remarkably fast weekend too; we saw a new lap record and new outright set, and the total race time was 16 seconds faster than in 2020, which continues to demonstrate the gains the teams and riders are making as they become more and more familiar with and able to extract more of the performance potential from our 765cc engines and the ECU package which let's not forget is still relatively new to Moto2 as we're in just our third season."
In Jerez we saw the first clean sweep of 2021 of records – a new fastest top speed, new lap record and new outright record. Notwithstanding new tracks, this is the first clean sweep since Aragon last season
Fabio Di Giannantonio took his first Triumph-powered win to become the 14th different Moto2 winner in the Triumph era (since 2019)
After a perfect score from the first two rounds, his rivals have overhauled the gap to Sam Lowes and the championship top three are now separated by just 6 points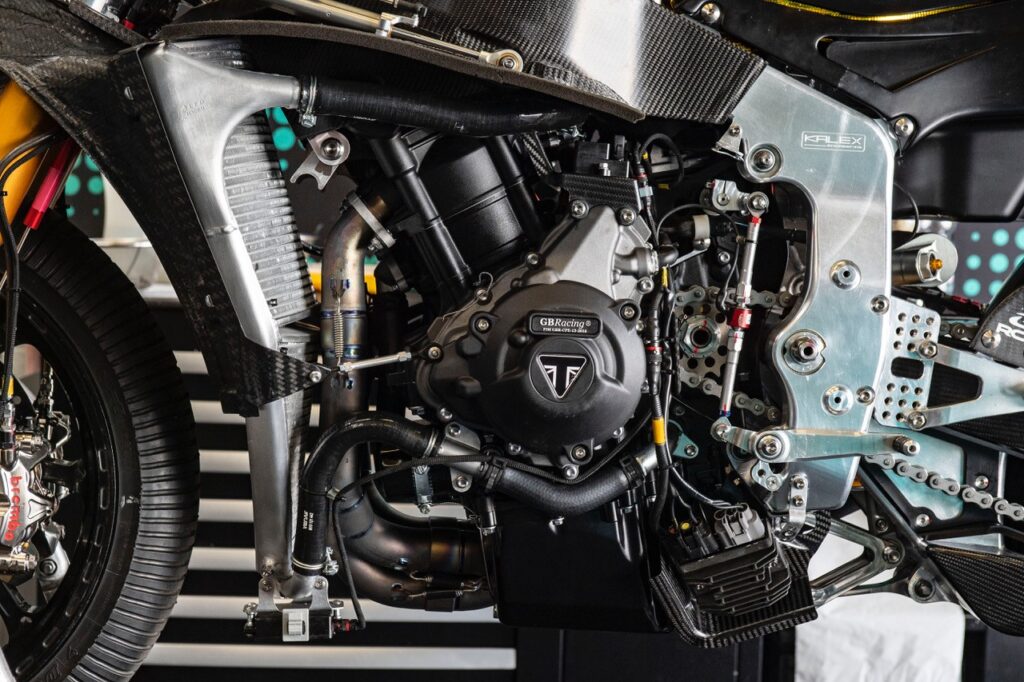 Upcoming race
For three out of the last four years, the eventual Moto2 Championship winner has won at Le Mans with the exception of 2020 when Sam Lowes won the race (he finished tied on points for second in the World Championship)
After being rescheduled in October last year when it was a chilly and damp 12 degrees Celsius, this year the French Grand Prix returns to its usual May slot on the calendar
Triumph Triple Trophy #PoweredbyTriumph
Fastest lap in Jerez means Lowes is the only rider to score points at every race so far in 2021, and has a commanding lead. Hector Garzo enters the standings with fastest top speed in Spain
About the Triumph Triple Trophy #PoweredbyTriumph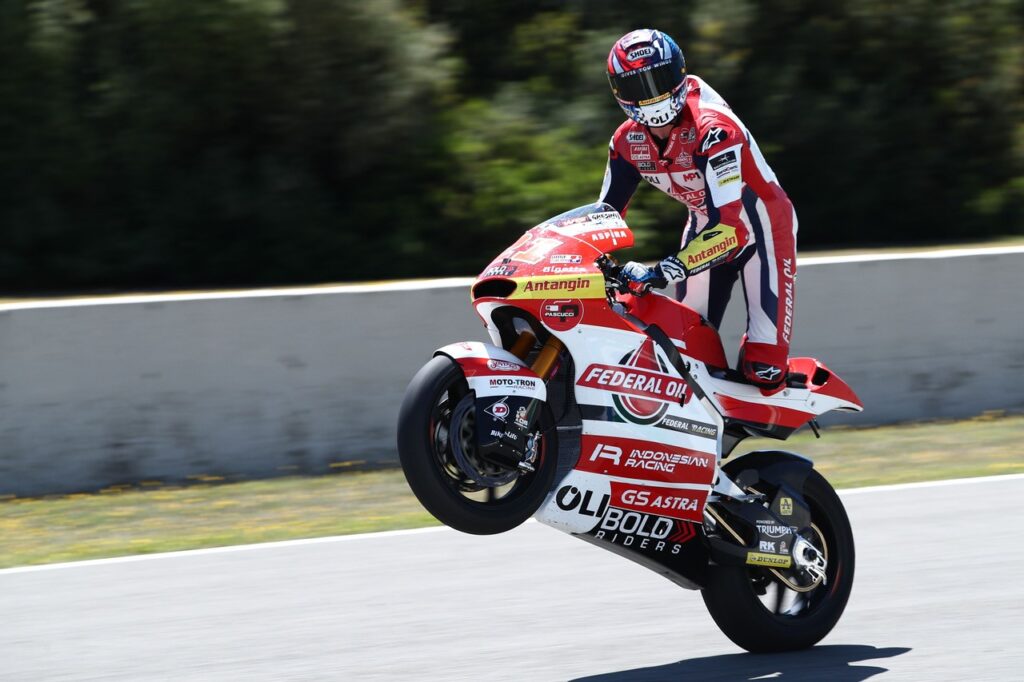 The Triumph Triple Trophy #PoweredbyTriumph runs alongside the Moto2 World Championship in 2021, recognising that there are more stories of success from a GP than simply the race win, and will award one rider with a Street Triple RS at the end of the season
Points will be awarded to the rider (or multiple riders in the case of a tie):
Fastest top speed: 7 points for the fastest rider / riders in case of a tie
Pole position: 6 points for the rider starting from pole
Fastest race lap: 5 points for the fastest rider / riders in case of a tie
The Triumph Moto2™ 765cc race engine is a development of the class-leading Street Triple RS 765cc road motorcycle and produces more than 140PS and the same visceral soundtrack.
2021 Moto2 World Championship top ten:
| | | | | | | |
| --- | --- | --- | --- | --- | --- | --- |
| Pos | Race # | Rider | Chassis | Engine | Nation | Points |
| 1 | 87 | R. Gardner | Kalex | Triumph 765cc | AUS | 69 |
| 2 | 22 | S. Lowes | Kalex | Triumph 765cc | GBR | 66 |
| 3 | 25 | R. Fernandez | Kalex | Triumph 765cc | SPA | 63 |
| 4 | 72 | M. Bezzecchi | Kalex | Triumph 765cc | ITA | 56 |
| 5 | 21 | F. Di Giannantonio | Kalex | Triumph 765cc | ITA | 52 |
| 6 | 16 | J. Roberts | Kalex | Triumph 765cc | USA | 31 |
| 7 | 44 | A. Canet | Boscoscuro | Triumph 765cc | SPA | 30 |
| 8 | 97 | X. Vierge | Kalex | Triumph 765cc | SPA | 26 |
| 9 | 37 | A. Fernandez | Kalex | Triumph 765cc | SPA | 23 |
| 10 | 79 | A. Ogura | Kalex | Triumph 765cc | JPN | 20 |
2021 standings – Triumph Triple Trophy #PoweredbyTriumph:
| | | | | | |
| --- | --- | --- | --- | --- | --- |
| Pos | Race # | Rider | Nation | Points | Team |
| 1 | 22 | S. Lowes | GBR | 28 | Elf Marc VDS Racing Team |
| 2 | 19 | L. Dalla Porta | ITA | 14 | Italtrans Racing Team |
| 3 | 87 | R. Gardner | AUS | 11 | Red Bull KTM Ajo |
| 4 | 42 | M. Ramirez | SPA | 7 | American Racing |
| – | 6 | C. Beaubier | USA | 7 | American Racing |
| – | 40 | H. Garzo | SPA | 7 | Flexbox HP40 |
| 7 | 25 | R. Fernandez | SPA | 5 | Red Bull KTM Ajo |
2021 Moto2 calendar:
| | | | | | |
| --- | --- | --- | --- | --- | --- |
| | Date | Race | | Date | Race |
| 1 | 28 Mar | GP of Qatar, Losail | 11 | 15 Aug | GP of Austria, Red Bull Ring |
| 2 | 4 Apr | GP of Doha, Losail | 12 | 29 Aug | GP of Britain, Silverstone |
| 3 | 18 Apr | GP of Portugal, Algarve | 13 | 12 Sept | GP of Aragon, Aragon |
| 4 | 2 May | GP of Spain, Jerez | 14 | 19 Sept | GP of San Marino, Misano |
| 5 | 16 May | GP of France, Le Mans | 15 | 3 Oct | GP of Japan, Motegi |
| 6 | 30 May | GP of Italy, Mugello | 16 | 10 Oct | GP of Thailand, Chang |
| 7 | 6 Jun | GP of Catalunya, Barcelona | 17 | 24 Oct | GP of Australia, Phillip Island |
| 8 | 20 Jun | GP of Germany, Sachsenring | 18 | 31 Oct | GP of Malaysia, Sepang |
| 9 | 27 Jun | TT Assen, Assen | 19 | 14 Nov | GP of Valencia, Valencia |
| 10 | 11 Jul | GP of Finland, Kymirng | | | |