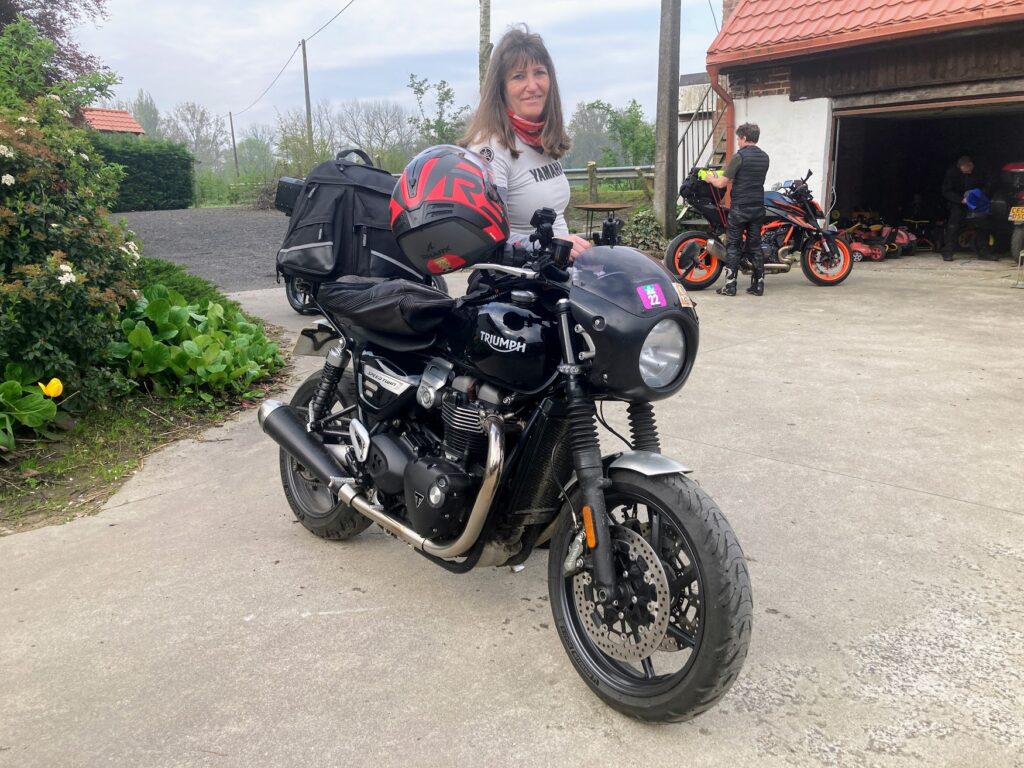 I am a member of the Vintage Japanese Motorcycle Club and at one of the pub nights we were chatting about bikes, as you do, and the subject moved onto going away on the bikes, places to see, countries to explore.
Yes, you know how it is, a couple of weeks later fifteen of us had booked a long weekend in Belgium.
Day 1
Setting off on our trip 😎
On Friday morning we met at the services at 6.30 in the morning, grabbed a quick coffee and fuelled up. Twenty minutes or so later we set off heading for the M25 making our way to the Eurotunnel.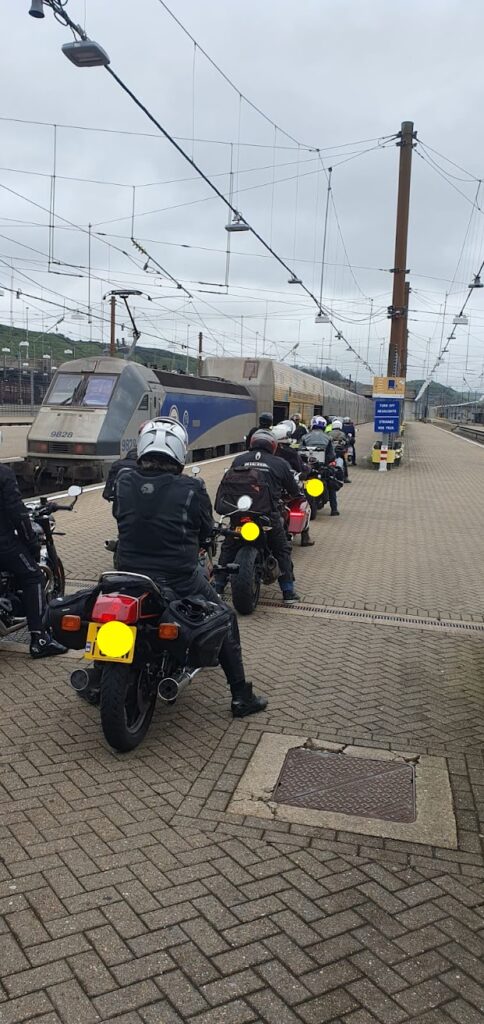 Traffic this time of the morning was reasonably good (let's face it, it's never brilliant on the M25) and then we got onto the M20. We stopped at Hythe services, which is the last services before the tunnel. Here we grabbed another coffee, fuelled up and set off to the tunnel.
So of the fifteen of us, there were 11 bikes (10 modern bikes and 1 classic) and bikers and four pillions. Nine of us (8 bikes) were staying in a house we had rented for the weekend in Zonnebeke, about 5 km from Ypres. The other three bikes and their pillions were staying in a hotel in Ypres.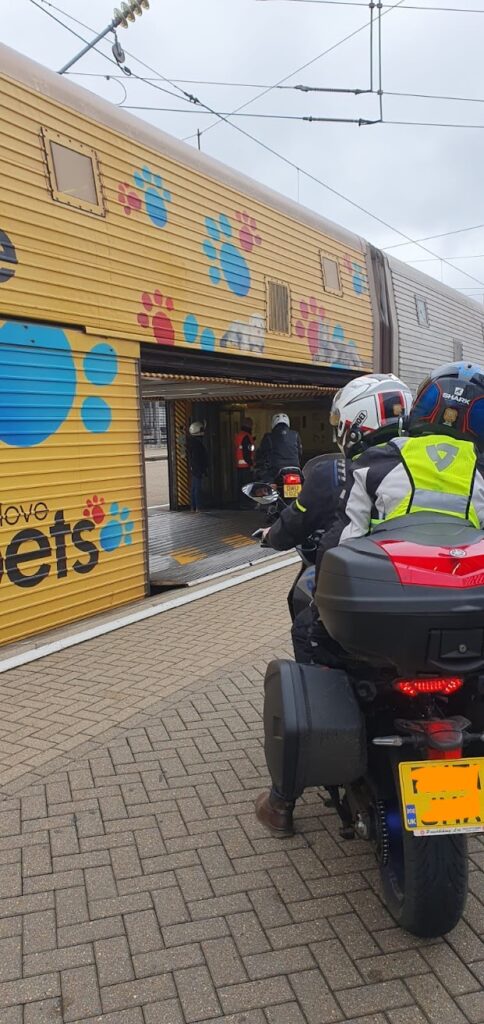 Having arrived at the tunnel, we checked in using the automated system and waited until everyone was through before moving round to passport control. Being such a big group of us, we must have looked dodgy because after we had been through passport control we were all directed off to the left to the 'inspection centre'. Eeek! I've never had this before so I didn't know what to expect.
We all had to park our bikes, switch off the engines, get off our bikes and stand by them, and take our helmets off. A wand thing was waved over the bikes and the luggage and then we were told all was okay and we could go. All in all we were there less than ten minutes! Phew!
We then carried on to make our way to wait in a lane ready to be called for our train. The coffee from the last stop had gone through me by now so I headed off to the toilet quickly. I say quickly, but there is no such thing as a quick pee stop when you are wearing bike gear. Urgh, that has got to be the worst thing about bike gear – needing a pee!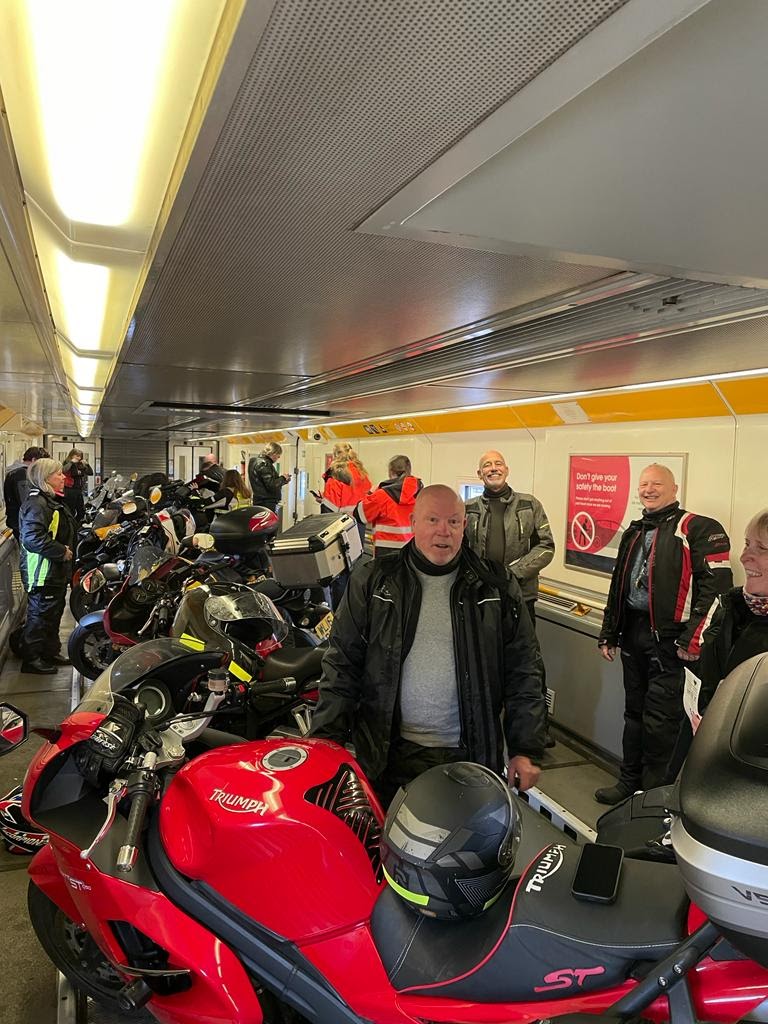 I love this part of the journey. We're all waiting with great anticipation of the adventure ahead of us. There's a lot of excited chatter and banter mixed with a bit of nervousness.
Our line was called and we proceeded to the train, boarded and parked the bikes up. This has got to be the most nerve wracking part of the trip for me, riding on and off the train. It's not so bad in the dry but when it's wet outside it does get a bit slippery but I'm thankful to be able to say I managed both train journeys with no hiccups!
I parked my bike at an angle against the side and put it in gear, switched off the engine and got off the bike. It wasn't long before the train left and then thirty minutes later we were in France, back on the bike, off the train and we were on our way. It's such a great way to travel, so easy and so fast.
The Blockhaus d'Éperlecques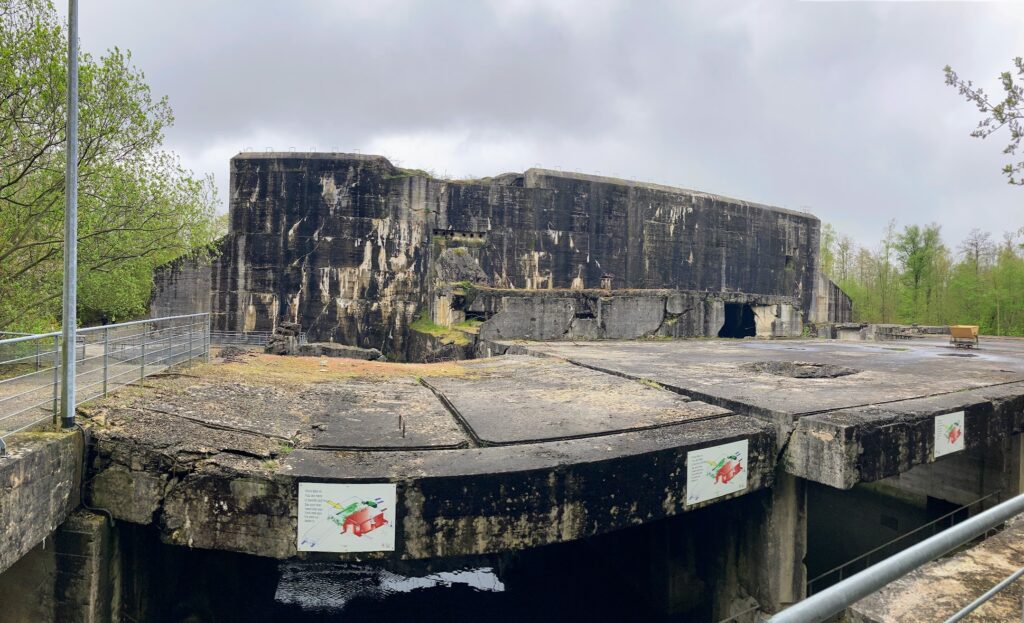 Before heading to our accommodation, we decided to have a lunch stop at The Blockhaus d'Éperlecques, also known as 'the Watten bunker'.
This is a Second World War bunker which is now part of a museum near Saint Omer, France. The bunker was built by Nazi Germany and was originally intended to be a launching facility for the V-2 ballistic missile.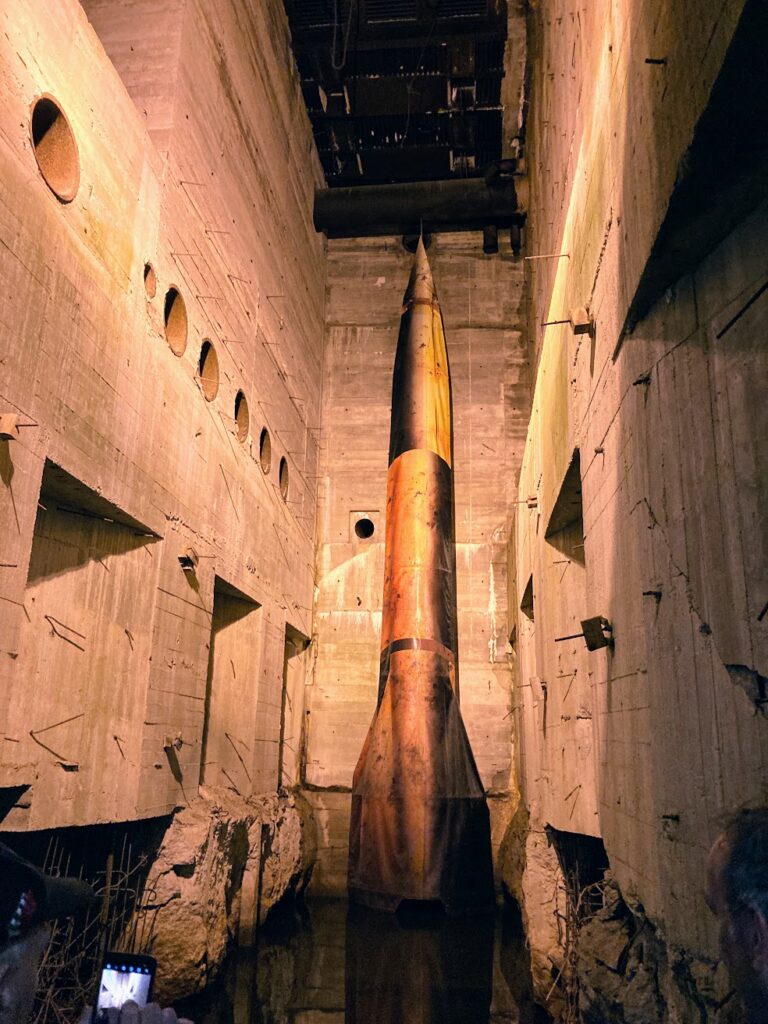 As a result of repeated bombing by the British and USA air forces, the bunker was never completed as the attacks caused substantial damage and rendered the bunker unusable for its original purpose. The bunker has been preserved as part of a privately owned museum and protected by the French state since 1986.
You pay €10 and you can go through to the museum and have a look around, a very interesting place.
Unfortunately, the lunch idea did not pan out, there was just tea/coffee/cold drinks and crisps/chocolate bars available. Oh well, coffee and chocolate would just have to keep me going.
After an hour or so we then carried on to find our accommodation. The guys staying in Ypres peeled off and we carried on to Zonnebeke. After a minor detour (I was leading!) we arrived at our digs for the next few days.
Our Accommodation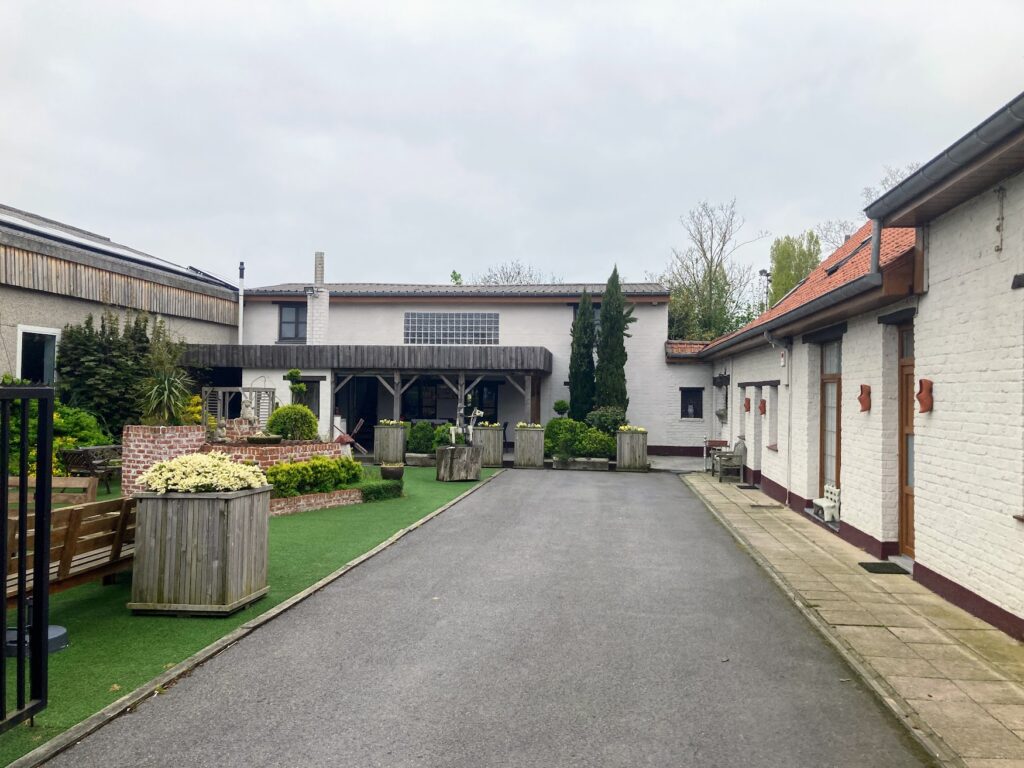 Our accommodation was nicely tucked away from the road so the bikes were safe. We were staying on part of a smallholding in, I would say, a converted barn. The accommodation was over two floors with five bedrooms, three bathrooms, a large kitchen/diner with a separate lounge. Next door there was a games room with a pool table, table tennis and table football.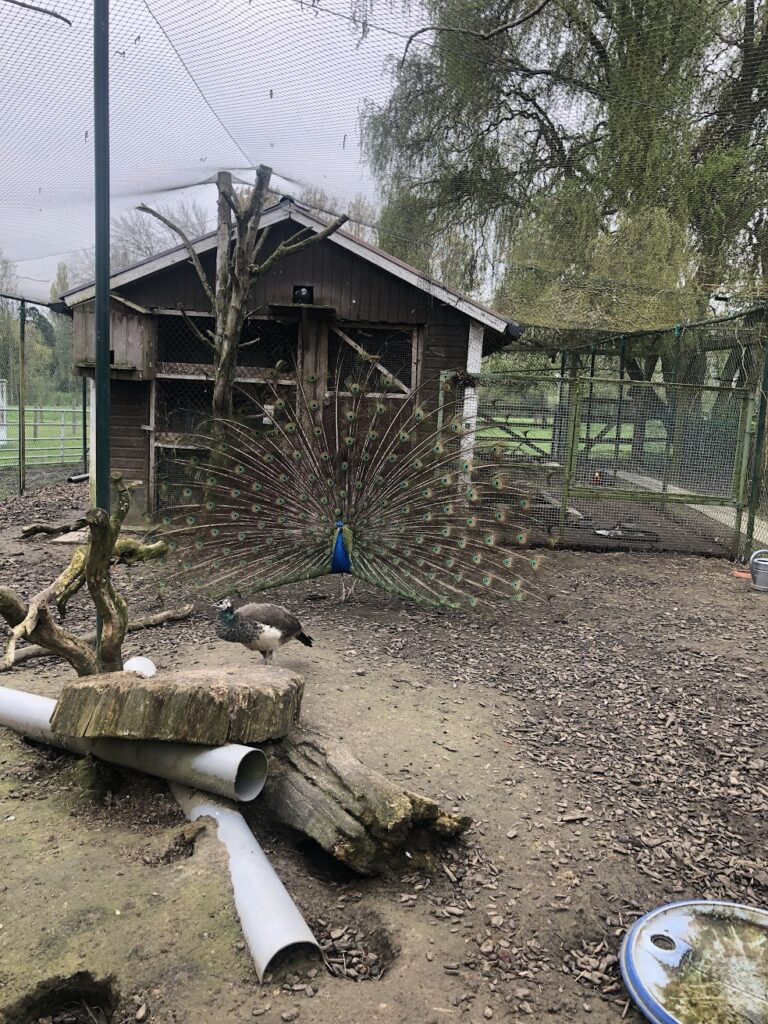 We unpacked, had a cuppa and then jumped back on our bikes and headed into Ypres to find a supermarket to stock up on some groceries for the next few days.
By the time we came out of the supermarket and loaded the shopping onto the bikes it was about half five. It had been a long day having met at half six that morning, we had not had lunch and we were tired and hungry. A couple of doors down from the supermarket was a Chinese restaurant which, as luck would have it, was open and had room for the nine of us. Perfect.
It was so nice to sit down, have a drink and something to eat. It was what we all needed.
Menin Gate Memorial to the Missing
In Ypres is the Menin Gate Memorial to the Missing which is dedicated to the British and Commonwealth soldiers who were killed in the Ypres Salient of World War 1 and whose graves are unknown. The memorial is located at the eastern exit of the town and marks the starting point for one of the main roads out of the town that led Allied soldiers to the front line.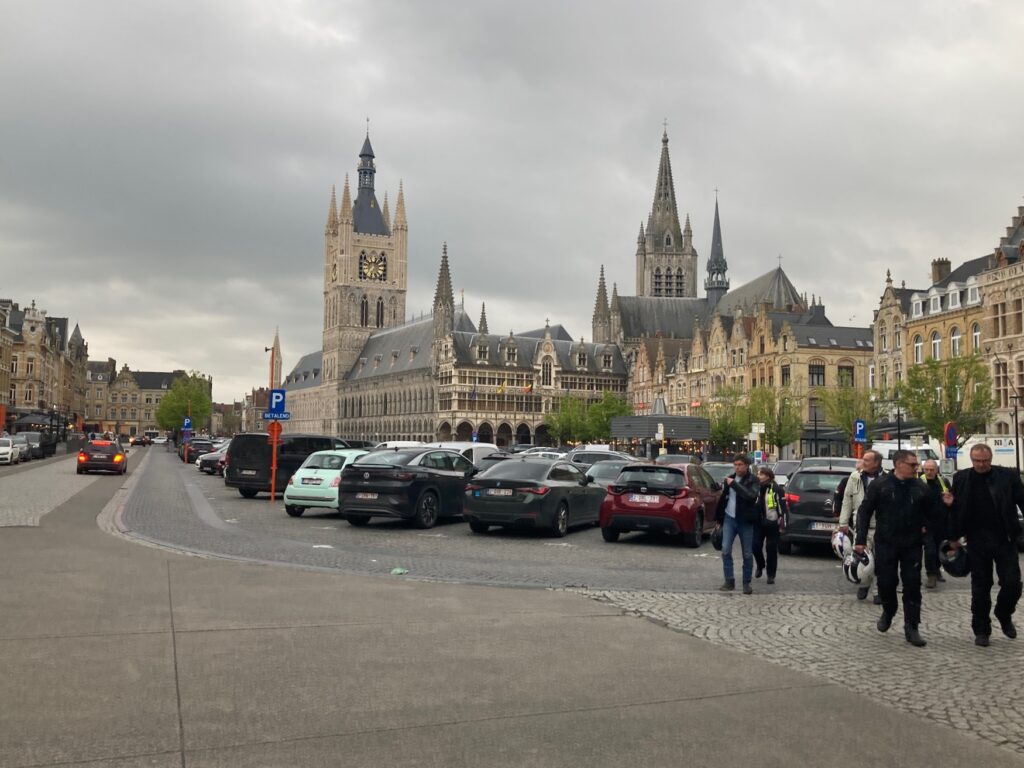 At 8 pm every evening The Last Post, the traditional final salute to the fallen, is played by the buglers of the Last Post Association in honour of the memory of the fallen soldiers. This association first founded the Last Post Ceremony back in 1928 and is still responsible for the day-to-day running of this unique act of homage.
After dinner, we walked to the Menin Gate and attended the Last Post. A very humbling experience.
After the ceremony we walked back through the town back to our bikes and made our way back to our accommodation for a beer and a game or two of pool.
Day 2
Brothers in Arms Memorial Park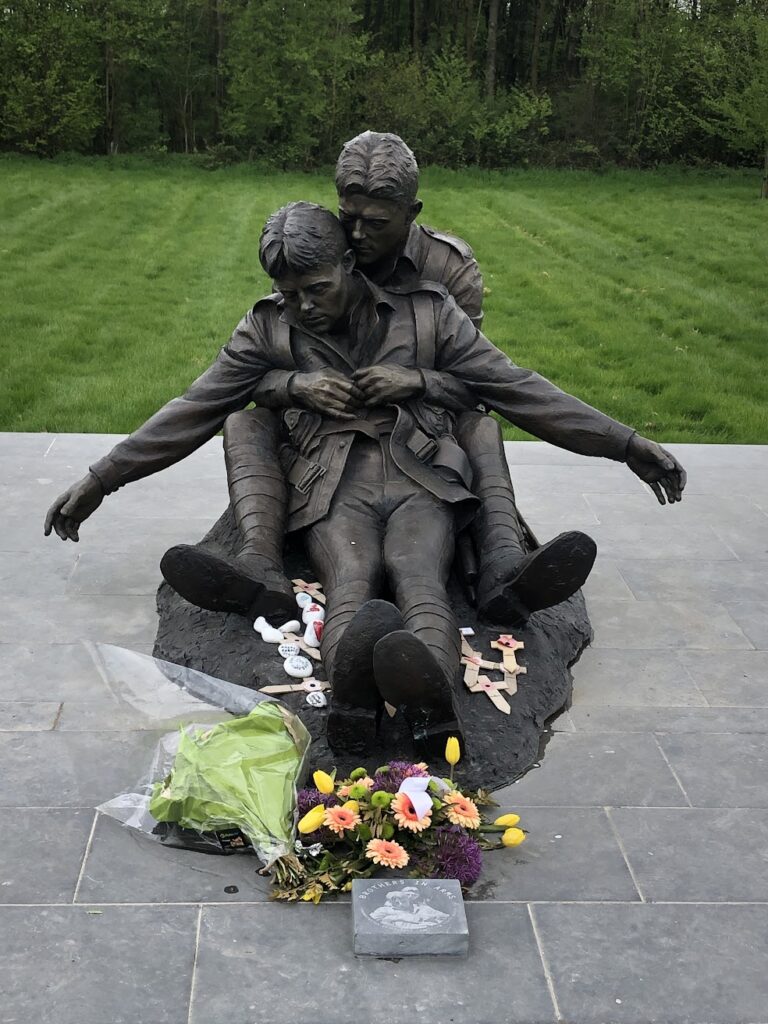 The following day, after breakfast we met the guys at Brothers in Arms Memorial Park in Zonnebeke.
Reading a little history about the Memorial, amongst many others, in the Gallipoli campaign 196 pairs of brothers within the Commonwealth troops got killed.
The troops of the 1st battalion Newfoundland Regiment lost 255 dead, 386 wounded and 91 missing in the Battle of Beaumont-Hamel on 1st July 1916. Among the dead were 14 pairs of brothers.
This memorial is dedicated to brothers who died in the war. ​
We ate lunch here and then had a look around the Memorial and the museum. A really interesting place and the guy who owns it makes time for a chat.
Tyne Cot Commonwealth War Graves Cemetery
We then headed off to the famous World War One site of the Tyne Cot Commonwealth War Graves Cemetery in the Ypres Salient on the Western Front. It is the largest cemetery for Commonwealth forces in the world, for any war and is now the resting place of more than 11,900 servicemen of the British Empire from the First World War.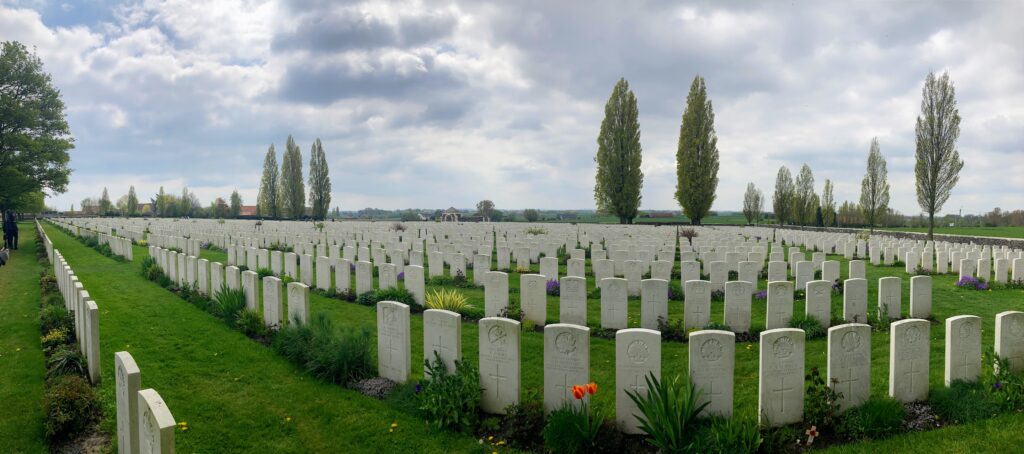 Both the Memorial and Tyne Cot are very thought provoking and I was glad we were able to have paid our respects.
As Tyne Cot is not far from where we were staying, we decided to go for a ride before heading back taking in the scenery and villages as we went. I noticed when riding that there are a lot of smaller war cemeteries honouring the fallen soldiers where they fell.
Having arrived back at our accommodation, we headed into the games room to play some pool before dinner. After dinner we played pool again but by this time many beers had been consumed, the standard of playing had gone down somewhat (the standard hadn't started off high to start with) but many laughs were had.
To me, this is the best part about being on tour with mates. I love it when we come together in the evening after having been here, there and everywhere during the day. The banter is brilliant, the atmosphere is relaxed and everyone is enjoying themselves. Perfect.
Day 3
Day Trip to the Seaside 😎
The following morning the sun was shining so after breakfast we decided to head to the seaside. Someone had said they had been to Blankenberge before and there was a pier. Excellent idea, let's go and check it out.
So, we met up with the other guys who were staying in Ypres and set off. Now we were about fifteen minutes or so into our journey and were on a motorway when the guy in front of me, Larry, pulled over onto the hard shoulder and stopped. I immediately followed him followed by my other half who was behind me.
Larry needed fuel. It turned out he didn't have any fuel to speak of and he did not want to carry on the motorway in case he ran out completely. So we searched for the nearest fuel station on our sat navs which said 1.2 kms and came off the motorway.
I think the 1.2 kms must have been as the crow flies because it felt more like 5 kms to me and we ended up at a fuel station in a little village. Relief that we had found fuel soon turned to panic when we realised it was a self service unmanned fuel station that did not accept any bank cards that we had.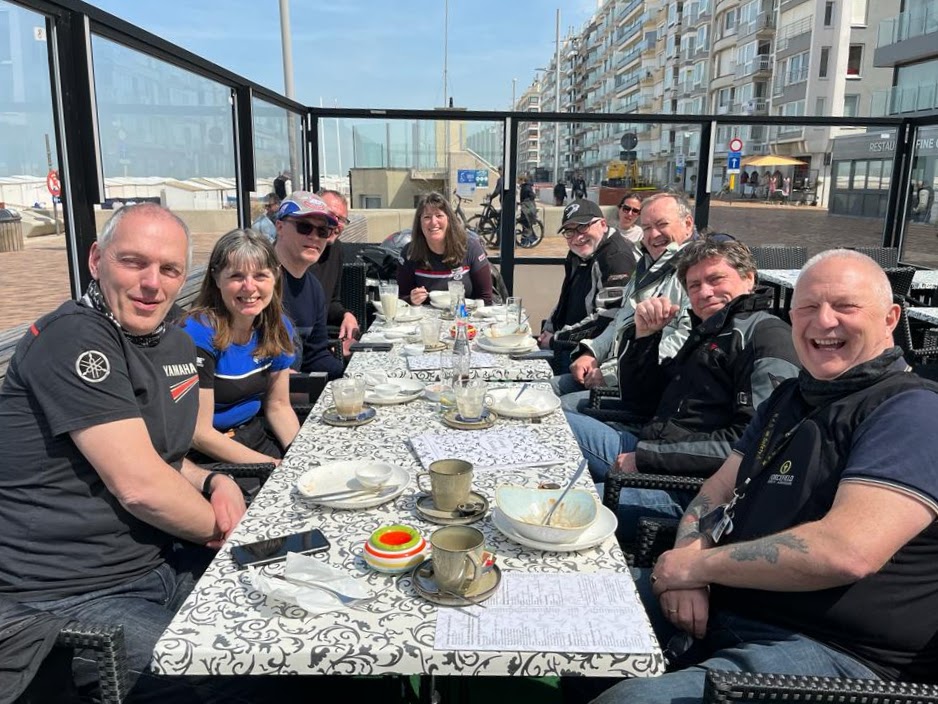 Fortunately a young local couple drove into the fuel station and on realising our predicament, they offered to use their card to pay for Larry's fuel and he gave them cash. Phew.
By this time of course we were well separated from the rest of the group so we reset the sat nav for non motorways and headed to Blankenberge.
On arriving in Blankenberge it became apparent that there were a lot of works going on and the roads to the promenade, where the pier was, was not accessible. We met with the other guys and chatted about what to do.
We decided to head along the coast until we came to a town that looked like a nice place to stop for lunch. We soon came upon Wenduine, parked up and went for a wonder. It didn't take us long to find a great place to stop for a coffee and ice cream. We sat in the sunshine overlooking the beach. What a perfect way to spend the day, riding and stopping for coffee and ice cream and banter with your mates.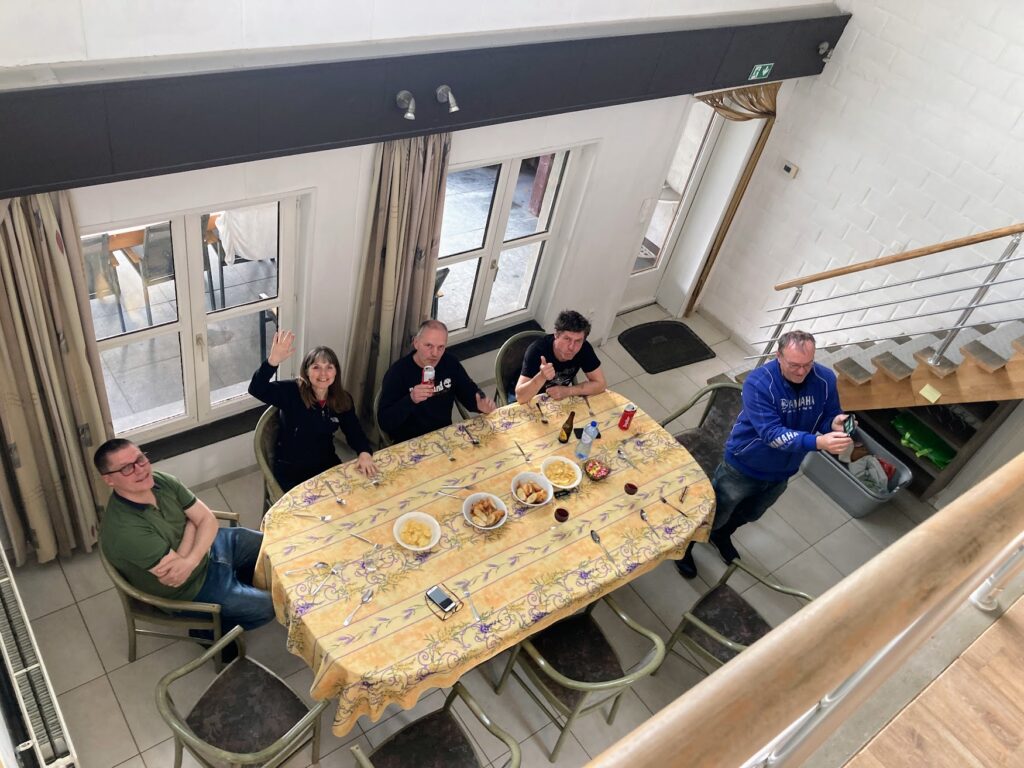 Over coffee we decided that for our last night in Belgium we wanted to have a bbq for dinner back at the accommodation. We stopped in Ostend, found a Spar, bought provisions for said bbq and then set the sat nav for the scenic route back to Zonnebeke.
Another great evening was had eating food, drinking a beer or three, playing pool and chatting into the night with friends.
Day 4
Homeward Bound 😔
All too soon it was our last morning at the accommodation, we ate breakfast, cleaned the accommodation and packed our bags ready to go.
One of the guys, Tim, had forgotten to buy chocolate to take home for his other half so we decided to set off a little early and make a detour via a chocolate shop to the tunnel. 
We all started our bikes except Paul. Paul's bike would not start. There was an ominous puddle of petrol on the ground under his bike. Ohhh. We tried to try and bump start the bike but the bike was having none of it. On the last time they tried to bump start the bike, the back wheel locked up.
The seat came off the bike, bits were fiddled with, many opinions were given and things tried but the bike would not start. It was apparent the bike was not going anywhere and neither was Paul.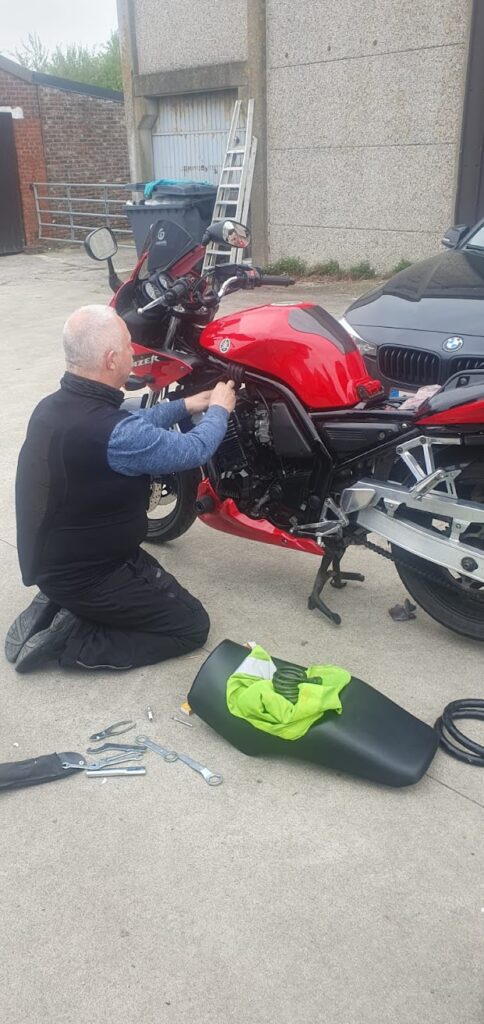 By this time if we were going to catch our tunnel crossing, we were going to have to leave. The rest of us rode off on our bikes leaving Paul there calling his breakdown provider. Honestly, it was the worst thing I have done on a bike, ridden off and left a mate stranded with a broken bike.
Paul's breakdown provider sent a person to look at the bike but he could not get it started and said he could take it to the nearest motorbike dealer but Paul declined this offer. Instead Paul, who is retired and so did not have to get back for work the following day, arranged with his son to borrow a van and drive to Belgium the next day to collect him and his bike. The place where we had been staying had no other guests that night so they offered to let Paul stay another night which was brilliant of them.
The rest of us made it to the tunnel, checked in, drove to the duty free section and Tim ran inside, got said chocolate (which looked remarkably like a bottle of vodka to me) and we headed off to get in our lane ready for our train home. Phew, made it. Just.
What an absolutely fabulous weekend away. Great mates, good food and loads of banter. I loved it, thanks guys.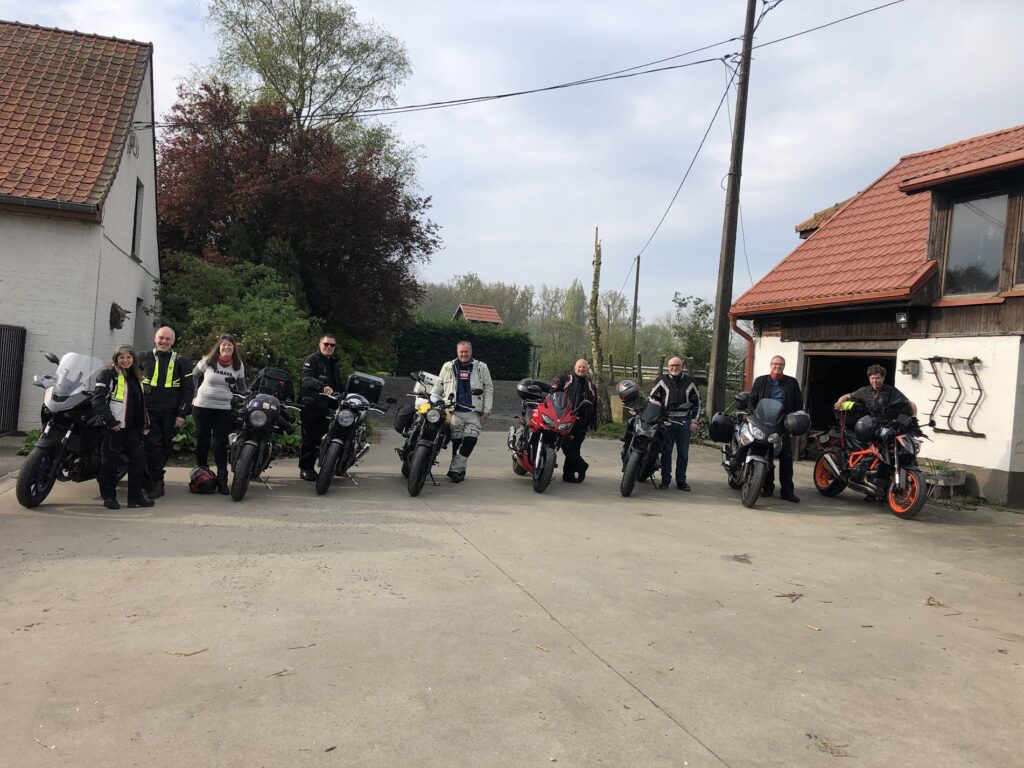 Belgium is a great place to visit, there is so much we didn't get to see which is a great excuse for us to get planning our next trip….🤩
BK
Pictures courtesy of Larry Kelly and Giles Bristow
Here's a video of our rides to Blankenberge: