I took part in the Chilly Willy Charity Bike Ride on Sunday 9th January 2022 which was organised by the Northampton Bikers Club raising money for the Northamptonshire and Warwickshire Air Ambulance service.
This event has been organised by the Club for the last ten years (last year's event unfortunately could not go ahead due to the lockdown).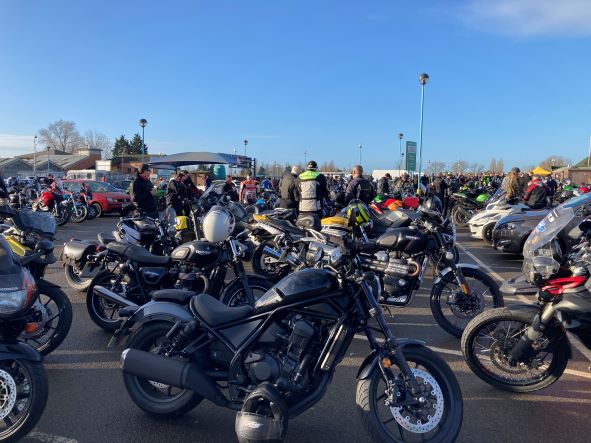 The start and finish point is the All Seasons Café which is located in the Billing Garden Village where bikers started arriving during the morning ready for the 12 o'clock start.
I had a scrumptious sausage bap and coffee in the café when I arrived and had a chat with a few of the bikers. It was nice to meet the organiser, Nick Ingram too and some of the volunteers who generously give up their time to put the event on.
It was like being at a motorbike show, there were so many different bikes from scooters to trikes, sports bikes to cruisers, adventure bikes and classic bikes. It was also nice to see a few bikers on 'L' plates too, it doesn't matter what you ride, everyone is welcome.
Over 600 bikes came along and joined in the ride and an amazing £5,137 was raised for Northamptonshire and Warwickshire Air Ambulance service.
Huge thanks go to Nick and all the volunteers who helped make the day such a great success, I really enjoyed taking part in the event and look forward to next year's event.
BK
Here's a video I made of the event.
If you can subscribe to my YouTube channel that would be great.
If you could subscribe to website too, that would be awesome – thank you 🙂