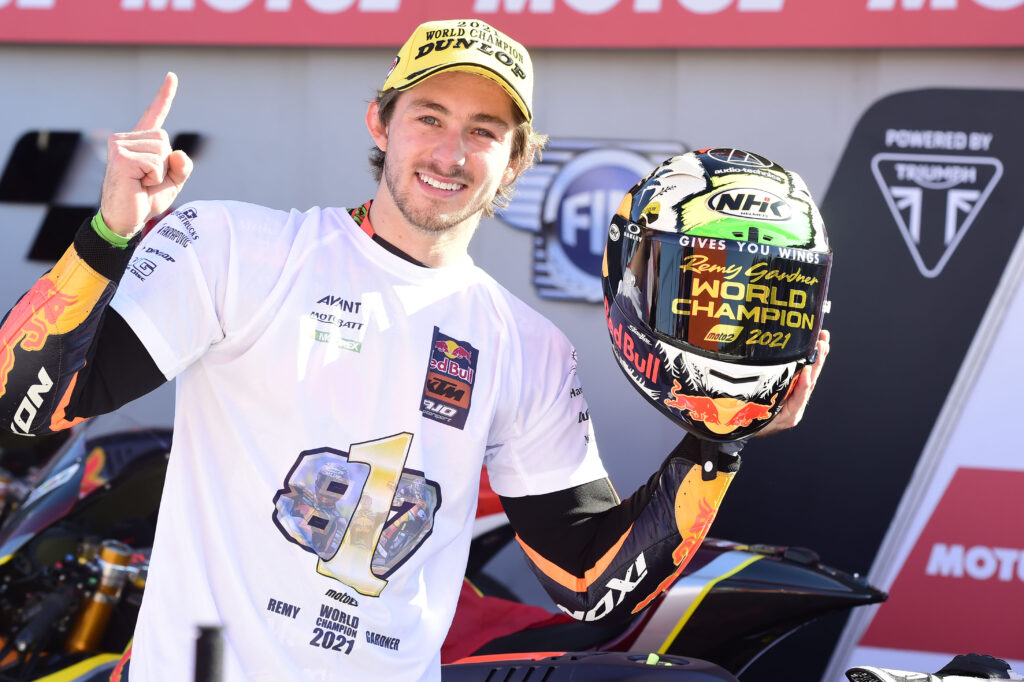 As the thrilling 2021 Moto2 season reached fever pitch at the season finale at the Grand Prix of Valencia, Remy Gardner was crowned as the latest Moto2 World Champion powered by Triumph, and runner-up Raul Fernandez got a Triumph award of his own.
Taking the crown by just four points, it's been the closest ever Moto2 title fight since the class began. In the inaugural year for Triumph power, 2019, Alex Marquez finished the season just three points ahead of Brad Binder, but he'd already sealed the title at the previous round in Malaysia so had a race in hand. The 2021 World Championship fight went right down to the wire.
Fernandez sealed the Triumph Triple Trophy at the Algarve Grand Prix, and was presented with his custom-liveried Street Triple RS over the weekend. The bike features the Triumph 765cc triple powerplant from which the engine powering his remarkable rookie Moto2 season is derived.
The Triumph Triple Trophy #PoweredbyTriumph ran for a second year alongside the Moto2 World Championship in 2021, recognising that there are more stories of success from a GP than simply the race win by awarding points based on fastest top speed, pole position and fastest race lap.
A third season of Moto2 powered by Triumph once again saw records fall – eleven new race lap and outright records to be exact, further bettering those already set using Triumph triple power.
There have currently been five different winners in a season which has been dominated in terms of race wins by rookie sensation Raul Fernandez, who took eight victories to beat the previous record of seven wins in a rookie Moto2 season set by Marc Marquez.
The Triumph Triple Trophy points are awarded as follows:
• Fastest top speed: 7 points for the fastest rider / riders in case of a tie
• Pole position: 6 points for the rider starting from pole
• Fastest race lap: 5 points for the fastest rider / riders in case of a tie
Demonstrating how close the fight has been all year, only once in 16 races has a rider taken points for top speed, pole and fastest lap – Raul Fernandez in Assen (and that top speed was matched to 0.1km/h by Bezzecchi and Vietti, all three scoring points).
The Triumph Moto2™ 765cc race engine is a development of the class-leading Street Triple RS 765cc road motorcycle and produces more than 140PS and the same visceral soundtrack.
2021 top ten standings – Triumph Triple Trophy #PoweredbyTriumph:
| | | | | | |
| --- | --- | --- | --- | --- | --- |
| Pos | Race # | Rider | Nation | Points | Team |
| 1 | 25 | R. Fernandez | SPA | 79 | Red Bull KTM Ajo |
| 2 | 22 | S. Lowes | GBR | 51 | Elf Marc VDS Racing Team |
| 3 | 40 | H. Garzo | SPA | 42 | Flexbox HP40 |
| – | 42 | M. Ramirez | SPA | 35 | American Racing |
| 5 | 87 | R. Gardner | AUS | 33 | Red Bull KTM Ajo |
| 6 | 72 | M. Bezzecchi | ITA | 27 | SKY Racing Team VR46 |
| 7 | 13 | C. Vietti | ITA | 19 | SKY Racing Team VR46 |
| 8 | 19 | L. Dalla Porta | ITA | 14 | Italtrans Racing Team |
| 9 | 35 | S. Chantra | THA | 12 | IDEMITSU Honda Team Asia |
| – | 6 | C. Beaubier | USA | 12 | American Racing |
Steve Sargent, Chief Product Officer, Triumph Motorcycles:
"What a season that was, and we've another new World Champion! My congratulations to Remy Gardner for taking the 2021 title, following of course in his father's footsteps some 34 years later to become only the second father and son World Champions in the FIM Road Racing World Championship! Congratulations too to Raul Fernandez after such a remarkable rookie season and we're proud to have awarded him with the Triumph Triple Trophy for 2021. His exceptional talent really shone this year and as he leapfrogs into MotoGP with Remy, I am confident that their experience with the Triumph 765cc triple and electronics and tyre package of Moto2 now will stand them in great stead to graduate to the premier class. This of course is a major aim of our first three-year tenure in Moto2 – to make the class much more relevant and meaningful in the ladder of progression, and we've seen with another eleven new lap records set in 2021 how our engines are helping to redefine the category and make it closer to MotoGP than ever before.
In the 2022 season we embark upon the next chapter of our relationship with Dorna, and we're excited to keep powering Moto2 forward with further performance developments in the pipeline. For now though, my congratulations to our new World Champion, to Aki Ajo and all of his team, and to Dorna and the whole Moto2 grid for delivering another thrilling season of racing that we're very proud to be a part of."